Why not give your kitchen some additional decorative attention because it is said to be the "heart of the home"? Even though kitchen remodels are among the most popular home improvement projects, you don't need to completely redo your kitchen to make a significant cosmetic difference in your area.
Some people are really particular when it comes to kitchen beautification. Others want a plain and simple design, and others like to have it as traditional as possible.
You've heard the term "everything but the kitchen sink", but have you thought about how you dress up your sink? You spend a time of time there, so why not dress it up and make it look nice?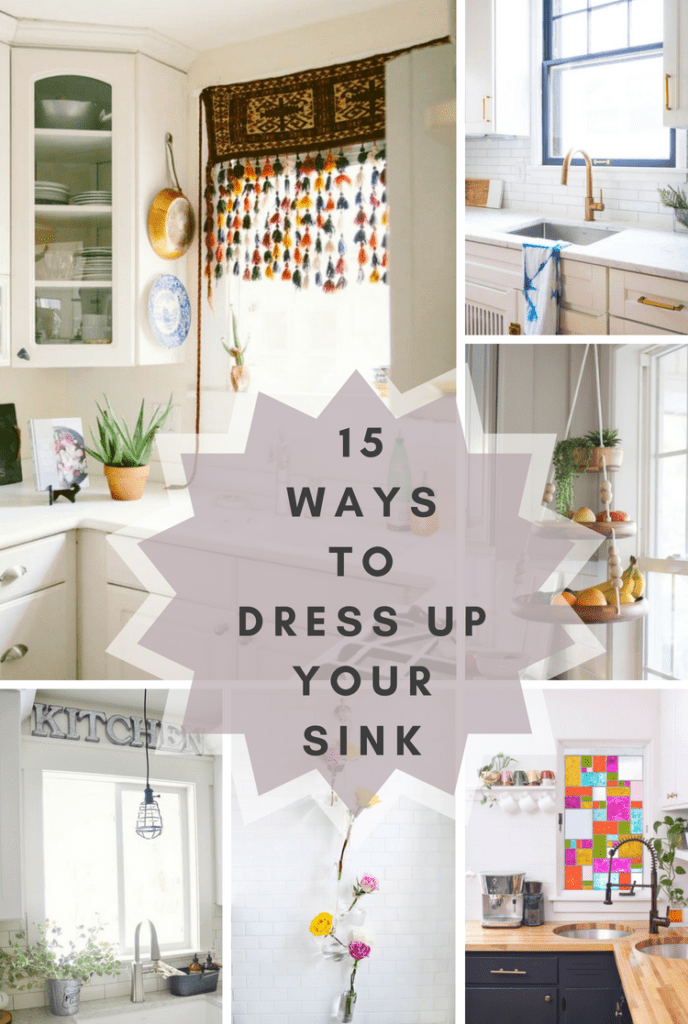 15 DIY Decorations Ideas for Kitchen Sink in 2022
[amazon box="B007DQ1Z12,B0041NLYSO,B00FATBMWQ,B0183W4N0Y,B0032BYM4Y,B01H3OMH7Y,B0087AQ0MC,B075QR7SQN,B0030DK6T4,B012I44K8S" template="table"]
1. Easy Way to Decorate Your Kitchen Sink: Painted Accent Window Sill
If you've just started out with the idea to decorate your kitchen sink area, this is a great starting point! Aside from small apartments, most sinks have a window over them. Choose an accent color and paint the window sill a beautiful color that will cheer you up.
It's recommended to buy Frog Tape painter's tape and take most of your time taping off sections and even removing the window if possible. Also, take advantage of small artists' paintbrushes to reach those hard-to-reach corners.
Once you're finished, choose similar colors for your sink accessories: sponge holder, hand soap dispenser, towels, and so on! Personally, I'd love to cook my Salmon Recipes here.
2. DIY Herringbone Faux Backsplash
A backsplash is a panel behind the sink that protects the wall from splashes. Tile backsplashes are probably the most common kind. If you're daunted by tile, try starting out with this faux backsplash instead! You'll need a carpenter's square, a pencil, a clear ruler, black paint pens, a subway tile or template, and touch-up paint.
Starting at the upper corner with the carpenter's square, start tracing your pattern with a pencil. Don't worry, you can erase any mistakes! Then trace over with your black paint pens. It looks very close to tile and grout until you almost run your fingers over it! Plus you can prime and paint over it in just a day if you want to remove it. Anyway, is that a Baked Ravioli I've seen in the picture? Or I think I'm just hallucinating.
3. Creative Ways to Dress Up Your Sink: Turkish Window Valence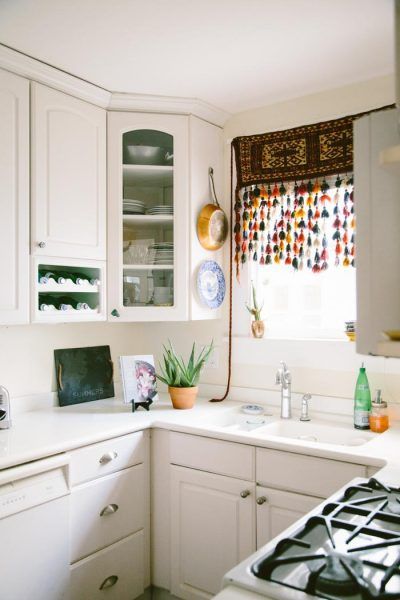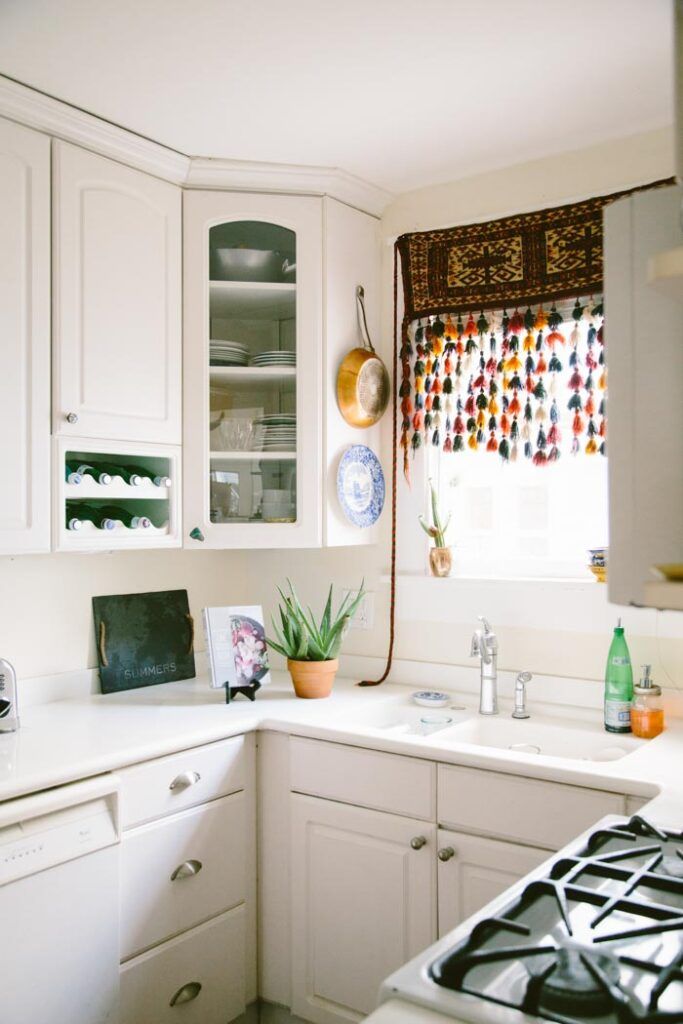 Back to windows, the window over the kitchen sink can be a bit of a rule breaker. You don't need to have a traditional window covering that you have over the rest of your house!
Make a valance like the one pictured by following this DIY valance tutorial:
You can use the same glue gun to add pom poms to get this fun bohemian look!
4. Easy Way to Dress Up Your Sink: Matching DIY Sponge Holder & Soap Dispenser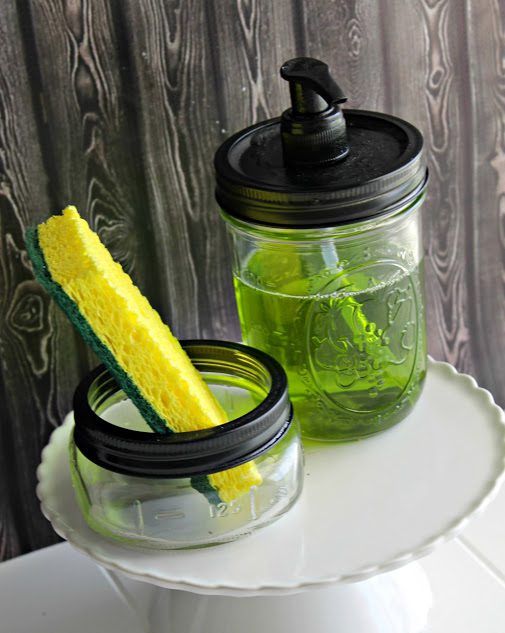 There are so many fun sponge holders and soap dispensers out there to buy, but isn't this DIY version super cute? A DIY mason jar soap dispenser and matching DIY mason jar sponge holder are awesome decorations for your kitchen sink!
You'll need a pint-size mason jar, a half-pint-size mason jar, spray paint, a drill, and a pump for the soap. Put them on a repurposed cake plate when you're finished as the author did!
5. Hanging Fruit Basket From Wood Bowls DIY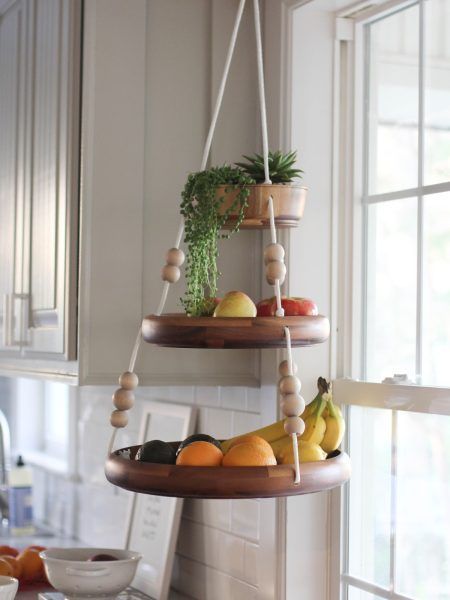 A hanging fruit basket is a great addition to your kitchen sink! Having a fruit basket is a necessity to keep your product that doesn't belong in the fridge, like avocados and tomatoes. They just look sad sitting around on the countertop!
You'll need three wooden bowls in small to large sizes (the author got hers at Target), rope, wooden beads, a drill, succulents, a metal ring, and a ruler.
Do you want to know a secret? Succulents are horrendously overpriced! Look around your neighborhood or ask a friend if you can take a cutting off a succulent and propagate it! It only takes 2-3 weeks for roots to appear. Within a few months, you'll have good-sized succulents, which you can propagate over and over!
6. Floral Shadow Box Art
This author decorates her kitchen sink area with these floral shadow boxes! That is such a nice idea for decorating! They take less than an hour and are cheap and easy to make and change around, so you can have a fresh look whenever you feel like it. It's a refreshing sight to watch.
For supplies, you'll want to have a shadow box, cardstock or poster board, artificial flowers, spray adhesive, a hot glue gun, cutting materials like X-acto blades and a cutting mat, and wire cutters.
Shadow boxes can be purchased online or in any craft store, and are usually as little as $5. They can be used to show off ribbons, medals, photos, and other collectibles, in addition to making cool floral art!
7. Easy Way to Dress Up Your Kitchen Sink: Add More Decorative Counter Space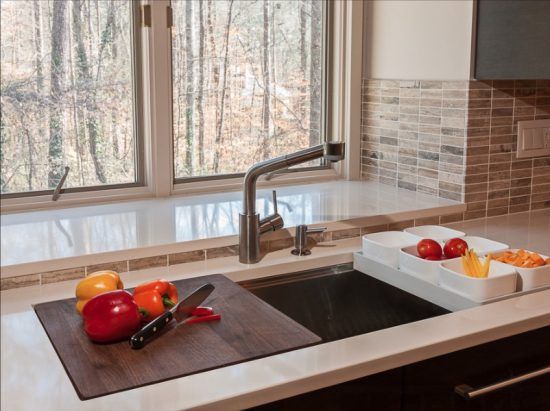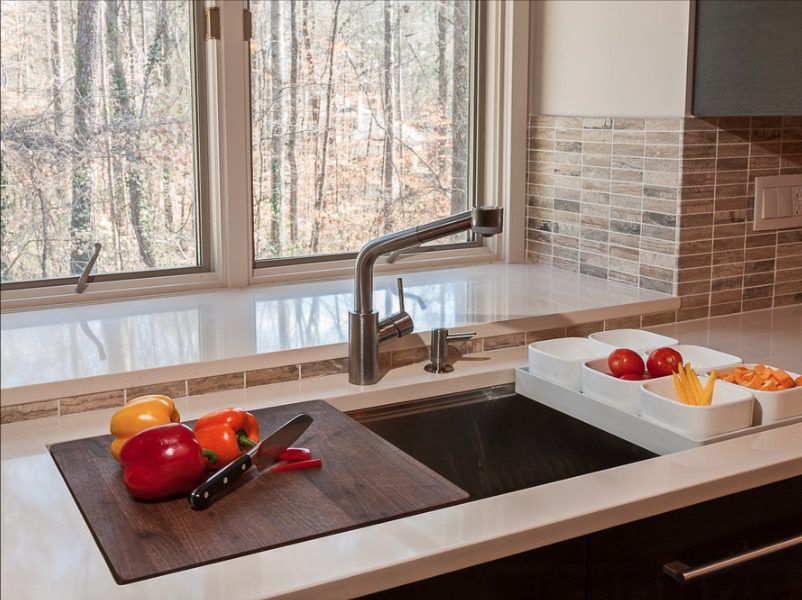 You can decorate your kitchen sink AND get more counter space with DIY sink covers. You can custom make a wooden cutting board for your sink by following this tutorial, or take measurements and buy one online. Keep those measurements in mind for a holder and organizer like the one pictured above. This is where I'm gonna prepare my Citrus Chicken Tenders!
8. Creative Ways to Dress Up Your Kitchen Sink: New Light Fixture
The author did this kitchen light DIY over her sink was a $6 thrift store find! She used brass paint and then a light spray of brown over the top to tone down the brass. Then purchased a clear replacement globe from the hardware store. The most expensive part was a fancy light bulb from Anthropologie.
Hardware salvage and reuse are great places to buy amazing light fixtures. Ballard Reuse is an awesome example in Seattle. If you're in a smaller city, thrift stores, estate sales, and flea markets are great places to go digging!
9. Floating PVC Window Planter
A window planter is the first thing people think about when decorating a kitchen sink! There's something lovely about having the scent of fresh herbs wafting up as you rinse a dish in the sink.
This floating PVC pipe planter is awesome for tiny windows! It uses 4″ PVC pipe, 4″ knock-out plug, 2 small eye hooks, 2 larger eye hooks, 4 small S-hooks, and 2 12″ lengths of #16 chain. Just take this list to the hardware store and they can hook you up in minutes! Plus, the author spent $9.70 on this.
Do you not do projects like this because you don't have the tools? Try checking out your local tool library. Tool libraries are popping up all over now, and annual membership can range from free to $50 a year! You can rent anything from power drills to lawnmowers, and even kitchen gadgets like blenders.
10. DIY Rustic Wood Tray
So many people keep their coffee machine and supplies next to the kitchen sink, but wouldn't it be nice to have a cute tray like this one to keep it nice and organized?
It's easy to do basic math to measure out the 6 long lengths of the board and 2 shorter sides. You can often sketch out an idea and take it to a place like Home Depot, and they'll help you figure it out and cut the wood for you! Then you paint the wood, screw it together, and give it one last coat of paint. The most fun part is decorating it at the end! The challenge will become so much fun. Speaking further about paint colors, you may check out the best paint colors for bathrooms.
11. Easy Way to Dress Up Your Sink: Silverware Storage Gold Painted Silverware Mason Jars
You don't need to keep your silverware in a drawer if you don't want to! This DIY is dead easy, you'll just need metallic paint like Rustoleum or Krylon and mason jars! Just be sure to only paint the outside, since paint and the insides of our bodies shouldn't mix!
Don't feel you need to buy brand-new mason jars for this. Shops like Goodwill often sell a wide range of jars for just a few cents! You can also pick up larger glass containers like ice tea cisterns so you can keep things like spatulas and bigger things in the kitchen.
12. DIY Metal Letter Industrial Kitchen Sign
What a fun decoration for your kitchen sink area! The author found these metal letters on sale and mounted them on a wooden board, but you could also use any material letters and spray paint them with metallic spray paint for a similar effect. There are so many options with this DIY, that it'll be hard to choose just one!
13. DIY Faux Stained Glass
How absolutely beautiful is this? All you need is a glass panel (like from a picture frame, lead adhesive strips, glass paint, paper, markers, scissors, and a ruler. The trick of this is to trace out the exact pattern you want onto paper, then place the glass over it to see where the lead strips and paint need to go. So clever, and so easy, but the end result looks like an expensive piece of home decor. You can mount this over your kitchen window or just lean it in place. I can put a bowl there with Spray Painted Easter Eggs for a more cute effect.
14. Window Sill Herb Garden
We couldn't resist one more herb garden. This one uses spray-painted tin cans as planters, which is a great way to use up extra spray paint from another DIY! Poke a hole in the bottoms with a nail and then all you need are herbs and gardening soil. Happy planting!
15. Creative Ways to Dress Up Your Kitchen Sink: Hanging Vase Display
You won't believe how simple this is – it's just short and long-necked small vases and twine hung on a hook! This project can literally take minutes to make, but it's so unexpected and whimsical, especially hanging alongside your kitchen sink! It's the perfect place as it'll make it easy to refill the water and clean the vases from time to time.
How Did You Dress Up Your Sink?
You spend a ton of time at the kitchen sink, so don't deprive yourself of some much-needed beauty that will bring a smile to your face and joy to your heart! Hopefully, this list will inspire you to decorate your kitchen sink area today!
[amazon box="B007DQ1Z12,B0041NLYSO,B00FATBMWQ,B0183W4N0Y,B0032BYM4Y,B01H3OMH7Y,B0087AQ0MC,B075QR7SQN,B0030DK6T4,B012I44K8S" template="table"]
Suggested Read: 28 Best Thanksgiving Side Dishes
Washing the dishes is not necessarily boring by just splashing the water all around and worrying about slipping a glass and breaking it. Imagine if you are working it, but you are facing a fresh and relieving sight, isn't it a nice feeling?
Based on our list, what was your favorite design? Mine would probably be Number 14. I really love planting, and aside from that, you will use useful herbs. It's a dual-purpose idea!
How about you? Which one is your favorite? Do you also have another idea to decorate your kitchen sink? Let us know in the comment section below!
Do you like free recipe tutorials, simple step-by-step handcrafts, fancy decoration ideas, and overall useful tips for your home beautification? Try visiting our website by clicking here. There are so many topics that you may find interesting.