There are so many great DIY Frozen birthday projects out there. With cakes, games, and decorations, it's easy to save money and have fun with the family by putting your spin on Frozen. Kids, and adults alike, love the movie so much because aside from the classic Disney concept about princesses, it shows off many important lessons for audiences to learn. Not to mention the fashion sense it displays.
If you're a grownup planning a Frozen-themed birthday party, we bet you think you know everything there is to know about the movie Frozen, right? (You've certainly seen and heard it enough times!)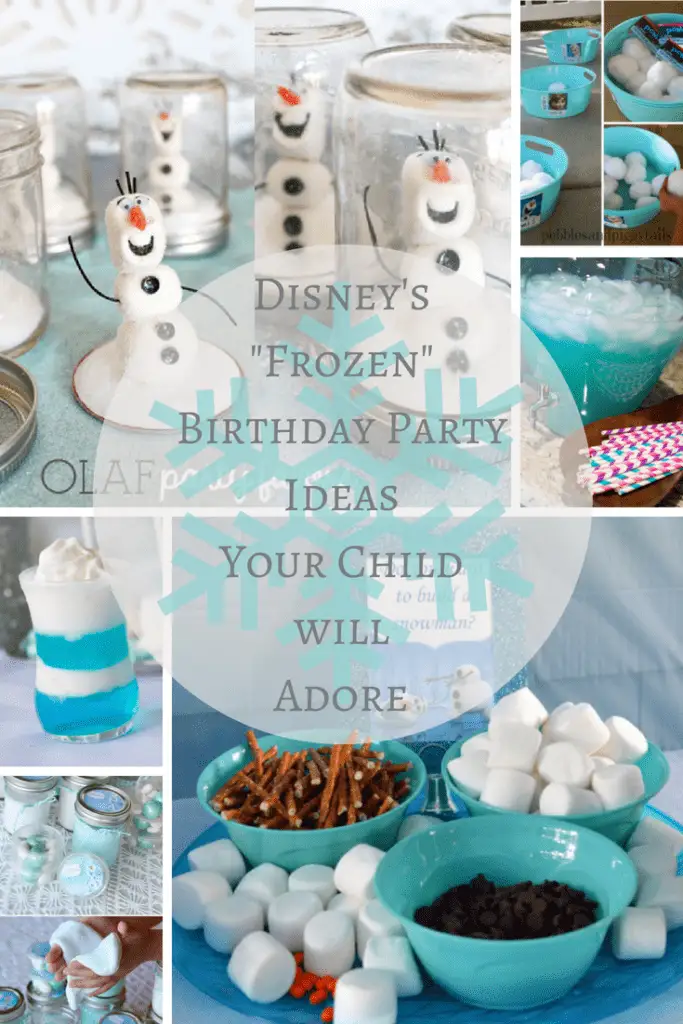 Here are three fun little-known facts about Frozen before we get to the birthday goodness:
Frozen wasn't originally about sisters! In the first draft of the script, Anna was a peasant girl, and Elsa was a more fearsome snow queen.
The official crest of Arendelle is called a crocus. It's a symbol of rebirth and spring.
"Let It Go" has been recorded in 41 different languages
1. Blue and White Homemade Frozen Cake
Duncan Hines calls this their "Signature Blue Velvet Cake Mix" but we all know it was pretty much made for Frozen! Just add eggs, water, and butter for a light, moist, very yummy cake! Just buy white-colored frosting for the outside – vanilla, buttercream, cream cheese – any flavor goes great with this cake! Buy a small Elsa figurine from a dollar store and candy letters for the name and voila! The easiest birthday cake ever, an instant party food.
2. Do You Want To Build A Snowman? Snack Set for Simple Frozen Birthday Theme
Kids are funny! They take a bite out of a snack and leave the rest, or pick them apart and only eat the raisins or marshmallows. That's why they'll love this snack set! Eating parts of a snowman will make them giggle, and they can grab their favorite part and leave the rest for their friends. Plus it's a wonderfully inexpensive but cute way to provide snacks at the party. Kids will surely love it!
3. Frozen Party Signature Mocktail
Frozen mocktail drinks are grown-up meets kid-friendly in a pretty, magical, fizzy way. They're so easy! Simply freeze water in a few snowflake-shaped ice cube trays before the party. When you're ready to serve, be sure to use clear glasses so everyone can see the magic happen. Put the frozen snowflake ice cubes in first. The next step, add some blue cotton candy, pour water, and watch an amazing transformation that'll make everyone "oooh" and "Aaah". And yes, you can add a splash of vodka to yours and make it a Frozen cocktail, mom and dad. No one will judge you!
4. DIY Olaf Snow Globes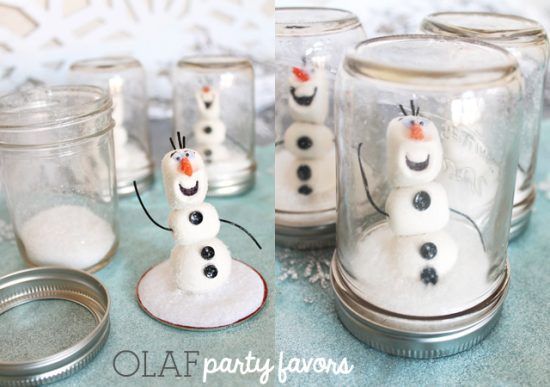 Let's face it, Olaf was the best part of Frozen! His antics can make you laugh over and over again. So what better way to celebrate Frozen than making a DIY Olaf Snowglobe at your birthday party? Olaf is such a funny character, isn't he?
Crayola Model Magic is so easy to roll up in balls for the head and body. Even little hands can do it! Before the Model Magic dried, add hair from thin black cording from the jewelry-making section of any craft store. Little hands may need help with that part! Let the pieces dry overnight and then assembled them with pieces of wooden toothpicks to put the head, midsection, and body together, and secure it with a dab of hot glue. This part is best for older kids or grownups. The Frozen movie really was a blockbuster hit and everyone can relate to it.
Time for the best part: use some orange felt for the nose, little black buttons, and googly eyes glued on with Elmer's glue. Glue white felt on the inside of the mason jar lid, then glue a snowman in. Spoon in some fine fake snow and screw in the lid with the snowman upside down. It's also nice to attach a Frozen card around the lid. You can do the pre-dry part and assembly before the party, then let the kids decorate their Olafs and take them home!
5. Frozen Party Games with Snowballs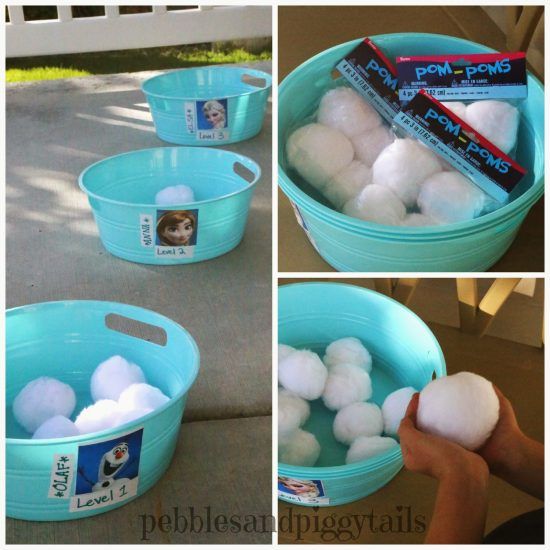 This fun game is so simple and inexpensive to put together, that the kids will go crazy for it! Just use 3 plastic blue buckets from a dollar store and large pom poms from Amazon or a craft store. You can make 3 levels using Frozen printables. Get your kids involved in preparation by printing them in black and white and having them color. Tape a line on the ground and let each child have a turn. Give out small favors as prizes or start a "snowball fight" once the kids get bored. That will really excite them again.
6. Frozen Balloon Frozen Party Decorations
Don't spend money on expensive helium balloons, especially those Frozen ones you've seen a million times. Buy two bags of balloons: white and blue, and enlist the family to blow them up. Tie them together around columns or on a string to make streamers. Or just anywhere that you can easily hang them.
If you have the time and energy, you can wrap the string in blue and white crepe paper, or paint the upper half of the balloons with thinned-out glue and dip them in a big bowl of white glitter.
7. Blue Raspberry Jell-Olaf
This is such a simple dessert to make, but everyone will be talking about your Jell-Olafs! To make these, you'll need a package of Blue Raspberry Jell-o, a cup of hot water, a cup of cold water, 4 ounces of cream cheese, and a teaspoon of sugar. Follow the directions on the Jello box to make the blue Jello. Pour a layer into each glass and quickly refrigerate to set.
Top it with a layer of cream cheese mixed with a little sugar. Smooth it out and add another layer of jello. Pop it into the fridge. Then top it off with a dollop of whipped cream!
8. Frozen Party Punch
What birthday party would be complete without a fun birthday punch? This is easy to whip together with just 5 ingredients:
lemonade concentrate, thawed;
water;
a two-liter bottle of lemon-lime soda;
three squirts of Icee Zero Blue Raspberry Liquid Water Enhancer;
ice.
Mix them and pour them over ice in a drink dispenser, or you can make juice pops out of it. You can put out blue and white paper cups to keep up the festive Frozen theme!
9. Olaf Snowman Slam Game
This is a simple game that works well as an Olaf-themed addition to any Frozen birthday party. It's so much fun for the whole family! You just need white cups, black and orange construction paper, craft pom poms, glue, and scissors. Pull in the kids to help make this game before their party.
Decorate six white cups with noses, eyes, and mouths out of construction paper with glue and scissors. Pull out your best Olaf-making skills! Then make them into a pyramid to hit with the pom-poms. Keep a small basket with little favors to win if the kids knock over all the cups. There's also a game where kids make wooden puppets in the form of Frozen characters. Keep playing until the favors run out!
10. Frozen Scavenger Hunt
This is a super fun game for older kids who can read and write and love to play advanced games, like this scavenger hunt! Go to the link above and print the clues, cut them out, and hide them around your birthday venue. Be sure to hide the next clue in the place that answers the previous clue. For example, if the clue is "Love is an open door " you could hand it to the treasure hunter, and they would find the next clue on a door.
Have the birthday girl (or boy!) help out the children who are stuck and award the prizes to the winner so they can feel extra special about their party!
11. Frozen Pin the Carrot on Olaf the Snowman
Don't pay for an expensive "pin the nose of Olaf" game when you can print your own! All you need is a bunch of orange Olaf noses and a blindfold. Put some sticky tape on the noses and give each child a turn. They'll laugh themselves silly when they take off their blindfold and find noses all over the place.
12. Frozen GAK
What is GAK?? A staple of the decade and one of Nickelodeon's most beloved concoctions, having mucked up the fingers (and surrounding furniture, probably) of the kids that played with it after it came on the scene in 1992.
GAK is so hot right now for kids. What's old is new again! This is super fun to hand out to kids at the party when it hits a lull. Make it Frozen-themed by adding peppermint extract, blue and clear glitter, and blue food coloring (in half the jars) Put them in jars decorated with Frozen stickers, and get ready for some serious GAK FUN!
Suggested Read: 10 Easy DIY Decor Ideas For Fall Season
What Will Be the Frozen Decorations for Your Kid?
Every store sells tons and tons of Frozen-themed decorations, cakes, and games…it's easy to spend a fortune on your party. Why spend a ton when you can make your Frozen birthday party unique by doing some of these DIY projects?
From GAK to cake to a snowball toss, it's easy and inexpensive to prepare your DIY birthday fun! Get the birthday kids involved in the preparation and they'll have so much pride in their creations and learn great lessons about the fun of being a party host. Don't get hung up on perfection, just choose one or two fun projects to enjoy with the whole family! There are so many birthday party ideas you can try out.
There are lots of things you can do at home, may it be for your home beautification, simple homemade recipes, preparation ideas for upcoming holidays and events, or even just crazy DIY tutorials that you can do while sitting on your balcony bench. Check those out on our website.
Last update on 2023-11-29 at 23:56 / Affiliate links / Images from Amazon Product Advertising API