An easy, comforting dessert, using late Summer fruit. Make-ahead and perfect hot or cold, this crunchy, fruit filled Raspberry Peach Crumble will have everyone wanting second helpings!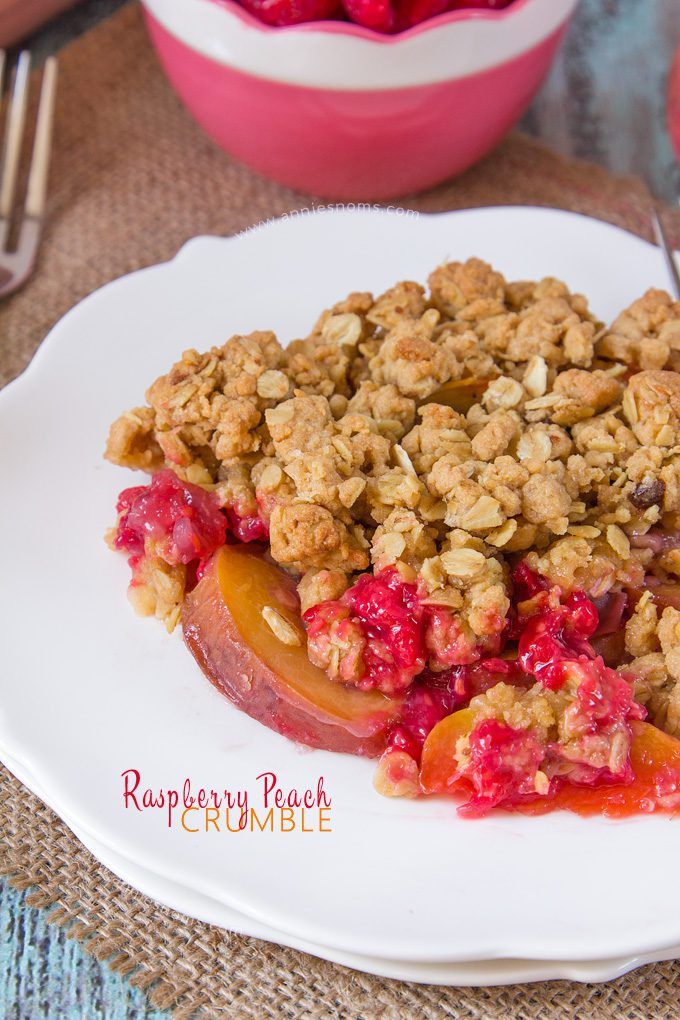 Hello friends! Have you had a good Summer? I decided to have the Summer off from my blog and it's been great for making me feel inspired to get in the kitchen again!
Do you ever get like that? I mean, I love my job, but spending every day thinking about food, writing recipes, making recipes and photographing them.. sometimes I just need a break.
It's not even that I had great big plans for Summer, it's just been nice to be at home with my head in a book and not in the kitchen!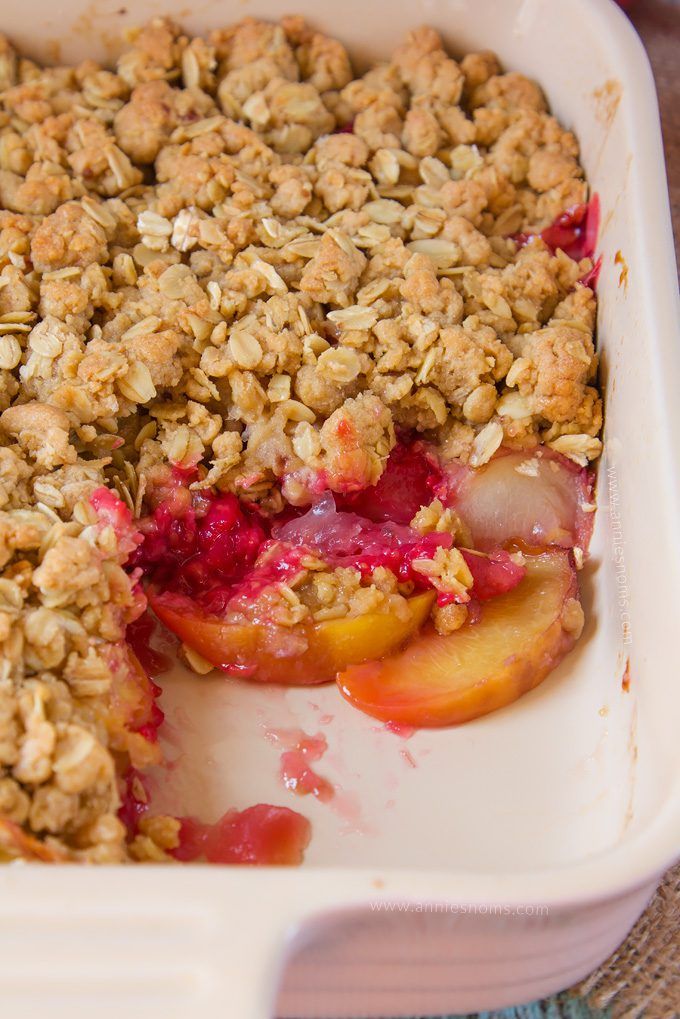 Taking more time for myself has definitely helped me become more focused on work again!! The other day I sat and had a major brain dump of loads of recipe ideas. I'm talking 40 possible recipes… I haven't been able to be that creative in a long time!
So… onto today's recipe; a Raspberry Peach Crumble. This is one of those desserts that you cannot help but feel comforted by. Warm or cold, the crunchy, sweet topping, along with bursts of fresh raspberries and slices of fresh peaches just marry together to create the most amazing dessert.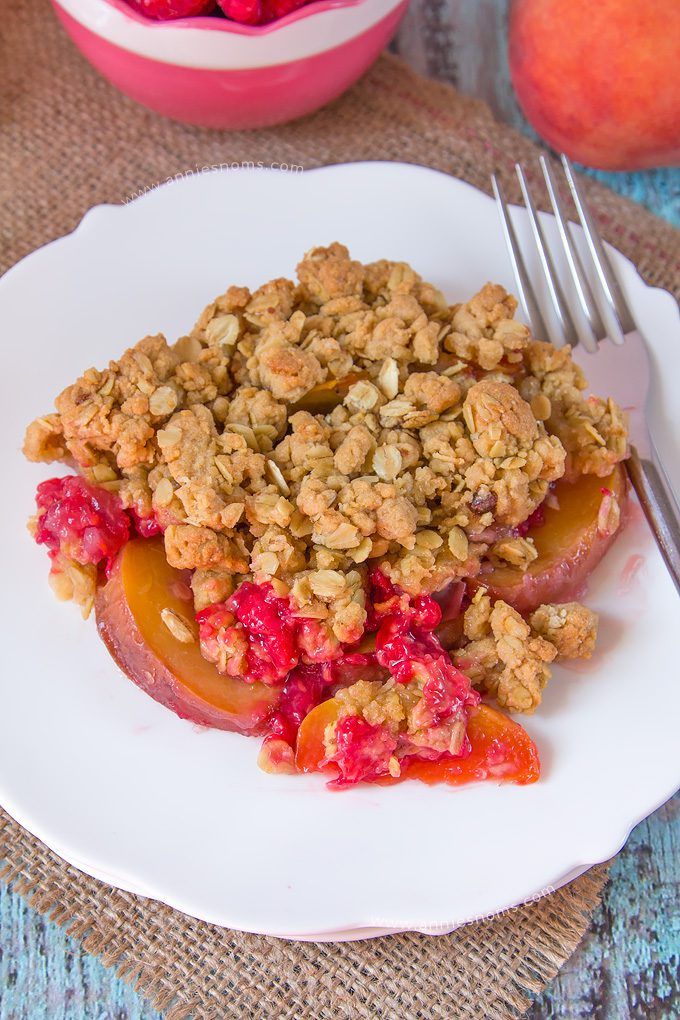 I first made this recipe a few weeks ago for a BBQ with some friends. After pulling it out of the oven, I just knew it was going to be good! Don't you love it when that happens?!
The topping was the crunchiest I've ever had on a crumble, it was just amazing! And I could see little bubbles of pink coming through which made me want to dig in immediately.
However, I'm not entirely sure turning up to a BBQ with a hole in my dessert would have gone down too well…! 😀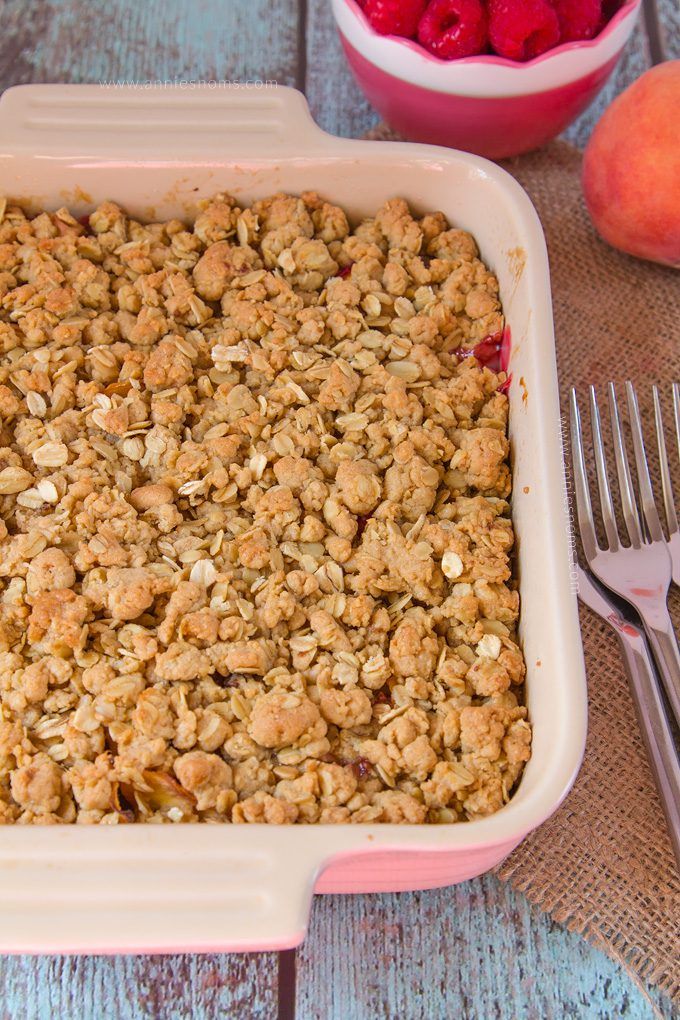 Sooooo we had to wait. BUT, it was totally worth the wait because everyone loved this crumble and I knew I had to make it again and share it with you guys!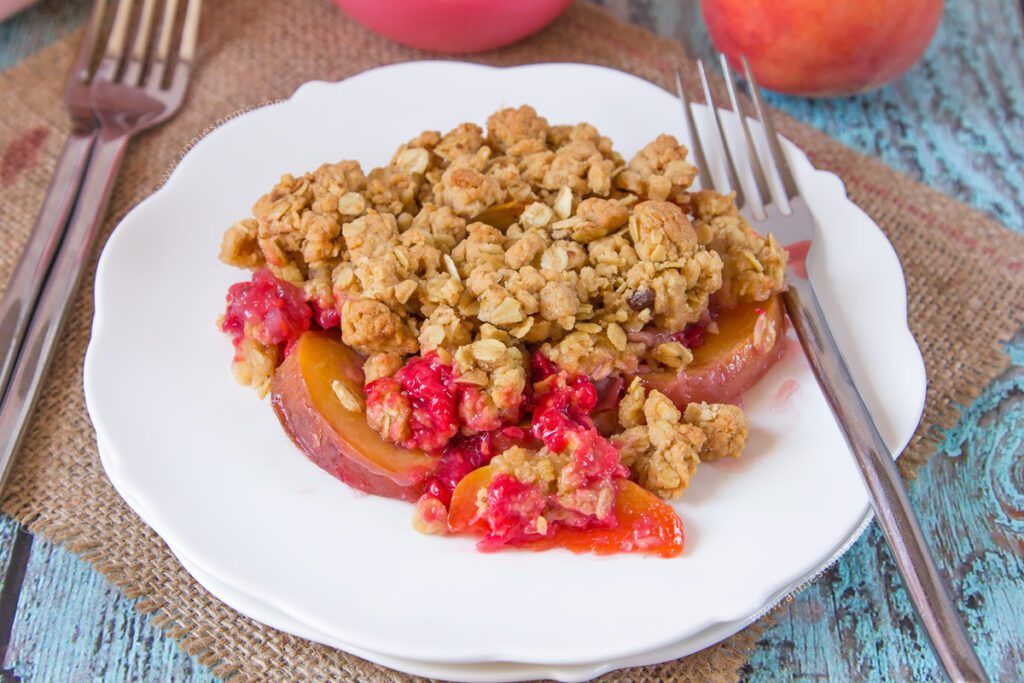 Crumbles are comfort food for me, slightly warm and served with custard, there isn't much better in life than soft, sweet fruit and that oaty, crunchy topping. So simple to make, yet everyone immediately falls in love with them.
This is one recipe you can make well ahead and then warm slightly to serve it desired. I've tried it hot and cold and honestly, it's amazing both ways.
For this BBQ, I was asked to make cheesecake and then another, lower fat recipe, so for the first time ever I used a half fat butter to make the crumble. I honestly had no idea how it would turn out and I was pretty anxious whilst it was baking, but it turned out to be the best ever. I don't know what they put in the spread (apart from buttermilk and butter) but it totally WORKS with my crumble recipe.
You get some big old lumps of crunchy gorgeousness and it is the perfect contrast to the soft fruit below.
Whatever you do, promise me you'll make this awesome crumble before Summer is officially out! Peaches are at their best right now and they are certainly delicious right now!
You can connect with me on Facebook, Twitter, Pinterest and Instagram!
Raspberry Peach Crumble
An easy, comforting dessert, using late Summer fruit. Make-ahead and perfect hot or cold, this crunchy, fruit filled Raspberry Peach Crumble will have everyone wanting second helpings!
Ingredients
For the fruit filling:
4 large peaches, halved, pitted and sliced thinly.
1 cup (125g) fresh raspberries
2tbsp cornstarch
1tbsp freshly squeezed lemon juice
3-4tbsp white sugar (it depends how sweet your fruit is as to how much sugar you need)
¼tsp vanilla extract
For the crumble topping:
1 cup (80g) rolled oats (not quick cook)
½ cup (100g) light brown sugar
1 and ½ cups (210g) all purpose flour
1 stick (113g) butter, cubed, left out of fridge for 5-10 minutes*
¼tsp vanilla extract
Instructions
Preheat the oven to 350F/180C and grease an 8x8 inch square pan. I use cooking spray.
Make the fruit filling first: place peach slices, raspberries, cornstarch, lemon juice, sugar and vanilla extract into a medium sized bowl and toss together until all the fruit is coated and shiny. Tip into your greased pan and leave to one side.
Now make the topping: Place oats, sugar, flour and butter into a medium sized bowl and rub between your fingers until all the flour, oats and sugar are well coated in butter. Mixture will be moist and a little sticky. There will be larger lumps and smaller ones, this is perfect!
Add in the vanilla extract, give it a final mix with your hands, crumbling it and rubbing it as you go, then sprinkle all over the fruit until all the fruit is covered. There is plenty of topping to cover the fruit well in this recipe!
Place in the oven for 40-45 minutes, until top is golden, crunchy to the touch and the fruit is bubbling inside. Just double check the centre is piping hot with a knife/skewer and then remove from the oven to cool.
You can serve after the crumble has been cooling for 30 minutes, or serve it cool, or leave it to cool completely and then warm it in the microwave for 30 seconds-1 minute when ready to serve.
Crumble will keep covered, in the fridge for 2 days. Any longer and the topping gets a little soggy!
Notes
*Normally I use unsalted butter for my crumbles, however, at the request of a friend I used a ½ fat butter spread for this crumble and it was honestly the best crumble I've ever had, so if you want to make it with either butter or spread then that is fine!
moved here