There are so many great uses for a heavenly soft GIANT floor pillow! You can take them camping, use them for sleepovers, movie nights, and so much more! However, it's kind of hard to find a budget-friendly and also high-quality one. So, why won't you make your own? It's not as hard as you might think to be able to make your own floor cushions!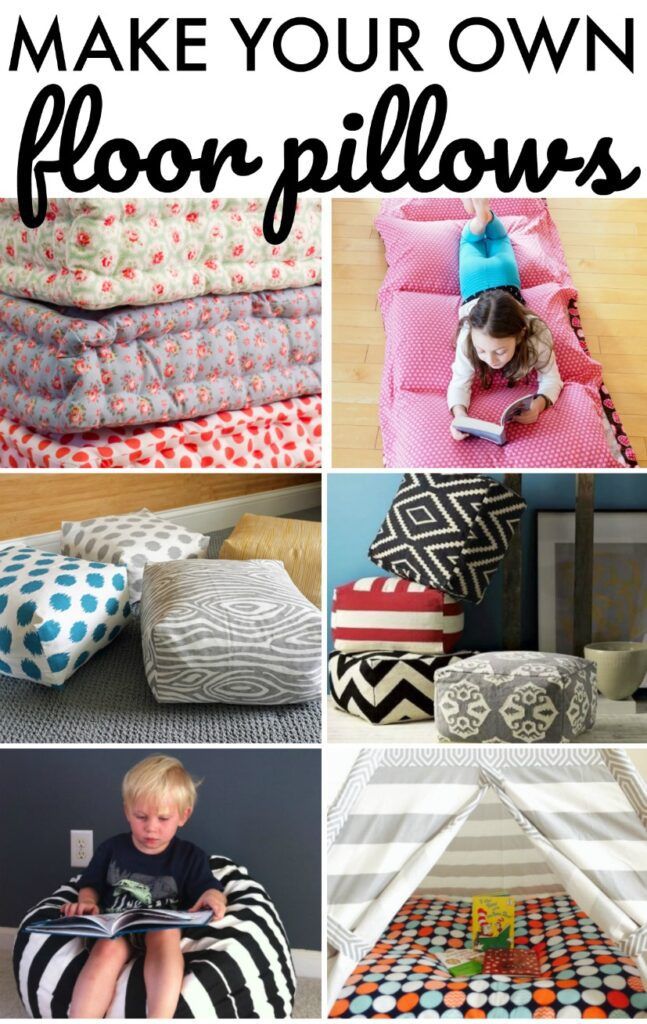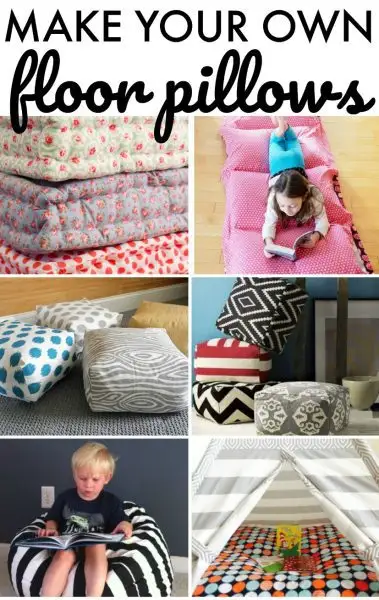 12 Ways To Make Your Own Floor Cushions
Here are 12 ways to make your own floor pillows – that even I CAN MAKE, so you KNOW they're simple! Furthermore, I even searched a lot for a no-sewing alternative for the ones that hate this work. Not to mention that you have three ways of creating floor pillows in less than an hour. That's amazing!
So, give all the twelve alternatives a read, and then choose your winner. Happy Sewing!
Make your own oversized floor pouf with this easy sewing tutorial. This is certainly the perfect way to reuse old blankets and pillows! Not to mention every family member will want one!
---
You can customize the size to whatever suits you – and they're simple to make! Just perfect! However, don't trust me, just look at that girl's smile!
---
These look harder to make than they actually are – and they're just the perfect size! Also, these are some of the best for parties and sleepovers.
---
These darling cushions each measure 36″ across and take a heckuva lot of stuffing!
---
Well, this is what I mean when I say "floor pillow"! Learn how to make a cozy pillow bed with this quick and easy tutorial – a great beginner sewing project. Not to mention it is perfect for reading, lounging, sleepovers & camping!
---
Simple tutorial to make 36-inch floor pillows. Also, if you have more spare time and some extra money for stuffing, go wild and follow her example! That cozy corner is insane!
---
Using $3 IKEA floor mats and her sewing machine, Erika from Retropolitan Hip created the cutest floor poufs! Why won't we try this cheap and easy method?
Easy-To-Make No Sew Floor Pillow
NO SEW FLOOR PILLOW – the best flooring for a teepee! This method is insanely easy and quick! I will most certainly pick this one for my next project!
This project took me approximately 2 hours (I was learning as I went. I could maybe knock one out in 60-90 minutes now). I paid about $9 for the print fleece, $9 for the solid fleece, and $5 for the polyfil. This project was $23. I think I paid more for the bottle of wine!!

Darci
How To Make Your Own Floor Pillow in One Hour
Learn how to make easy boxy floor cushions in less than 5 minutes with a video tutorial. Therefore, this is what I mean when I say "fast"! You can even make these beauties before welcoming the guests.
---
Whip up this oversized floor pillow and it's a perfect reading spot!
---
They can use these simple cushions wherever they want from the bedroom to the backyard! Not to mention that the little ones are hilarious when they move the pillows around!
What's Your Favorite DIY Floor Cushions Idea?
All in all, I hope you were impressed by these amazing, simple, and fun tutorials to make your own floor cushions too! If so, tell us which pillow idea is the winner for you and why? Also, if you want to show everyone your floor pillows, I aspect some photos too. Please, don't forget to be proud of your work, no matter how small is your project. Is truly important to appreciate yourself and to take a break from time to time! And what will be cozier than a giant floor pillow?!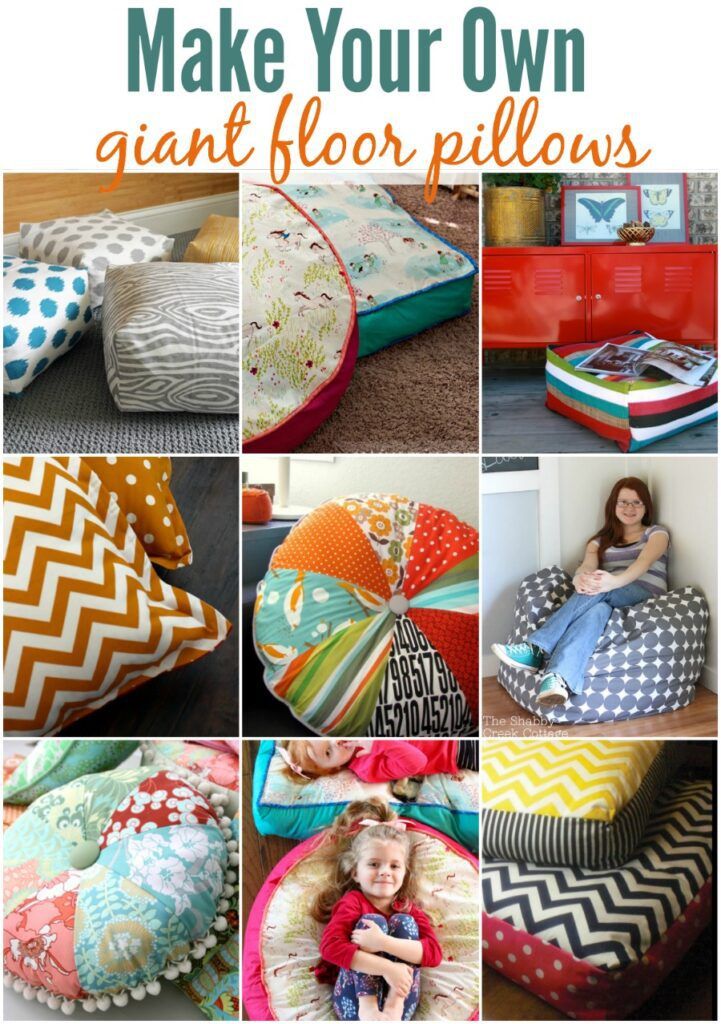 Last but not least, if you loved these tutorials, go check out some other fun ideas too:
Play Kitchens // Lego Building // Sugar Scrubs