You are probably curious why I decided to write about ugly Christmas sweater ideas from all the holiday topics out there? Well, here's the deal:
A few years back, my dear husband threw me a birthday party. Also, an important fact: my birthday falls during the magical month of December. So, not only do I get all of the joys of Christmas but they are intermingled with my birthday. So, it's always a lot of fun.
Anyway, back to the party! So, my husband handed me a package, right? I thought: "it's going to be my birthday present." So, I opened it up, and inside was the ugliest Christmas sweater I had ever seen in my life. Then, he told me to put it on and he went and got one himself. Later on in the evening, I discovered my husband threw me an ugly Christmas sweater party for my birthday. So. Much. Fun.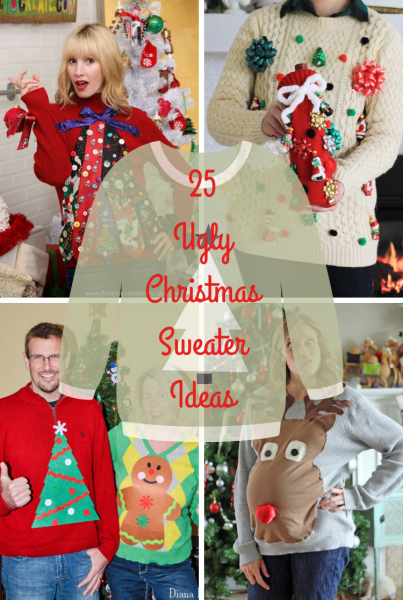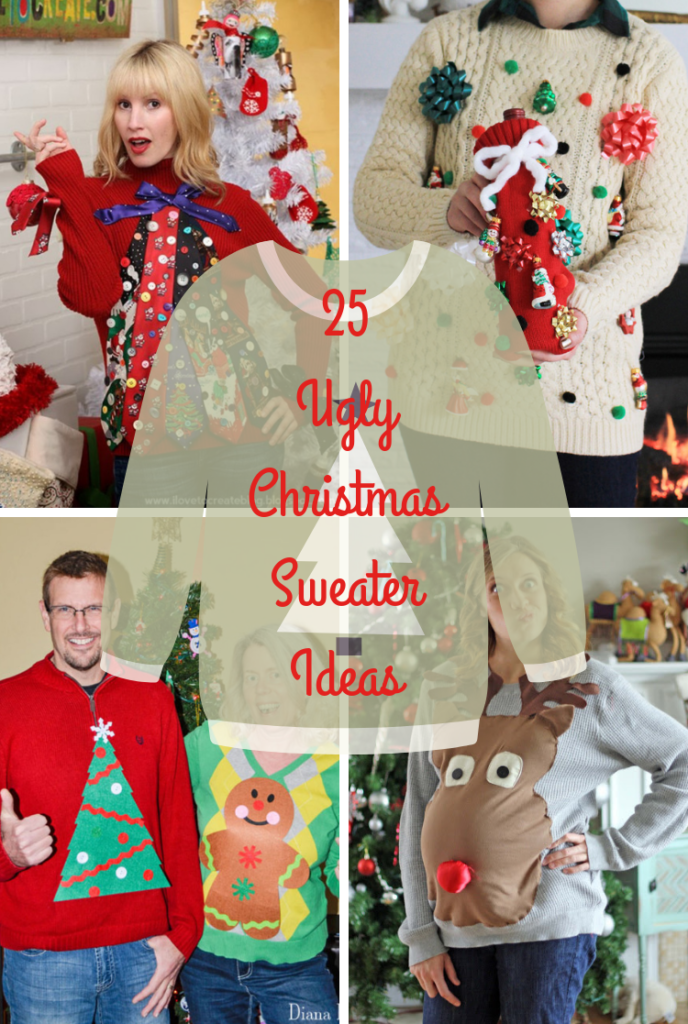 Therefore, ugly Christmas sweaters are fun to wear during the holiday season and not just at parties. Just show off your inner elf by sporting the gaudiest sweater you can find! It is always a great way to celebrate the special season with laughter and giggles. Have a laugh with these funny sweater ideas that will certainly make it more fun and creative. A special season with your special people, nothing is ugly when we are wearing smiles together. That is the real essence of Christmas.
Not to mention that, if you're really feeling the holiday spirit, you can make your own ugly Christmas sweater! Make this season very interesting than normal. Try these out!
Our Favorite Ugly Christmas Sweater Ideas
Today, I'm bringing you 25 of the ugliest, tackiest, most holly jolly Christmas sweater ideas the internet has ever seen. Therefore, you'll look so shiny that Santa might just have you lead his sleigh and give Rudolph the day off.
Also, feel free to get inspired by them and even improvise a little. I always say that your ideas are the best improvements when it comes to products you create for yourself. Just do you and it will become the cutest ugliest Christmas sweater you'll own. It's will sure be a lot of fun.
So, either this guy is super thrilled about his ugly Christmas sweater or he is ashamed to be wearing it. However, I can't tell if that facial expression is of pure pride or humiliation! And that's the fun in it! What a crazy Christmas sweater!
Moreover, I love how the lights on the tree actually light up! anyway, I hope his sweater doesn't burn out any bulbs. Not to mention that I don't think this sweater would be too hard to make. Plus, you can trim your sweater tree in any color scheme that you want.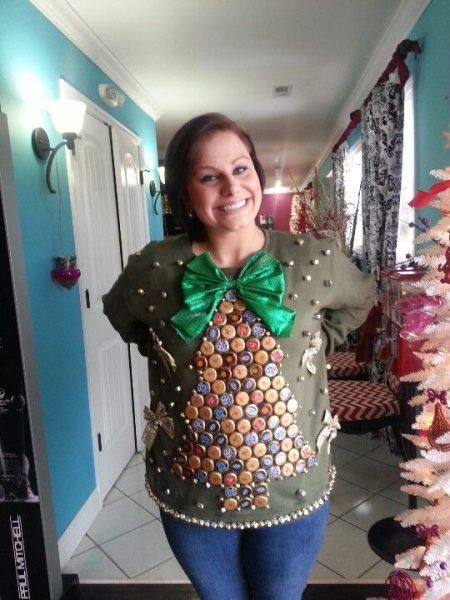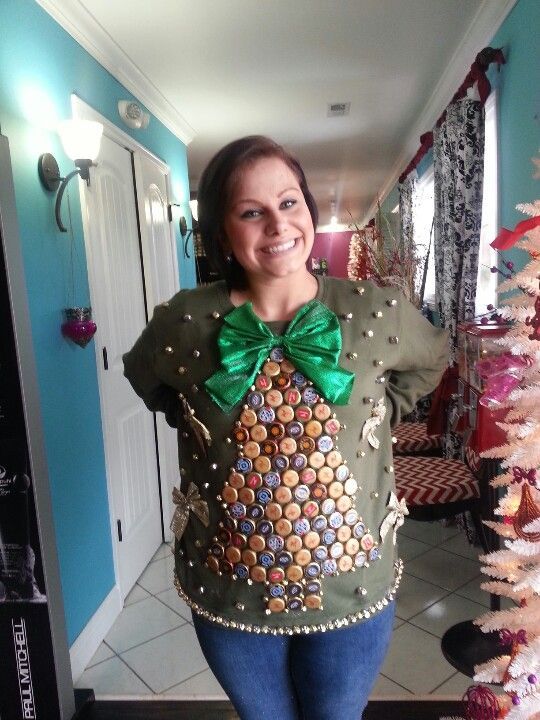 Wow! That's a lot of bottle caps all for the sake of making an ugly Christmas sweater. Therefore, I give this lady a lot of credit for coming up with such a creative idea, though. Not only is she sporting a holly jolly sweater of tackiness, but she's also recycling! Creative expression is what makes our Christmas fun. What makes it more exciting is making use of useless things. Well, so much of being useless now! These Ugly Christmas Sweater Ideas are hilarious!
Santa just may leave her something extra special under the tree this year.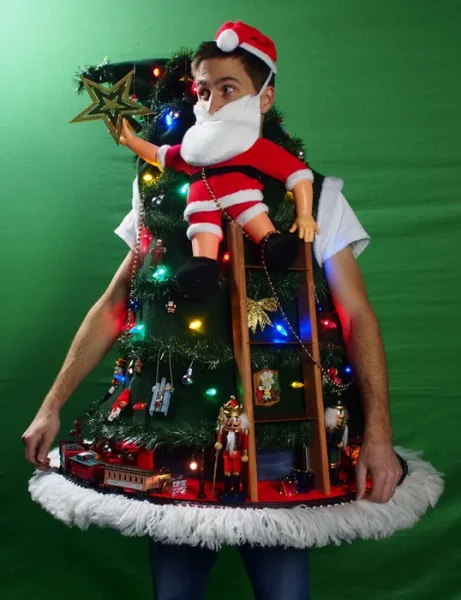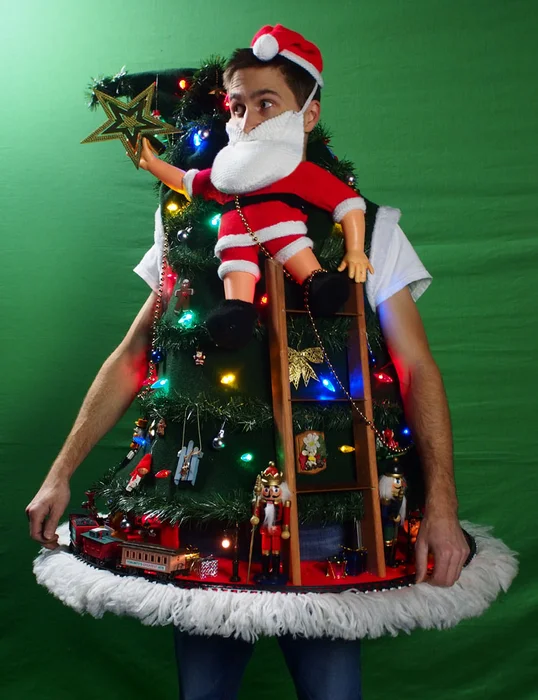 Is this even a sweater? It looks more like a Christmas decoration. Like, this guy should be sitting on a table as a centerpiece. Going overboard with your Ugly Christmas Sweater Ideas? Not a problem!
So, I'm guessing he is the winner of the ugly Christmas sweater contest. Just check out that toy train on the hem of the sweater! Very cool.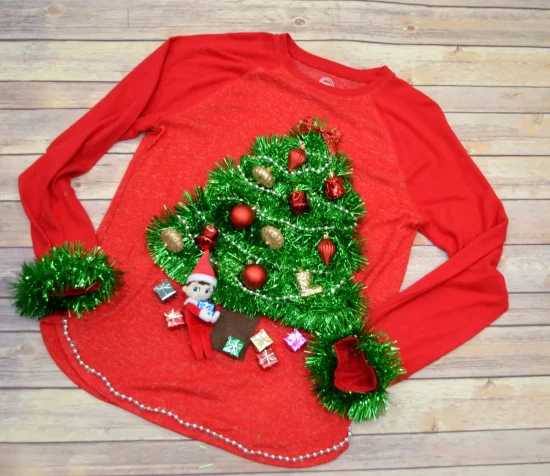 So, I really think this sweater idea is really cute! However, the sweater itself isn't over the top. Now, that all becomes a different story when she raises her arms up and becomes an actual Christmas tree.
Additionally, this sweater probably isn't very hard to make. Plus, you get to wrap yourself in garland. What could be better than that?
This sweater is more cute than ugly. Who wouldn't want to show up at the company Christmas party wearing Santa's favorite reindeer on their chest?
Also, I love all of the tinsel and ornaments. Even the Red-Nosed reindeer is sporting a Christmas bowtie and scarf. Adorable!
6. National Lampoon's Sweater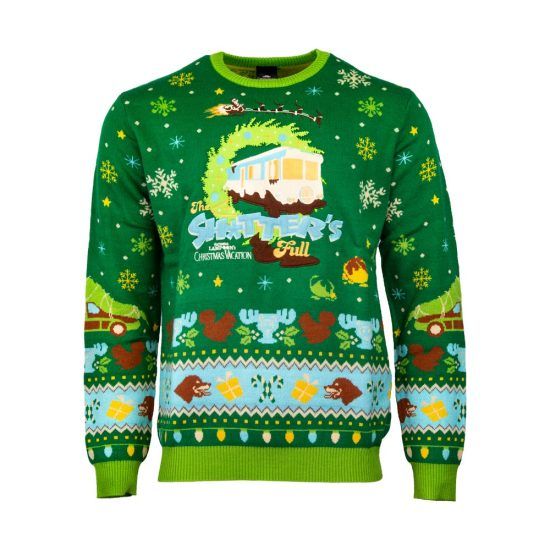 Cousin Eddie would be so proud! Just look at how realistic that squirrel is. Honestly, if I saw someone wearing this sweater I'd probably do a double-take because of that rodent! It looks like it is going to crawl right up into that lady's hair.
So, if you are a guy or girl who likes to drink a frosty brew during the holidays, this is the ugly Christmas sweater for you. Doesn't the squirrel look happy? Perhaps, it's just a little tipsy. In addition, I love how the "cheers" look a little shaky. Maybe, whoever made this sweater was sipping on some suds while they made it too.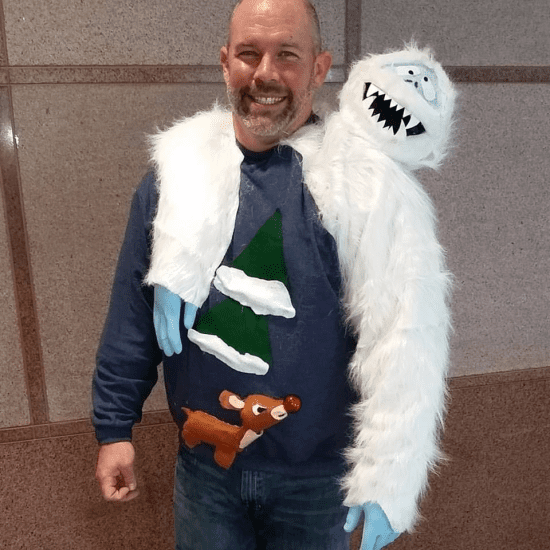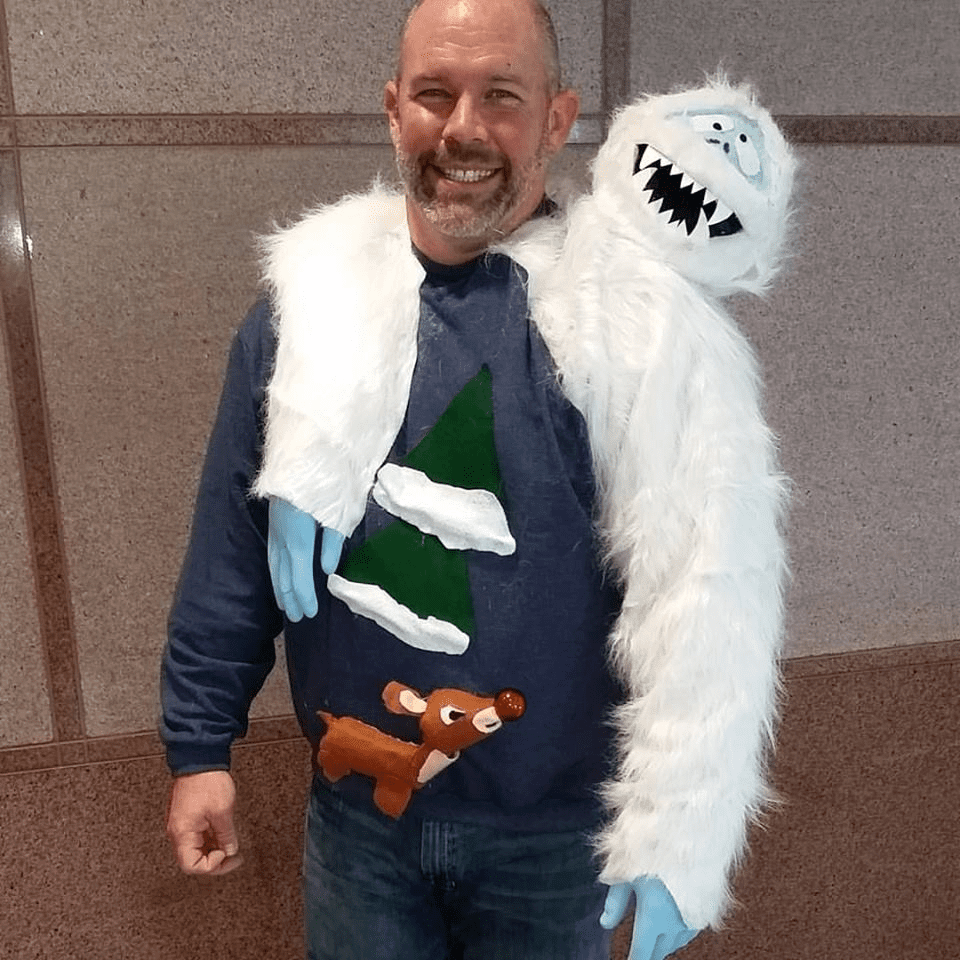 This sweater totally steals my heart because I am a mega Rudolph movie fan. Just look at the bumble's crazy eyes! Haha! So, he either really feels the Christmas spirit or he's been sipping the eggnog.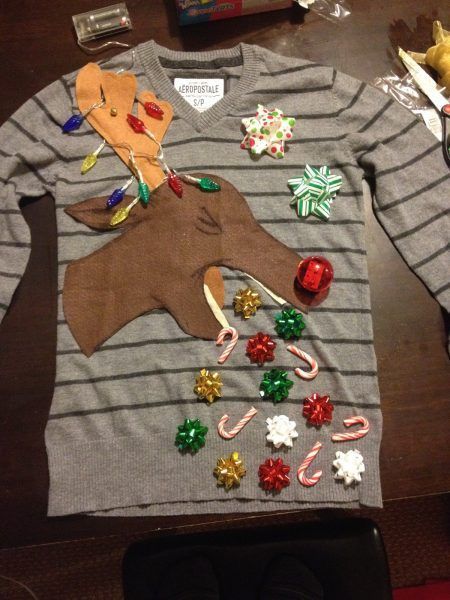 When your kiddo wants to know where Christmas candy and holiday decorations come from just show him this sweater. I don't think your wee one will be asking for any more candy canes, haha!
Therefore, this sweater is really clever and also a lot of fun!
I LOVE these DIY lighted sweaters. Nothing says "holiday spirit" like an ugly sweater that illuminates the room when you walk in. So, just check out all of those winter-themed decorations!
Moreover, this sweater looks simple to make and extremely budget-friendly. You can practically make your own right now.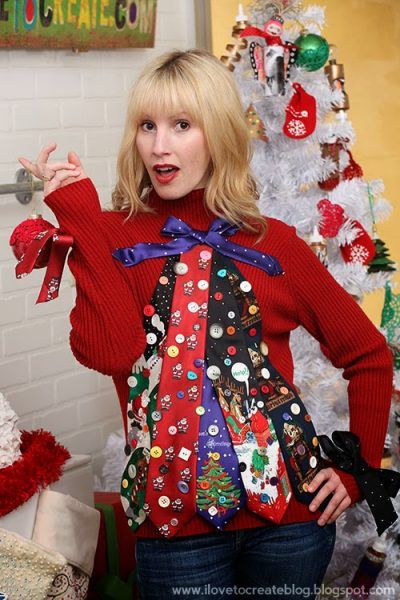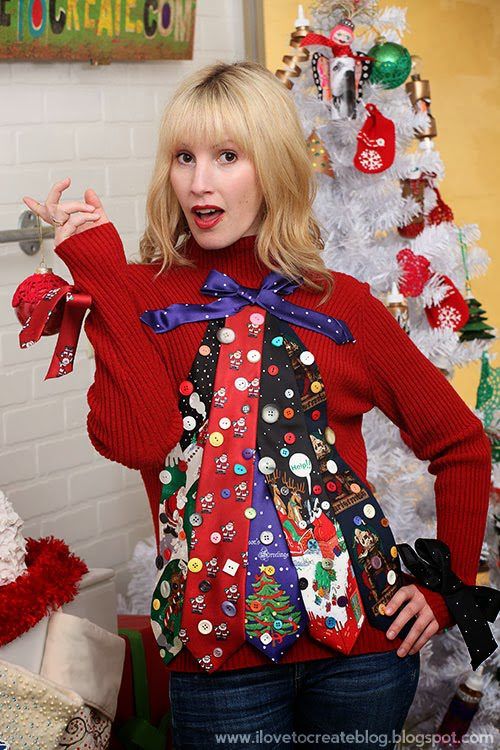 What a clever way to use ugly holiday ties! All this sweater requires is a regular red, green, gold, or silver ribbed shirt and your choice of Christmas ties. Equally important, make sure you choose some gaudy bows for the sleeves and top of the "tree".
I bet I could find some pretty awesome ties in my grandpa's closet.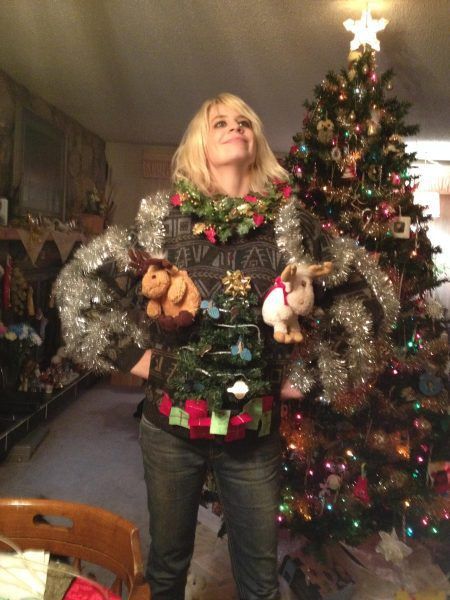 Now, this sweater is glorious! It's ugly, gaudy, and very sparkly! You would definitely make yourself remembered at the company Christmas party when you showed up in this frock. Wrap yourself with these Christmas accessories and have a laugh with the people around you. Enjoy!
However, if Christmas isn't about bringing joy to your family, friends, and mates, what is it about? Eventually, this is the reason I created this list of ugly Christmas sweater ideas – for laughs and holiday vibes!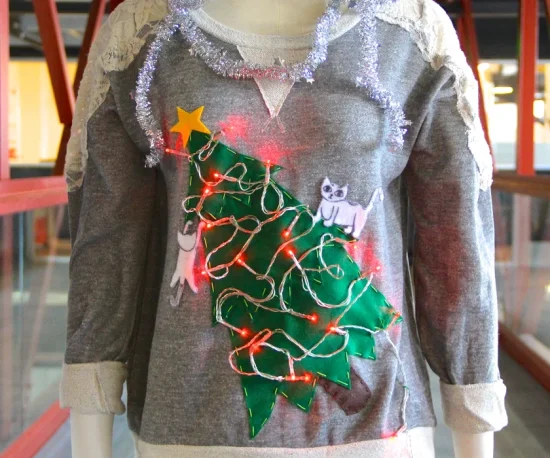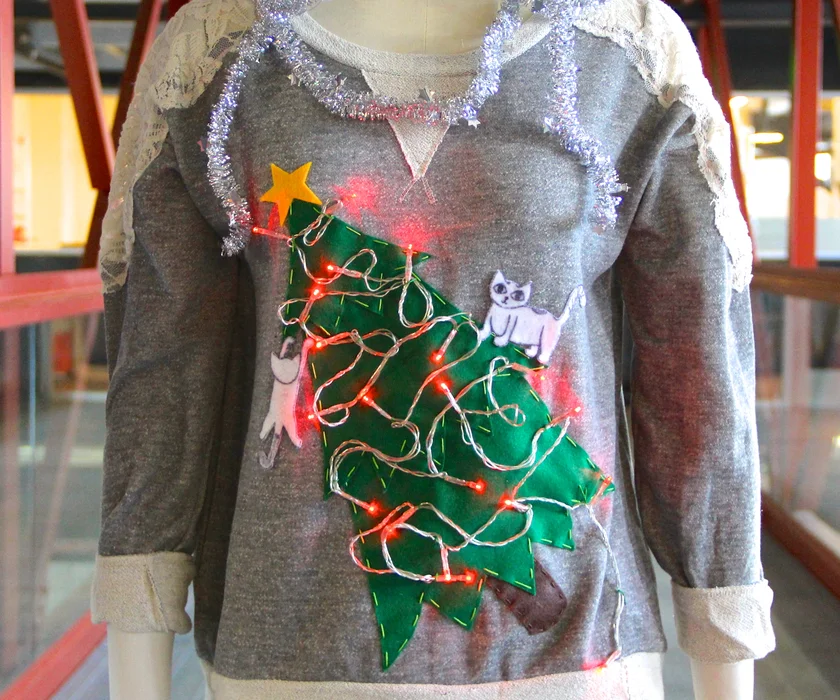 Are you a cat lady? Maybe, you're a cat man. Whatever the case may be, this sweater is seriously ugly. That's why I love it so much! It's cute, simple, and totally captures cat-lady problems during the holiday season.
I don't know what I like more; the sweater or this guy's face. Does he not look like a jolly little elf? He must be super proud of that ugly poinsettia sweater. However, I know that I sure would be!
In addition, I LOVE holiday poinsettias so I might just make this ugly Christmas sweater.
Okay, so this guy went all out with his ugly holiday sweater. The horse head adds an extra touch of ugliness, don't you think so?
This Christmas sweater is epic on so many levels. It makes me want to start neighing like a pony. Haha!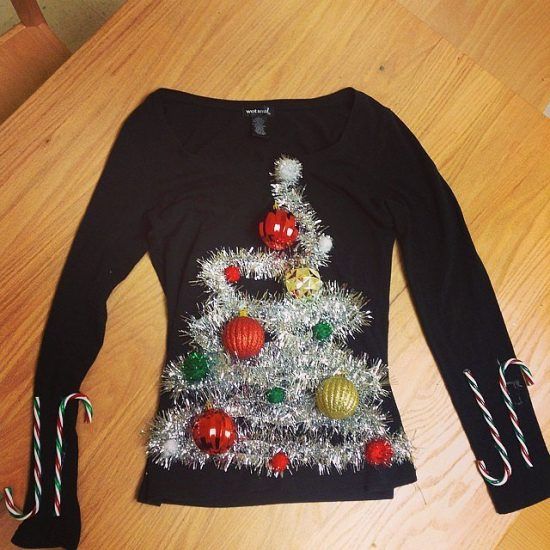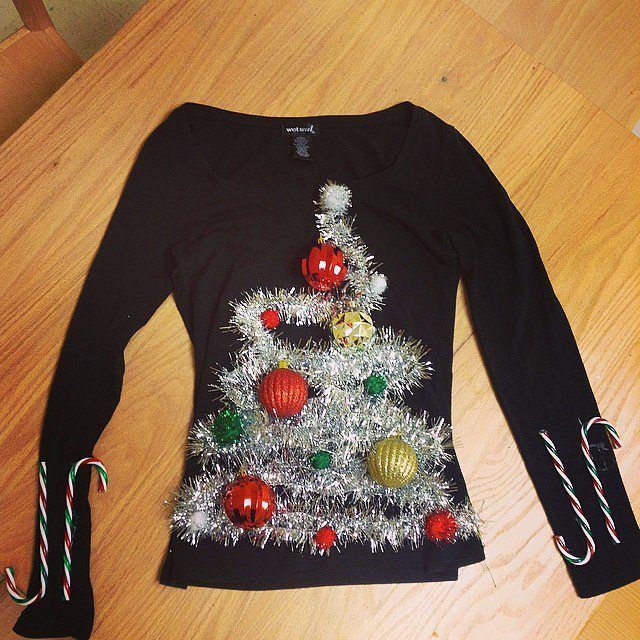 Next, this sweater is ugly and simple. To me, it says, "I waited until the last minute to make my ugly sweater for the holiday party".
All you need is a plain sweater, a few candy canes, some garland, ornaments, and hot glue. You'll instantly have an ugly Christmas sweater.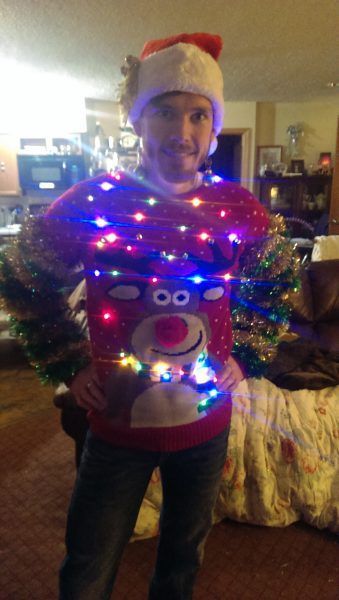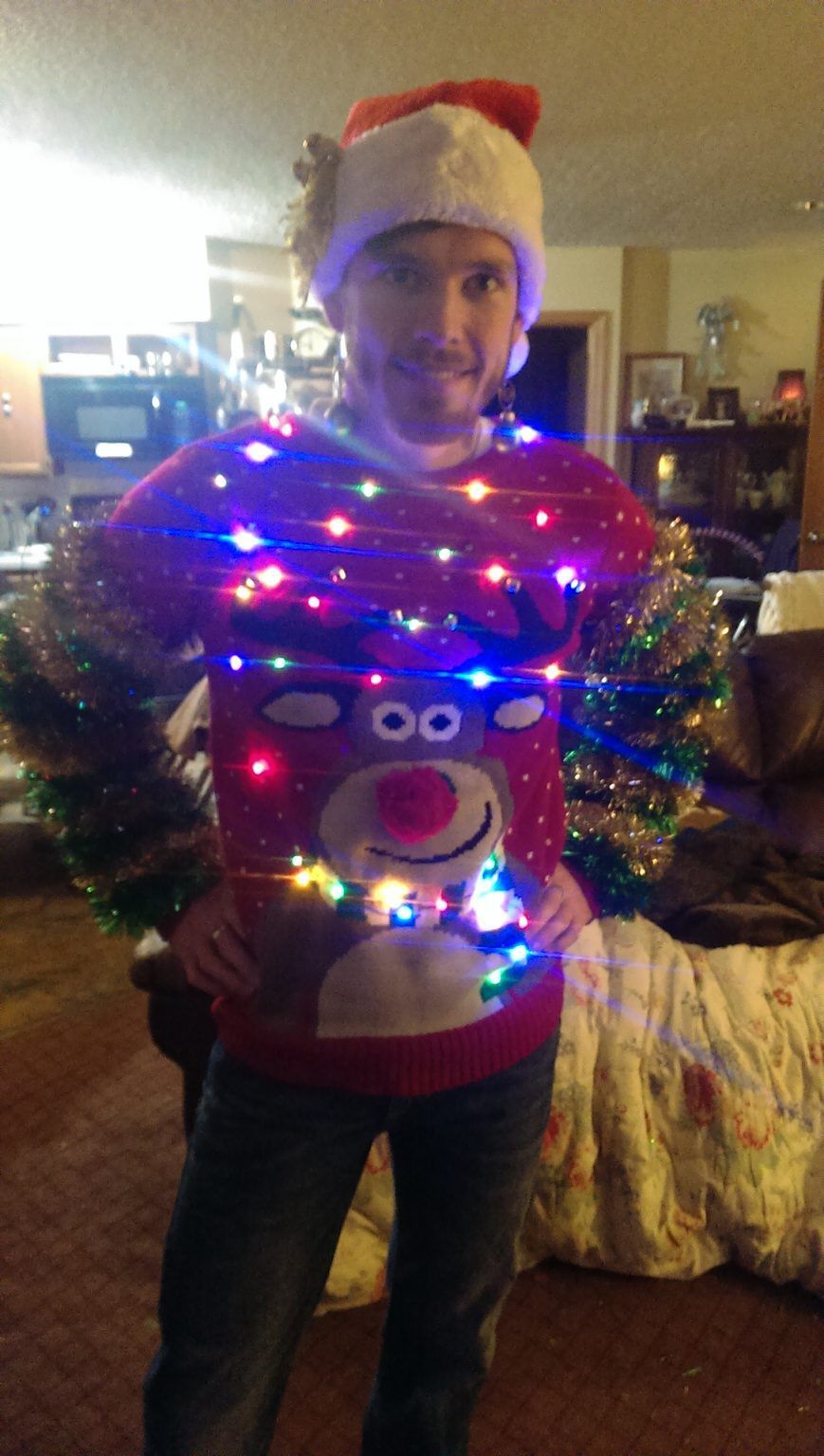 This sweater is bright and gaudy. Exactly the way an ugly Christmas sweater should be. Plus, the Santa hat gives the outfit a nice kick of holiday cheer.
Also, I think Rudolph likes those lights!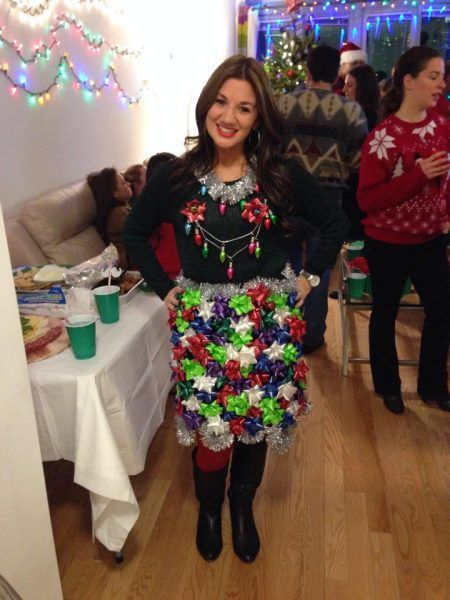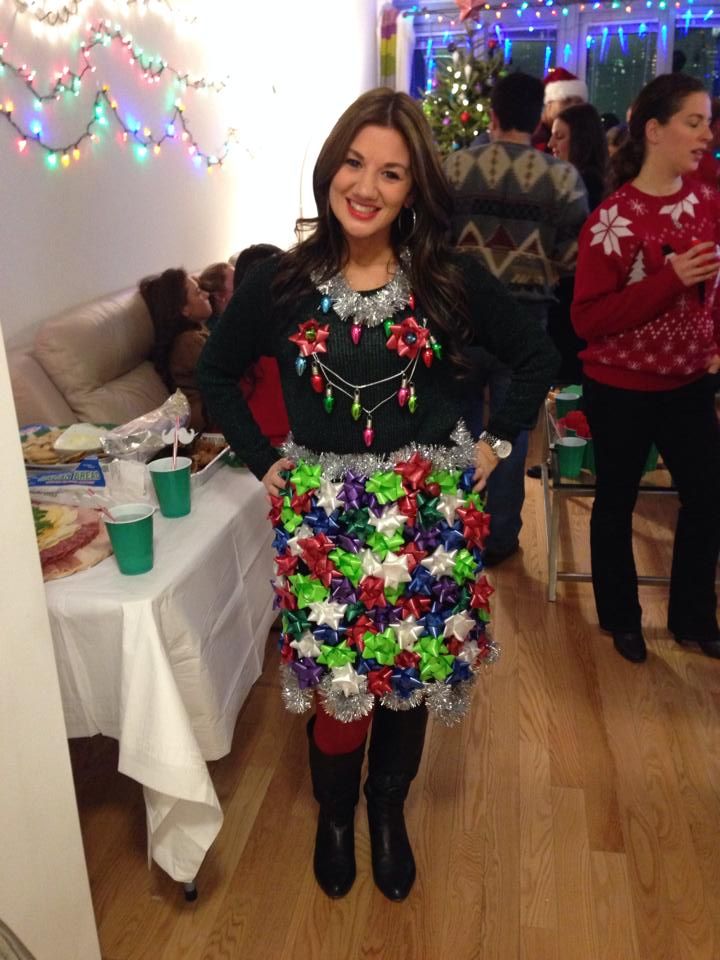 Is this a sweater or an ugly Christmas dress? Whatever the case may be, I love it! This outfit isn't even that ugly. Gaudy? You got it. However, it is cuter than anything else.
I love the bow skirt and garland around the neckline. How long do you think it took this girl to make this outfit?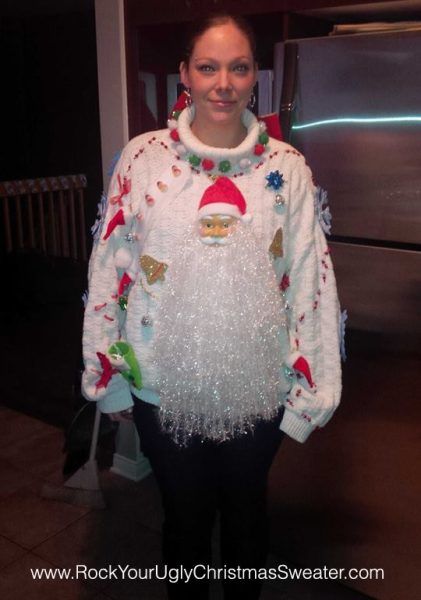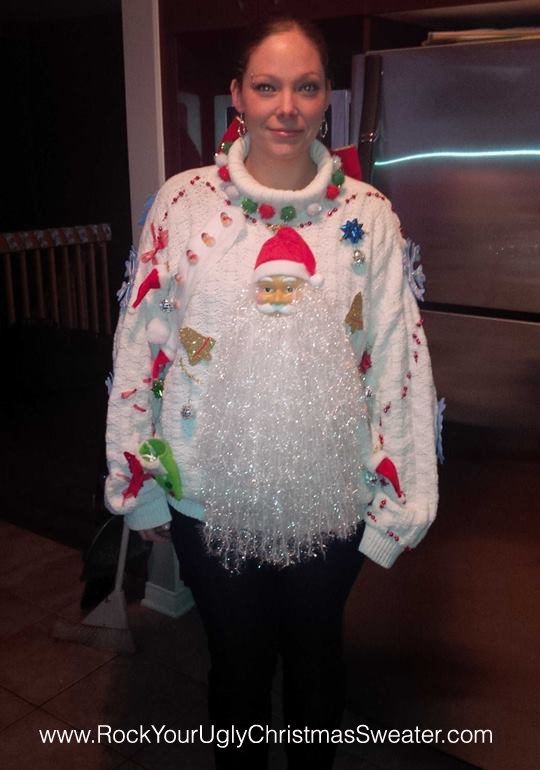 Now, Santa's beard is obnoxiously long! I bet this lady will be dipping her sweater in hot cocoa and buttered rum all evening long if she isn't careful. However, that's the fun in it! You can always make it uglier.
Also, this sweater can easily be a DIY project with a plastic Santa head, beard, and ornaments. Get creative!
This is a simple and cute way to show off your holiday spirit. These charming "ugly" Christmas sweaters are easy to make and are super cost-efficient. The blogger who made these sweaters said she only invested $1!
Not to mention that these ugly sweaters are perfect for couples.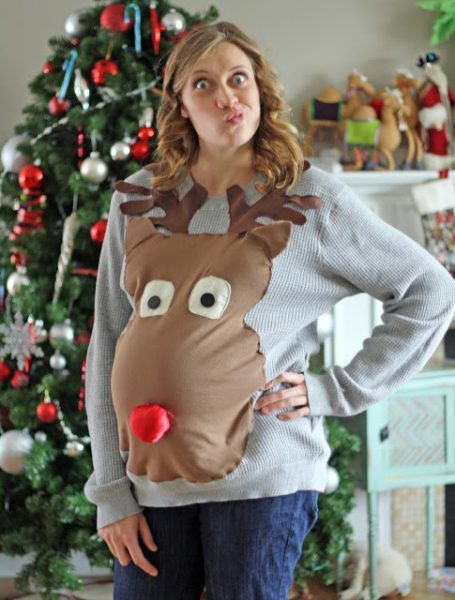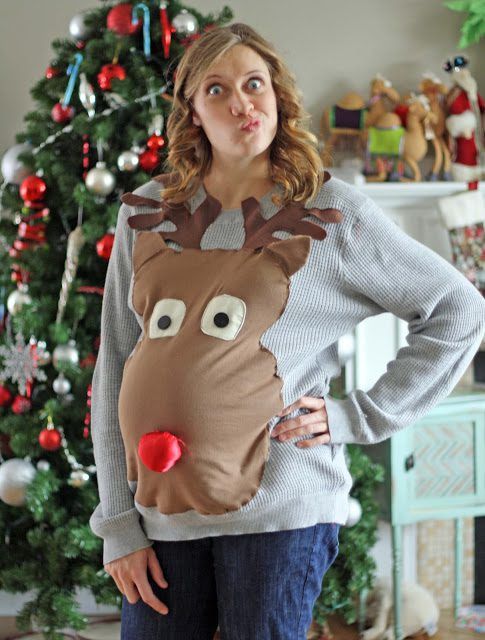 Pregnant mamas want to get in on the ugly Christmas sweater fun, too! Isn't this an adorable idea? I love how Rudolph's nose is right on her belly! Super cute.
If you are going for something simple, this is the ugly Christmas sweater for you. It isn't overly gaudy and I'm guessing it would be a breeze to make.
Morbid? Yes. This sweater is a little on the morbid side. After all, you've got a dead deer head on your chest. LOL!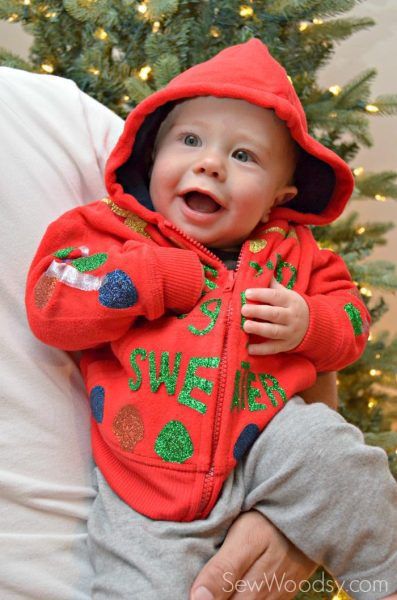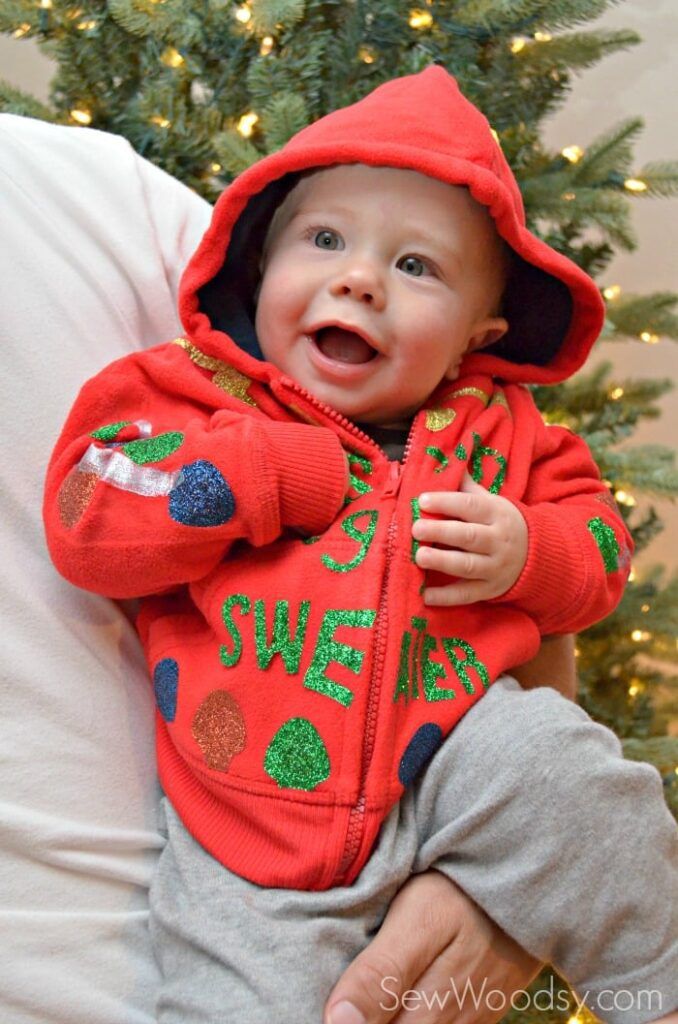 Aw, how cute! Make your ugly Christmas sweater a family affair with a DIY sweater for your little one.
This sweater is so cute! However, I can't even say that it is ugly because, how can it be? It's being worn by a smiling, chubby baby.
If you are a Kevin Mcalister fan, this Home Alone Sweater is just what Santa ordered. It is a homemade classic!
Even though I'm not such a supporter of the movie, I have a couple of friends that are simply in love. So, this ugly Christmas sweater idea is the best gift for them. They can even wear it and watch their favorite film at the same time! How cool is that?!
This ugly Christmas sweater makes me laugh! Not only did she make a tacky holiday sweater for herself, but she also crafted one for her bottle of wine, too. That means friendship, man! You don't let your best mate freeze!
Genius!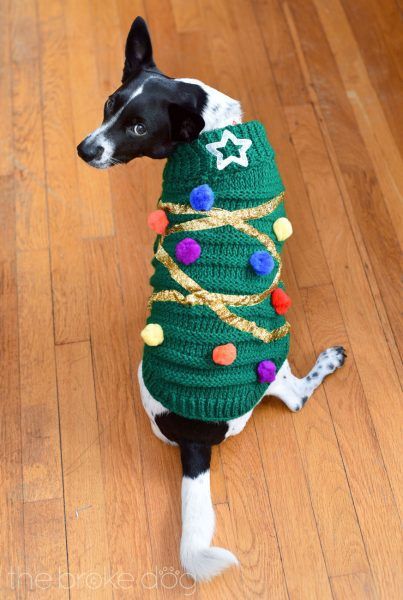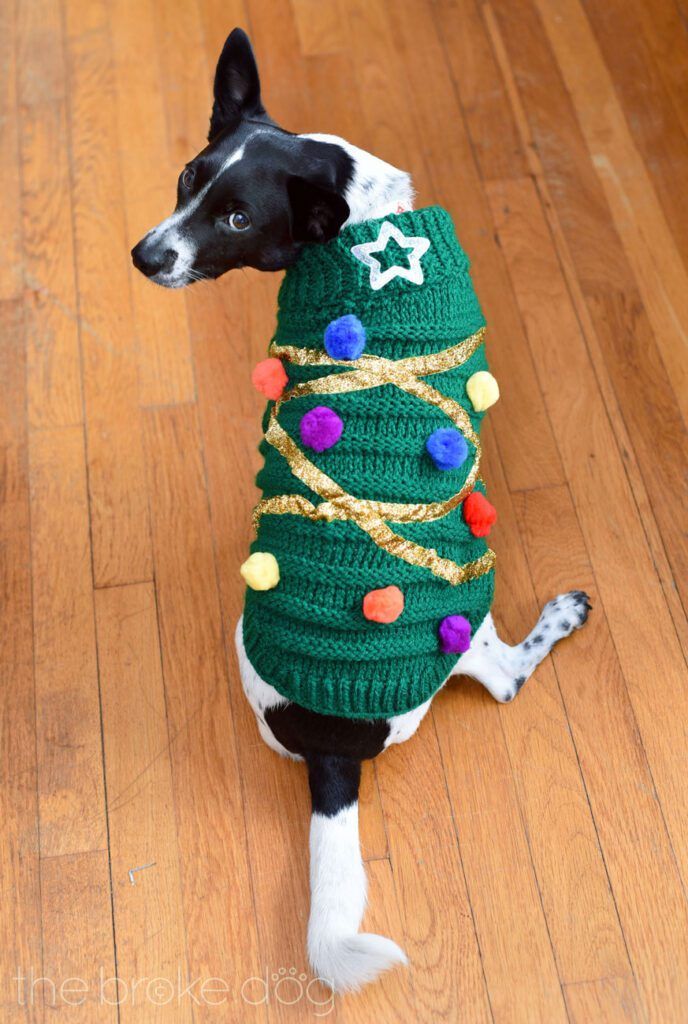 Last but not least, this ugly Christmas sweater idea for your puppy is one of my favorite for sure. Not to mention that is a simple 5-step tutorial and you don't need much! So, why won't you dress up your little one too? Wrap them with special love. We may call it ugly but your doggo definitely looks cute with this.
Suggested Read: 25 Ugly Christmas Sweater Ideas Part 1
---
What's Your Favorite Ugly Christmas Sweater Idea?
All in all folks, I really hope you enjoyed this list of 25 ugly Christmas sweaters. I know I sure enjoyed making it! Not to mention that I want to wear all of these sweaters during the holiday season. However, I'll skip the baby and the dogo ones. They just don't match my skin tone, you know…
In addition, all of these 25 cute-ugly sweaters are such cute ideas that will suit every Christmas lover out there! So, literally, everyone in your life can fashion a sweater from this roundup.
Finally, it's time for you to share your funny Christmas experience. Let us know what cool gift ideas you had in mind in the comments section below. Also, which one of these DIY ugly Christmas sweater ideas will you be using? I am so excited to find that one out!
Check out these ideas that you could do on Christmas. Elf Approved Christmas Drinks, Christmas Candy, & Christmas Tree Decorating Ideas. Find out more ideas like these on our website.