Have leftover Halloween sweets? Then make these Candy Bar Cupcakes! With a surprise centre, luscious frosting and candy bar topping, these are a fun and easy way to use that candy up!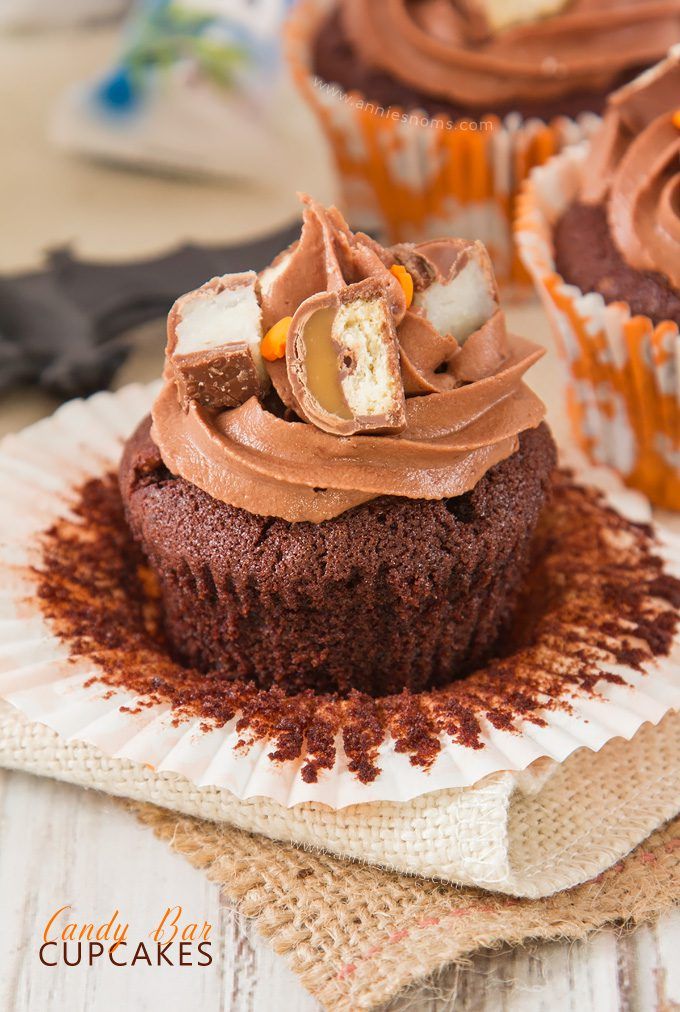 Hello friends, how's October treating you?! It's been a busy and pretty up and down month for me. It's definitely been a month that shows us how life can be very high and then very low in minutes.
Can you believe Halloween is so close??? Although, you wouldn't think so in our shops. There's a tiny little corner for Halloween costumes/chocolate etc. and then entire aisles full of Christmas stuff. Already. It's October…
I did, however, manage to find some candy for any trick-or-treaters who come knocking on our door.*
*I tell myself that, but in 5 years, the door has gone once. More candy for me!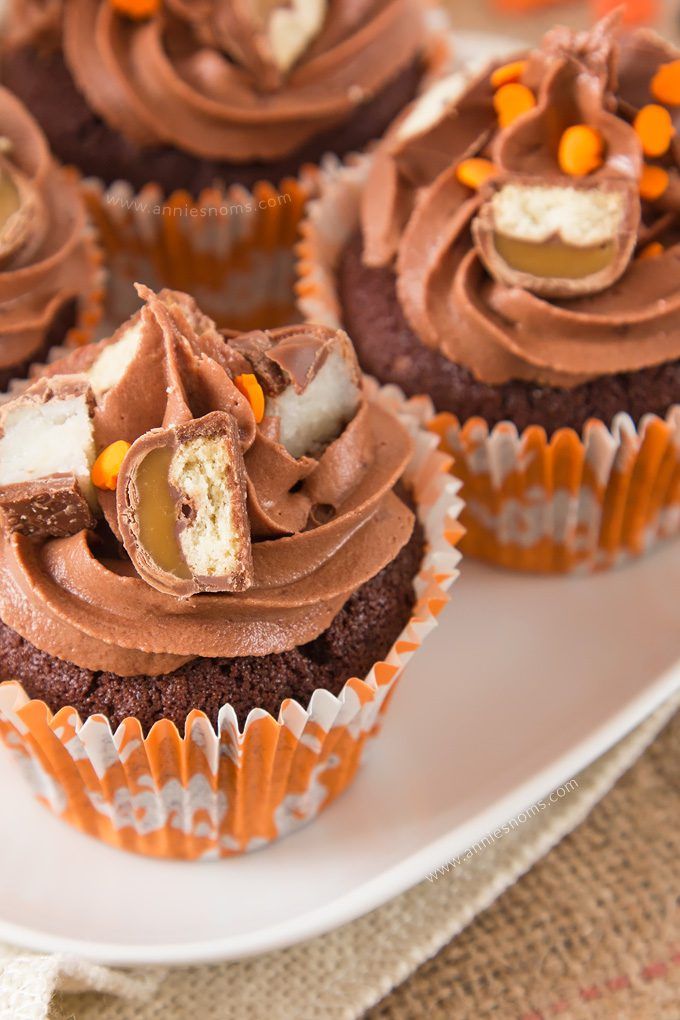 Since the cupboards are entirely stuffed with chocolate and sweets and there's an avalanche every time I open one, I started thinking about what kind of treats I could make with all of it. I've already made some Halloween Candy Bark, but I felt the need to make something else. Something a bit decadent, yet still easy.
Enter these cupcakes. My favourite rich, chocolate cupcake with a piece of chopped up candy bar in the centre and a velvety smooth, chocolate filled frosting.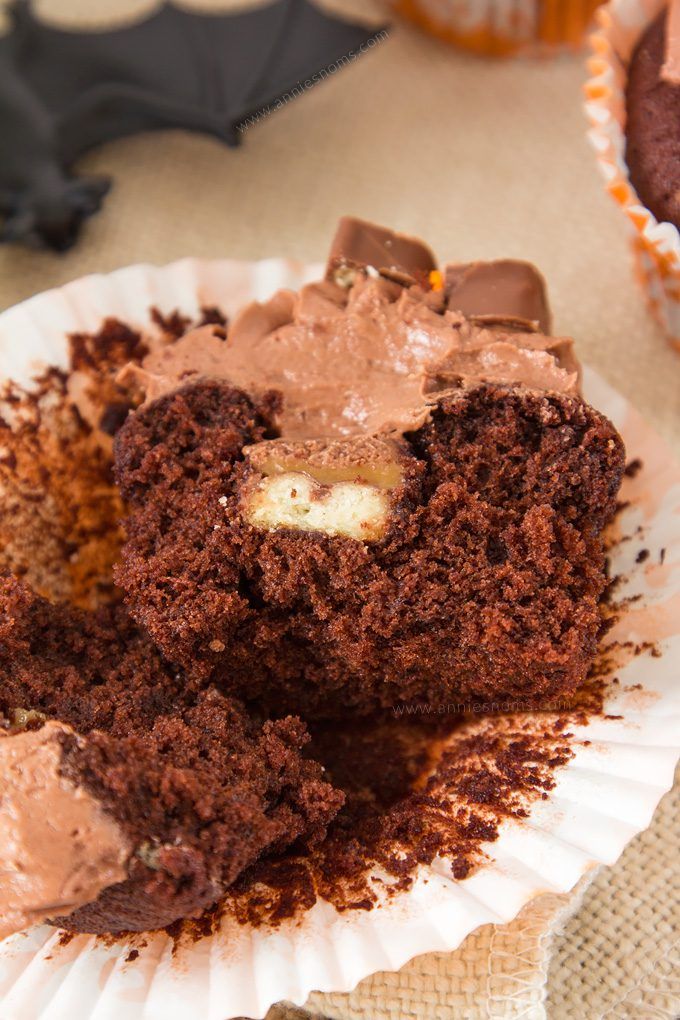 Then I went overboard and sprinkled more candy bars on top and some sprinkles. Obviously.
I may or may not have ended up eating more than ended up on the cupcakes… #foodbloggerperks and the reason I have to work my little (big) butt off doing HIIT and strength training.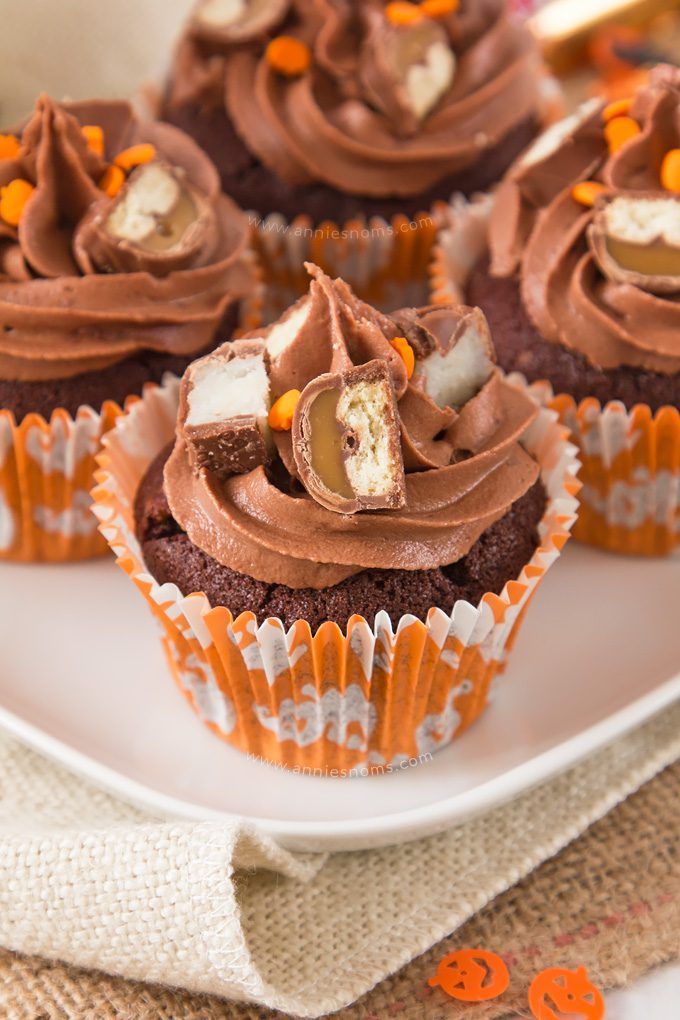 Of course, you can use any leftover candy bars you have; but for this recipe I used Bounty's and Twix's. For the centre of the cupcake, I made sure there was a fairly big chunk of chocolate in there, so you really get that surprise burst of flavour, but for the frosting, I chopped them up a little smaller and mixed the Bounty and Twix pieces together before sprinkling them on top of the cupcakes.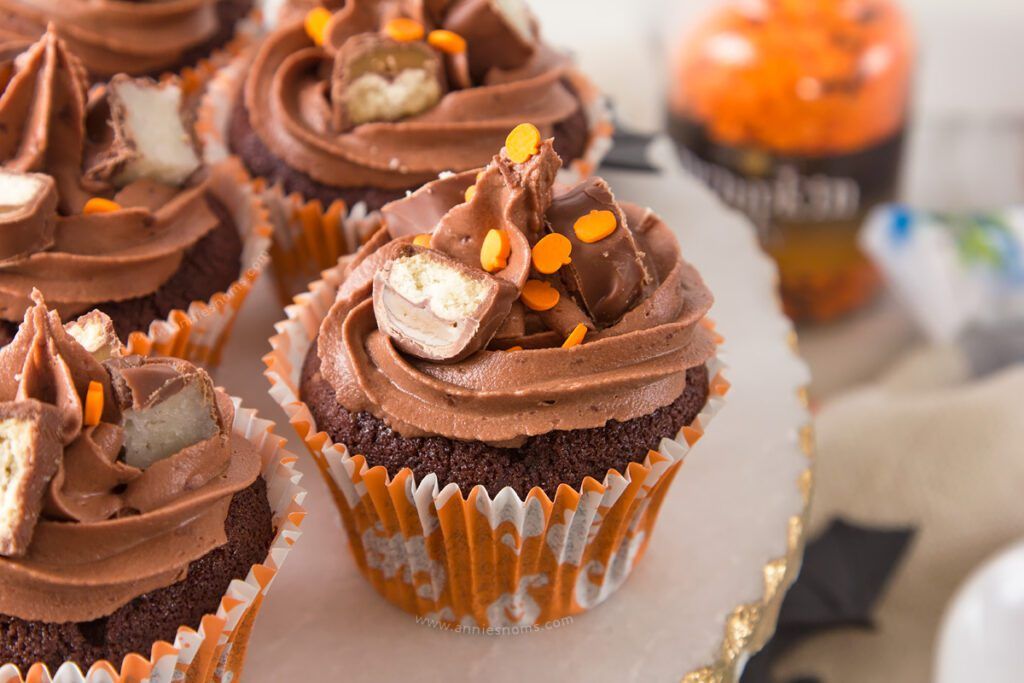 I made half of the cupcakes with a Twix centre and the other half with a Bounty centre. Then, once frosted, they became Surprise Cupcakes because I couldn't remember if I put the Twix ones on the left or right of the cooling rack. 😉
Mind you, it was quite nice biting into one and now knowing if I was going to get a caramel or coconut hit! I sent these into work with my fiancé and got an empty tub back and rave reviews, so I think they went down well… 😀
So, if you're looking for an easy, decadent cupcake recipe to use up your candy, then these are the cupcakes for you!
You can connect with me on Facebook, Twitter, Pinterest and Instagram!
Candy Bar Cupcakes
Have leftover Halloween sweets? Then make these Candy Bar Cupcakes! With a surprise centre, luscious frosting and candy bar topping, these are a fun and easy way to use up that candy!
Ingredients
For the cupcakes:
¾ stick (85g) butter/margarine, at room temperature
1 cup (200g) superfine sugar
¼ cup (50ml) vegetable oil
2 large eggs
1tsp vanilla extract
½ cup (50g) good quality cocoa powder
1 cup (140g) all purpose flour
2tsp baking powder
½ cup (120ml) milk
2 Twix fingers, cut into thirds
1 full size OR 2 treat size Bounty's, cut into thirds
For the frosting:
4oz/113g milk chocolate
3oz/85g dark chocolate
2 sticks (226g) unsalted butter, at room temperature
2 and ½ cups (300g) powdered sugar, sifted
1tsp vanilla extract
Pinch of salt
2 Twix fingers, chopped into small chunks
1 full size OR 2 treat size Bounty's, cut in half length ways and then into small chunks
Sprinkles to garnish, optional
Instructions
Preheat the oven to 350F/180C and line a 12 hole cupcake tray with liners.
Place butter and sugar into a large bowl, or the bowl of your stand mixer and beat on med-high speed until light and fluffy.
Add in the oil, eggs and vanilla and mix until well incorporated, scraping sides down as necessary. The mixture may look a little odd at this stage, but don't worry it will come together.
Sift the cocoa powder into a small bow, then add in the flour and baking powder. Stir until well combined.
Add the flour mix to your egg and sugar mixture and begin to mix on low speed. Once it begins to come together, slowly start pouring in the milk. Once all the milk is added, continue mixing on low-med speed until smooth and everything is well combined, 20-30 seconds.
Divide the mixture between the 12 cupcake cases, about ¾ full. I used a 2tbsp ice cream scoop to ensure every cupcake was filled the same.
Take pieces of Twix and Bounty and press one piece into the centre of each cupcake. Press them until they're level with the mixture, you don't want the mixture to cover the candy.
Place in the oven for 18-23 minutes, until risen and an inserted skewer comes out clean. It's best to put the skewer in next to the candy, then push diagonally into the centre to ensure you are actually checking the cake.
Transfer to a wire rack to cool almost immediately (I find if you leave cupcakes in the tray, the liners pull away). Once completely cool, make the frosting: Place the dark and milk chocolate into a heat proof bowl and microwave in 20 second increments, stirring in between, until the chocolate is melted and smooth. Leave to cool for 5-7 minutes.
Place butter and powdered sugar into a large bowl, or the bowl of your stand mixer and beat on a medium speed until light and fluffy.
Add in vanilla extract and salt, and mix until well combined. Once the chocolate has cooled slightly, add it into your butter/sugar mixture and beat on medium-high speed until thick and fluffy, 45-60 seconds.*
Frosting will be thick and creamy and shouldn't fall off of a spoon easily.
Half fill a piping bag attached with an open star nozzle and pipe a swirl onto each cupcake.
Sprinkle each cupcake with 3-4 pieces of chopped up Twix and Bounty. Finish with some sprinkles, if desired.
Cupcakes will keep in an airtight container, at room temperature for 3 days, or in the fridge for 5 days. Remove from the fridge 30 minutes before serving.
Notes
*It's important that the chocolate has cooled slightly, otherwise it will make the butter even softer and the frosting will be very runny and may not come together properly.