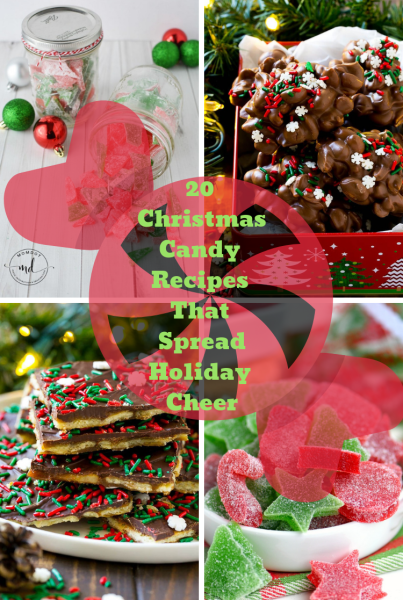 When I was a kid, my grandmother and mother hosted an annual Christmas candy-making event at our home. Everyone came, including aunts, cousins, and good friends. Each lady brought her favorite Christmas candy recipe and the supplies to make it.
Everyone made sure to have a few printouts of the recipe to pass along to others, too. These candy making events were such a joy to us all during the holiday season. We would play Christmas music, drink hot cocoa and coffee, and just spend time with one another.
I LOVE making holiday memories in this way. Now that I am married with my own kids, I host the annual Christmas candy making extravaganza in my home. I hope my daughter (or even my sons) will carry on this beloved tradition when they get older.
I decided to create a roundup list of the 20 best Christmas candies from around the internet. You'll see everything from peppermint-inspired goodies to chocolatey delights.
My son once said, when he much smaller, "Mama, let's leave Santa some of these candies instead of cookies because he'll like that a lot better"!
You know what? He was right. "Santa" did enjoy that homemade fudge much more than any old sugar cookie 🙂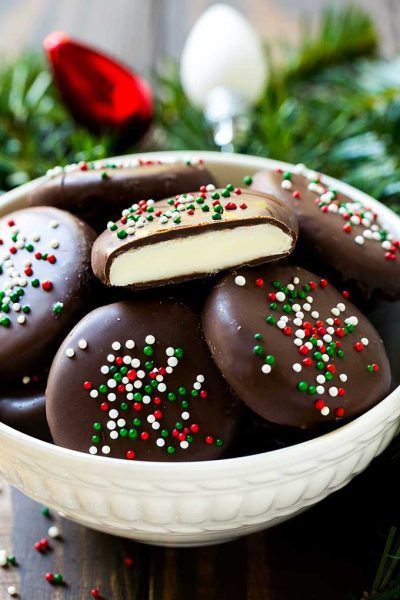 These peppermint patties look so refreshing! I love the exhilarating flavor os mint mixed with chocolate. Can you imagine these festive looking patties sitting in a decorative dish on your holiday table?
You'll love how easy they are to make, too! The touch of holiday cheer through the red and green sprinkles adds a lovely appeal. Oh my, I just want to eat these peppermint patties through the computer screen!
Consider making these patties, placing into a holiday tin, and giving to friends and family as a homemade gift.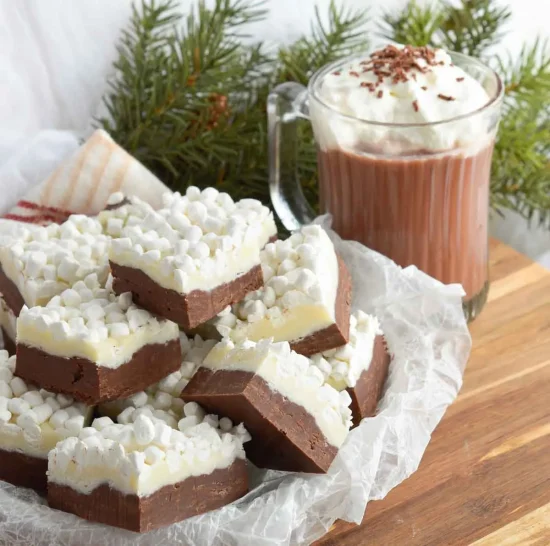 Um, this hot chocolate fudge has totally stolen my heart. Just look at it! Are you looking? Are you drooling? I want to reach through my screen and snatch up that plate, right quick.
I love everything about this recipe, especially the tiny marshmallows. Aren't they adorable? This is another Christmas candy treat that would make a lovely gift for a friend.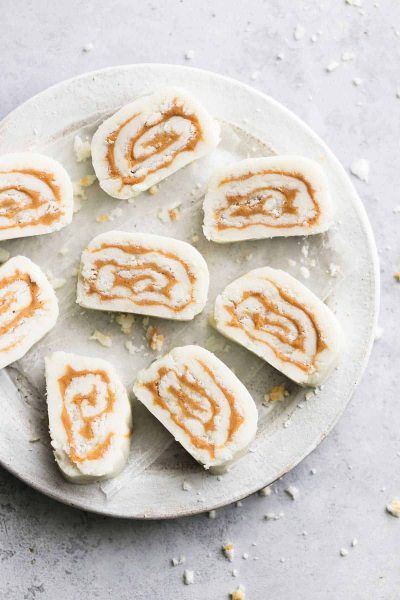 If you're looking for a bit of nostalgia, you need to make this yummy potato candy. This is the stuff your grandma was making and probably her grandma, too. Plus, and you're gonna love this, it's only 3 ingredients!
Did you know that when potatoes are mixed with powdered sugar, something magical happens? It's true! It's like the sugar transforms the taters into fudge or divinity.
You've got to try this!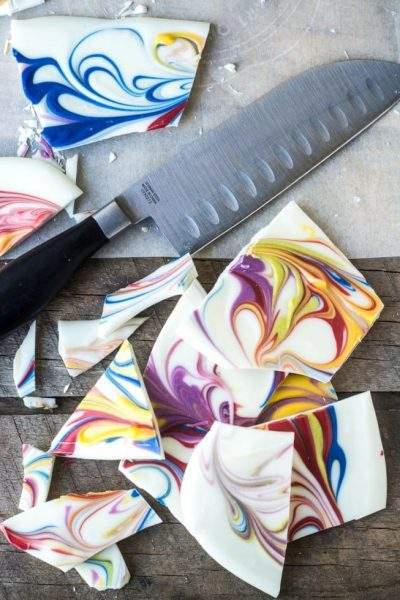 This candy has been described as "finger painting in the kitchen for grown-ups". Now, doesn't that sound fun? Look at how beautiful this marbled chocolate bark is. It's almost too pretty to eat…almost.
The only thing I'd do differently is use green and red colors instead of a mixture of bright shades. To me, the color scheme is sort of spring/Easterish.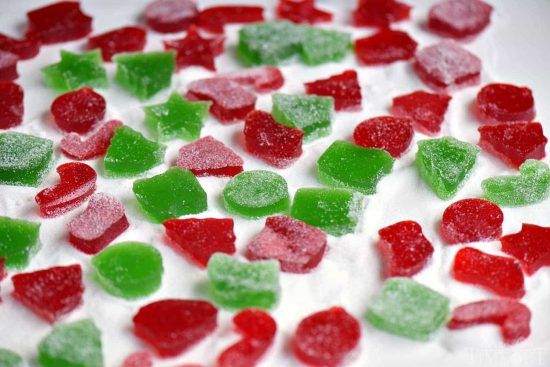 I'm not too big a fan of gumdrops. Especially, those weird-tasting spiced ones that are shaped like little brightly-colored bushes. However, I'm willing to make an exception for these homemade wonders of Christmas joy.
I LOVE the shapes! Plus, these gumdrops don't taste weird to me at all. They aren't all spicy and whatnot. If you happen to like the classic gumdrop flavor, I suppose you could add it.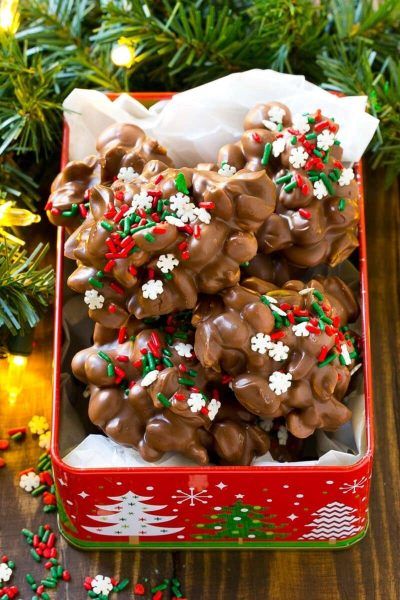 Who would have ever thought that candy that looks as good this would come from the Crock Pot? I seriously doubted this recipe when I first saw it. Then I made it, and it turned out perfectly.
You honestly can't go wrong with this candy. it's super duper easy to make and it tastes amazing. I love serving this slow cooker candy out of my Santa sleigh candy dish.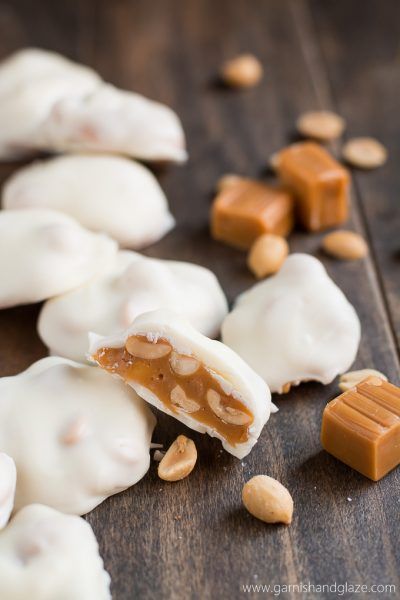 These yummy white chocolate, peanut, and caramel packed candies truly do resemble polar bear paws! I mean, granted, I've never been up close and personal with a polar bear, let alone inspected one's paws, but I can imagine!
You'll have loads of fun making these polar bear paws with your kids. Try not to eat them all at once!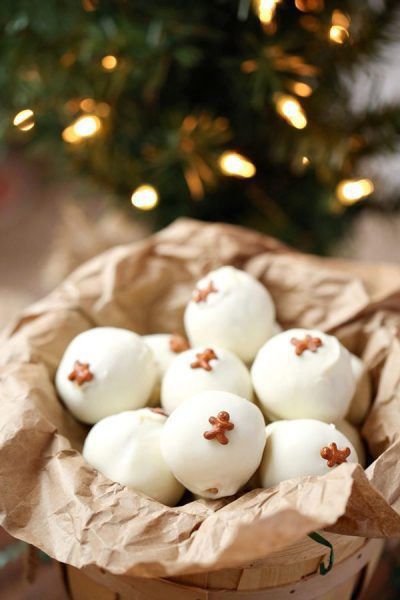 I can barely handle the cuteness of the mini gingerbread men on these truffles. Are they not the cutest thing you've ever seen? The flavor in these truffles are simply marvelous!
You'll enjoy making and eating these yummy candies. Again, another great Christmas candy tin filler.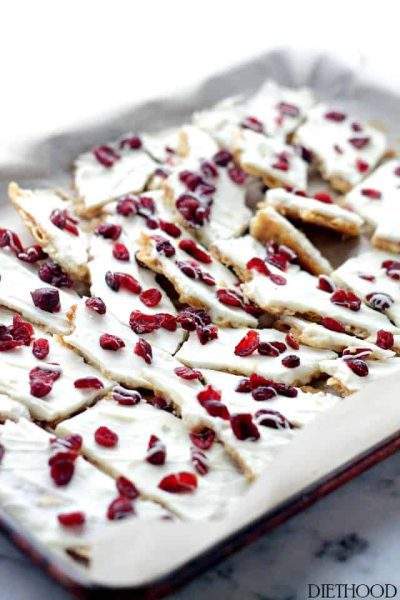 What an incredibly easy Christmas candy to make! Check out those dried cranberries. Are they not beautiful in contrast with the white fudge? It reminds me of cranberries sitting on snow.
This is a fun Christmas candy to make on Christmas Eve so that it is fresh for the next day's festivities.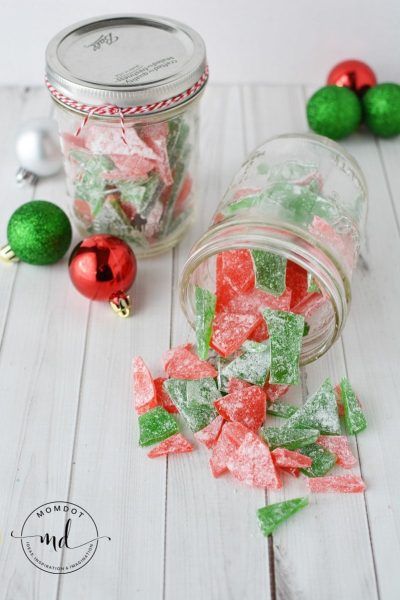 This recipe really hits close to home. My late grandmother would always make red and green rock candy for the holidays. She'd make the red cinnamon and the green spearmint. My siblings and I loved eating it!
Grandma would always place the candy, dusted with powdered sugar, into decorative tins. Bittersweet memories!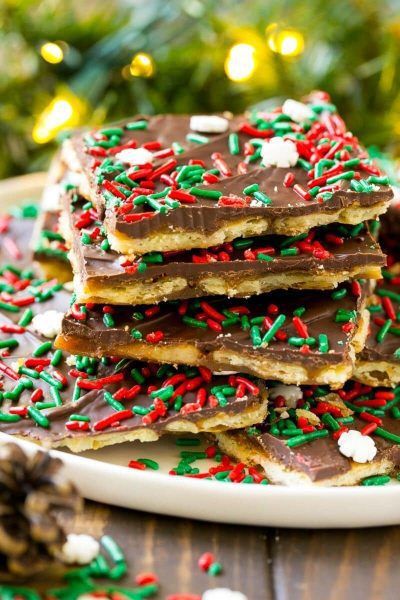 Ok, I know the name of this Christmas candy sounds pretty strange. Shoot, it even sounds criminal! Haha! I assure you, it is made of nothing but sugar and spice and everything nice.
It got its strange name because it is totally addicting. You simply cannot stop munching on this Christmas crack candy!
It's crafted from saltine crackers (ha!), brown sugar, butter, chocolate chips, and holiday sprinkles.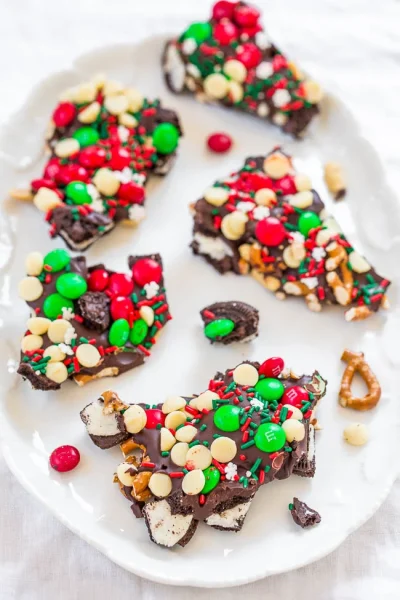 If you are like me and love to taste test all of the goodies, loaded Christmas bark will be right up your alley. With this holiday candy, you can truly have it all in one bite!
This candy is very easy to make and kids love to help put it all together. I adore all of the holiday colors!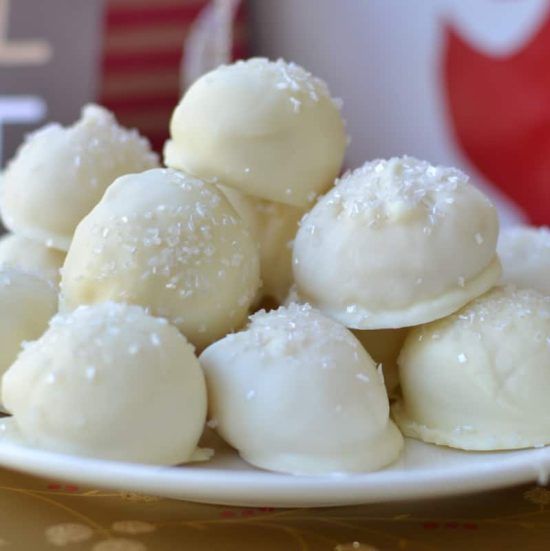 Even if you aren't a fan of eggnog, you just may find yourself reaching and reaching again for these truffles. They are so creamy and dreamy! I think they look like little snowballs.
I'll definitely be making these for my holiday candy gift tins.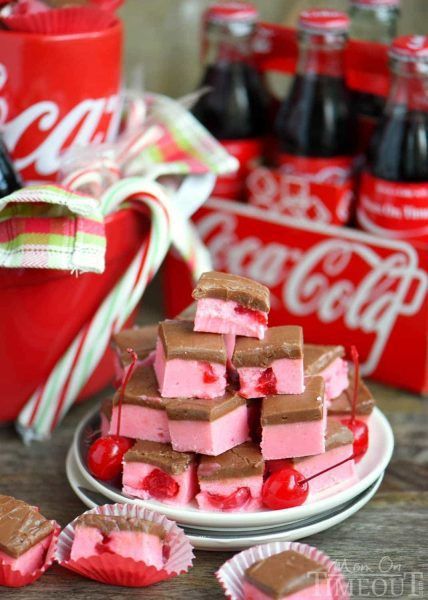 This probably my favorite Christmas candy featured on this list. I am a mega-fan of cherry coke and chocolate, so yeah, this fudge is totally a dream come true.
You actually use Coke in this recipe! How neat is that? I've made this fudge a few years in a row and it is always a hit.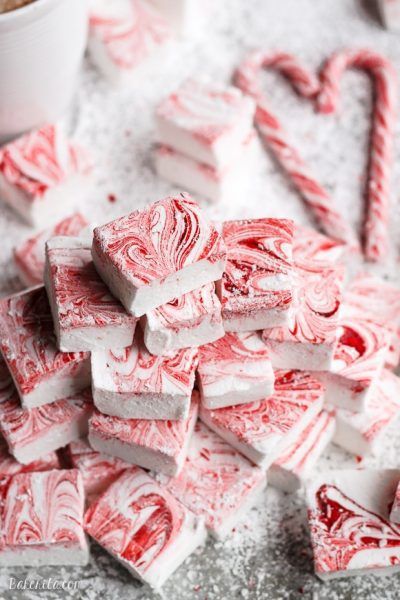 Oh. My. Goodness. These peppermint marshmallows are like little pillows of minty bliss. I can picture the Elf on the Shelf using one of these on his elf bed.
You'll love the soft and chewy texture of these yummy holiday candies, and so will your guests.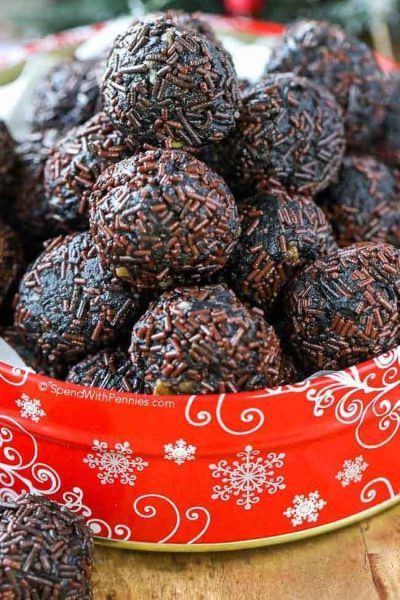 These holiday rum balls only consist of 4 ingredients! They are very easy to make and they allow you to get your rum-fix in a non-alcoholic way. They are totally kid-friendly!
You'll love the flavor in them, I promise.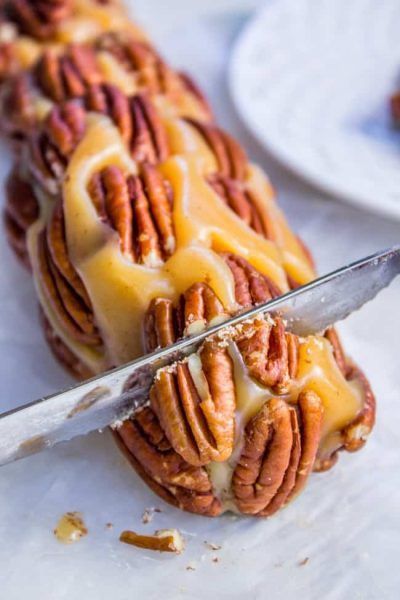 How many times have you walked through the aisles of just about any grocery store and saw nut rolls during the holidays? Normally, they are a bit pricey.
What if I told you…you can make them at home?
Mind. Blown.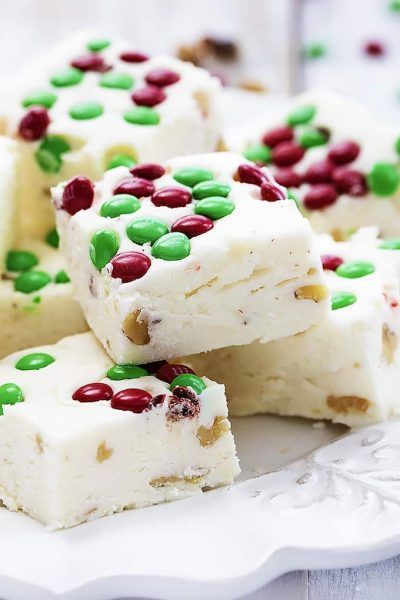 Colored by the shades of the holiday season, this Christmas fudge is nothing less than gorgeous. I absolutely love the contrast between red, green, and white. Those M&Ms are lucky to be laying on top of that pillowy fudge.
Until, I eat them, of course.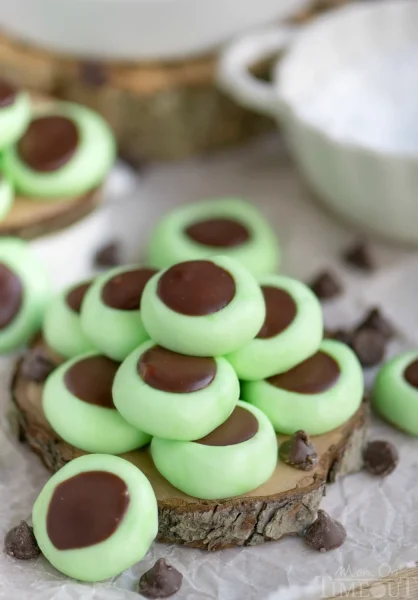 Here is another fabulous Christmas candy recipe that combines refreshing mint with creamy chocolate. These candies remind me of Buckeyes, only with different flavors.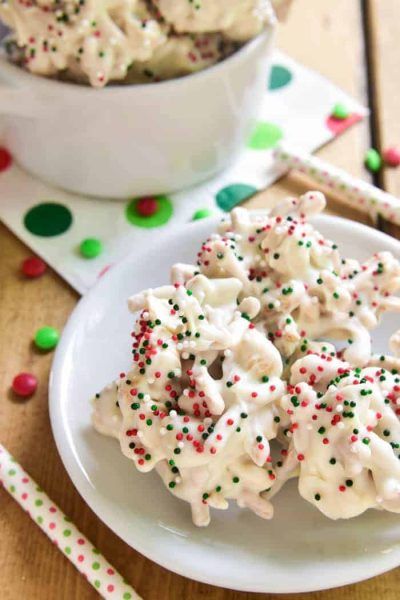 Don't you just love the name of this candy? "Ting-a-Lings. How cute! The candies are very easy to make and they basically disappear into everyone's tummies.
Better make a double batch.
---
Is your taste buds in overdrive, right now? I know mine sure are! All these fabulous photos of Christmas cady have my stomach growling. I cannot wait to make some of them.
I think my favorites would be any of the recipes that include peppermint and chocolate, together. Those peppermint marshmallows look pretty amazing, too.
Which recipes are your favorites? Do you have an idea of which ones you'll be making this holiday season? Maybe, you'll host a Christmas candy making party?
I hope you'll share with me in the comments, which recipes you chose and how you decided to display your candies. Perhaps, you'll place them into a decorative tin and give them away as homemade holiday gifts!
Whatever yo decide to do, do it with love and fun in your heart. Happy holidays!