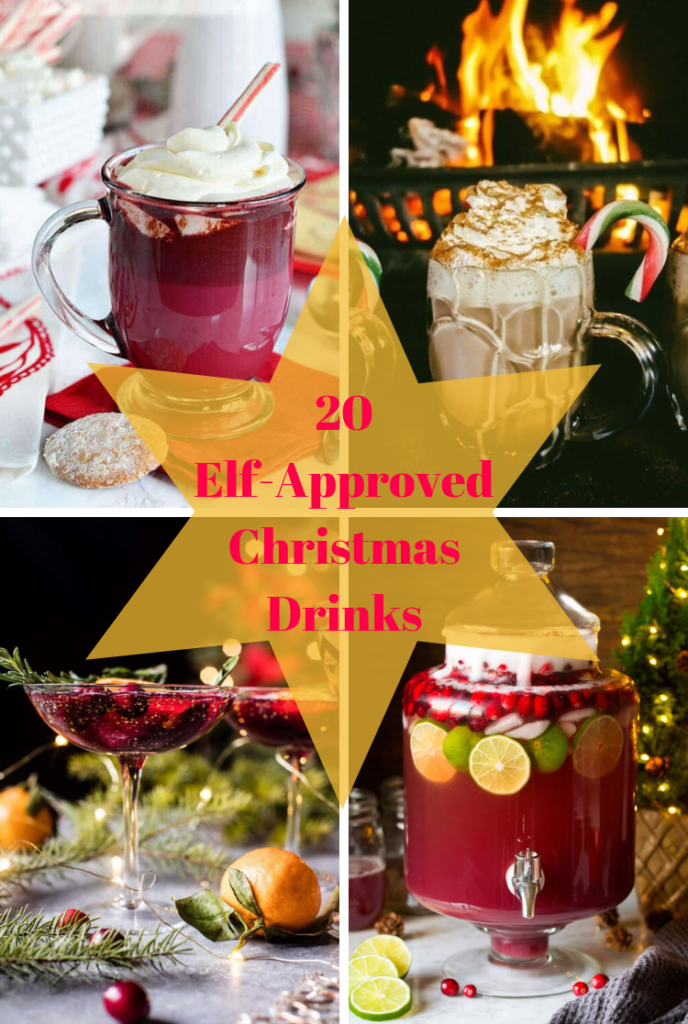 Do you know what my favorite part about a holiday party is? The punch bowl! Normally, Christmas punches and/or drinks are served in festive looking bowls with a variety of holiday-colored fruits and ice cubes floating around. These beverages are fun to drink!
Then, you have all of the hot cocoas to sample throughout the holiday season. Talk about a yum fest! My favorites almost always have some sort of peppermint or candy cane flavor. Who doesn't like chocolate and peppermint?
The following Christmas drink ideas are really going to put some holiday pep in your step. Why? Because they are beautiful and tasty. Everything about these delicious drinks screams "CHRISTMAS"! We promise you, Santa and his elves totally approve of these drinks and your holiday guests will also.
There might even be a few adult beverages on this list. Who doesn't need a holiday cocktail while opening up presents? Nothing beats a buttered rum while sitting by the fireplace and waiting for Santa to visit.
I think you'll really appreciate this roundup of holiday drinks. You'll also enjoy serving them in your great grandma's crystal punch bowl. It'll finally give you a reason to use that thing. Hooray!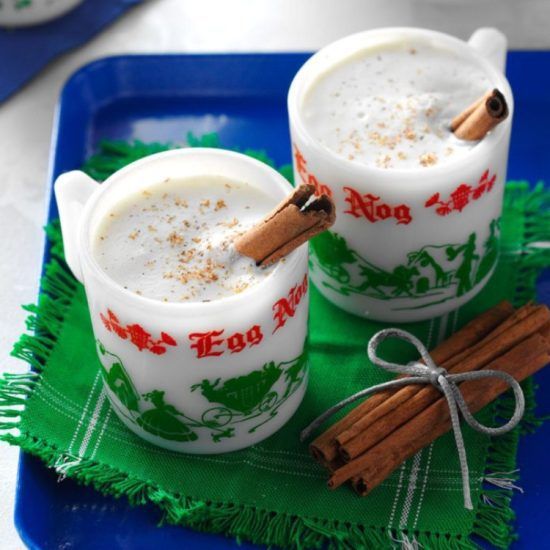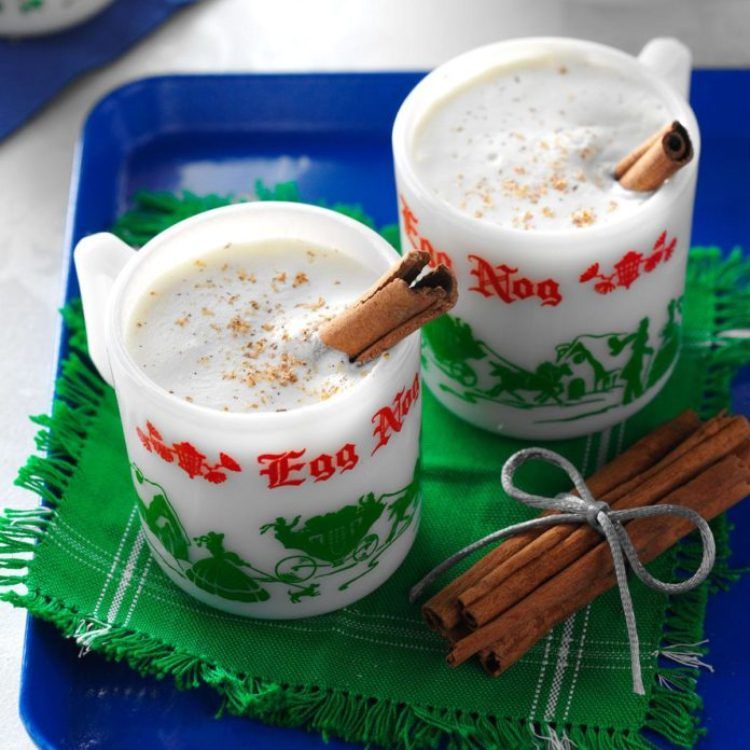 This is a Christmas drink that you really can't go without. it's rich, creamy, and flavorful. Honestly, this eggnog is like a cup of Christmas cheer. I can see Santa and the missus sitting in front of the fireplace with festive mugs just like the ones pictured, sipping away.
This eggnog is kid-friendly but can most certainly be prepared for adult taste buds, if you know what I mean.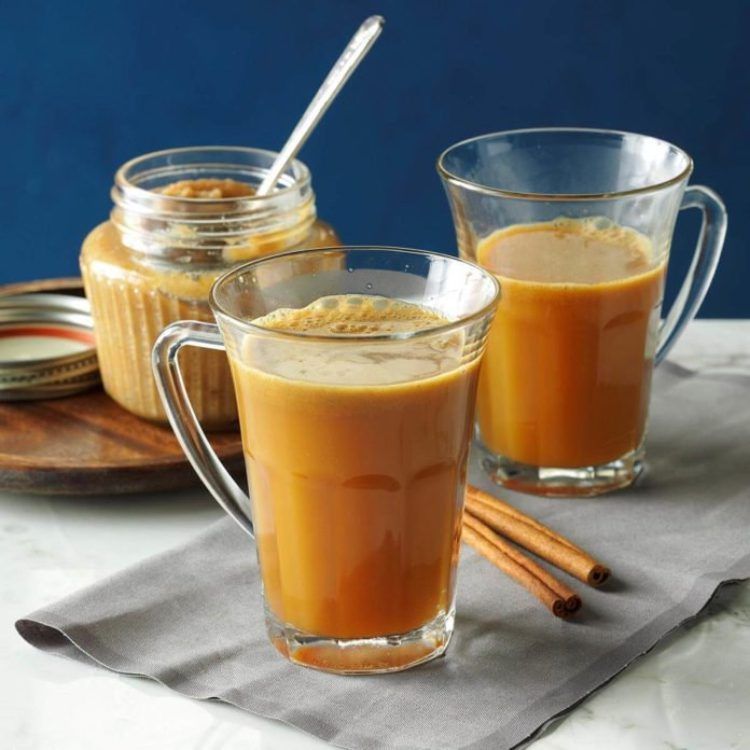 I love me some hot apple cider, but I've never had it buttered before. It looks absolutely dreamy. You can actually create the base for this yummy drink into a Mason jar, attach the recipe and instructions to a note card, and give it away as a festive drink gift.
This is yet another drink that can be made both kid and adult-friendly.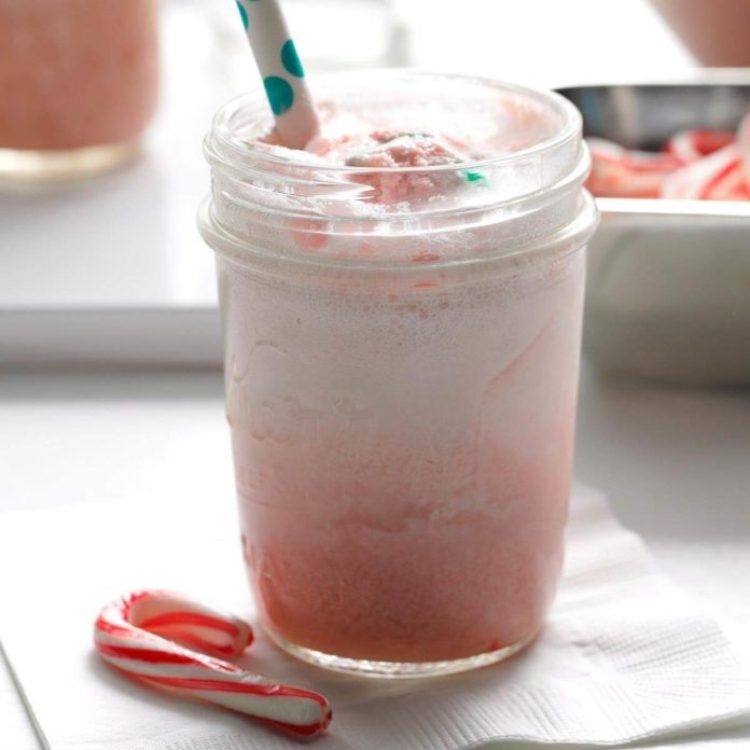 Do you like peppermint ice cream? I know that my family and I do. This deliciously creamy and frosty drink is more like a dessert than a punch. Truthfully, though, who cares? Just as long as I get a double serving of this winter-wonderland-in-a-jar, I'm happy.
Serve this holiday peppermint punch in small jar glasses and garnished with a candy cane for a holly jolly presentation.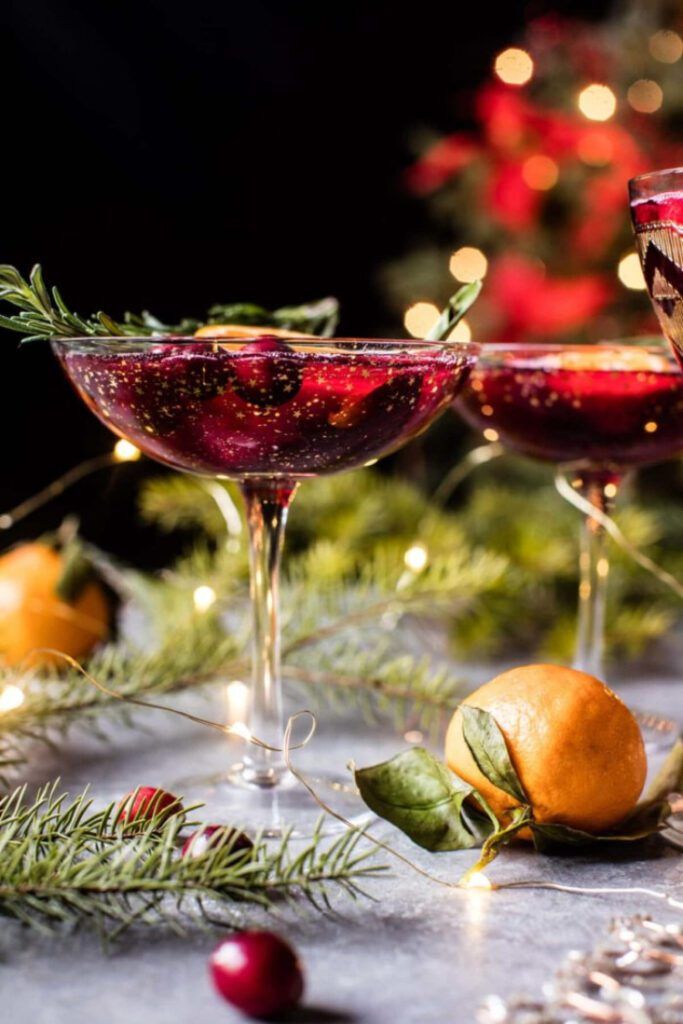 Who wouldn't want to sip on this gorgeous holiday drink? I think I'd just like to walk around with it in my hand during the annual Christmas party. It'd probably match my outfit haha!
I love the sparkling cranberries and pine needle garnishment. Very festive!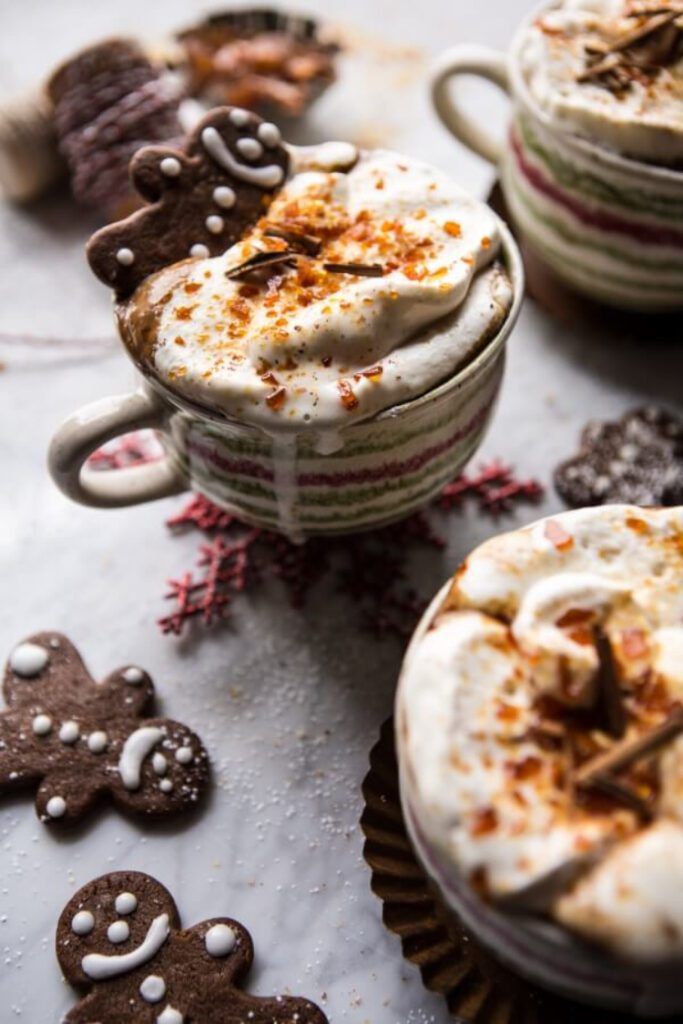 Oh my goodness! This ginger bread latte recipe is so scrumptious! Talk about a dessert in a mug. Just look at those cute little gingerbread men garnishments! This is a holiday drink to have with friends.
Your kids will love this drink, too. It makes the perfect Christmas Eve tummy snuggle before bedtime.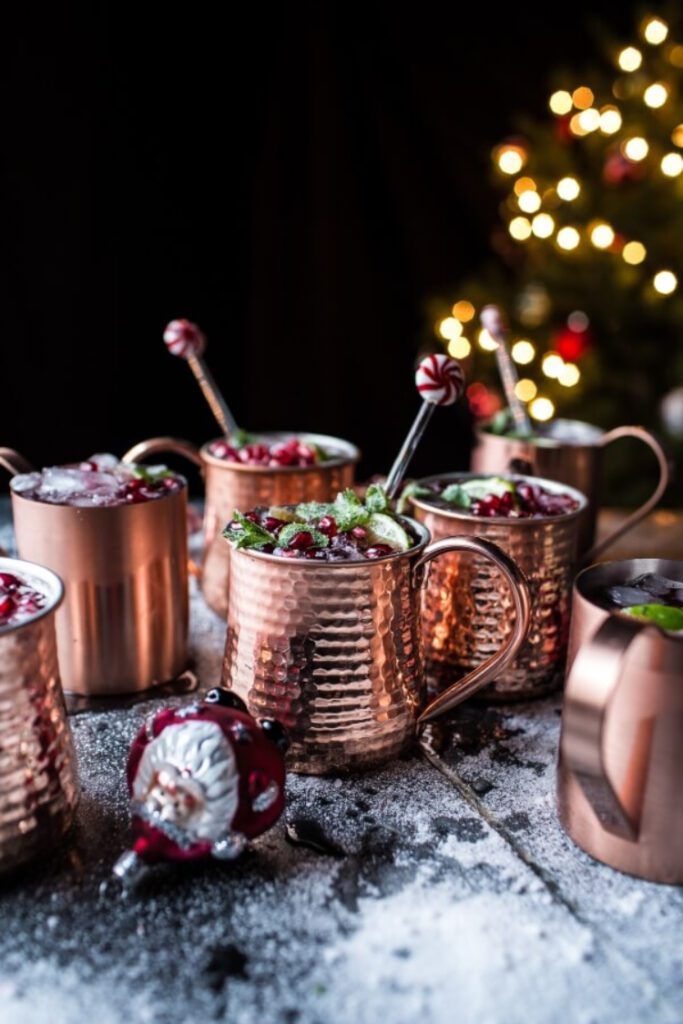 The presentation of this delicious adult-drink is gorgeous. i really need to get me a set of those copper mugs. Check out those peppermint candy stirrers! I could gaze at this drink, all day long.
This is the perfect drink to serve during holiday mixers, company parties, and at home by yourself lol!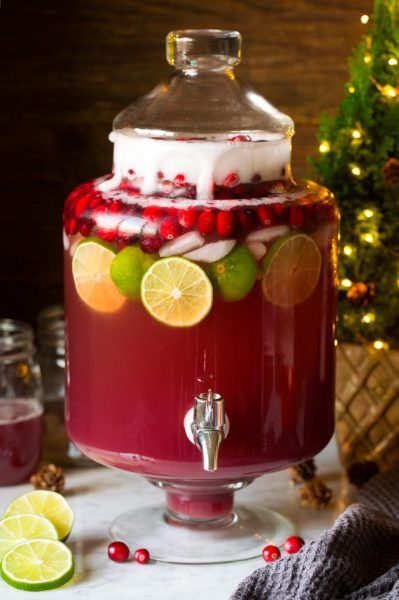 Imagine having this holiday punch sitting on your table. As your guests file in for their Christmas dinner, this punch will be one of the first things that they see. Can you imagine the excitement? This punch is so pretty!
Don't let the elaborate presentation fool you as it is very easy to make. All you do is fill up your punch bowl with the ingredients.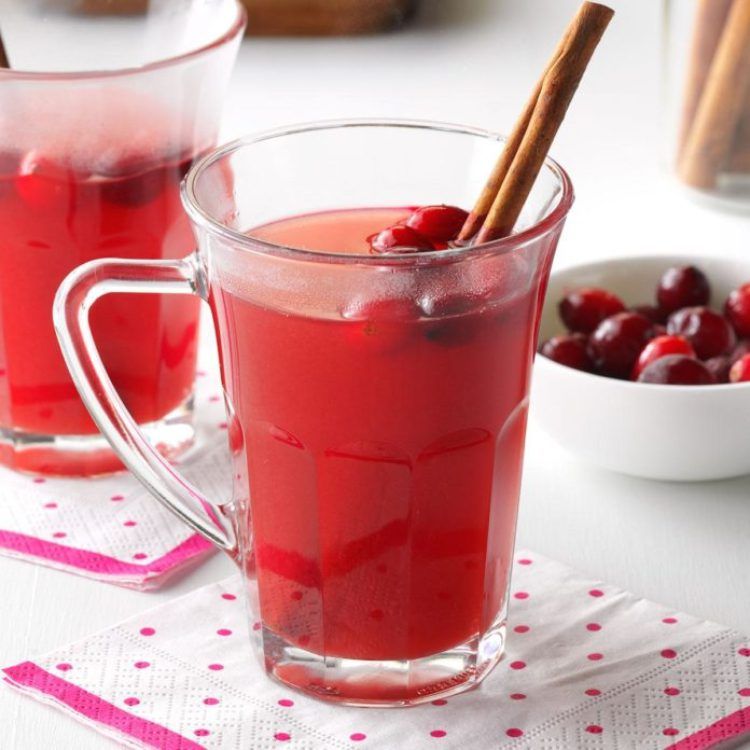 Calm your holiday nerves with a hot pineapple punch made in the crock pot. This punch has cinnamon sticks and Red Hots to give it that perfect Christmas flavor. You'll love how spicy it is!
One cup won't be enough to prepare to go back for seconds and thirds 🙂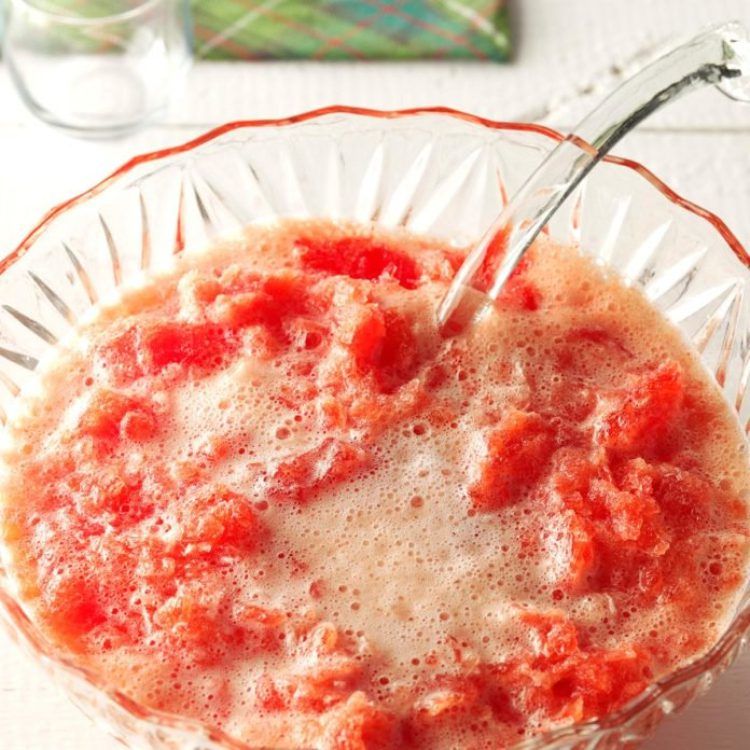 With the weather outside being frightful, this icy holiday punch seems to fit right in! Do you live someplace where there isn't a snowflake in the sky? Great! Cool off this holiday season with a punch so cold your nose will start to run.
This is an incredibly easy to make drink and it requires just a handful of ingredients.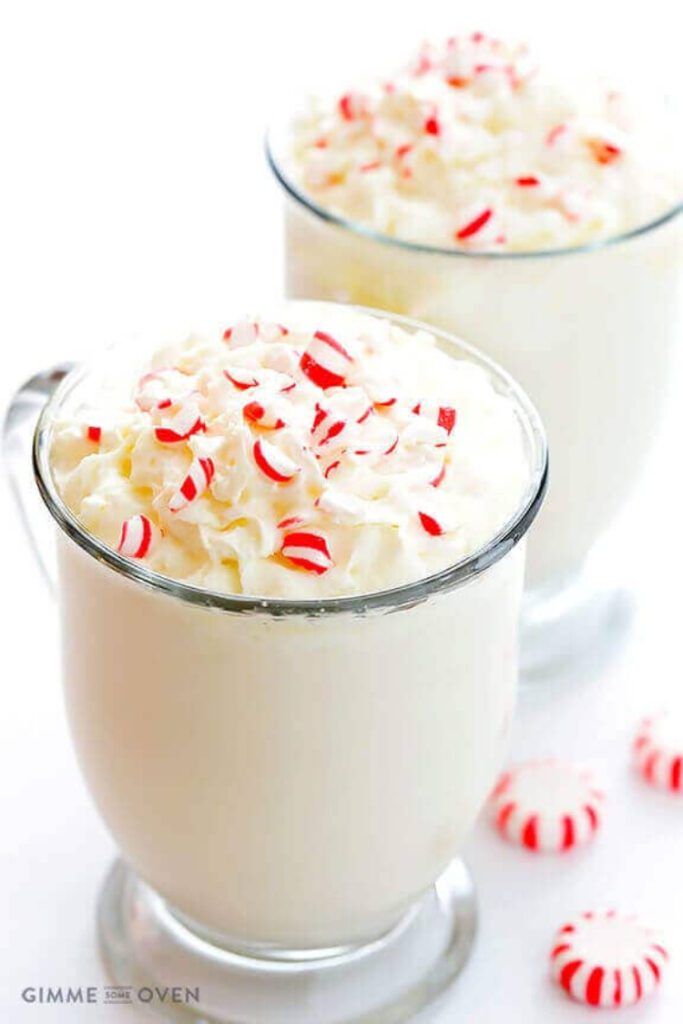 There is just something comforting about this sweet drink. It's hot, it's got peppermint, and it is white as snow. I could sip on this yummy drink all day long. Don't you adore the peppermint candy garnishments?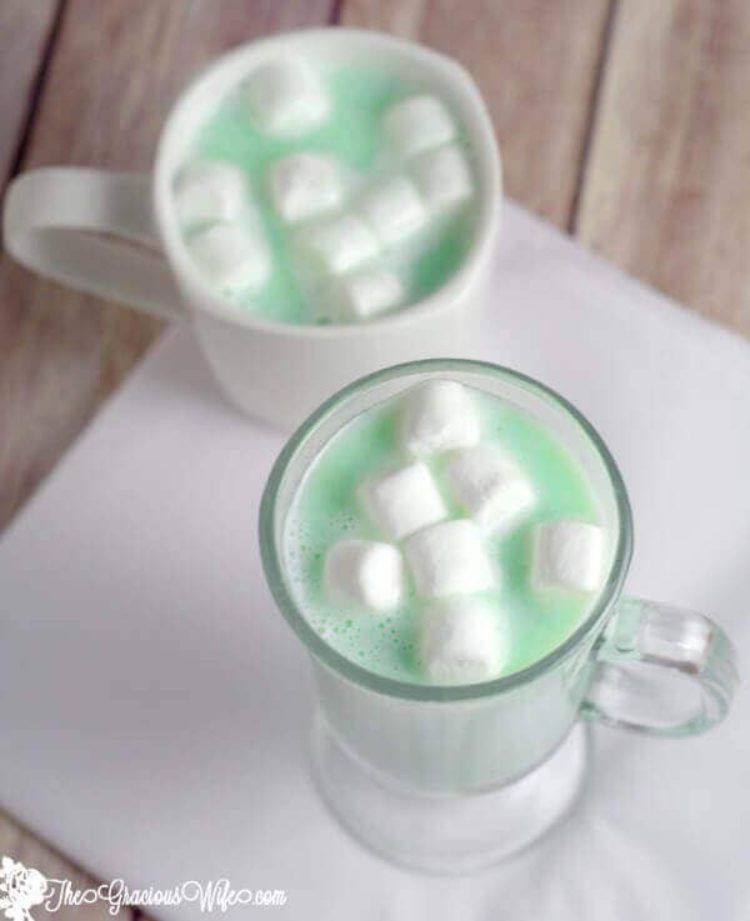 Here, we have another minty hot drink. I included this little gem because of the frosty green color. You'll find that this minty drink is different than the peppermint latte that came before it.
Plus, this little sweetheart is pretty to look at.
I love everything about this drink. Bailey's Irish cream is one of my favorite adult beverages. Mixing it with a sweet and festive hot chocolate makes it even better. I love the addition of the candy cane. The red and green colors make for a perfect drink stirrer. Plus, it gives this luscious drink another hint of mint.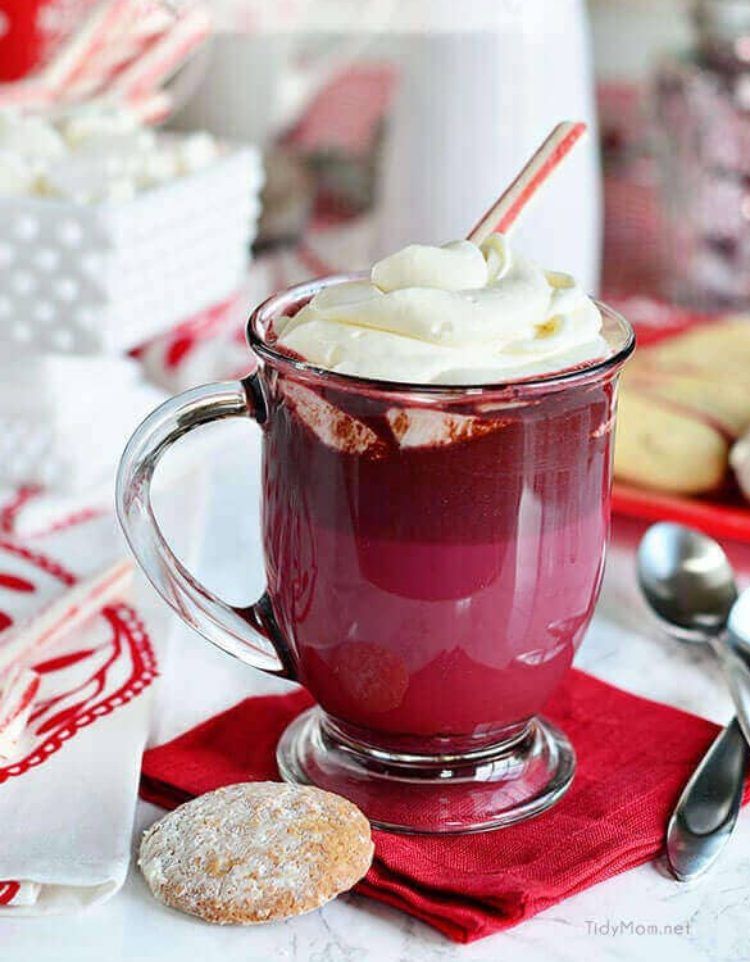 OK, what is up with these absolutely stunning holiday drinks?!?! Just look at that thing! It's literally red velvet cake in a cup. If i don't get this little beauty for the holidays, I definitely want it for my birthday.
Surprisingly, this red velvet holiday drink is very easy to make. Serve it with sugar cookies 🙂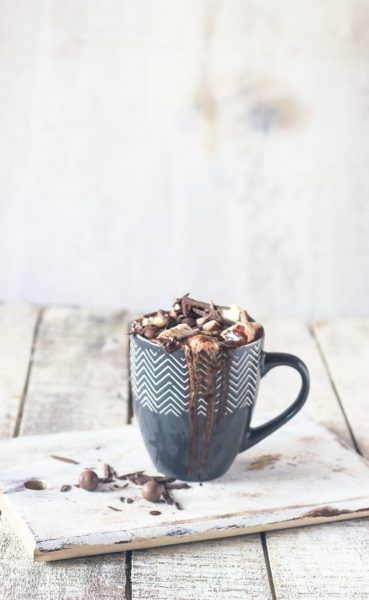 If you like s'mores, your gonna love this slow cooker hot chocolate recipe. It's absolutely divine! You'll defentily be helping your sweet tooth feed its craving.
This amazing drink is made in the crock pot so it's super easy to make.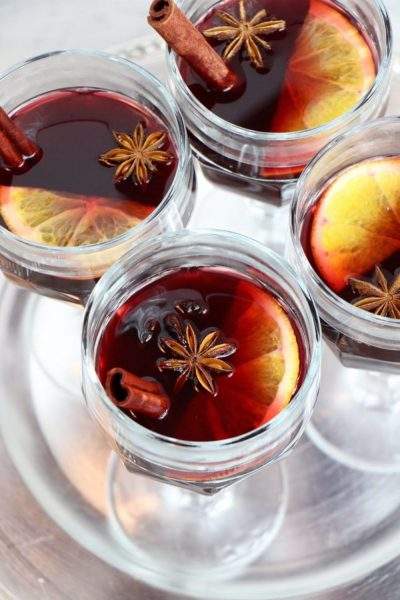 Warm the cockles of your heart this holiday season with a steamy mug of mulled wine. it's spicy, warm, and full of holiday cheer. Your cheeks may get a little rosy from drinking this perfection.
If you enjoy hot mulled cider, you're going to love this delicious drink.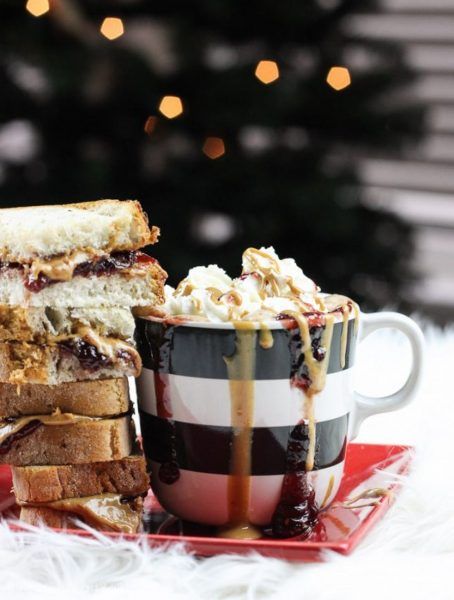 OK, this may not be a holiday drink, per se. However, when the heck else are you going to be sipping on something so rich and fattening? LOL! This hot cocoa is for peanut butter and jelly lovers all across the land.
Pull a chair and sip by the lights of the Christmas tree. Don't forget your insulin.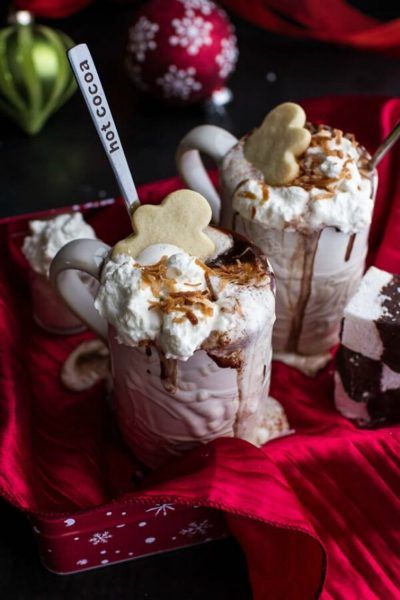 This looks like a dessert in a mug. I'm pretty sure I'll be on the naughty list after drinking this super sugary holiday treat. But, it's Christmas and calories don't count, right?
Serve this drink with cute little gingerbread men cookies or vanilla wafers.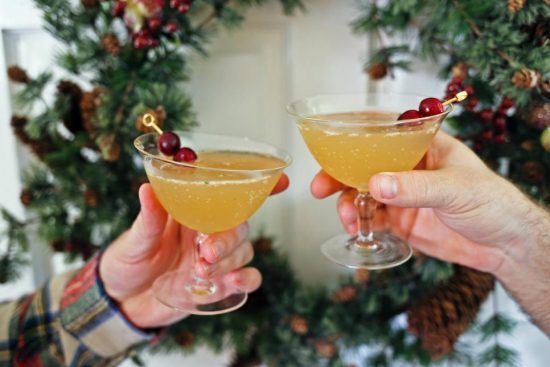 Say, "Cheers"! These ginger bell cocktails are the cat's meow. Or, would it be the reindeer's antler? Anyway, your dinner or party guests will absolutely adore this delicious holiday cocktail.
Add some sugar to the rim of the glass for an added touch of class.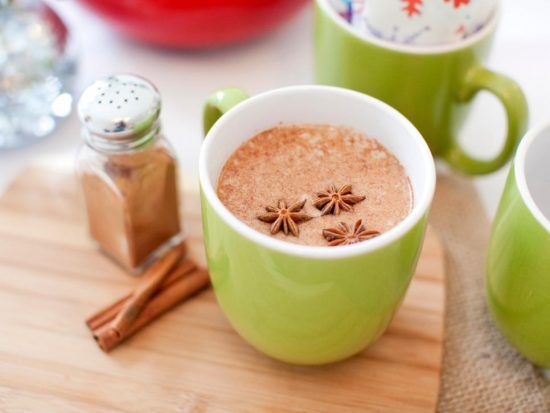 Calling all chair tea lovers! This here is the holiday beverage recipe of your dreams. You can make this yummy tea with or without bourbon. It's totally up to you.
Add some star anise to the drink as a garnish and you have yourself one heck of a lovely Christmas drink.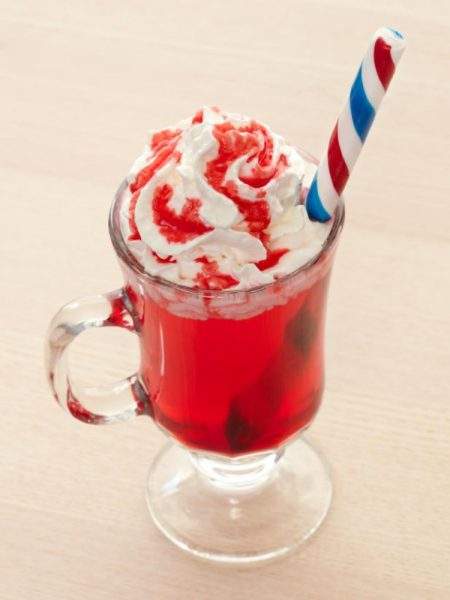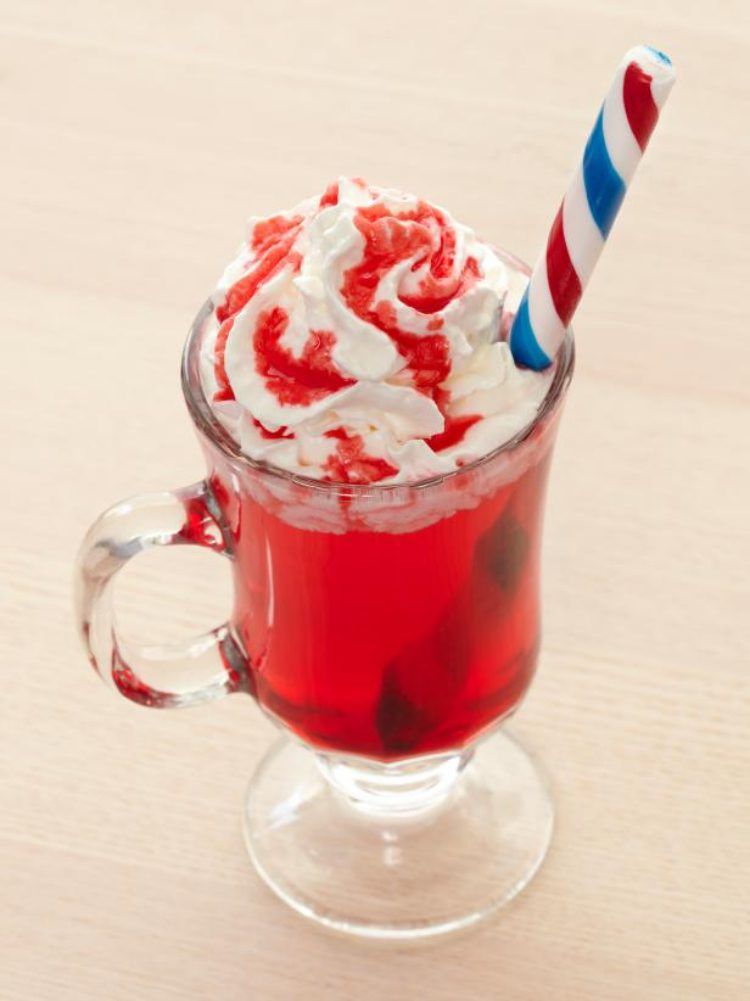 Are you feeling a bit chilly after all of that Christmas caroling? Let this hot peppermint rod warm you up! It's made with peppermint, hot water, and lots of vodka. Don't forget the whipped cream!
---
Oh my! I don't know which one of these yummy holiday drinks I want to try first! All of them look absolutely amazing. You can make pretty much all of them non-alcoholic or with alcohol. Well, the Peppermint Hot Rod might be a bit challenging to make without alcohol because all you'd be left with is minty hot water and whipped cream 🙂
Which one of these delicious holiday drinks are you going to try? I've got my eye on a few of them, especially the different versions of hot chocolate. I need that mulled wine in my life, too.
Any of these drinks would be a hit at a Christmas party or holiday dinner. Just make sure you clearly mark them as having alcohol if you choose to add it. We don't need any boozy children running around.
Feliz Navidad!