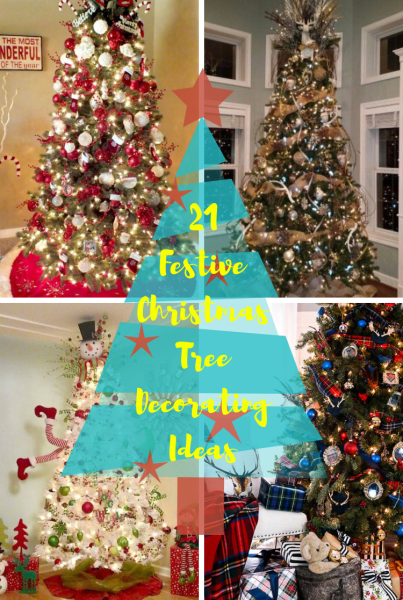 Decorating the Christmas tree is one of my favorite holiday traditions. Each year, we make a special day of it. The entire family gathers together and we have cookies and cheesy Christmas music playing. My husband sits in a chair and rolls his eyes. It's a blast!
My kids tell me that I always decorate the tree the same, and they'd be right. I tend to gravitate towards white lights. cream colored bows, and silver and gold. For years, my family has begged me to try something different.
I mean, why fix it if it ain't broken? LOL! I guess I can change up my routine a bit and find another way to decorate the tree. I really need some inspiration, though. So, I took to the internet to find some ideas.
This list of tree decorating roundups will have you wanting to decorate a tree in every room of your house. I found myself oohing and ahhing with every picture I saw. Prepare to be impressed!
I never knew that Christmas trees could be decorated in so many different ways. Some of these ideas are super creative and others are just plain extravagant.
You're going to have a lot of fun browsing through these trees. Trust me, I spent way to much time sitting here and ogling over them. Oh, well, It's the Christmas Season and we all get ogling passes 🙂
Enjoy!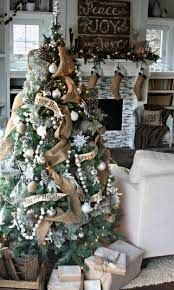 If you're into primitive design, this is the tree for you. I love the mix of burlap with elegance. The frosted ornaments and garland are a real hit. Plus, if you look in the background, there are matching burlap stockings hanging from the fireplace.
Even the gifts match the tree! I really like the rustic look of the wood logs, too.
Deer Hunter's Delight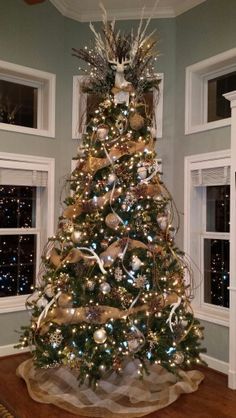 Do you have a deer hunter in your house? This tree will make him or her light up with gratitude. Now, one might think that having a deer tree would be tacky. However, you can plainly see how elegant this tree actually is.
That deer tree topper is one of the cleverest ornaments I've ever seen.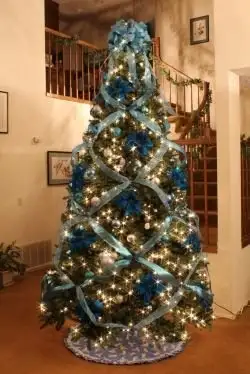 This is a truly great tree design. The ribbons look so classy! I'm not sure how they managed this criss-cross pattern. It looks super in-depth. However, I'm sure it isn't as difficult as it appears.
Which colors would you choose for your tree if you should go with this decoration?
If you're looking for a simple design, this black and white tree scheme is just what Santa ordered. Even though it is a simple look, the tree is still quite classy. I love the word garland.
The gifts add a nice touch, too. I wonder where they got their wrapping paper from?
Are you Santa Claus buff? This tree is dripping with holly jolly joy. The tree skirt is absolutely gorgeous. it truly looks like the bottom of Old St. Nick's coat. The lights, the stocking ornaments, I love them all.
Check out the golden snowflake detail on that skirt. So beautiful.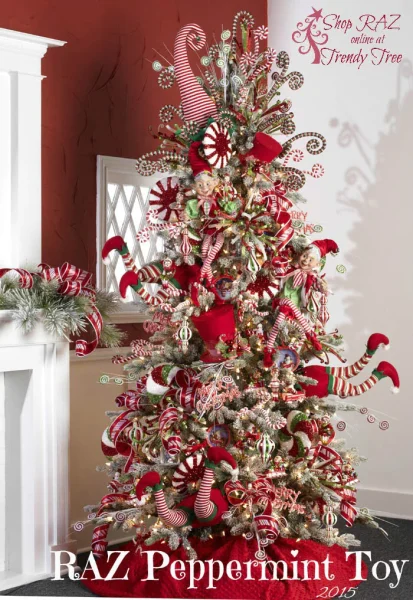 This tree is soooo cute! Look at those little elf butts sticking out of the branches. Seriously, this is a great idea. The tree itself is very busy so if you like Christmas decorations overload, you'll do just fine having this little masterpiece in your home.
If Santa saw this tree he may feel the need to rescue some elves, haha!
This dress form Christmas tree is such a good idea. I love the way the tree looks like a gorgeous skirt. This tree would be good in a clothing storefront window. The great thing is you can use any color scheme that you want.
I really like the blue, but I'd probably go with silver or gold, myself.
What is it with elves getting themselves stuck in Christmas trees? I think Santa needs to train those little buggers a bit better.
I really like this tree. The snowman, the colors, the elf. All of it is adorable and in-tune with the Christmas Spirit.
This tree couldn't get any cuter if it tried. Not only is this tree a gigantic snowman, but it's a snowman wearing ice skates who is shoveling snow. Such a great concept!
I don't think my cat would leave the faux snow alone. I'd have fluff strewn all over the house.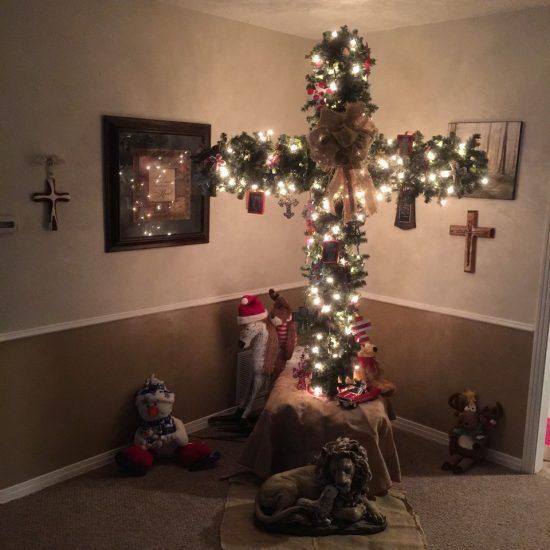 For many people. Christmas is a very spiritual time. This tree helps you and your family focus on Jesus and His birth. It's very sentimental. I don't think this tree would be too terribly hard to construct, either.
I love the animals that are sitting around the tree. You could even set out a nativity scene if you wanted.
I have an absolute love affair with poinsettias. They are big, bright, and beautiful. Everything about this lovely red flowers represents the holiday season. This tree is definitely going to be on my radar.
The gold and red complement one another perfectly.
It doesn't appear that the Grinch stole Christmas this year because he was stuck in the tree. Haha! What a delightful idea! I love the green and red color scheme.
That old Grinch better be more careful, next year!
I love pinecones and I love gold, so this tree is something I can totally see having in my living room. If you live by any pine trees you can totally collect the cones from your yard to use as decorations.
This is a great idea for someone who loves the gorgeous pastel colors of the proud peacock. I think this tree channels unicorns a bit, too.
Now, personally, I prefer Christmas colors, but if you're into peacocks and pastels, this tree is for you.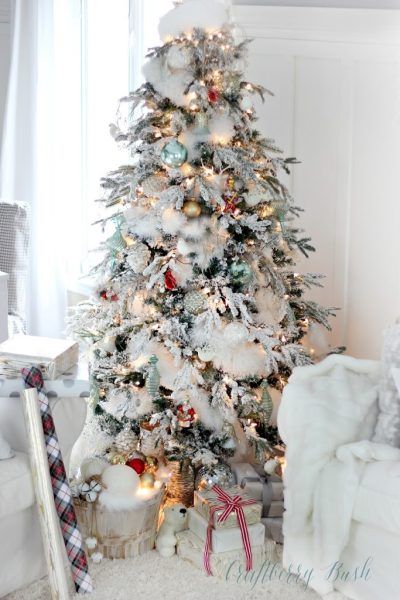 If you lived in the tundra, you may see a Christmas tree that looks just like this. I think this is a very good and clever idea. The person who created this tree said that they used dollar store dusters for the heavy snow on the branches. How cool is that?
Plus, this tree won't cost you very much to design even though it looks like a million bucks.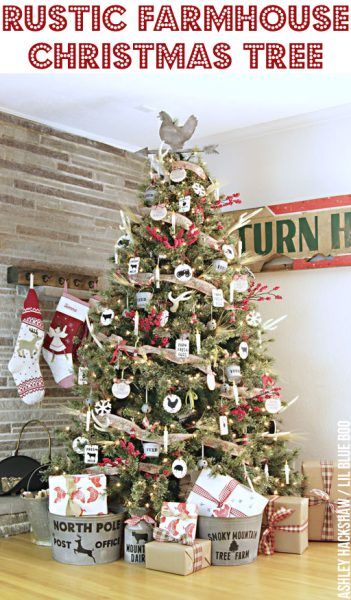 What do you guys think of that distressed rooster weathervane tree topper? I think it is awesome! This is the perfect tree for those of you who desire a country farm feel.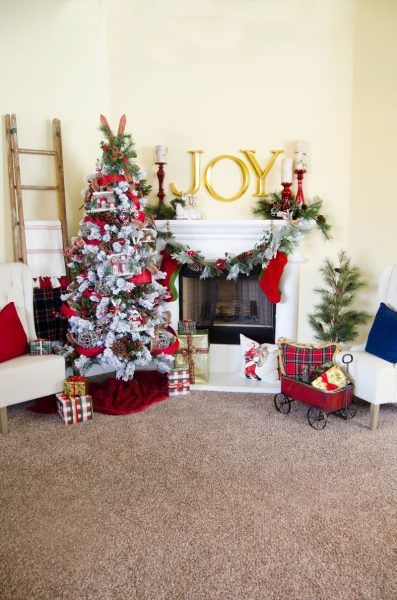 This tree is perfect for the ski-lover in your life. Or, maybe that's you? You'll see skis, ski lodges, and snow and pinecones adorning this holiday tree.
I love that little red wagon! Check out those vintage wheels.
I am a lover of all things nature. I love walks in the forest, and this tree is what I'd expect to see outside of Santa's cottage. The spruce tree is one of my favorites. Can't you just smell the pine?
Winter Wonderland
Other than that doll creeping me out, this tree is everything I've ever dreamed of. It truly is a winter wonderland type of tree. I am really digging those frosty pinecones.
Check out the matching wreath. is it not the greatest?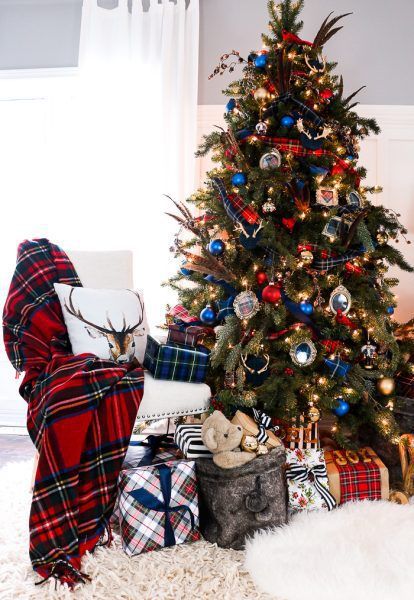 Plaid is super hot this holiday season. I mean, for me, it always has been. I LOVE plaid. However, the rest of the world caught on and decided to make it a trend. That's fine by me.
This tree is super cute. That plaid blanket and deer pillow really give it a nice sparkle.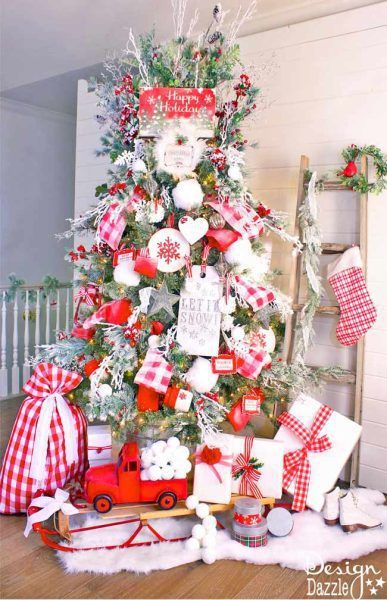 What a neat idea! I would expect to see this very color and pattern scheme in Mrs. Claus' cottage. The country plaids, the holiday cheer all embrace the spirit of Santa's wife.
---
The joy of Christmas tree decorating is so much more than making your home look festive for the holiday season. It's a time of memory-making, spending time with your family, and just being together.
It truly doesn't matter which tree design you decide to go with, just as long as the hot cocoa is sweet, the peppermint candies are refreshing, and you have the love and warmth of your family surrounding you.
I think it's going to be fun choosing a tree scheme from this list. I have my eye on a few of them such as the poinsettia tree and the burlap design. Which one will you be creating?
If you're anything like my mother, you'll be choosing several. That lady puts a Christmas tree in every room of the house. I have to admit, it was always fun having my own Christmas tree in my bedroom while I was growing up. I loved keeping the lights on all night long.
See? Memories are made by Christmas tree decorating.
I hope you have a lot of fun with this roundup of 21 Christmas tree decorating ideas. Happy holidays to you and your family!