One of the great things about having good neighbors is that you help each other out in a pinch or with real energy. Keep your relationships with your neighbors cordial, whether you're closest friends or you're just acquaintances. When you go on a long vacation, you might need them to water your plants or feed your pet for the weekend. To help you maintain a positive relationship with the fascinating family on your block or the stylish couple next door, we've compiled this list of the greatest presents for neighbors. If you're lucky, it is one of the best things about moving into a new home! If you're even luckier, you'll have awesome neighbors as a renter. So, you need some ideas for homemade gifts for neighbors!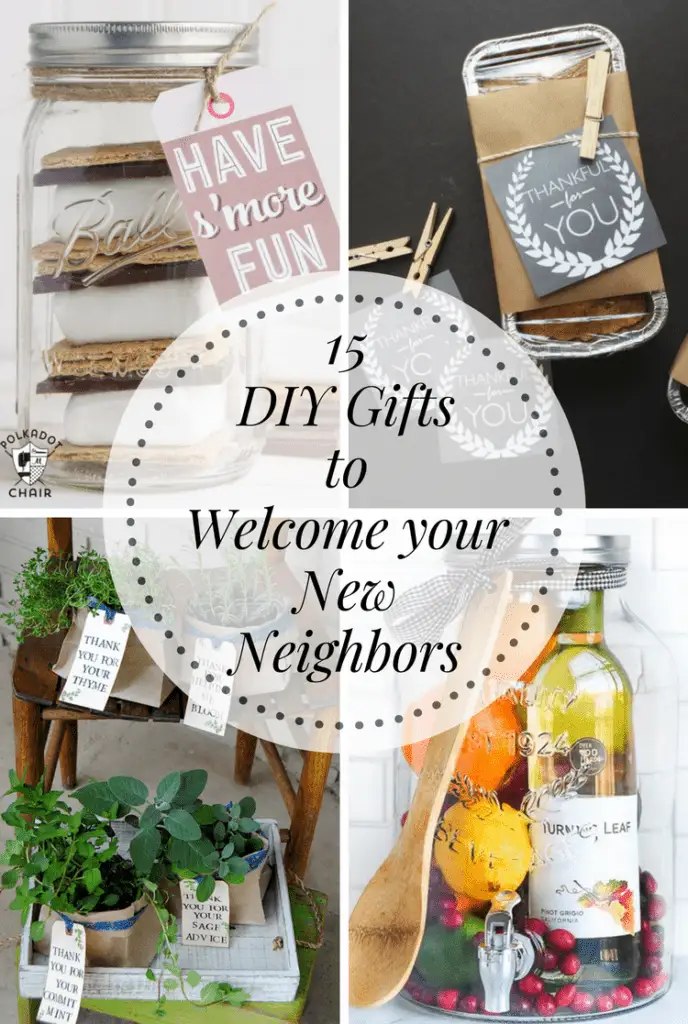 [amazon box="B0776MFZ2W,B0735H1TFJ,B01LWIYJH3,B07GDHF3ZG,B075TVZZFH,B071FXLL5C,B00ATJSD8I,B071768FQ3,B078WDWZ7C,B01M02M87X,B01M0OCRPL,B0774B1S1K" template="table"]
15 DIY Neighbour Gifts Ideas
In the past, we always welcomed new neighbors with a small gift or some baked goods. That doesn't mean the practice has gone away!
It can neighbors feel extra welcome because not everyone does it these days. A little goodwill early on will help with good neighbor relations in the future. You don't want your first meeting to be an awkward conversation about the neighbor's dog barking all night long.
Here are some easy and fun ideas for gifts for neighbors! Take the time to give a gift right now so you can build a great relationship going forward when you need it.
1. Pamper Yourself Gift Jars
If you've ever moved house before, you know what a soul-sucking endeavor it can be. That's why these "pamper yourself" gift jars are so awesome. You can put just about anything in them: tea, lotion, chocolate, gift cards, scented sachets, lip gloss, washcloths, candles…the list is endless!
You can pick up travel toiletries at a nearby big-box store like Walmart or Target, along with some candy, and make a bunch of these to give as a gift for just about any occasion.
2. Creative Neighbor Gift "Travel Farkle Game"
Farkle is a game that "is played by two or more players, with each player in succession having a turn at throwing the dice. Each player's turn results in a score, and the scores for each player accumulate to some winning total (usually 10,000)."
This is super fun and an expensive new neighbor gift because you can either buy dice in bulk or at the dollar store, then print the directions off the internet and decorate a spare mason jar. Voila! Awesome and unique gift in no time at all.
3. S'Mores Mason Jar Gift Idea
Isn't this s'mores gift jar just so pretty? And yes, this list has been a lot of jar gifts so far, but they're just so easy to whip together and your neighbor can surely use a mason jar in their new home!
For this gift, you'll need a mason jar, graham crackers, big square marshmallows, chocolate bars, twine, and printed-out s'more gift tags. Follow the directions to assemble the s'mores inside the jars and then decorate the jar with the twine and tag. If you find it a hassle, snowman cocoa can always be an option. Get ready to become BFFs with your new neighbor!
4. Affordable Gift for Neighbors: Dinner in a Mug
If you like gifts in jars, you're gonna love gifts in a mug! For this, you're going to want to find a BIG mug, either at the dollar store, Walmart, or a thrift store. Then buy a packet of soup mix and crescent rolls, for a quick and easy dinner for your new neighbors. They're gonna love you if they've spent the day moving and didn't have time for groceries!
Print or make your gift tag and keep an eye out for cute decorative twine like the picture above (again, dollar stores are your friend! Also craft stores and of course, Amazon will have it as well).
5. Thank You Herb Gifts
These herbs are an incredible neighbor gift! Who doesn't like fresh herbs on their window sill? You'll need brown lunch bags, plastic sandwich bags, big shipping tags, alphabet stamps, vine/leaf stamps, black and green ink pads, and fabric cut wide enough to fit around the pots. The most fun part of this is decorating the gift tags!
6. Ice Cream Sundae in a Box Gift Idea
This gift is as complicated or as simple as you want to make it! Buy ice cream sundae toppings like sprinkles, mini M&M's, mini marshmallows, and was, and put them in little bags. Keep an eye out for cute little spoons, paper bowls, and ice cream scoops. You can make your hot fudge caramel (or pick some up at the store). Finally, you can buy tags, alphabet stamps, and twine to decorate the components!
If this is too much work, you can buy your neighbors a small pint of ice cream and one or two parts of the sundae box and put together a mini sundae gift bag as well.
7. Soap Gift for Neighbors
Your neighbors are going to be so happy to have a nice new liquid hand soap in their new kitchen! This is a thoughtful gift that everyone can use.
Once you buy gift soap, print out the tags using a color printer with cardstock paper. Trim the paper down and then you can cut out rectangle tags or cut out circles with a 2-inch circle punch. Then, use a hole punch to punch a hole in the top corner and tie the tag onto the soap bottle using twine or ribbon.
8. 'Thankful For You' Apple Bread Gifts for Neighbors
Do you have a baking specialty, like banana bread, pound cake, or apple loaf? Why not whip it up as a lovely gift for your new neighbors? Afterward, decorate it with printable tags and twine.
9. Shake and Pour Pancake Gifts for Neighbors
Premade pancake mix is often packed with chemicals, so why not make your neighbors a homemade version? You just need flour, cinnamon, sugar, baking powder, salt, powdered milk, and powdered egg replacer (or let them add their egg!) Mix it, then print the cute tags to decorate your jar with them and a lovely ribbon.
10. Potato Soup Mix In Jar Gifts for Neighbors
More jar gifts! Homemade soup mix is such a thoughtful gift to help your neighbors throw together a quick dinner after a long day of unpacking. To make this, you'll need instant mashed potatoes, dry milk, bouillon granules, onion powder, dry chives, black pepper, and salt. Mix it and decorate the jar to make sweet and lovely gifts for neighbors. But if you like something sweet, you can always make Rudolph nose treats instead.
11. Soda-lighted You're Our Neighbor
This is a fun gift that has a fun pun as a gift tag: I'm SODA-lighted you're our neighbor! Of course, you'll need soda pop, but you can also toss in some cookies, chocolates, and ice pops to make a gift basket. Print the gift tags from the site and decorate them to make an amazing gift! You could also just buy a 6-pack of soda and attach the gift tag to that for easter gifts for neighbors.
12. Compound Butter Gifts for Neighbors Basket
Lots of restaurants serve compound butter with bread at the beginning of the meal. Garlic butter is the most common, but you can make almost any flavor of compound butter. For example butter, raspberry preserves, honey, and citric acid can make an awesome Berry Butter!
Make your butter and put them in tiny mason jars, then decorate them with printable or premade gift tags.
13. Neighbor Housewarming Gift Idea
This is another gift jar idea, this time with useful items for their new home. You can use kitchen sponges, Meyer's hand soap, scented candles, and candies for energy! Of course, you can grab anything that's on sale or available for a gift. This site has gorgeous printable gift tags that say "Love Builds A Happy Home" that you can use to decorate the gift jars before giving them to your future friends.
14. Sangria for Gifts for Neighbors or Friends
Sure, a bottle of wine is a great and easy gift, but how about putting together this sangria gift instead? You'll need a drink dispenser, wine, fruit, a wooden spoon, and a ribbon to decorate. You could go an extra step and print Sangria instructions onto a gift tag and attach it.
15. New Neighbors "Popping" In Gifts for Neighbors
Popcorn is a cute gift for your new neighbor. Print this neat gift card that says "Just poppin' in to say…you have new neighbors!" and attach it to the popcorn to go the extra mile. You could also buy a card and write inside it!
Suggested Read: 10 Mason Jar Crafts For The Holidays
What Are Your Favorite Gifts for Neighbors?
We hope you loved this list of great gifts for your new neighbors. With some mason jars and a printer, you have over a dozen ideas for wonderful gifts for your future new friends moving in next door.
When you head over, it's a great time to exchange phone numbers and/or emails so you can keep in touch and offer to pick something up for them or help them out with their move. Spending time building up a good relationship will help tremendously if something is bothering you in the future, if you need to borrow a cup of sugar, or if you have a serious emergency! So, take the time to put something nice together for your new neighbors today.
[amazon box="B0776MFZ2W,B0735H1TFJ,B01LWIYJH3,B07GDHF3ZG,B075TVZZFH,B071FXLL5C,B00ATJSD8I,B071768FQ3,B078WDWZ7C,B01M02M87X,B01M0OCRPL,B0774B1S1K" template="table"]