This Crockpot Chicken Spaghetti with Velveeta is the perfect lazy mom meal. It's one of those, "crap, it's 2:00 and I forgot to get the crock pot meal going soon enough" kind of meals. Other than cooking the chicken and noodles ahead of time, it's a quick and easy meal.

Crockpot Chicken Spaghetti with Velveeta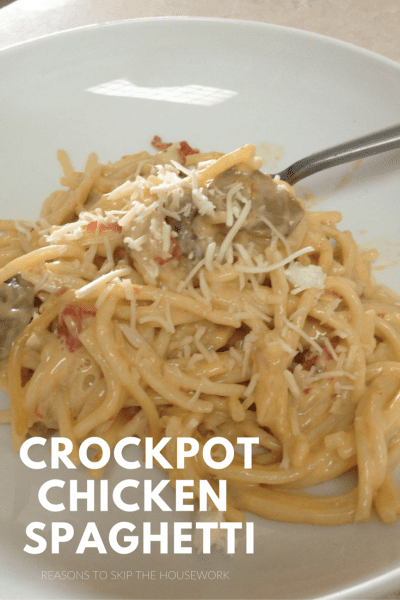 Let's face it, this Crockpot Chicken Spaghetti with Velveeta recipe isn't going to win any Weight Watchers Awards.
There is honestly, nothing healthy about it at all, but it sure is delicious, and it's an easy meal to make at the last minute, which is pretty much how anything gets made around this house!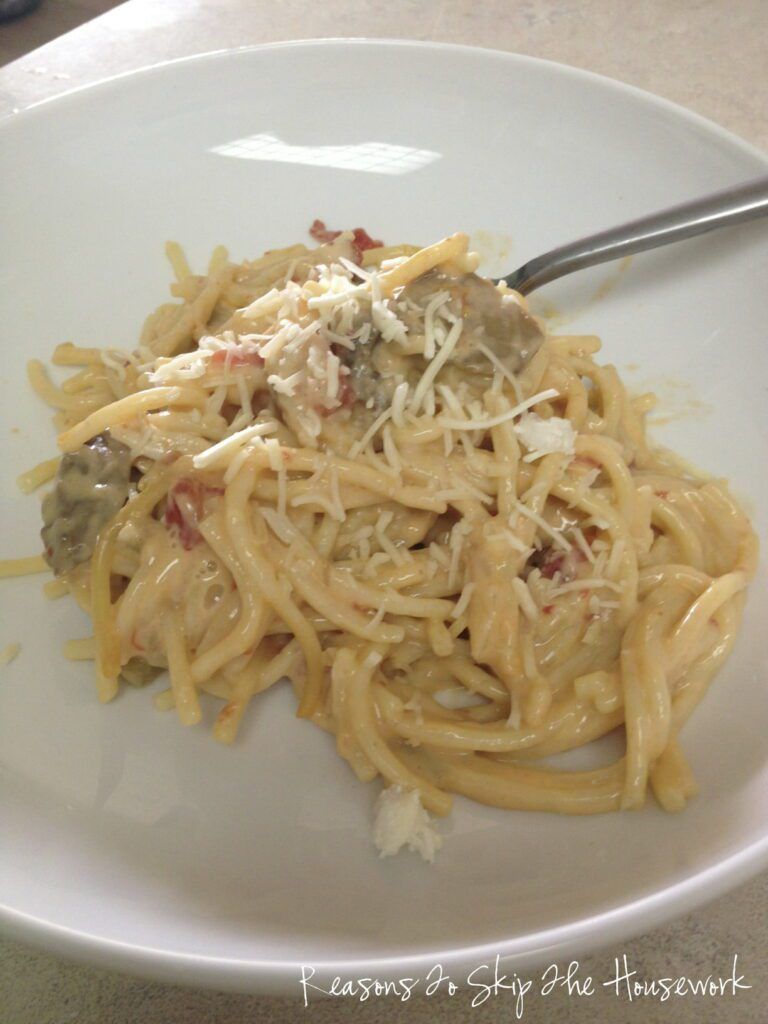 To make Crockpot Chicken Spaghetti with Velveeta you'll only need to make the spaghetti and chicken ahead of time (think Sunday meal prep!) and then, when it's time to make it for dinner, pop it all in the crockpot and you'll come home to a prepared meal!  Here are the simple ingredients you will need:
Crockpot Cheesy Chicken Spaghetti
Cuisine:

Italian / Mexican
Author:
16 oz. spaghetti, cooked

1 lb. Velveeta Light (2%)Cheese

2 cups cooked, chopped chicken

1 can 98% FF cream of mushroom soup

1 can 98% FF cream of chicken soup

1 can of petite diced tomatoes

1 4oz. can of mild green chilies

4 oz can mushroom stems & pieces, drained

1/2 cup water

1 small onion, diced

salt & pepper to taste
Spray slow cooker with non-stick cooking spray. Combine all ingredients in slowcooker and stir to mix well. Cook on LOW for 2-3 hours.

Seriously, that's it people! Stir it, of course, as you're serving….and get all the goodies mixed up real good!
What are some your favorite crock pot meals?  I'd love to try some of yours (healthy or not!)
This post was originally published in April 2013.