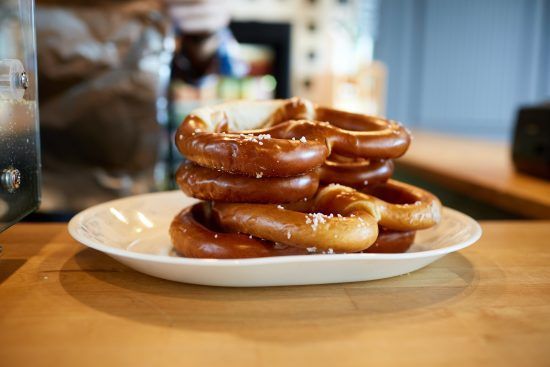 You don't have to wait for the circus to come to town to enjoy a soft pretzel. You can make these easy homemade pretzels in less time than you might think, right in your own kitchen.
If you think it's not possible, think again, because you can have fresh pretzels any time you want. In fact, you probably have most of the ingredients in your kitchen right now.
Easy Homemade Pretzels: the Basics
What is a pretzel, anyway? There are three main things that make a pretzel what it is: shape, texture, and taste.
Shape
The classic shape for a pretzel is a knot. It's pretty simple. First, you roll the dough into a snake.
Then you bring one end around in a circle until it meets the bottom edge.
Finally, you cross the other end over the first.
But if you've been to a food court lately, you'll know that soft pretzels come in lots of different shapes and sizes, including sticks, bites, mini-pretzels, and more.
The important thing is that you don't roll your dough too thin or too thick. If it's too thin, it won't be soft and chewy enough.
On the other hand, if your snake is too thick, you may have to cook it a bit longer.
You don't have to stick to the classic shapes, however. These are your easy homemade pretzels. Have fun with them.
Texture
The classic pretzel is soft on the inside and chewy on the outside. This comes down to a combination of ingredients and process.
The gluten in wheat flour gives pretzels their soft interior.
Can you make gluten free pretzels? Yes, you can! And we'll show you how in just a bit.
A pretzel's chewy outside comes from two things: a bath in an alkali solution before baking, and an egg white coating.
But don't worry! If you don't use eggs, we'll show you other ways to give your pretzels that same chewy outside.
If this combination of boiling and egg wash sounds familiar to you, it should. Making homemade bagels uses a very similar process.
Taste
The taste of a pretzel also has two components. First, the alkali bath gives the outside a savory flavor. Also, classic recipe pretzels are salted.
Of course there are many other ingredients that you can use to flavor your pretzels. In fact, the only limit, when it comes to pretzel flavorings, is your imagination.
Flavorings and toppings are only the beginning. You can also brighten up your homemade pretzels with mustard, homemade hummus, cheese sauces, and more.
But we're getting ahead of ourselves.
Types of Soft Pretzels
Did you know that there are different types of soft pretzels?
You might have first encountered the soft pretzel at a stadium or fair. Dark brown, with a tart, chewy outside, stadium-style pretzels are great with mustard or simply on their own.
Later, soft pretzel chains turned up at shopping malls. Their pretzels were lighter in color, softer, and came with a rainbow of toppings, from cheese to chocolate.
Both types were technically pretzels, but the taste and texture were very, very different. Why?
The difference comes down to cooking time. The longer you cook a pretzel, the tougher and chewier it gets.
So, for a soft, mall-style pretzel, you'll want to cook your dough for a bit less than 20 minutes.
For a stadium-style pretzel that you can really sink you teeth into, you want to cook a bit longer — try 30 minutes and go from there.
And if you want a hard pretzel? Stick with us. We'll tell you in a bit.
Easy Homemade Pretzels
So, are you ready to make some pretzels? Let's go!
What you need to make easy homemade pretzels
Four cups of bread flour*
1 envelope of fast-action dried yeast
1/8 cup dark brown sugar
1/4 cup melted unsalted butter
1-1/4 cups of warm (not hot!) water**
plain flour for dusting
oil for greasing
3 tbsp baking soda
White of one large egg
Coarse sea salt
*A note about flour. Bread flour has a higher gluten content than plain flour. As a result, it can give your pretzels a more authentic chew.
**It's important that the water be warm, and not hot. If the water is too hot, it will kill the yeast, and your dough won't rise.
How to make easy homemade pretzels
First, combine the flour, yeast, brown sugar, and 1 teaspoon of salt in a large bowl.
Next, mix the melted butter with 1-1/4 cups of warm water in a separate container.
Now, make a well in the dry mixture and pour in the water. Pour the liquid ingredients into the well. Mix the ingredients together to form a rough dough.
Processing the dough
Knead your dough on a floured surface for 10 to 15 minutes. You'll know it's done when the dough is smooth, elastic, and shiny.
Coat the inside of a bowl with oil, place the dough inside, and cover the bowl with plastic wrap. If you live in a cold climate, you might want to warm the bowl a little first.
Let the dough rise for an hour, or until double its original size.
Making your shapes
Once the dough has risen, punch it down to remove the air bubbles. Divide the dough into pieces.
If you're making classic large pretzel knots, this recipe will make eight good-sized pieces.
Of course you can make your pretzels any size, and any shape that you like. Just remember that if you make smaller pretzels, you will want to cook them for a bit less time.
Place your shapes on a cookie sheet lined with parchment paper (you can grease the sheet instead, if you prefer).
Preheat your oven to 400 degrees Fahrenheit (200 degrees Celsius).
Cover the shapes with plastic wrap, and let them rise again for 20 minutes, while the oven warms up. Greasing the plastic wrap will help to keep it from sticking to the dough.
The alkali bath
While the dough is rising again, fill a saucepan halfway with water, add the baking soda to the water, and bring it to a boil. Reduce the heat to a simmer.
Once the dough has had its second rise, drop your pretzels into the boiling water. Give them 30 to 60 seconds on each side. A longer boil will mean a chewier outside.
Place each piece back onto the cookie sheet after its boil. Beat the egg white, and use it to coat each piece.
Choose your flavorings
Now you can add your toppings. Coarse salt is a favorite, but my family also likes to use:
Garlic powder
Poppy seeds
Sesame seeds
Some people also like sweet pretzels topped with granulated sugar or a combination of sugar and cinnamon.
Ready, set, bake!
Bake full-sized pretzels for 20 minutes at 400 degrees Fahrenheit (200 degrees Celsius). Remember, if you're making smaller pretzels, or want softer ones, reduce the cooking time accordingly.
Easy Homemade Pretzels: Gluten Free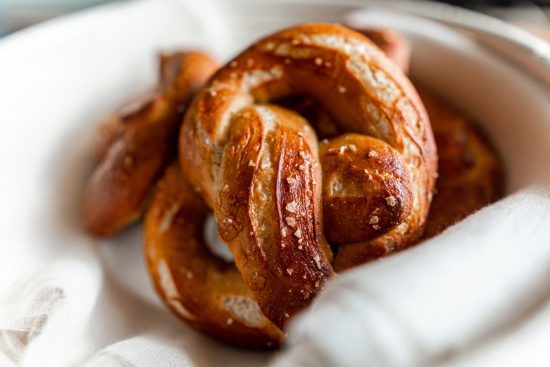 Making gluten free pretzels is also easy, and the process is similar, though there are a few important differences.
This recipe comes from King Arthur Flour.
What you'll need
3 1/2 cups of gluten free all-purpose flour
3 tablespoons of brown sugar
One packet of instant yeast
1- 1/4 teaspoons of salt
1 teaspoon of xanthan gum***
1/2 teaspoon of baking powder
1 1/4 cups of warm water
1 large egg at room temperature
2 tablespoons of soft butter
***Xanthan gum is a thickener and stabilizer that's made by fermenting glucose and sucrose. It's a common food ingredient, and you can use it to replace starches as well as gluten.
Xanthan gum is vegan and keto-friendly.
How to make it
First, combine your flour, sugar, yeast, salt, xanthan gum, and baking powder in a large bowl.
Next, add the water, egg, and butter to the dry ingredients. This is one difference between this recipe and the regular pretzel recipe. In this one, the egg goes into the dough.
Using the paddle attachment on your stand mixer, mix your dough for around four minutes.
Knead and rise
Remove the dough from the mixing bowl. Knead it on a (gluten free) floured surface until it's smooth. Then put it back into the bowl and cover the bowl with plastic wrap.
Let the dough rise for 45 to 90 minutes, or until doubled in size.
Processing your gluten free pretzel dough
After your dough has risen, preheat the oven to 425 degrees Fahrenheit (218 degrees Celsius). Grease two cookie sheets, or line them with parchment paper.
Put four quarts of water into a saucepan and add a quarter cup of baking soda. Bring the mixture to a boil while you make your shapes.
Here is another way this recipe differs from the regular pretzel recipe. You should only boil your pieces for a short time — five seconds or so.
Flavor and bake
Now lay your pieces on your baking sheets and sprinkle with the topping(s) of your choice. Note: no egg wash!
Bake your gluten free pretzels for 20 minutes if you want softer mall-style pretzels. If you want chewier stadium style pretzels, give them a few more minutes in the oven.
Easy Homemade Pretzels (Crunchy)
One of my dad's favorite snacks is hard pretzels, like you might buy in the grocery store. Can you make those at home? You bet!
Simply make your dough, regular or gluten free, and boil according to the recipe.
The difference is in the cooking. Turn your oven down to 350 degrees Fahrenheit (180 degrees Celsius). Then cook your pretzels for a bit longer — 40 minutes should do it.
Egg Free Coatings for Your Pretzels
Coating your pretzel with an egg white wash helps your toppings to stick on. But what if you don't want to use eggs?
No problem.
Here are a few other things you can use to help your toppings stick.
Milk
Cream
Melted butter
Oil
Almond milk
Soy milk
Rice milk
Honey
Maple syrup
Ground flaxseed mixed 1:3 with warm water
Easy Homemade Pretzels: Toppings
It's hard to do better than a hot, soft homemade pretzel straight from the oven. One way is to add your favorite toppings. Here are some of ours.
Grated cheddar or parmesean cheese
Coarse salt
Poppy seeds
Sesame seeds
Garlic granules or garlic salt
Pickled jalapenos
Powdered sugar
Sugar and cinnamon
Easy Homemade Pretzels: Dips and Sauces
Who can forget the food court pretzel stand, with its dozens of dips? Lucky you, you can make tasty dips pretty easily at home.
Nacho cheese
To make a nacho cheese pretzel dip, melt two tablespoons of butter in a saucepan. Mix in two tablespoons of flour (gluten free is fine).
Pour in one cup of milk and whisk until the mixture thickens. Now, add seven slices of processed American cheese. The kind with the plastic wrapper. You know what I'm talking about.
Keep stirring until the cheese has melted and everything is mixed together.
Enjoy as is, or sprinkle in chopped jalapenos.
Peanut sauce
Take 1-1/4 cups peanut butter. Stir in 1/2 cup coconut milk and 3 tablespoons each of lime juice, water, and soy sauce. This is the base.
You can also add any combination of the following:
Minced ginger
Minced garlic
Hot sauce
Honey
Cream cheese topping
Cream cheese is a canvas food. You can add any spice you like. Make it sweet or savory, or even enjoy it plain. Full fat, half-fat, no fat — it's all good.
How Many Calories Are In a Soft Pretzel?
Many people think of pretzels as a treat, but the truth is, in and of themselves, they're no less healthy than any other kind of bread.
One soft pretzel made from our eight-pretzel recipe has:
290 calories
7 grams of fat (4 of which are saturated)
47 grams of carbs (of which 3 grams are sugar)
1 gram of fiber
9 grams of protein
Of course, if you make 16 pretzels instead of 8, you can cut these numbers in half, and eat twice as many.
Easy Homemade Pretzels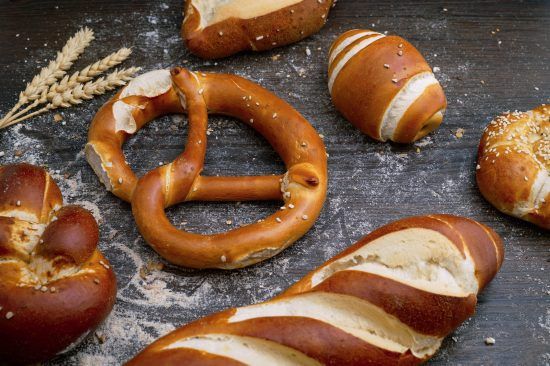 You don't have to make a special trip to enjoy a great pretzel. Our easy homemade pretzels are simple to make — and fun.
Now that you have the recipes, you can make your pretzels stadium-style, mall-style, or grocery-store style, right in your own home.
And you can make them as healthy or as decadent as you like.
How do you like your pretzels? Do you have a favorite topping? We'd love to hear about it!