Sometimes you just need a simple pasta recipe. Ah, who am I kidding? All I ever cook are easy recipes! If I could make spaghetti for every meal, I totally would.
Do you enjoy lasagna but dislike the hassle? Instead, make baked ziti! It resembles a traditional lasagna casserole in many ways, but it's simpler to cook and doesn't have as many layers or broken noodles. It's ideal for a weeknight or weekend lunch, or you can bring it to a potluck as a hot dish.
Marinara Alfredo Baked Ziti is an easy family pasta dish that combines the bright, tomato taste of marinara with rich, cheesy alfredo sauce to create the creamiest comfort food around. It's sad to say that because it's cheesy as it is, it could not count as a vegetarian recipe. You should definitely try it out!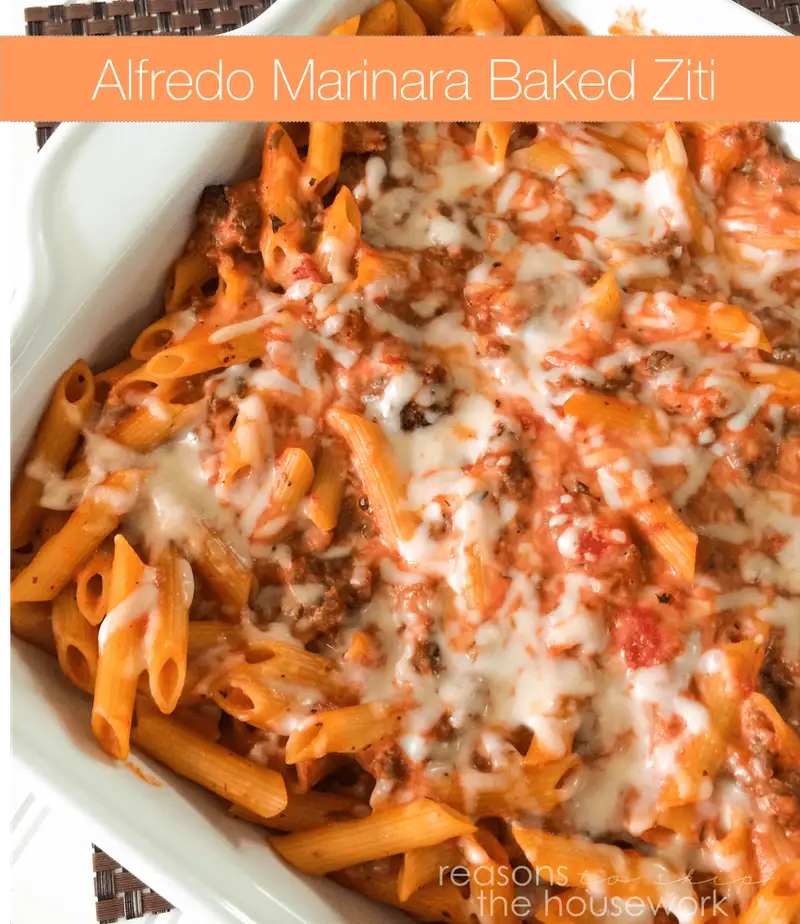 Suggested Read: Cheesy Beef Casserole
How to Make Alfredo Marinara Baked Ziti
Alfredo Marinara Baked Ziti
A simple red and white pasta that bakes in less than 30 minutes.
Ingredients
4 cups Penne noodles
1 (15 oz.) jar Alfredo sauce
1 (24 oz ) jar Marinara sauce
2 cups shredded Mozzarella cheese
1 cup shredded Parmesan cheese
adapted from Real Mom Kitchen
Instructions
Preheat oven to 350 degrees.
Cook and drain pasta.
In a large mixing bowl, combine the two sauces together.
Add mozzarella cheese to the sauce mixture and combine.
Add drained pasta to the sauce mixture and stir to combine..
Pour pasta into a 9x13 casserole dish and bake about 20-25 minutes until bubbling.
Sprinkle Parmesan on top and bake another five minutes. Top with fresh basil and serve.
Serves 6-8
Read more: https://realmomkitchen.com/1069/red-and-white-baked-pasta/#ixzz384jG5ceT
Enjoy Your Food!
This easy-to-bake and quick ziti recipe is a huge family favorite. Creamy, cheesy alfredo marinara pasta topped with melted cheese sound so yummy! Also, I'm the world's laziest cook. Seriously, I just don't have it in me to cook a meal every night or every two days. I also mess up sometimes when I prepare food that comes with red sauce to look like a Halloween preparation. So this baked ziti recipe is a life savior. Thank God I don't have like 5 kids – because that's a lot of easy mac and cheese that would go through in their lives!
Finally, if you need more comfort food recipes that are easy and quick to make, go take a look at these two favorites: