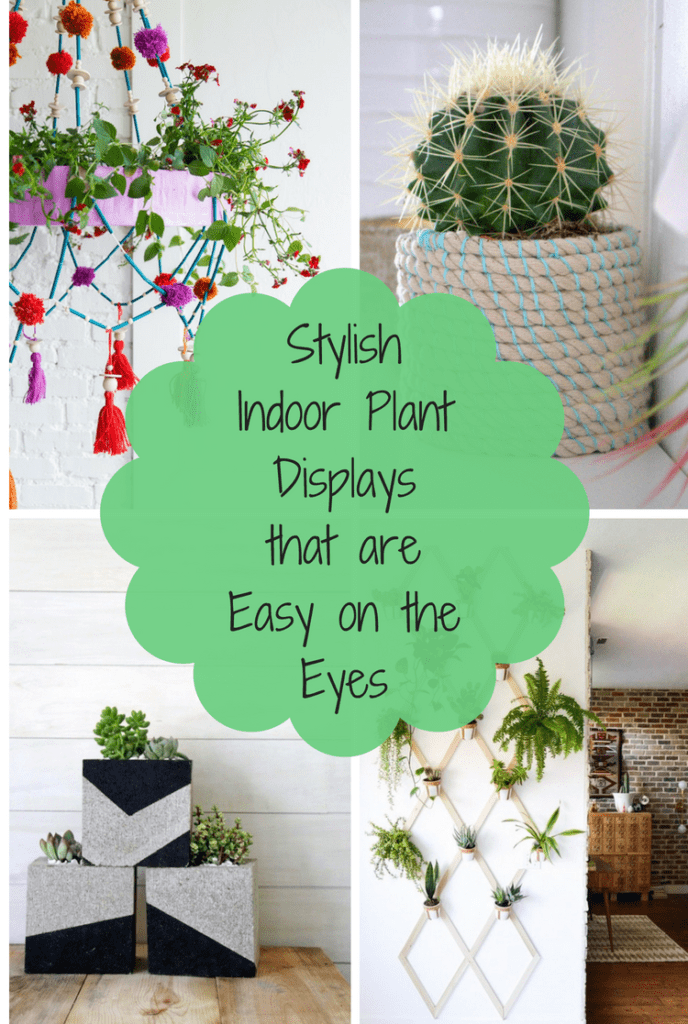 For some of us, keeping a plant alive is already a big win. If you love plants and have a green thumb, why not make a beautiful stylish indoor plant display to take your home decor to the next level?
This indoor planter is made from an old chest of drawers. If you love drawer sets, especially at garage sales, but have limited room for furniture in your house, this is for you!
You'll need drawers and spindles, which are inexpensive at stores like Restore. You'll need a power drill, wood glue, scrap wood, and clamps to put the spindle base together. You'll also need some outdoor spray paint to paint the whole planter as the last step. Paint it a fun color you love so it'll make you smile everytime you see it!
Do you have a big blank wall that gets a ton of sunlight in your house? What a perfect space for this wall trellis!
You'll want a miter saw (or you can borrow one from a tool library!) to cut the wood on angles. Mandi used 60-degree angles, but it depends on your vision and wall size. Putting this together is like a fun puzzle – you'll use temporary/tap nails and once you're happy with the final project you can secure it with finishing nails.
Mandi made leather holders for planters that she spray painted, but you can really do anything want. Those hanging containers from IKEA, for example, would be awesome here.
Both plant stands and copper are super on trend at the moment (and don't worry if they aren't, they seem to come back into fashion on the regular!)
To make this plant stand, you'll need:
pipe cutter
tape measure
pencil
copper glue (or super glue, or hot glue)
4 x 15mm copper elbows
4 x 15mm copper equal tees
4 x copper stop ends
*2 x copper cross fittings
2 x copper pipe lengths (2m x 15mm) cut into various lengths
Once you have all your supplies, carefully follow the post directions to assemble your gorgeous copper plant stand!
Kmart is alive and well in Australia (who knew?) and the author made these out of their black 'Metal wire pot holders' and black 'Geo pots'.
It's easy to make a plant display as big or small as you'd like with these directions. You can also make this outside in addition to inside!
This gorgeous terrarium cost about $12 and about 2 minutes to put together. Wow!
The secret is fake plants. They look almost real hidden behind the glass, and when you mix in some real twigs and fake mossy rocks, it's hard to tell that it isn't the real thing. So, all you need is a glass display box and some fake plants and you have a quick "cheaters terrarium".
The keystone of this project is the rustic ladder. You can buy a ladder bookshelf like this one, and do some aging tricks with sandpaper and paint. You could make one yourself following this video:
Different shelves can be filled up with succulents of all sizes, cacti and trailing vines. The author later put all her baby plants in their nursery on the bottom shelf.
Pajaki are spiders in Polish, but they also are the word for these beautiful straw planters. It's a traditional craft, but it also looks very beautiful and on trend in your home right now. You'll need cardboard, a pencil, a craft knife, masking tape, newspaper, baking flour, water, bowl, whisk, paint, and paint brush.
That's just for the circles that hold the plants. Then you'll need yarn, paper straws, pom poms and more to create the lattice work. It's an intricate project, but you'll be so excited by the end result!
"Add a bit of whimsy to your front door with a trio of air plant hangers."
All you need for this project is a square-cut wood dowel and 3mm suede cord (plus plants!)
You'll also need a hand saw or you can ask the hardware store to cut the wood to the correct specifications. Besides that, it's a super easy project to do, and it looks great!
How cool is this water garden? It's not too difficult to make either. You'll need aquatic plants, a glass jar, aquarium stones, and water. It's basically like you're making an aquarium, but without to fish. It's just so whimsical and neat on a bookshelf or on a window sill, your friends and family will be asking you how to make one for their homes too!
These faux stone planters are fun both inside and outside. Look expensive on the cheap! You'll need plastic planting pots, white primer spray paint (for plastic), stone texture spray paint, metallic silver spray paint, masking tape (or painters tape), any sort of plastic (trash bags, etc.) Closely follow the directions and you'll have a lovely faux stone planter of your own!
Tomato cages! Anyone who gardens has a ton lying around, but did you know they can make awesome indoor plant stands? All you need to do is use metal shears to cut off the stick bits that go into the soil. Then use masking tape and spray paint to paint them a metallic rose gold, or a rainbow of pastels, or just your favorite color. The options are endless!
These are made out of cinderblocks, can you believe it? You can pick up cinderblocks for very cheap at the hardware store or just keep an eye out by old homes and old construction sites.
The magic of this project is done with painters tape and lots of paint. It's so quick to transform blah cinderblocks to something that looks like it would go for a high price at a store like Target!
Colander planters are such a popular addition to any garden, but they can also be glammed up for the indoors.
All you need is an old-fashioned colander (check thrift shops!), outdoor spray paint, plants, potting soil, and a coffee filter. The coffee filter will keep soil from crumbling out of the colander holes, so clever!
These planters are based on himmeli, which are hanging geometric ornaments that originate from Finland and are traditionally made from straw. Replace straw with copper and suddenly you have a luxe looking planter that wouldn't be out of place in a fancy home interior photoshoot. You'll need copper tube, copper wire, a junior tube cutter for cutting the copper, ceramic bowls, small plants, a ruler, scissors, and a marker.
Putting this together almost feels like a giant jewelry project, so if you have any background making jewelry, you might LOVE making this!
If you're daunted by macrame, this is a good way to start with a simple hanging plant display. You'll need just any round wooden plate or saucer, thin rope, and a staple gun.
Hanging planters seem to show up in almost every decoration guide for small or intimate spaces, so why not give this one a try for your small space?
This looks like a super fancy ceramic pot that would go for at least $50 on Etsy, right? But you can make this at home! You'll need a few supplies: plain ceramic bowls, ceramic paint, Model Magic, crazy glue, paint brush, and rubbing alcohol.
The guide even walks your through some art tips, like drawing a hairline or making ears. Bet you can't wait to give these a try!
This planter is just made from thick rope and needle and thread. How absolutely cool is that!? It does have a simple ceramic pot inside, but its a simply lovely cover that brings a fancy feel to your home!
You don't need to be an advanced sewing master to do this, this DIY is very forgiving! You just need some patience and love.
This garden wall couldn't be simpler to make. You just need those little hanging metal canisters from IKEA (you'll see them in the kitchen area, and sometimes in the office or kids area…we could write a whole blog post devoted to all the uses for these!) Just plant and hang in a grid formation like this or a circle, or just three in line in a tight space. The way you make your garden wall is only limited to your own creativity!
We hope you loved this list of indoor stylish plant displays! Whether you just paint a colander as a planter or make a whole dresser display planter, you'll be so inspired to decorate your house with infinite greenery.
Last update on 2023-11-29 at 23:42 / Affiliate links / Images from Amazon Product Advertising API