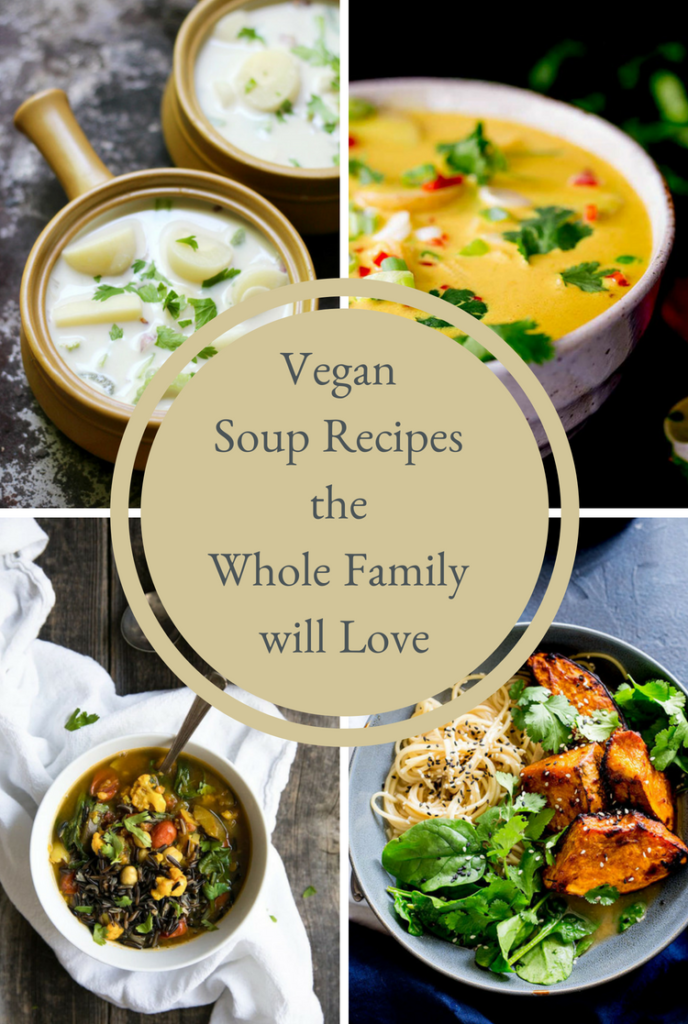 Going vegan can seem pretty intimidating, it's a lifestyle choice that can make people wonder just what, if anything, can you eat when you're around them?
These soups can help dispel the myth of a vegan diet consisting of nothing but "rabbit" food. They'll help you show the people in your life just how delicious vegan food can be.
Knowing how people tend to react to the idea of vegan food, they're likely to be surprised by how delicious these soups are.
Did you know that lentils are a great source of protein, iron and dietary fiber? Yep! They're a perfect meat substitute and give this soup a healthy boost. It's also great to freeze and eat later, and perfect to take for work lunches.
Total cook time for this recipe is only 50 minutes, with 30 of that being simmer time where you don't do much. So if you're looking for something easy, this is a good place to start.
This delicious and spicy Thai noodle soup is surprisingly quick and easy to make, yet it looks like you spent a good deal of time on it. You'll use Marinated Tofu pieces, and cooking the vegetables and noodles takes very little time as well.
Not only is this soup delicious, but it's beautiful as well. You'll really wow your guests with this one, you can make some edits to make it less spicy as well if that's what you'd like of course!
This recipe is full of vegetables and also full of flavor. Using vegetable stock in this minestrone is what keeps this recipe vegan friendly. You can serve with vegan shredded cheese on top, or no cheese at all.
This is the perfect soup on a cold fall or winter day where you want to be warm from the inside out. Your body will thank you for all the delicious vegetables used in this recipe, which includes carrot, celery, spinach, and leeks!
This soup is not just Vegan, it's also Gluten-Free, Oil-Free and Paleo-Friendly! So even if you're not vegan but you need to stick to some other type of diet, this soup is likely to hit the perfect spot with you.
You can use any gluten-free and/or paleo friendly noodle in this recipe to keep yourself on track.
Ginger and Garlic are known for giving your immune system a little boost, so this one is perfect during cold and flu season. Or, just about any time you want a nice noodle soup with some zing.
Laska is a Malaysian soup that is a combination of Chinese and Malaysian flavors. It uses coconut milk, chili and turmeric. Making is a flavorful soup that's perfect on it's own or as a side dish.
It's a popular soup that can be made with whatever ingredients you have on hand. On top of that, it's quick and easy to make, only taking about 15 minutes. What's not to love about being able to throw together a dinner in 15 minutes? I can't wait to try this one myself.
This soup combines garlic, ginger, shallots and green onions and bok choy to increse your vegetable intake and make for a delicious soup. Rice noodles add a wonderful texture and taste.
You can either use water or vegetable broth to make this recipe vegan. Just from the pictures alone this soup is mouth watering, a little spicy, but oh so comforting and drool worthy!
This recipe is not only Vegan, but Gluten-free and top 8 allergy free as well, which is truly impressive! This recipe uses hearts of palm to replace the clam. They're a vegetable harvested from the core of palm trees such as coconut.
By replacing half and half with coconut in this recipe, you keep it vegan. Just avoid any bacon (or if you want find a bacon substitute) and keep in the potato, celery, corn and spices, and you'll have yourself a vegan and allergy friendly "clam" chowder that is quick to make and comfortingly delicious.
Turmeric is an amazing spice that helps fight inflammation and of course adds a wonderful color and spice to your recipes. This soup in particular has a wide range of vegetables and the additional texture and taste from the wild rice.
You'll use tomato, lentils, cauliflower, zucchini and more in this vegetable rich soup that will warm you up even on the coldest of days.
This is a great comfort soup for those cold days where you just want to curl up on the couch and enjoy something that warms you down to your very core. This recipe is so full of vegetables you'll be getting more than the minimum recommended with no trouble at all.
Carrots, onion, bok choy, white corn kernels, chickpeas and lentils make this soup a vegetable power house that will meet nutritional and comfort needs all in one bowl.
This Italian soup is vegetarian, gluten-free, and sugar-free. A perfect meal to have a meatless night, or just have a yummy soup while getting in your veggies.
The white beans add protein and fiber, on top of the vitamin boost from the vegetables like Vitamin A and Potassium from the carrots and Vitamin C from the zucchini.
One of the best parts on this recipe post is they talk about how the ingredients are good for you.
Lentils help lower cholesterol, Collard greens contain Vitamins A, C And K, Celery helps stop bleeding, Garlic has antiviral and antibacterial capabilities, etc. What better way to know just how much better for you this soup is than to have it right there on the page for you?
This soup is healthy, hearty, and will make you feel all around good.
Non-instant Ramen is an absolutely delicious food that you can do just so much with. This ramen uses Miso for the broth and even for the pumpkin. Giving you the wonderful umami flavors from Miso, the meat-free wonder that is roasted pumpkin, and the delicious slurp-able broth that will be sure to delight even picky eaters.
You can add whatever vegetables you want on top of ramen as well, not just the suggested spinach leaves. Bean sprouts, bamboo shoots, mushrooms. Really make the bowl unique and delicious.
Cabbage can be one of those things that you either love or don't love. This soup makes good use of cabbage and lists some of it's health benefits. Such as anti-inflammatory properties, and cancer-fighting phytochemicals like dithiolethiones, and sulforphane.
This soup takes about an hour, so it's perfect for a cold weekend day where you have the time to cook something that needs a bit of effort but is oh so satisfying. This recipe is high in Vitamin C, Iron, and Potassium.
It's no secret that I love using my crock pot/slow cooker in the colder months to make meals that can cook while I'm busy doing other things. This Split Pea soup is a perfect hearty soup that will make you feel good.
Green peas are great for digestion, so getting more of them in your diet can be really beneficial. This soup is a dump and go soup, put everything in the crock pot and cook it on high heat for 5 1/2 hours. It's a perfect busy day comfort meal!
This soup is delicious and spicy, however if spicy isn't your thing too much you can easily tone it down. The color of this soup is just beautiful, getting it's fantastic tone from turmeric! The creamy texture is thanks to coconut milk/cream and from there you have ginger, chilies, and garlic adding some more zing.
This soup takes just 30 minutes to make, but is worth it in the end with the delicious blend of flavors. It is a fantastic source of Potassium, Fiber, Protein, Vitamins A and C, and Iron.
This yummy chowder isn't trying to be a substitute for something, but that doesn't mean it's not good. This recipe is Gluten-free and Vegan, so a nice double hitter here. It's full of corn, potatoes, quinoa, red lentils, veggies and a great blend of spices. It's a great source of protein to get you through your day.
This would be a perfect pick me up on those cold mornings or cloudy days, I'll eat soup any time of day. No lie, it's not only for lunch or dinner for me. Do you have a favorite style of soup?
This isn't your usual tomato soup that's thin and kinda of blah unless you're dipping your grilled cheese sandwich into it. Nope, this tomato soup is nice and hearty, using rice to make it thicker and make it more filling.
The recipe includes carrots to add an extra nutritional kick as well. Plus you'll use diced potatoes on top of tomato paste to give some more texture. Yum!
Asian noodle soups are some of the best I've ever tasted, and Udon is no different. Udon noodles are a thick wheat flour noodle and they're a fun texture to chew.
You'll make the broth yourself, and can customize the type of vegetables you want in your bowl. Either way, it's a filling, delicious soup with a light broth that just puts together an absolutely amazing dinner in a bowl.
This vegan take on baked potato soup is still creamy and still delicious. You'll use vegan bacon, vegan sour cream, raw cashews and soy milk to help make this a smooth creamy dream of a soup cute to make you not miss the traditional non-vegan option.
In total it only takes about 40 minutes to make this recipe, so it's nice and quick without feeling like it has taken all day. For a potato soup this good, that's not bad at all!
This thick and filling soup uses onion, carrot, celery and kale to give you your nutritional boost from veggies. Plus the added fiber and protein from white beans. It's perfect for when you want to use up that left over kale but don't want to attempt to make kale chips.
I tried that once, it didn't come out well for me.
This recipe takes just 25 minutes to get a delicious food that would be great to serve at a party, or just when you needed a quick meal.
Which recipe do you think sounds the best? Have you ever tried making any vegan food before or are you just starting out on trying? I'd love to hear what you think about these recipes too!

Last update on 2023-11-29 at 23:48 / Affiliate links / Images from Amazon Product Advertising API