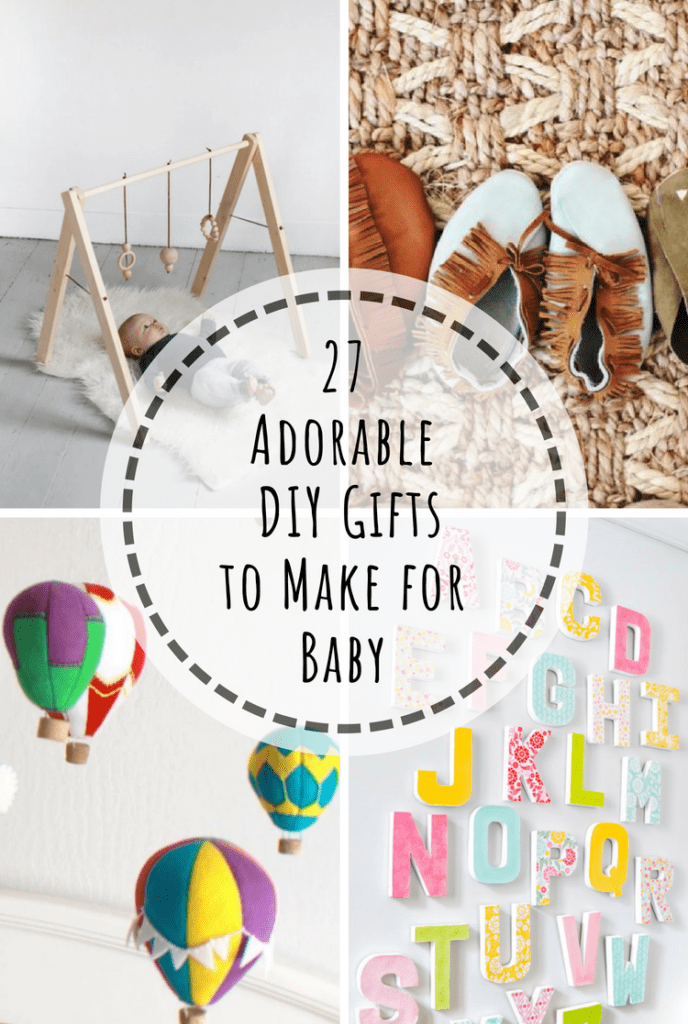 Whether you're expecting, have a baby, or are looking for a cute gift for baby and mom, read no further than this list. From absolutely simple and practical to truly ambitious project, we've got you covered! Here's a list of 27 adorable baby DIYs:
Swaddling is great, but sometimes its a challenge to keep baby swaddled and cool. Try these colorful gauzy DIY swaddling blankets for a cool alternative! You just needa 45 x 45 inch square of fabric of gauze fabric and some sewing chops. If you want to be advanced, you can even sew fabric hearts onto your blanket.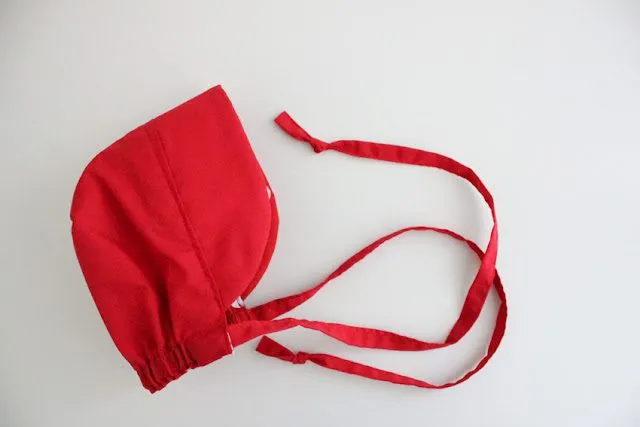 There's nothing cuter than a baby bonnet…a RED baby bonnet is just so iconic. To make this, you'll need 1/3 yards of fabric (you can mix and match or use the same fabric), 1/8 yard of very stiff interfacing, and 1/4 yard of 1/2 inch elastic. Then just follow the pattern and utilize some basic sewing skills for a cute red baby bonnet of your own.
This project is not for the beginner crocheter, but you have to admit it is truly gorgeous. You'll need yarn, round beads, a wooden teething ring, ribbon, a small plastic easter egg, polymer clay, fiver stuffing, and some crochet supplies to make this teething ring come to life!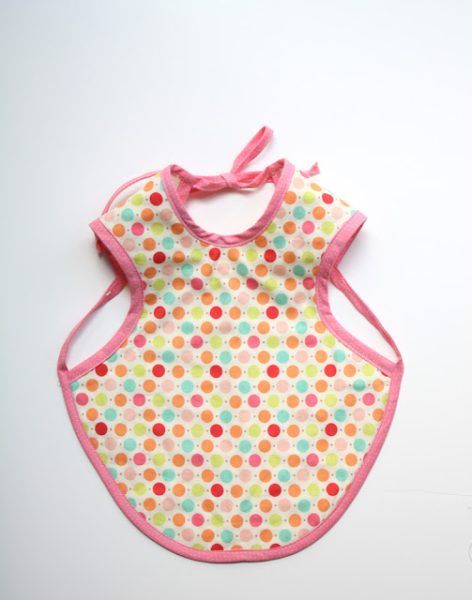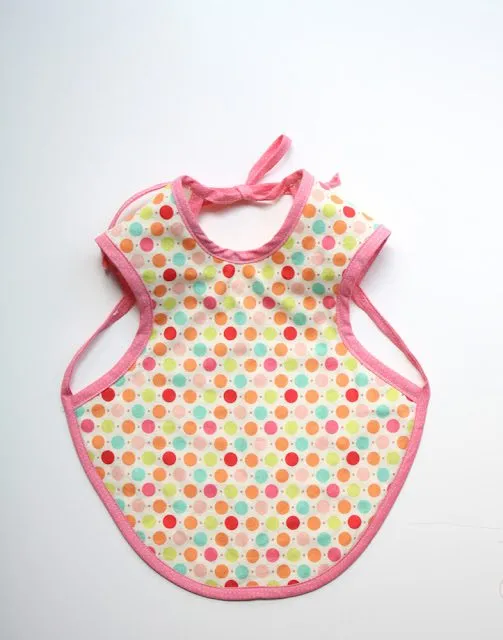 This baby apron (bapron!) provides great coverage in the front, like an adult apron, and it ties in the back with bias tape! Buy the pattern from the site for a quick and easy sewing project for baby.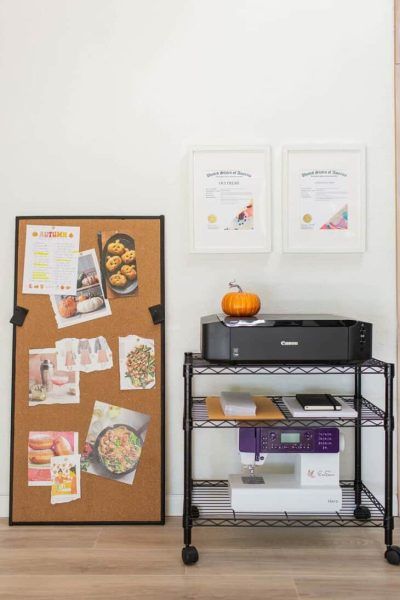 This is a not super difficult DIY to make with leather scraps and a sewing machine. Embellish them any way you'd like and end up with baby shoes that only LOOK expensive.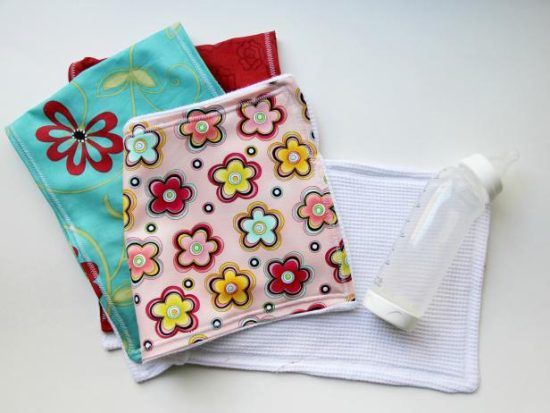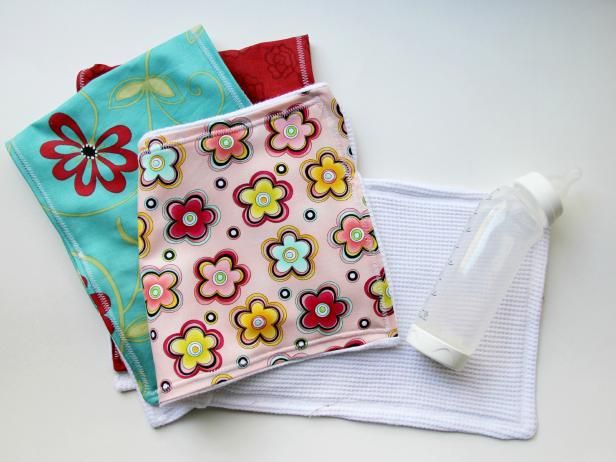 Burp cloths are invaluable to a new mom. To make them, all you need is a fat quarter of fabric and some terry cloth. It is also a great beginner sewing project, so why not give it a try?
These DIY letters will really make a new nursery wall pop! You can use an alphabet or spell baby's name. You'll need Paper Mache Letters or Wood Letters, scrapbook paper, Matte Mod Podge, Foam Brushes, Good Craft Scissors, a Precision Knife, and Acrylic Paint.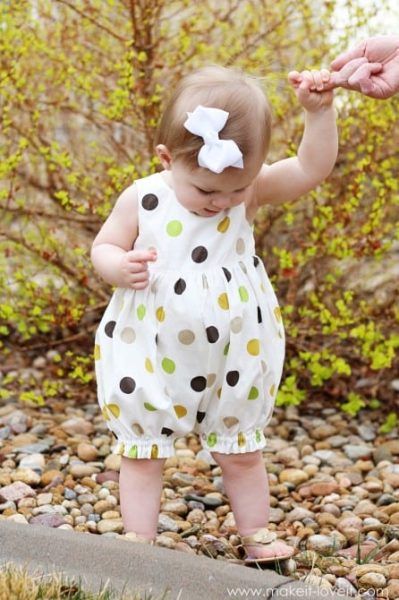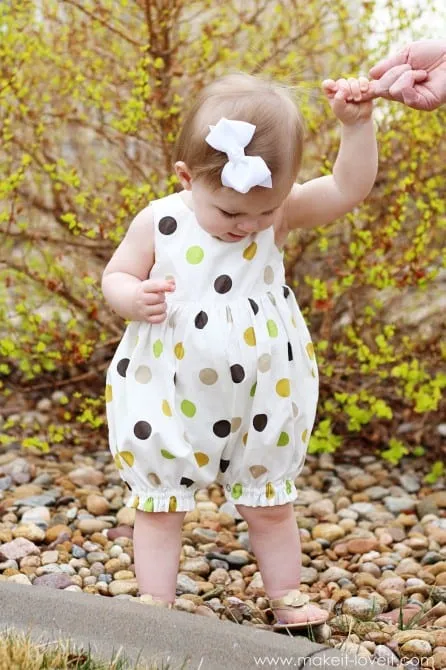 This is an ingenious project because many new parents end up with an excess of baby dresses, so why not convert one quickly into a bubble romper? It's also a nice way to try some beginner sewing methods, like adding snaps.
Whether you're looking for one last home decor accent for your nursery, or are scrambling for a last-minute baby gift, this couldn't be easier! Just print one of the patterns on a color printer and frame it. Voila!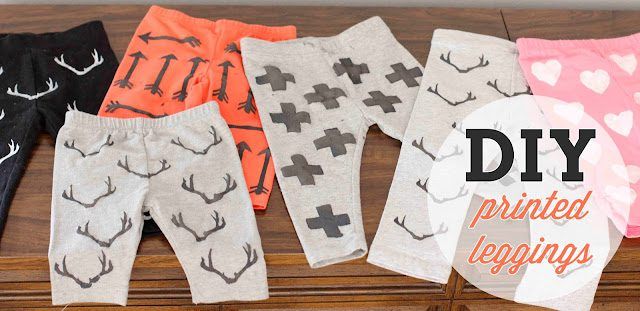 Baby leggings are awesome, but you're often stuck between cheap plain leggings or expensive patterned ones. No longer! All you need is some of those boring plain ones (Target, Walmart, H&M, Amazon are just a couple places to buy some), some stencils, fabric paint, and an iron or dryer. Just paint over the stencils, heat the dried paint so it doesn't wash out in the first wash and WOW! Inexpensive patterned leggings that you can make during a short nap time.
This is a slightly more advanced craft, for someone with sewing confidence or experience working with felt. You'll need:
Multicolor Felt
Embroidery needle
Embroidery Floss
Scissors
Invisible Thread
Embroidery hoop
Polyester fiberfill, or any stuffing you'd like
Cork pieces for the basket
At the end, you can made a hot air balloon mobile or just decorate a nursery with balloons and clouds!
DIY Baby Kimonos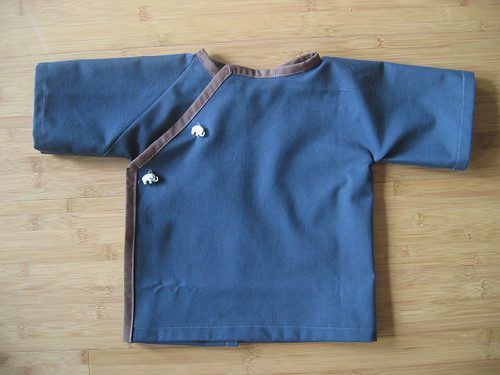 Martha Stewart never lets us done with some fun DIYs. These baby kimonos are just so cute! You'll need the kimono template, pattern paper, 1 yard of fabric, 2 yards of single-fold bias tape, 10 inches of thin ribbon, and sewing supplies. This is a bit complicated for beginners, but its well worth it for all the compliments your baby (or friend's baby) will get!
There's something funny about a baby in a tie, and it's a great option for a photoshoot! This couldn't be easier, all you need is a tie applique, plain onesie, and mod podge to make it come together.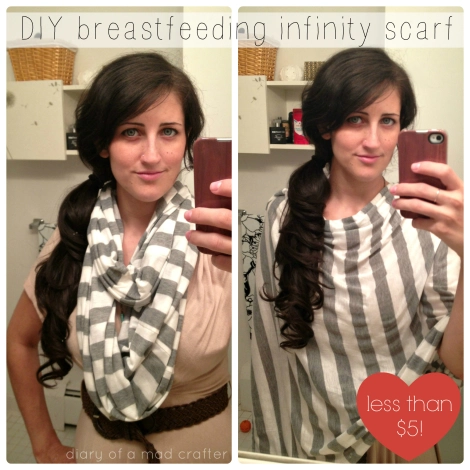 Yes, this is more for mom than baby, but we won't tell! It is made with a 60'x60′ piece of fabric. If you're looking to get back into sewing, and infinity scarf is just about the easiest sewing machine project you could ask for. So keep an eye out for some cute fabric and give it a try.
DIY Baby "Chewellry"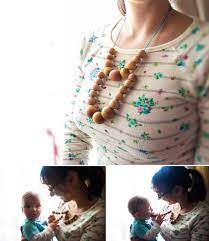 Baby's love grabbing jewelry (and hair, glasses, pretty much anything!) The author of this post wanted some fun baby chew jewelry that didn't break when pulled, was soft enough for tender gums but tough enough for grabby hands, didn't have parts that would choke baby, was free of unsafe chemicals/GMOs/radiation/ growth hormones, wasn't too costly or difficult to make, and lastly "doesn't look like darling homemade crap". LOL!
This ombre quilt is truly adorable and twee. The author recommends checking physical quilt shops for 1/4 yard scraps of quilting fabric to make the color gradient. You'll also need white backing and 100% cotton batting to "make it crinkle up and look all guilty". Then just some basic quilt-making/sewing skills will get you one of your own cute blankies in no time.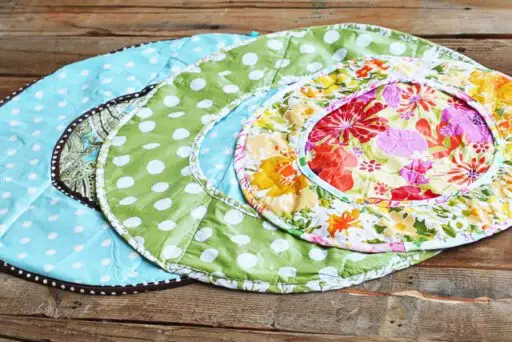 This roll up vinyl diaper changer takes a fair amount of sewing skills, but its a great way to utilize inexpensive vinyl tablecloths! No more laying baby down on gross public toilet changing stations. You can easily clean the vinyl between uses.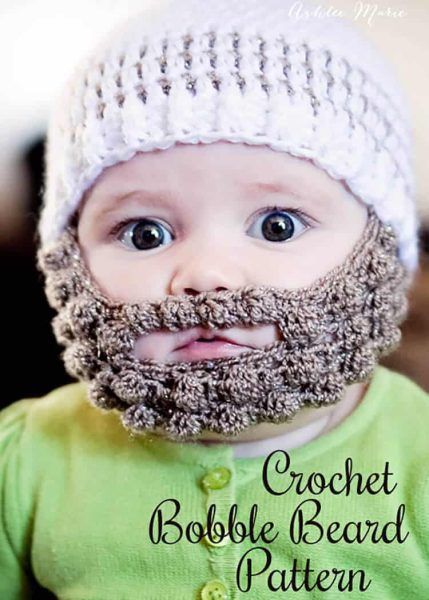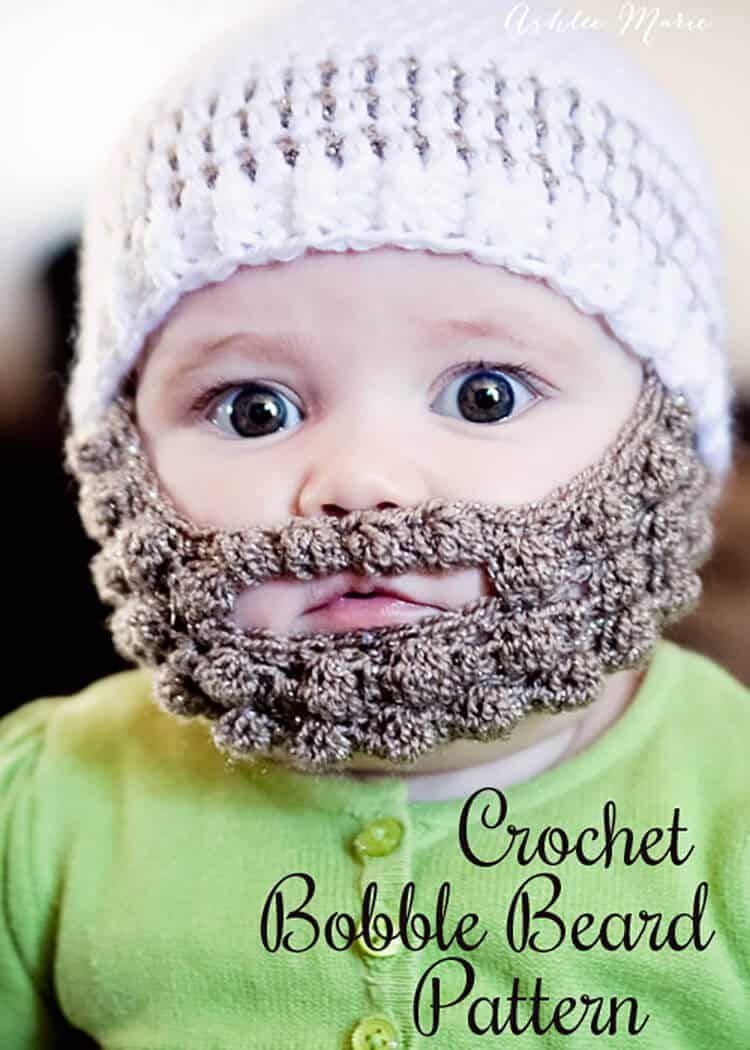 This baby beard project is just too funny! You'll need vanna glamour yarn (or any yarn of similar size, the author says "if you go up a yarn weight you might want to go down a beard size or down a hook size"), hook I- 5.50mm, and a stripped beanie. It's not a terribly difficult knitting project if you're looking to get back into it!

This project can be adapted to be a bit more or less involved. For example you can cut your own wooden blocks or use premade blank ones. If you cut your own, you'll need:
Wood or Wooden blocks
Sandpaper
Adhesive Vinyl
Transfer Paper
Clear Coat
Sander
Saw
Silhouette Cameo
Computer
Paint brush (if not using spray clear coat)
It's not the simplest project, but its well worth it to be able to make custom building blocks, especially as an extra special gift!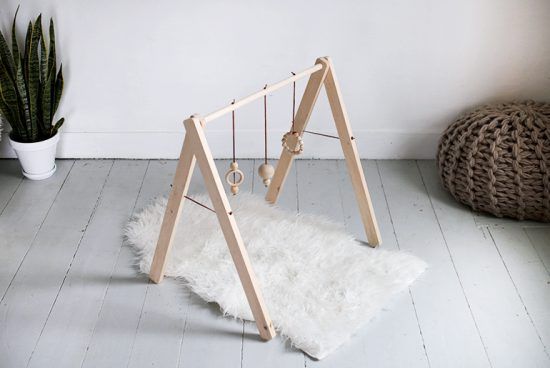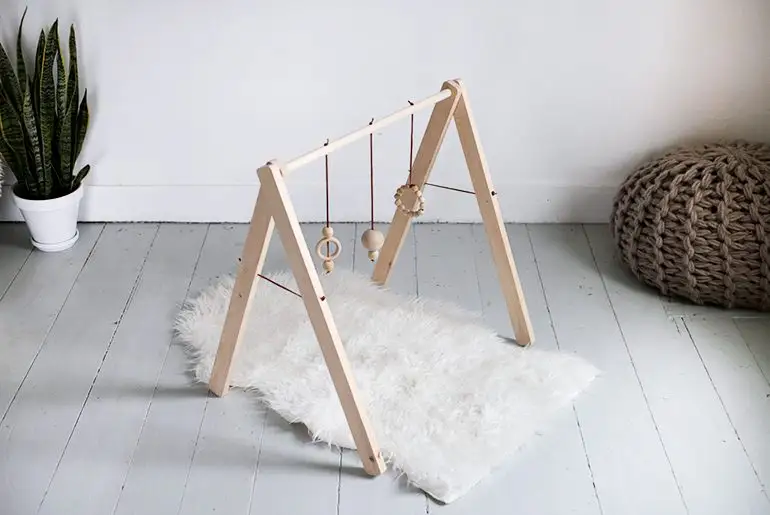 This DIY baby gym is not as difficult as it looks to assemble, and it looks like a fancy Scandinavian present that cost a fortune (but it didn't!)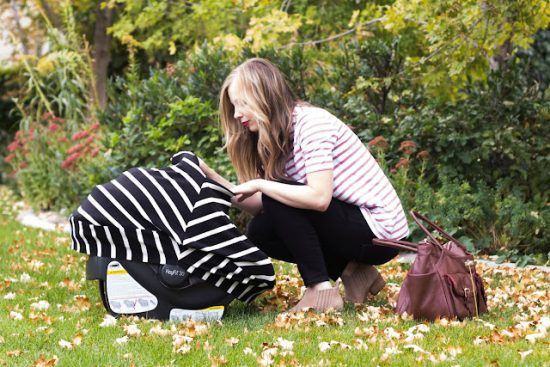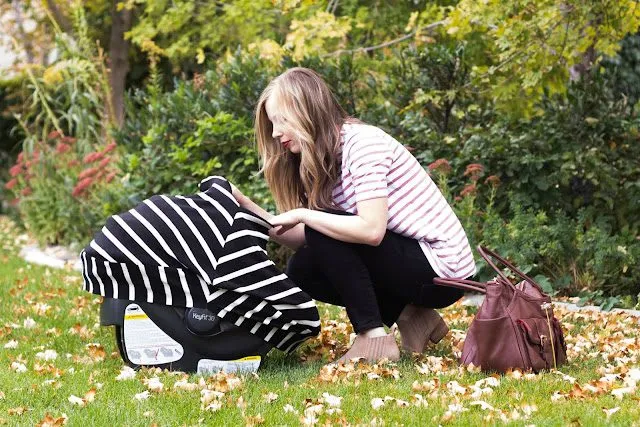 This is a great beginner sewing project. The author really breaks down what you'll need – fabric scissors, embroidery scissors, seam ripper, thread, rotary cutter, clear ruler, pins, tape measure, and sewing machine – to end up with a wonderfully versatile fabric that can be used to cover a car seat, a stroller, privacy for nursing. The possibilities are endless.
Baby Brag Book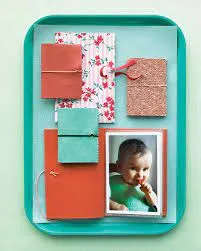 Why not cherish your child's first moments for a lifetime with this baby keepsake idea. You start by using double-sided plastic binder sheets, then customize it with snap shots, handwritten recipes, and photos.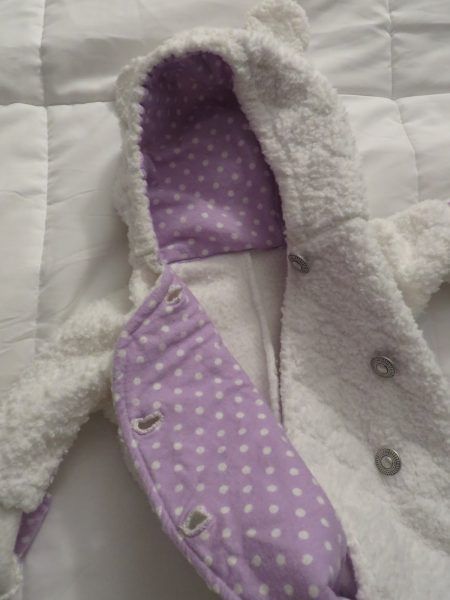 Starting with a trusty McCall's pattern, you can sew your own baby bunting for the winter. You can line the bunting with light purple flannel with white polka dots like the author, or chose another whimsical fabric. This is a moderate/intermediate sewing project that makes a lovely present!
There's no need for fancy store bought baby slings. All you need is 1 – 2 yards of fabric and thread. Measure yourself (or your new mom friend) from shoulder to hip, across the body (right shoulder to left hip). Add 3″ to this length for the pocket, then double it. This is the total length you need for your sling! Follow the easy directions and enjoy your very own DIY baby sling.
The nice thing about this project is that it isn't as time consuming or expensive as you'd think. Simply keep an eye out for cheap things to add to yours: lights at the Dollar Store, a steering wheel in the clearance section of your big box store, an old mirror in your garage. You can even get creative and make it a spaceship dashboard or just add whatever you want to it that's fun to move/spin/turn on!
These super cute mittens have a stretchy cuff that is tight enough to stay on baby's hand, but not too snug to be uncomfortable or irritating. The inside is lined as well. To make this, you'll need the pattern, ribbed knit, fabric for the outside like jersey knit, quilting cotton, flannel, and fabric for lining, like a soft knit. This is a quick sewing project that will save you from spending money on baby mittens!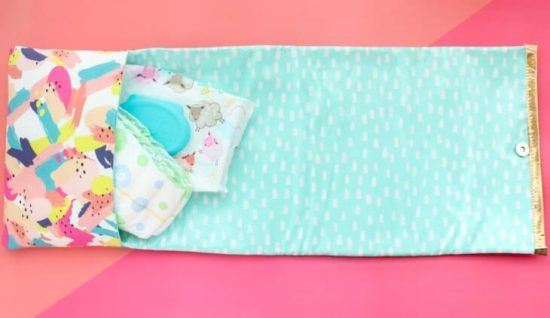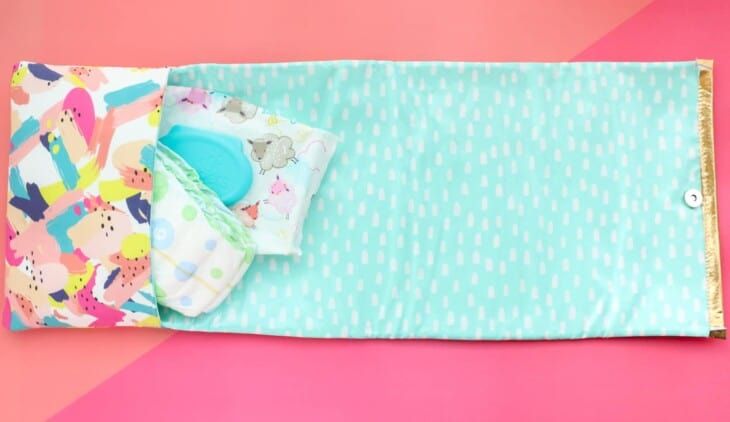 This DIY diaper clutch is so easy to make! You can use any fabric you want and just add iron-on waterproof vinyl coating. It's a great project for a beginner and the fun colors and usefulness of it makes an awesome gift!
We hope you loved this list of adorable baby DIYs as much as we enjoyed putting it together. Have a blast making some cute baby DIYs and bookmark this so you'll always have a go-to list of baby gifts in the future!
Last update on 2023-11-30 at 00:26 / Affiliate links / Images from Amazon Product Advertising API