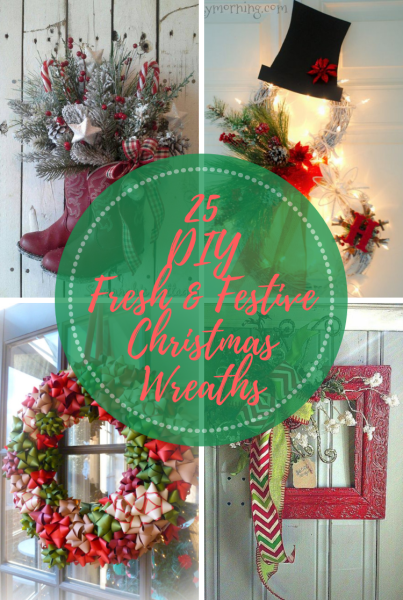 Turn your front door into the most holly jolly looking piece of decor on the block with DIY festive Christmas wreaths. I say "wreaths" because I'm a lunatic for Christmas and will probably have several hanging on my door.
Whenever I walk into a department store and see the cost of Christmas wreaths my jaw always hits the floor. I mean, seriously, for those prices, I could easily make my own wreath. Truthfully? It will probably look a whole lot nicer, too.
In this roundup post, I've given you 25 elf-inspired DIY Christmas wreath ideas that you can easily make at home. From pinecones to red ribbons, I've included a little something for all tastes and personalities.
I love gaudy Christmas decorations, but I realize not everyone enjoys that type of thing. So, you'll see some cute and classic wreaths, too.
Are you ready to get your Christmas wreath making extravaganza going on? Great! Hitch up the reindeer and let's get to the list.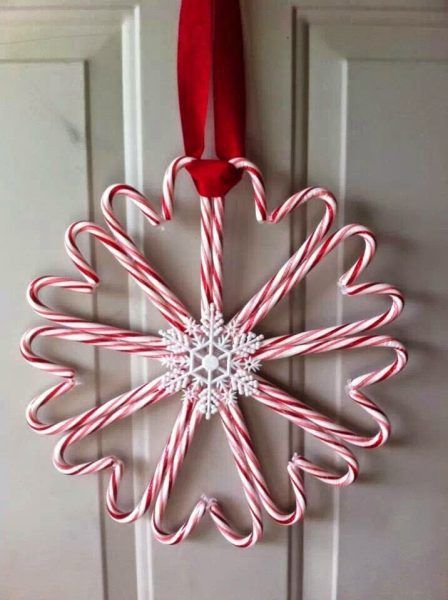 This wreath looks minty fresh and delicious. Seriously, are we allowed to lick this wreath? I can't make any promises that I won't be sampling the candy canes during the construction of this beautiful door decor.
This wreath is so cute! I think I'd like to make this one with my niece and nephew. My kids are teens and far to cool for such projects.
Anyway, I love the colors in this wreath and just the overall look of it. Very festive, indeed.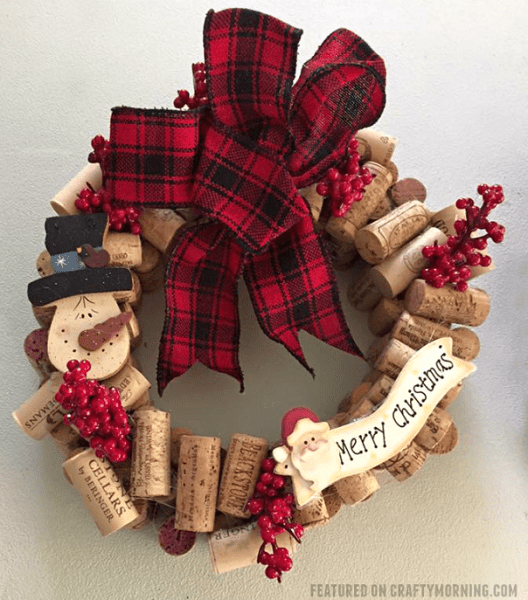 This DIY holiday wreath is for you wine drinkers out there. You'll have to drink a few bottles of wine to get all of the supplies that you'll need to make the wreath, right? It's for Christmas!
I think this wreath is super cute and has a fun country feel to it. Use any materials you want!
You'll enjoy putting together this holiday cookie cutter wreath. I think using grandma's vintage cookie cutters would be perfect! What a wonderful way to preserve a family heirloom.
Your kids or grandkids will enjoy helping you with this project.
How extravagant is this 3-wreath decor? I love it! It screams Christmas cheer to all who come to your home. Plus, it's easy to make. Watch yourself transform 3 plain old wreaths into this magnificent craft.
Your front door never looked so charming.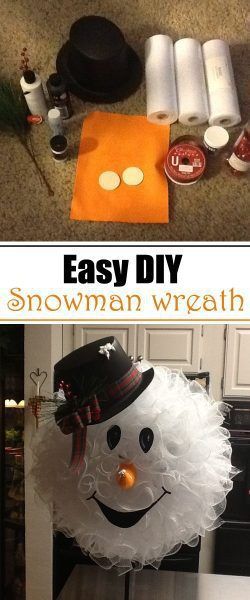 This DIY snowman wreath is so sweet! Nothing says "Merry Christmas" like Frosty the Snowman. Watch your neighbors envy your front door decor. Your friends will be asking you where you bought this cute wreath from and you'll get to gloat and tell them you made it yourself.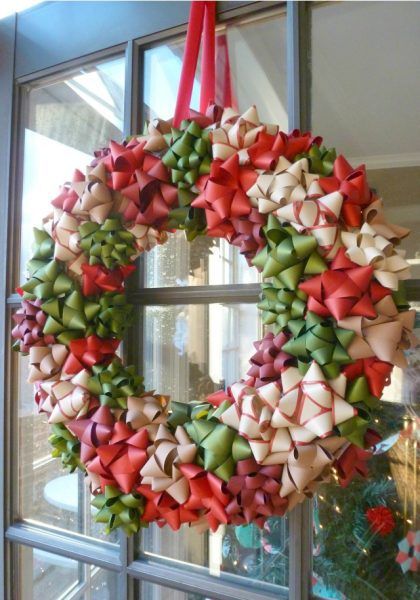 If you're working with a tight budget, this is the DIY wreath for you. It is super cheap to make! All you need is a couple of bags of cheap dollar store bows, to get yourself started.
I love the color scheme of this wreath, don't you?
Here we have another peppermint candy cane inspired wreath. However, this one deviates from the classic round shape and gives us a gorgeous star. isn't it pretty?
I love this adorable wreath for more reasons than one. Those snowy trees are too cute for words! This wreath is simple to make and basically requires your glue-gun skills to be on point.
You'll really be pleased with how this wreath looks on your door.
Beachy Christmas Wreath
Do we have any beach lovers in the house? Perhaps, you're spending Christmas someplace tropical this year and want to create a wreath that reflects the ocean, sand, and surf. This is the wreath for you.
Do I hear The Beach Boys?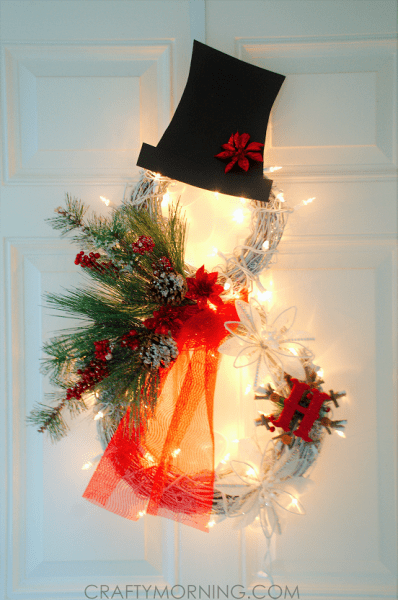 Grab yourself two white grapevine wreaths and you'll have yourself the startings of this fabulous snowman door decor. Isn't he cute?
I especially love the touch of evergreen, pinecones, and holly berries. Very festive!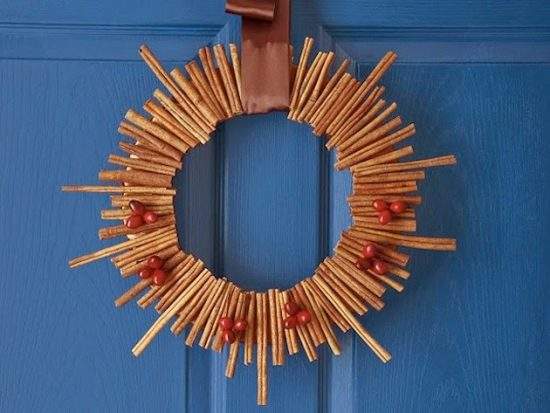 Whether you're camping for the holidays or you just love camping in general, this retro camper wreath will bring a smile to your holiday. Check out those vintage trailers? They are stunning.
This wreath is relatively easy to make. it does require the purchase of quite a few ornaments. However, I feel it's worth every penny.
This wreath is so special! If you're looking for a Christian holiday wreath for your front door, I really can't think of one that is better than this precious nativity scene.
It's really easy to make, especially if you already have a nativity scene ornament on hand.
This wreath just makes me want to lasso up my lil doggies and say "yeehaw"! What a way to use an old pair of cowboy boots. I have some that I was almost ready to take to the thrift store. However, I'm totally making this wreath, instead.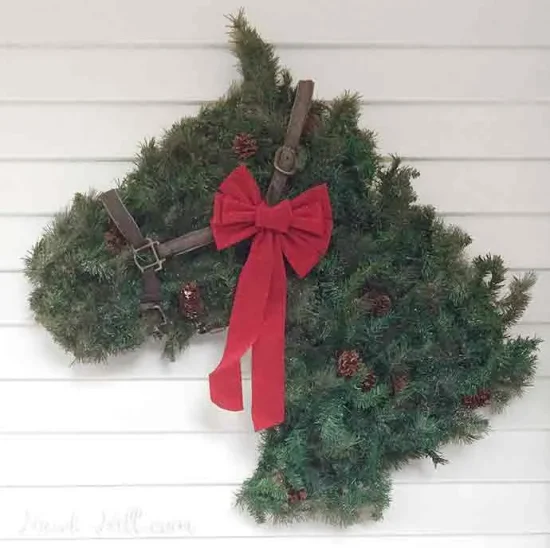 You totally need a horse to go with your cowboy boots wreath, right? I think it would look super cute if you had the cowboy boot wreath on your front door and the horse on the back.
This is the perfect wreath for horse lovers, everywhere. Giddyup!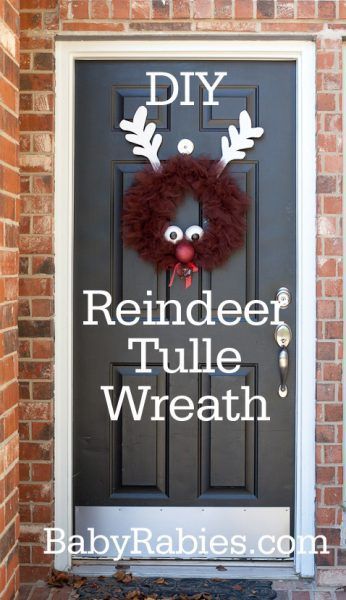 What better way to celebrate the holidays than with Rudolph the Red-Nosed Reindeer? This wreath is absolutely adorable. You could easily make this wreath and sell it at a craft show for some serious cash.
However, if it were me, I'd just assume keep it for myself.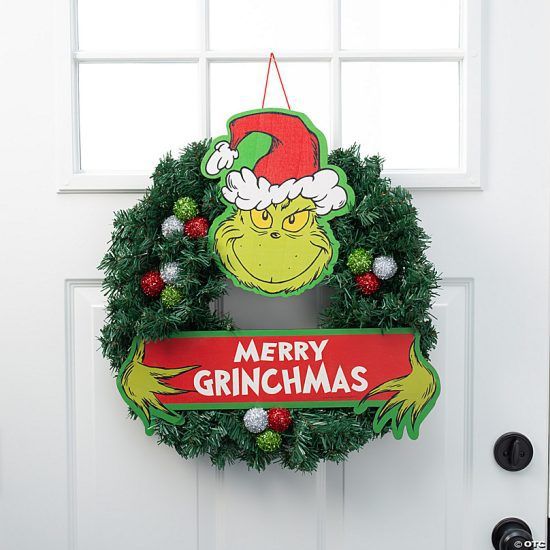 "The Grinch Who Stole Christmas" is one of my all-time favorite holiday TV specials. I love everything about the story and still do to this day.
So, you can pretty much plan on seeing this DIY wreath on my front door. I wonder if I should make it smell like toadstools and garlic?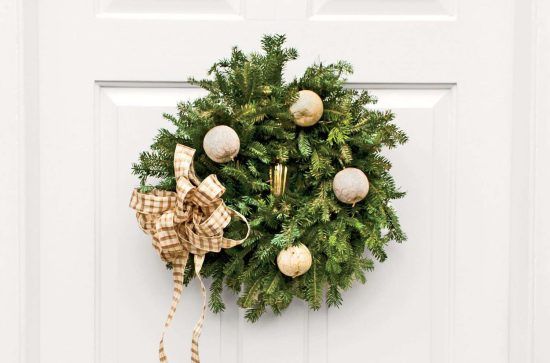 I'm in love with this frame wreath. It combines country and vintage into one gorgeous craft. I love those retro shades of green and red, too!
If you're on the craftier side of the fence, I don't think this wreath should take you very long to make.
How clever is this wreath? Honestly, I have never seen the possibility of a Christmas wreath when I've looked at a pair of flip-flops. I am smitten by this idea.
I like how the original creator used winter colors and made the wreath look cold and icy. I think it would be great with red, green, and gold flip flops, too, providing you can find them in those shades.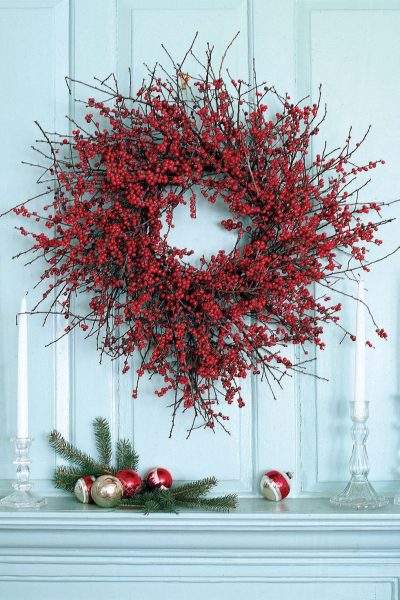 This wreath is described as being "very easy" to make. This makes me happy because it certainly doesn't look easy to make. In fact, it looks like a wreath that came straight out of a flower shop window.
This wreath is bright and colorful just plain joyful. Wouldn't it look great on your front door? Guests will feel welcomed and right at home when they lay eyes on this inviting Christmas wreath.
Just wait until you tell them you made it yourself!
This frosty wreath would look great on a door or up against a shed. I like how it looks in contrast to the deep red paint in the photo.
The twigs and pine cones really make this wreath pop.
This is a simple little wreath fashioned out of jingle bells. Every time you open your door you get to hear the sounds of Christmas! I love it.
This wreath is sweet, simple, and to the point. It really wouldn't take you more than about 20 minutes to make. I really like the moss look. It's different rather than using traditional evergreens.
I can totally picture this hanging on my front door. Can you?
Can you imagine how amazing this star anise wreath smells? It would be like walking into a candy shop and sniffing the licorice. Yum! Such a spicy Christmas scent.
I like this wreath because it uses a natural fragrance. Plus, star anise is beautiful. You'll love making this wreath as much as you'll love displaying it.
---
These wreaths are all amazing. I wish I could snatch 'em all up and hang them all over my house. Of course, my husband and kids might feel a little Christmas-spirit bombarded. Oh well! LOL!
I am totally going to make a few of these wreaths, though. My favorites are the retro camper, Frosty the Snowman, and the anise star wreaths. It's going to be fun crafting them.
I'd also like to try making the Christmas bow wreath. it's colorful and affordable. It'd make a great gift!
Which wreath or wreaths will you be making? I cannot wait to hear all about your creations! Be sure to leave me a comment when you've made your decision.
Don't forget to get your kiddos in on the wreath-making fun. Making holiday memories are important. Take lots of pics!
Happy holiday crafting 🙂