If you are looking for another one of those easy meals that are perfect for weeknight dinners, this Cheesy Beef Bake is perfect for you!  It combines egg noodles, melted cheese, and a creamy tomato ground beef mixture and is simple to make!  This simple dinner recipe is a fresh idea for back-to-school meal planning!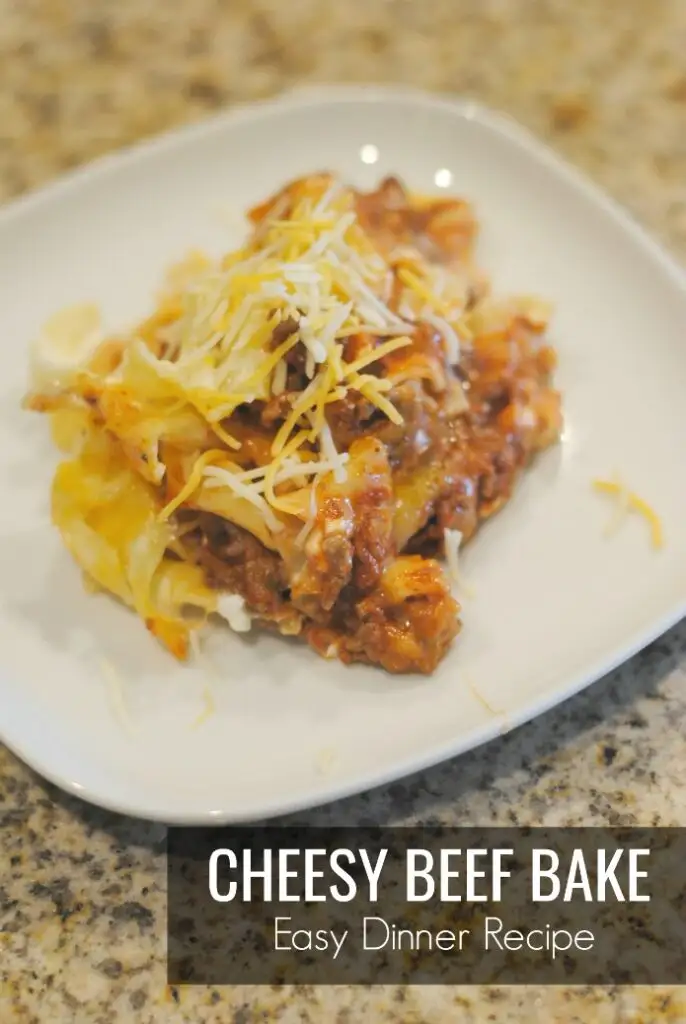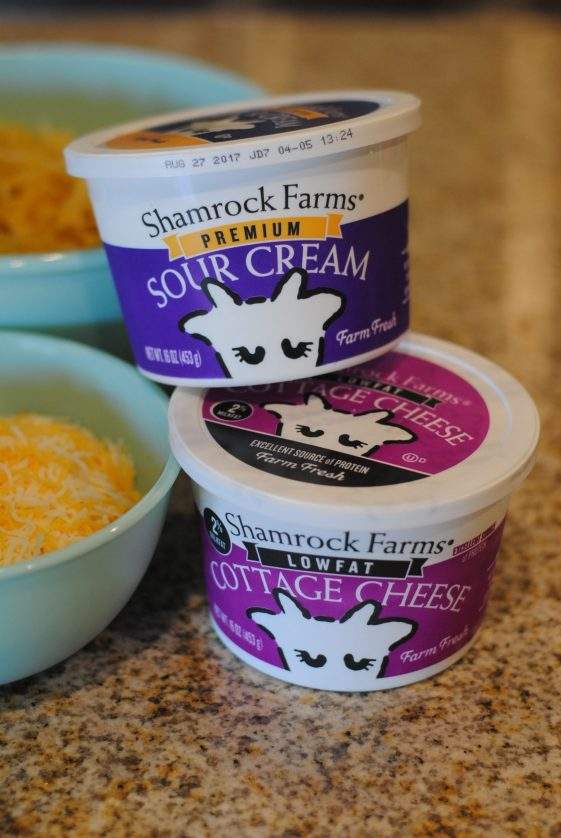 I used both Shamrock Farms Cottage Cheese and Shamrock Farms Sour Cream for this recipe.  There are many reasons why I choose Shamrock Farms when I'm looking for dairy products.    First of all, every Shamrock Farms product begins with pure, wholesome, nutritious milk with no added growth hormones and their products go through rigorous purity testing, and are cold packaged and shipped to arrive fresh, fast and delicious.
I'm pretty lucky because the Shamrock Farms' real, working dairy farm is here in Phoenix, and the farm is open to the public for tours October – May.  It's a fixture on my drive to and from work and a company I've grown to trust.   When you visit their farm, you can see firsthand their commitment to high-quality animal care so their cows stay happy and healthy. (something that makes my heart smile!)
You're going to need to boil the noodles and brown the ground beef, but other than that this is a simple-to-bake recipe!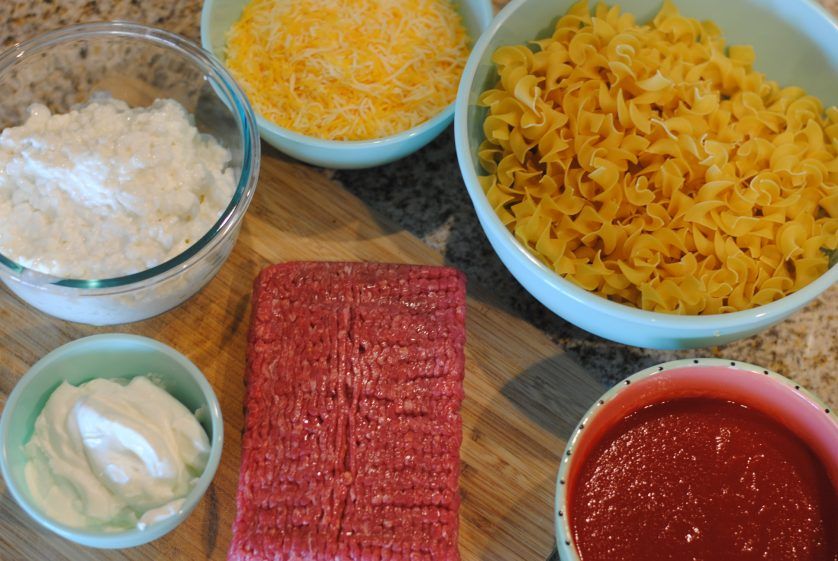 Once everything is pre-cooked, mix the sour cream and cottage cheese into a bowl.  Pour the tomato sauce into the cooked beef mixture and stir.  Then, you will layer the noodle mixture and meat mixture then repeat.  Top with shredded cheese and bake at 350 for 20 minutes.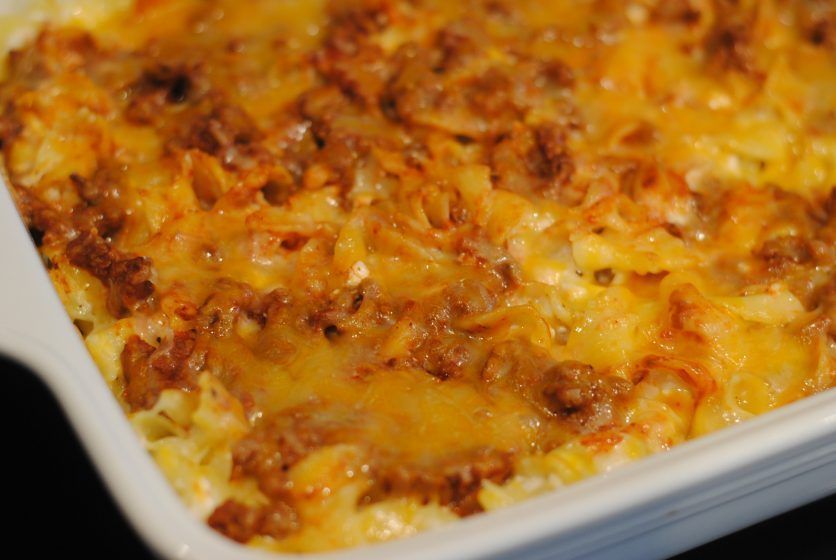 Easy Meals: Creamy Beef Bake
Prep time:
Cook time:
Total time:
Delicious beef casserole with a creamy cheesy sauce that is perfect for a weeknight meal.
Ingredients
1 lb ground beef
1 can (15 oz) tomato sauce
½ teaspoon salt
¼ teaspoon pepper
½ teaspoon onion powder
1 package (12 oz) egg noodles
¾ cup sour cream
1 container (16 oz) cottage cheese
2 cups grated yellow cheese
Instructions
Heat oven to 350 degrees. Prepare a 9x13 baking dish and spray with cooking spray.
Cook the ground beef in a skillet until no longer pink. Drain any excess fat.
Add in the tomato sauce, salt, pepper, and onion powder into the meat and let simmer on low while you prepare the rest.
Cook the egg noodles according to package directions [don't forget to salt the water!]
In large bowl, mix together the sour cream and the cottage cheese.
Drain the noodles and pour them into the mixing bowl with the sour cream and cottage cheese. Stir to coat all the noodles.
Pour half the egg noodle mixture into your prepared pan, top with half the ground beef mixture, and then half the shredded cheese. Repeat.
Bake for 20 minutes.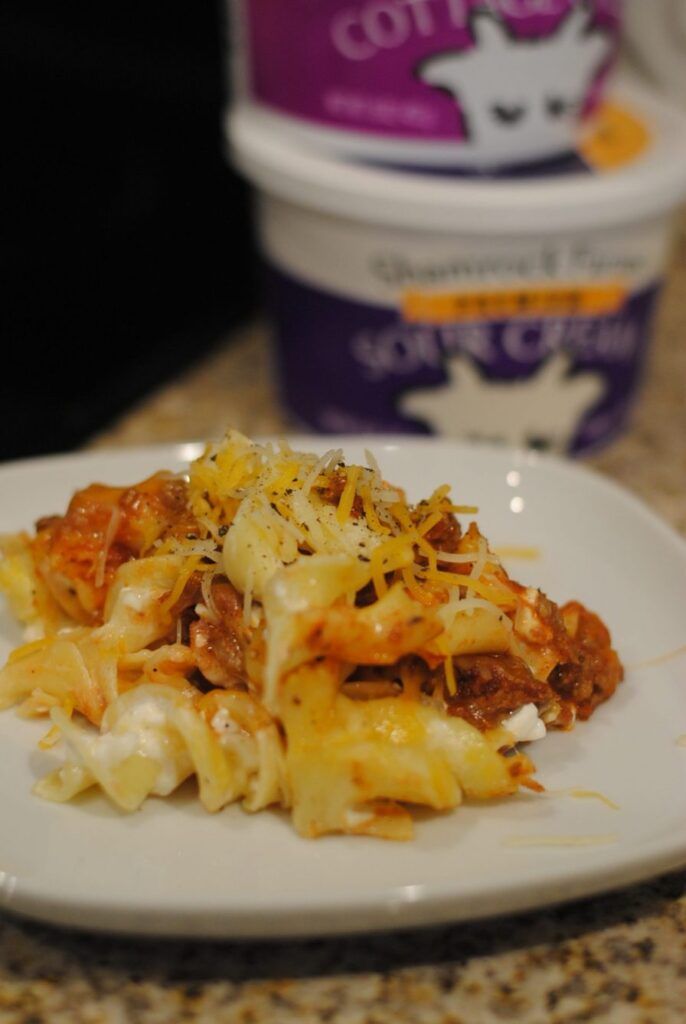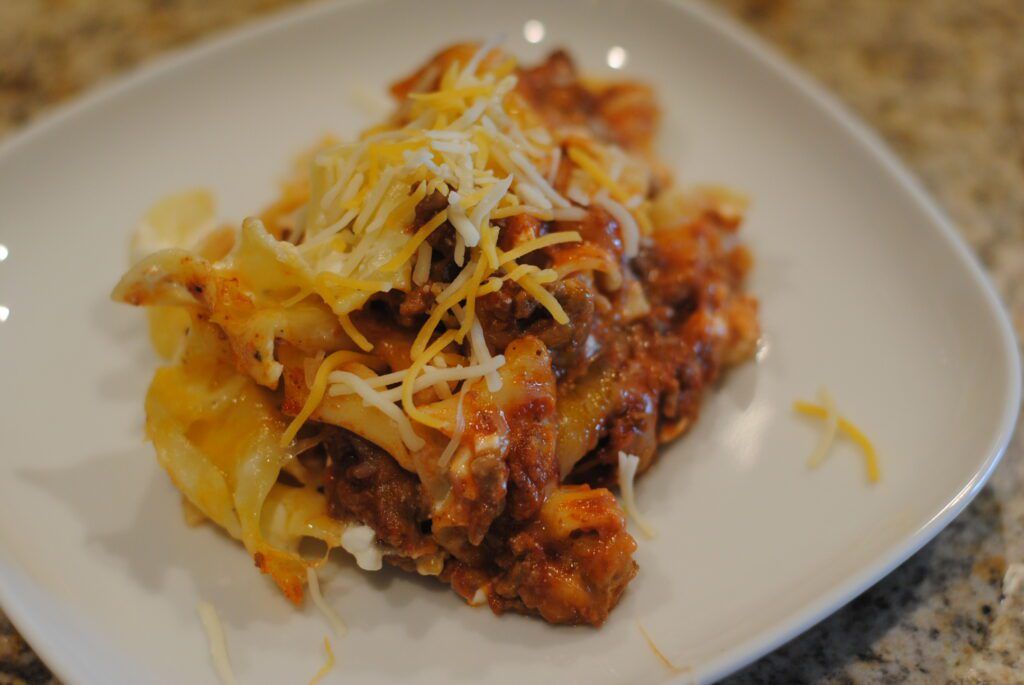 Shamrock Farms Sour Cream is our go-to brand!  It's smooth and creamy, with the best flavor I've found and Shamrock Farms Cottage Cheese is a great way to add creaminess in recipes, and with 13g of protein it's a favorite around our family for breakfast as well!   It helps us start the day with some power and lower calories and fat than other breakfast options!
The Pioneer Woman pioneered this recipe – (see what I did there?) I just made a few adjustments for my family!
This is a sponsored conversation written by me on behalf of Shamrock Farms. The opinions and text are all mine.