One-pot meals are as old as time. From risotto, paella, and hash…folks have been making meals using just one pot, pan, or skillet forever! They've become trendy on places like Pinterest lately, where folks are figuring out how to use one pot to cook things like pasta. Read on to get some great ideas and save on dishes to wash tonight!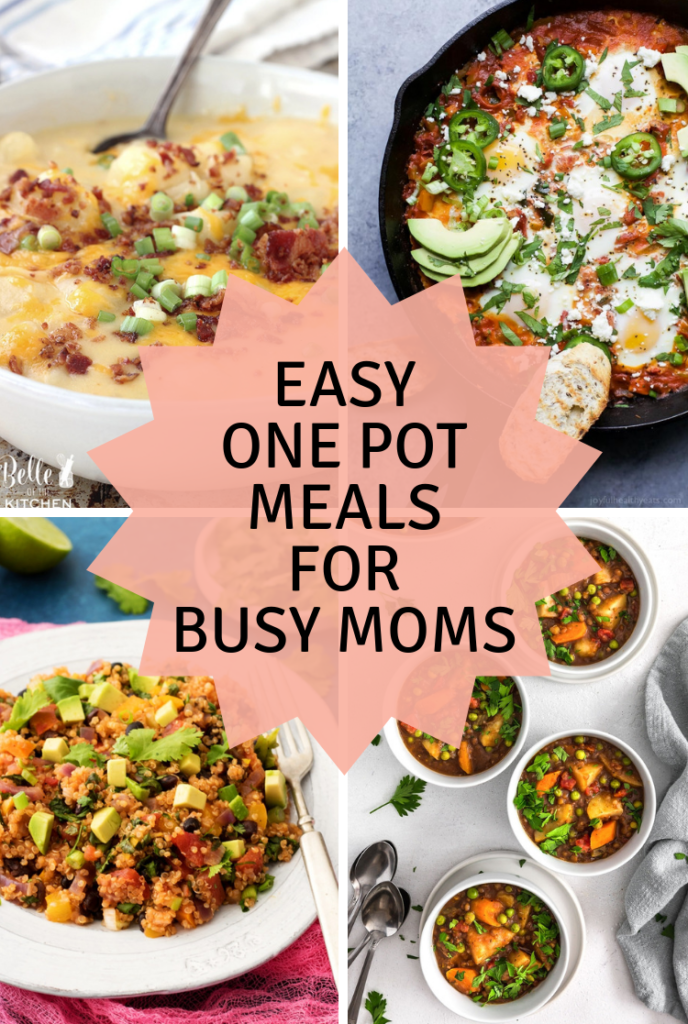 [amazon box="B000F5IH6Y,B000GWK34K,B01M7RNBZA,B00GMH42IQ" template="table"]
20+ Easy One-Pot Meals To Make in No Time
Black-eyed peas are delicious in a stew and this one is no exception.  Just a single cup has 20% of the daily value of magnesium, calcium, and iron! This goes great with rice, cornbread, or on its own.
This yummy rice pilaf can be made with whatever veggies and herbs that you have at hand. You'll need rice and diced tomatoes, then you can add carrots, zucchini, onion, green pepper, or whatever you have around!
People love their instant pot, which can cook frozen chicken into a delicious meal in less than a half-hour! This recipe is awesome because you can use frozen veggies like peas and it comes out super yummy. The base of this is onions, fresh ginger, soy sauce, oyster sauce, sesame oil, and pepper!
For some one-pot meals, the key is mixing various textures, like this one that mixes in dried cranberries, fresh chopped cilantro and parsley, and crunchy chopped almonds to balance out the creaminess of the curried lentil and quinoa.
Soups are awesome to make in the instant pot! This recipe is as simple as mixing quinoa, water, salt, beans, corn, tomatoes, and salsa into the instant pot. Then finish it with pepitas, sliced avocado, cilantro, salted yogurt, or whatever you have to hand? Chopped fresh tomatoes? Cheese? Everything is a tasty combo with this recipe.
This recipe is neat because it uses the moisture of the sauce and veggies to cook the lo mein noodles to a gorgeous al dente. Use veggies that can hold up to the intensity of the instant pot, like carrots and broccoli, and don't be afraid to mix in some fresh veggies like green onion and cabbage strips.
Gumbo? In an instant pot? This one works to be as authentic as possible, which of course starts with a roux. Use the saute function to mix butter and flour to golden brown perfection before adding the other ingredients. This may take one pot, but it's anything but simple – it has over 20 ingredients!
Tomatoes, 
white pepper, 
black pepper, 
cayenne pepper, 
dried thyme, 
salt, 
brown sugar, 
Worcestershire sauce, 
lemon juice, 
bay leaf, frozen okra, and okra are just some of the ingredients that take this to a next level meal that'll wow friends and family alike.
This is a fun recipe. The "beef" comes from its gorgeous color and rich flavor of brown lentils, red wine, and tomato. It takes less than 25 minutes to prepare and it is so filling. It's even better the next day too!
Who doesn't love pad thai? The sauce is made with a mixture of sesame oil, peanuts, garlic, sriracha sauce, brown sugar, soy sauce, and water. Don't forget the sriracha, add in as little or as much as you'd like for a nice kick.
Soak the noodles then toss them in at the end to finish off in the steam of that lovely sauce, tofu, and veggies.
It's easy to overcook potatoes in the instant pot, but that works in your favor with this awesome one-pot potato soup. It's definitely not a light summer meal, but the creamy buttery flavor of the potato soup topped with cheese, bacon, and green onion is the kind of meal that families ask for again and again.
Toss frozen O'Brien hash browns, diced ham, and eggs into an instant pot to make some awesome breakfast burritos. The nice thing about this is that it is easy to make 10-15 burritos at once to freeze for the week or whenever!
This chili macaroni is no hamburger helper! This veggie dish has pasta, beans (whatever you like), bell pepper, onion, tomatoes, seasonings, and cheese. You can mix all the ingredients except broth, pasta and cheese in a quart-size Ziploc bag to freeze and have ready to mix together when you're ready for dinner.
Ratatouille is a French provincial vegetable dish of simmered onions, garlic, zucchini, tomatoes, eggplant, and fresh herbs. Serve ratatouille as a side to the main meal, with salad, with risotto or french "creamed rice" or with bread. This recipe is a snap to make in the instant pot in less than 30 minutes!
Mexican Chicken Noodle Soup adds cilantro, avocado, and lime to a base of broth and noodles. This dish can easily be made vegetarian by substituting chickpeas for the chicken. This soup is so good with avocado slices, jalapeno, scallions, cilantro, or lime wedges!
Have you tried making spaghetti in one dish yet? No need to separate the noodles and sauce. Put in ground beef or sausage, garlic, and onions into your pot on saute. Once the pot bottom is heated, lightly stir the meat, garlic, and onions. Then add broken spaghetti, Italian seasoning, crushed tomatoes, tomato sauce, and water to your pot and seal the pot to cook. If you do it right, you'll have an amazing one-pot spaghetti meal!
This is an outrageously tasty one-pot meal. There's a lot of great Mexican flavor with jalapeno, cilantro, lime juice, garlic, and red onion. It has lots of veggies, like tomato, orange bell pepper, and yellow bell pepper, and great plant-based protein from the quinoa and black beans. 
Serve it with fresh chopped cilantro, green onion, and freshly squeezed lime juice. It fills you up and is gluten-free, grain-free, and plant-based. Awesome!
Traditional Panang curry is less spicy than red curry and also has coconut cream and peanuts as core ingredients. This one uses broccoli, mushrooms, peas, bell pepper, onions, and carrots as veggies (you can always mix and match veggies, meats, and tofu in any curry!)
You can use red curry paste but Panan curry paste will really make this yummy.
Shakshuka is a traditional one-pot Middle Eastern meal that's eggs cooked in tomato sauce. This is a Mexican spin on a classic that adds poblano pepper, cilantro, queso fresco, and green onion to give it that south of the border flavor. You can even garnish this with avocado slices.
Aloo Gobi is a simple Indian recipe that translates to "Potatoes Cauliflower". The trick to cooking this in an Instant Pot is to put the cauliflower on for 0 minutes and then give it a quick saute if it isn't cooked through. Overcooking the cauliflower will really torpedo this meal, so be careful.
Creamy spinach lentils are an easy meal you can eat once or twice a week. Much of the world eats lentils as a major part of their diet and it's rich in protein and vitamins. Drizzle the end result with a bit of olive oil and a splash of red wine vinegar.
Talk about tasty with a side of yum! All you need are soba noodles, broccoli, tofu, olive oil, ponzu sauce, everything bagel seasoning (Trader Joe's makes a killer one!), and peanuts to make an easy last-minute meal that everyone will love.
Elevate frozen tortelloni with this delicious, savory, delightful soup. Start with a base of onions, carrots, and bell peppers. Add garlic, Italian seasoning, smoked paprika, and tomato paste, then diced tomatoes and broth. Next add zucchini, parmesan rind, and bay leaf, and let simmer for a bit. Finally put in the corn, beans, and tortellini to make a super soup that'll knock your socks off.
Corn and potato chowder is one of those meals that tastes awful from a can or in a cafeteria, but the homemade version is downright amazing.
The trick is to keep it simple and use the best ingredients. Onion, cumin, butter, Yukon gold potatoes, chicken stock, bay leaves, corn, a mix of good cheese, milk, flour, and cracked black pepper. Lighten it up with some chopped kale for color and texture.
This is one of the weirdest but most awesome soups you'll ever try. It tastes like borscht and Thom Yum had a beautiful baby, rich in beet, coconut, ginger, and lime. Give it a try and see if you love it too!
What Are Your Favorite One-Pot Recipes?
Make a simple bowl of soup or stew or lentils or try lo mein or spaghetti as a one-pot meal tonight. With a little trial and error, you'll be doing fewer dishes and saving time on some tasty new favorite meals for dinner.
[amazon box="B01330ADOQ,B06XD7V7MN,B07FN7LQXP,B000F5IH6Y,B000GWK34K,B01M7RNBZA,B00GMH42IQ" template="table"]