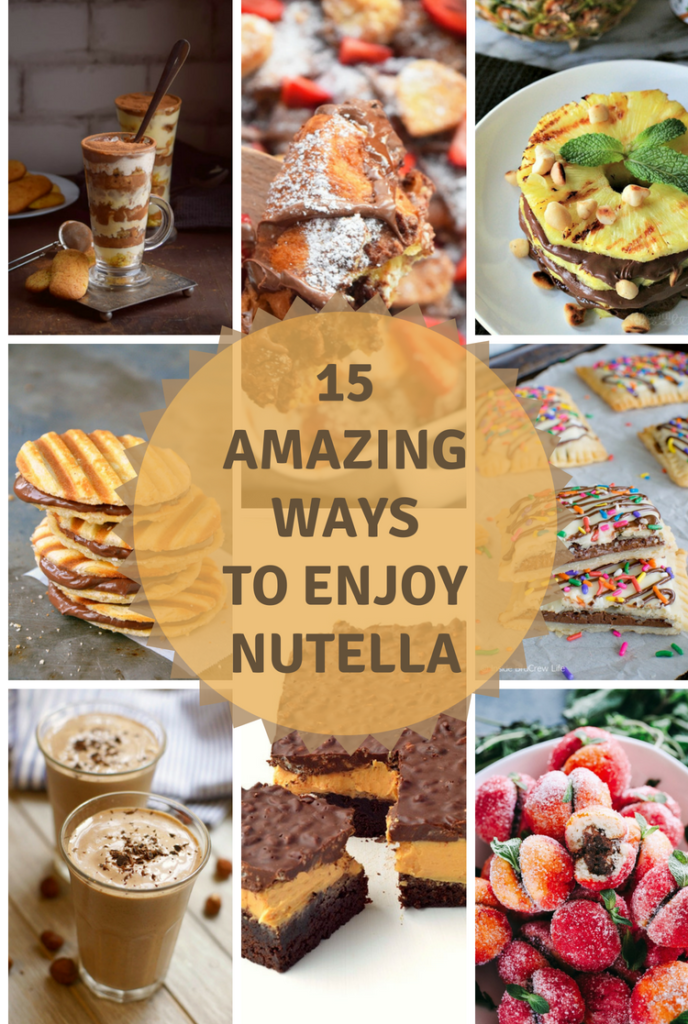 Nutella used to be a sort of poorly kept secret, that wasn't even available in most big grocery stores outside of Europe, but boy has that changed! People go nuts for Nutella!
Nutella was originally a big loaf of chocolate-hazelnut paste that needed to be sliced like cheese and placed on bread. That actually sounds amazing as well! The recipe was tweaked soon afterward to make it spreadable in a jar.
Sure, you could just spread Nutella between two doughy slices of classic Wonder bread, but here's some fun ways to enjoy your Nutella instead!
Who knows why Nutella pop-tarts haven't become a thing, but in the meantime, you can make your own! We hesitate to even call these pop-tarts because aside from their appearance, the homemade version would never be mistaken from the shelf-stable store bought ones (in a good way! These are amazing!)
This recipe is easy. Sure, they look like they took all day to bake, but the secret is premade pie crust. Just cut it into squares, spread Nutella between two pieces, and put the pop-tart pattern on the edges with a fork. The fancy part comes with melting chocolates and drizzling it on top for frosting, along with some sprinkles. You can totally skip that part if you're just making these for yourself!
Nutella is transcendent when used in baking. You can imagine that Nutella on a croissant would be good, right? Now imagine cutting up that Nutella croissant, putting the pieces in a baking dish, then drizzling a custard sauce made out of cream, sugar, eggs, and vanilla over it.
Oh yeah.
Bake it and serve it for brunch and people will never leave your house. Seriously, maybe don't even serve this if you have people over, it's that good!
Meringue is super simple to make, but you still need to drag out the old Kitchenaid mixer, slowly whip the egg whites into peaks, and then wait hours for the meringue to dry (you usually bake meringue on such low heat that it's more like slightly warm drying out than actual baking.)
Meringue is heavenly with cream and fruit in a pavlova, but have you ever tried it with Nutella?
The secret to these is adding espresso powder after the meringue has formed up into its nice, stiff self. Then bake/dry and slather a bit of Nutella in between two of the cookies. The recipe calls for delicately piping the nutella out of a pastry bag, but we're giving you the full go ahead to slather and even drip a little Nutella on the sides.
The mix of coffee and Nutella in these is just so YUMMY! You'll never look at a meringue the same way!
Peach cookies? Huh? What do these have to do with Nutella?
You guys, the insides of these are filled with Nutella!
The cookie dough is a very simple mix of flour, butter, milk, eggs and sugar. Shape into balls then bake like normal cookies. But then you cut a small circle at the bottom of each cookie and remove the centers.
Waste not, want not – you crumble the centers into a bowl of nutella and give it a good mixing, before piping it back in to two cookies and pushing them together to make round cookies.
So where's the peach?  You dip one side of each cookie in red-colored peach liqueur, and then the other side of the cookie gets dipped in yellow-colored peach liqueur. You can then press a sprig of mint into each one or just sprinkle it over the bowl with some sugar.
Peach, alcohol, cookie, and Nutella? What a wonderfully genius idea!
Sure, you've put Nutella on your waffles, but have you ever had Nutella Waffle Sandwich Cookies?
First, you need someone with a panini press, unless you're lucky enough to own one yourself!
The waffle cookie is a delicate mix of heavy cream, vanilla extract, powdered sugar, flour, cinnamon and cornstarch. You heat a panini press then place a big spoonful of the batter and press it. You'll end up with a kindof a giant cookie chip. Then you use a circle cookie cutter (or a glass) to cut them into a neat circle.
Spread Nutella between two and voila! You know that big cookie chip? That's how fancy ice cream stores make waffle cones.
This is an amazing recipe that's a little complicated but actually not technically difficult to do. But, it is guaranteed to wow people at a dinner party enough to wonder if you're some kind of professional dessert chef!
You prepare the pears by cleaning them and scooping out the middle seed part, then cut pastry dough into cute pear shapes. Fill the scooped pears with Nutella and press them into the dough. Then brush the dough with egg whites.
That's it! Drizzle chocolate sauce or serve with ice cream, if you'd like!
Tiramisu is a profoundly complicated and complex dessert which is why it tastes so good when it is done right (and why it's usually easier to order in a restaurant than make yourself).
If you're looking to really wow your friends, try making this Nutella version!
Prepare the ladyfingers the way you usually would in a tiramisu recipe, but add Nutella into the tiramisu cream. This recipe also calls for Kahlua, yum!
When did French toast go from a quick way to use old bread to triple stuffed, insanity level breakfast? Whenever it happened, we're not complaining!
Instead of old bread, combine cream cheese and Nutella and spread between two halves of croissants. Put them in a baking dish and pour eggs, milk, vanilla, melted butter, sugar, and cocoa powder over them. Let it soak in at least four hours in the fridge, but overnight is better.
In the morning, get ready for decadent french toast that you definitely never had as a kid!
If you've ever thought cinnamon rolls were pretty good, but they sure would be better with Nutella, this recipe is for you!
This recipe is the real deal, where you make a yeast dough and let it rise before rolling it out. Spread Nutella and butter on it and then roll it up before sticking it into a baking pan and in your fridge. In the morning you let it warm up at least and hour before baking. Cover with a cream cheese Nutella frosting before letting everyone dig in (or just eat them all yourself – no judgement!)
You know how yes turned into YASSSSSSS! one day? We'd like to think it was maybe because someone tried these amazing Peanut Butter Chocolate Brownie Crunch Bars with a cocoa brownie base, a creamy peanut butter filling and a crispy chocolate topping made with rice cereal.
The brownie is the most complicated part, although not any more complicated than any brownie recipe. Oh yeah, and it has Nutella. The peanute butter filling is just peanut butter, butter, and powdered sugar. And the chocolate rice is dark chocolate and rice krispie cereal. You make the brownie first and cool, then spread the peanut butter mix, pour, and refrigerate. Then pour the rice cereal and melted chocolate on top, refrigerate and YASSSSSSSSS!
This recipe is so simple. Just:
Nutella
Pineapple
Macadamia Nuts
That's it! Slice the pineapple into 1″ thick slices, and grill for 3 minutes. Toast the nuts in a frying pan. Then spread the Nutella between the pineapple slices and sprinkle the nuts over it. So simple, so tasty!
This recipe is seriously advanced, no storebought pie dough or puff pastry here. It requires making a yeast dough, rolling it out into several layers, and then cutting and twisting the dough into an intricate pattern before baking.
It may take more than one try, but if you master this you'll definitely earn some serious baker cred!
Nutella popsicles are a super popular treat on Pinterest, and this recipe uses Nutella, banana, and a bit of milk. The banana makes a nice counterbalance to the Nutella, especially on a hot day!
You can also mix Nutella with some gelatin to make frozen Nutella jello pops. In fact, there's just so many ways to make Nutella popsicles, and it's almost impossible to make bad ones.
They have Nutella Liqueur in Italy (it's called Nutellino). You can make your own following this fun recipe!
On low heat, stir together Nutella, milk, cream and sugar. Let it cool completely, giving it the occasional stir, then add vodka. Pour it into the fanciest bottles you can find, then be ready to be a party all-star! People will go nuts for "boozy Nutella", you might have to make it over and over again.
Nutella isn't very healthy (duh!) and it's definitely not vegan or paleo (double duh!) Whether you're living that healthy lifestyle or you just feel you should be putting something healthy in your body (maybe after that Nutella French Toast?) This Creamy Chocolate Hazelnut Shake that's a healthy take on Nutella is for you.
Blend water, hazelnuts, chia seeds, cacao powder, dates, and salt in a high-speed blender, then blend again with ice. Drink and enjoy all that raw health pouring into your body!
Did you know…? Nutella eventually became so popular in Italy that markets there began to offer free "smears" of Nutella to any child who showed up with a piece of bread. This phenomenon was known as "The Smearing," which sounds like the really, really low-budget sequel to The Shining!
If you love Nutella, give one of the recipes above a try! Start with something simple like Nutella bread pudding before maybe, one day, working up to that wow-factor star bread. Whichever recipe you choose, remember that if it doesn't work out, you always have a plain slice of bread and Nutella to fall back on!
Last update on 2023-11-29 at 23:29 / Affiliate links / Images from Amazon Product Advertising API