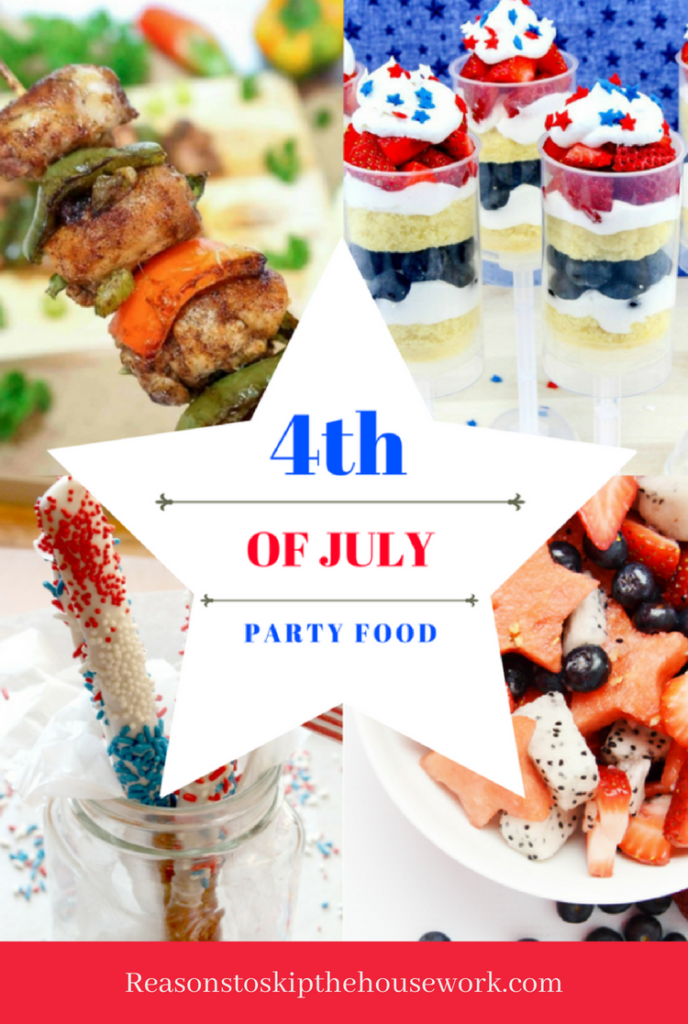 The 4th of July is the biggest summer holiday where food, family fireworks make the day a lot of fun. Being in that it's summer, fresh fruit is available and the sunshine means all day parties, picnics, snacking. As well as Fireworks and musical concerts and events. It is a day many use to celebrate the nation's birthday and our independence, while enjoying great food, and fun times with those you love.
Did you know that the 4th of July commemorates the adoption of the Declaration of Independence on July 4th in 1776? It's been a federal holiday since 1941, and is the biggest holiday in summer. Over the years the political importance of the holiday has declined, but it's still considered an important national holiday and symbol of patriotism.
These food ideas are fun treats and and more to make your 4th of July party patriotic and delicious. You'll want to make sure to have lots of napkins and paper plates on hand, as people are going to really enjoy the following recipes.
Who says that you just have to have burgers and hot dogs on the 4th of July? Change it up with these delicious low carb Chicken Fajita Kebabs that you can prep the day before and grill during your party. You'll enjoy some veggies beyond the usual veggie platter or potato salad. Switch it up with different types of meat and vegetables to make something truly your own.
BBQ Chicken wings are another delicious and saucy way to enjoy the holiday outside of the usual burgers and hot dogs. Start these in the morning, before your party and have delicious wings no matter where you are holding the event. Even if it's outside. You can eat them right from the crockpot, or toss them on the grill once you're ready to give them a little bit or a crispiness. What's not to love?
Fresh fruit that's cute, fun and easy to eat? Make this American flag inspired treat with blueberries, raspberries and miniature marshmallows. Healthy, yummy, and the perfect sweet treat that you wont feel too guilty eating.
Slicing the watermelon in this and cutting out stars makes this fruit salad even more patriotic, making it perfect for your party table. Enjoy the summer and all its freshly delicious fruity splendor while still being on theme, simply perfect if you ask me.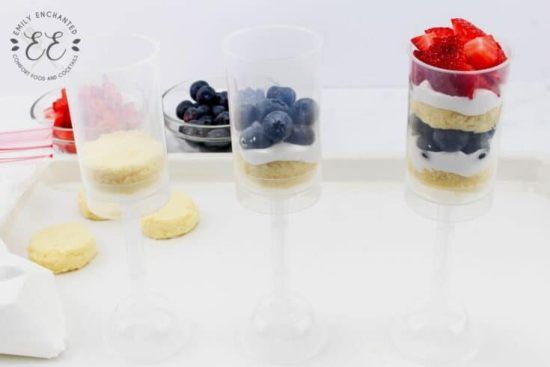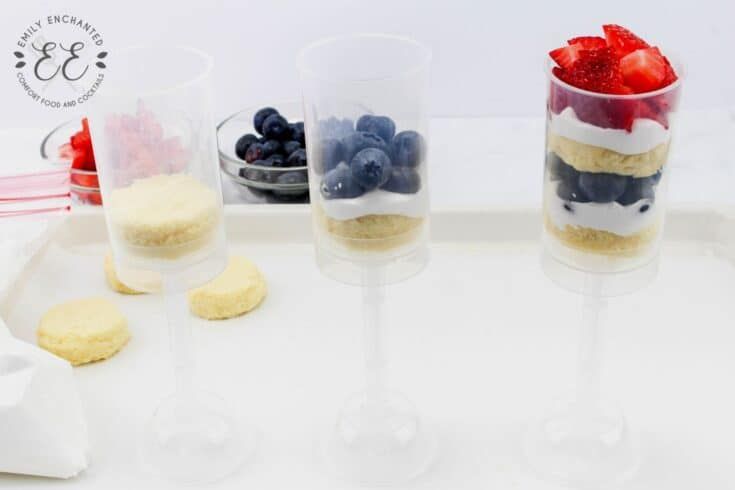 This easy recipe is a fun way to enjoy fruit in cute little push pop containers. Or if you don't have them then clean jars will work just as well. If you use frozen pound cake, or one from a store bakery that's unfrosted, you wont even have to bake to enjoy this delicious recipe that will make kids and adults alike want to gobble them up.
What's better than fresh cake, whipped cream and berries on a warm summer day?
Every heart rings true for the red, white and blue with these adorably decorated snack cakes made to look like our nations flag. It's easy, just buy snack cakes, and some colored candy melts to make these adorable flags.
These simple treats are perfect for your party table or to bring to someone else's party you're attending. They're delicious and easy, just what you need for a last minute treat!
These Jell-O cups are a simple, but cute and fun way to celebrate Independence Day! They look just like fun little firecrackers, but are tasty. Non-alcoholic, they're perfect for kids and oh so easy to make the day before your party.
Of course, you can make a fun adult version as well if you want. You could even add some star shaped sprinkles on top of the white layer to make it even more flag themed!
Just a few ingredients are required to make these fun chewy treats that are perfect for your party. Jell-O, water, and mini marshmallows are all you need to make these fun swirly treats. Don't forget the lollipop sticks of course, if you want to, though Popsicle sticks can be used as well.
Want to do a little bit of baking that looks fancy but isn't all too hard? These pinwheels are perfect and using fresh berries makes them even more delicious. These will remind your party goers of fireworks in the sky with their fun colors and shape.
Use raspberries, blueberries, strawberries, blackberries or any other fruit you want to represent the fireworks in the night sky this 4th of July!
This no-bake no-cook dip is the perfect compliment to that tray of fresh fruit on your party table. Enjoy the fun red, white and blue swirl that really bring this dip to the next level. This treat uses cream cheese, heavy whipping cream, powdered sugar, and just a few more ingredients to make a delicious dip that's even great on graham crackers, cookies, and marshmallows.
Try it in a S'more to add some more gooey goodness to the treat!
Store bought angel food cake gets a new patriotic life with this delicious fruity trifle! You can use your own whipped topping or buy one to make this recipe even easier! Slice your angle food cake, use a small star shaped cookie cutter to make cake stars, and layer.
You can use the scrap pieces of too in this, just have the stars closer to the edge of your glass dish for visuals. Easy, fresh, and delicious. This one is a delight for the eyes and the stomach.
Is it even a party without chocolate chip cookies? If any cookies are involved, chocolate chip ones are a mainstay at the table. These chocolate chip cookie bars are dressed up with white frosting, patriotic colored sprinkles and M&Ms to make an even better treat than just cookies alone.
Sprinkles are sun a fun and tasty representation of glittery fireworks, don't you think?
You'll be surprised when you see how easy it is to make these delicious cheesecake cookies. Take Nilla Wafers, and make a no-bake cheesecake filling that you'll tint with food coloring and put on top of the cookies using a piping bag and star tip. They look a lot more involved than they really are, but will make a fun decoration and delicious treat to add to your 4th of July line-up!
Cheesecake without too much worse, in perfect bite sized pieces? Sign me up!
You can take popcorn to a whole new level with some red, white and blue candy melts, sprinkles, and red M&M's! A perfect snack to stick in little cups and eat while you mingle with friends and family, while added some delicious crunch to your party line up.
Who needs chips or plain popcorn when you can have this?
You don't have to stress your vegan friends and family not having any treats with these easy to make treats! Just make sure you're using vegan friendly food dyes before coloring the treats. All you'll need is shredded coconut, powdered sugar, and coconut oil (plus food coloring) to make something that is delicious even if you're not vegan.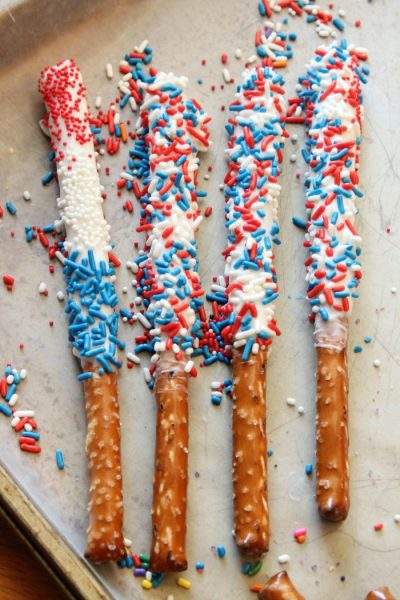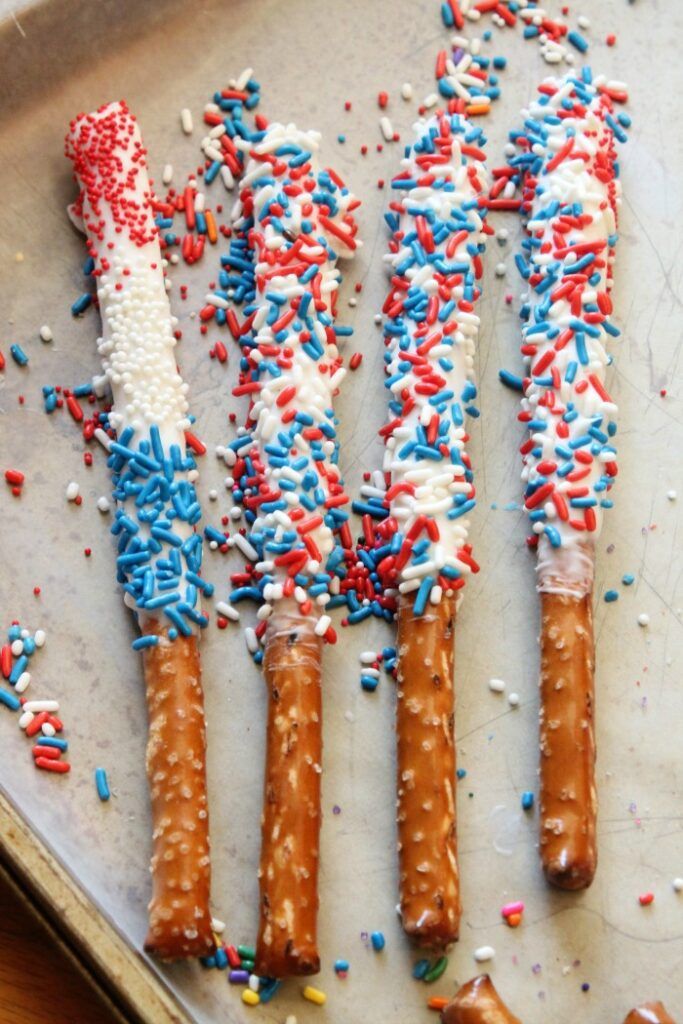 Perfect for hands both big and small, these pretzel rods are perfect for your party. Just dip pretzel rods in melted white chocolate, and sprinkle with some red, white and blue sprinkles to make this easy but deliciously themed treat. The mix of salty and sweet will be great for those who prefer pretzels over popcorn, or just want something yummy and fun.
You could use regular chocolate as well, if you're sprinkles are red, white and blue the chocolate coating doesn't have to be as well.
This party food idea serves not only as a treat, but a way to make your table pretty. Candy buffets can be pretty popular, and even if you don't make one, this topiary using Tootsie Roll Pops will just make your table look more fun, and provide a nice sugar high.
You can easily get a tin bucket and the foam ball from the dollar store. Making it a pretty inexpensive way to make your 4th of July table decor pretty and sweet.
After all these yummy food options, you'll of course want a drink out on your party table that's as fresh and patriotic as you are. This strawberry lemonade combines pureed frozen strawberries, frozen lemonade, bottled lemonade and sparkling/seltzer water for a fizzy drink that will keep you refreshed all day leading up to your fireworks display!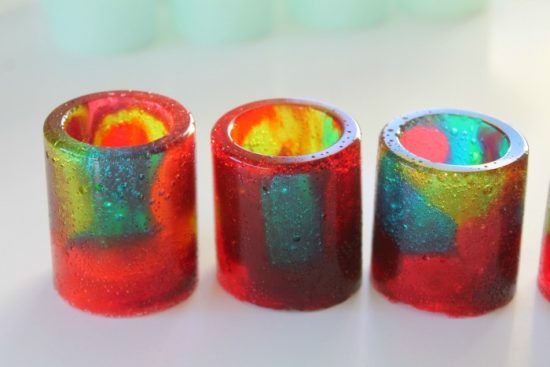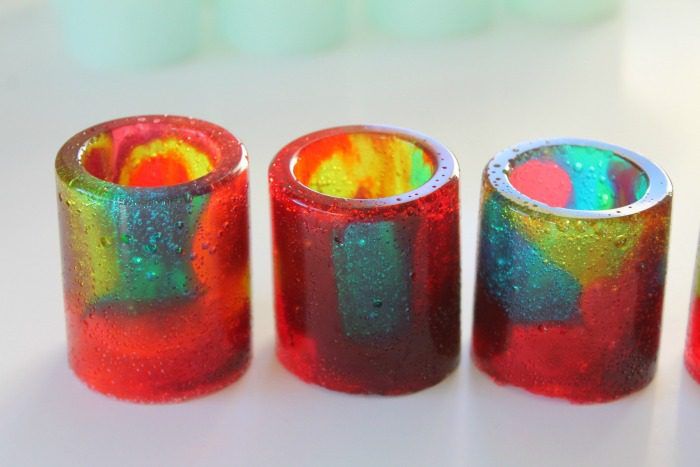 These shot glasses are made from Jolly Ranchers and are the perfect way to add a little bit of fruity taste to whatever you're drinking this 4th of July. Be it juice, water, the above lemonade or whatever your heart desires, it's a fun way to enjoy your drink.
You'll want to make these a day or so in advance, as they take about an hour to set up after the candy melts in the shot glass pan/tray. Use just red and blue to make these perfectly patriotic!
Have a snow cone maker but don't want to keep buying syrup? No worries, you can make your own syrup with kool-aid, sugar and water! Then you can make just patriotic colors or any color you want to enjoy sweet snow cones without expensive syrups. Cool down and enjoy the holiday!
Even just making a few of these 4th of July themed treats will make your party one of the most festively on themed ones around. Pick and choose from this list, or even edit the recipes a bit more to your liking to really bring the event together.
No matter which ones you pick and display, they're sure to delight you and your guests and make your party Pinterest and Instagram worthy! Even if it's your first time doing a party, there are easy treats even the most timid of party snack makers can produce.
Last update on 2023-11-30 at 17:46 / Affiliate links / Images from Amazon Product Advertising API