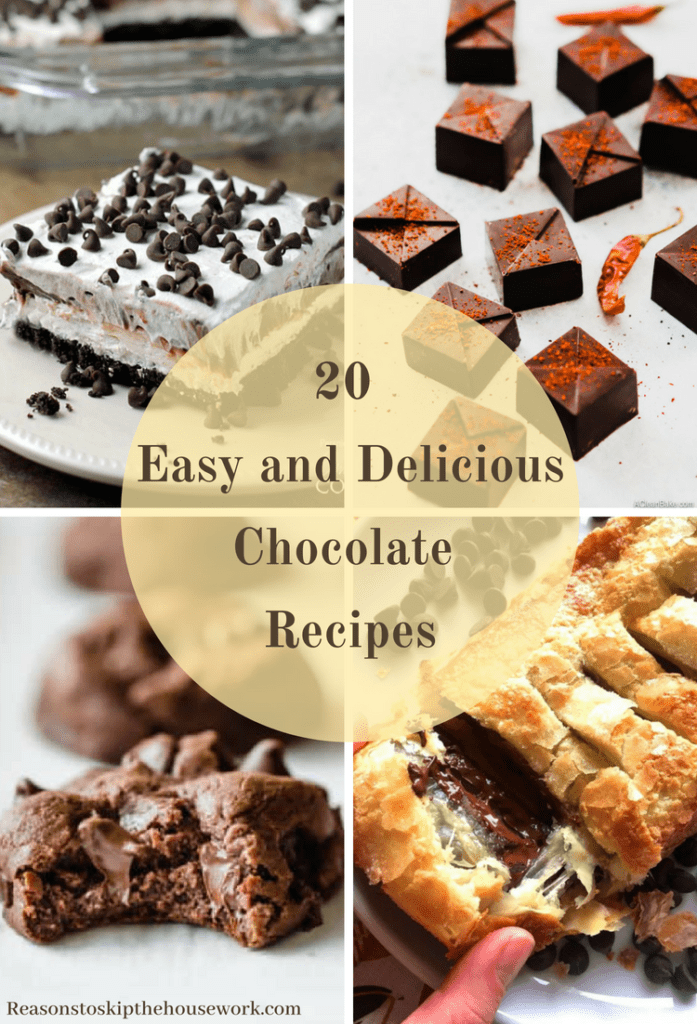 [amazon box="B07H8GMX7S,B07F6GHJRX,B07DDNRMGV,B07F3Q614B,B07F88B47Z,B01HQ9T4H2,B00R5LBPHO,B01H8QF3U0,B077P7VGK3,B077P56TWJ,B07DW5X647,B07F9HDY9L,B001D1FJ2E,B008XCZ21O,B075ZFBKP3″ template="table"]
It's no secret that chocolate is delicious, sometimes you're craving a chocolaty treat but don't just want just another candy bar. Though what do you do when you want chocolate but don't want to or have a lot of time to spend a lot of time making a treat either? Don't worry, it can be easy to make all sorts of delicious chocolate treats with a few ingredients, even if you've never made a dessert before!
Did you know the earliest evidence of chocolate drinks dates back to Mexico in 1900 BC? Chocolate is made by roasting cocoa beans, cracking and winnowing to remove the shells, grinding the beans with sugar for sweetness and flavor, and then tempering and molding. You don't have to do all of that though, so don't worry.
Be careful when you're working with melting chocolate to make molded pieces, chocolate heated at too high of a temperature can burn. White chocolate burns faster than milk chocolate, so be gentle with any melting you may be doing in the microwave or in a bowl over a pot of boiling water so the chocolate doesn't seize up and then burn. Don't be afraid though, you can make some fantastic chocolate treats that can tickle your taste buds, or be a hit at your next dinner or party.
Are you ready to make something deliciously chocolaty? Check out these 20 recipes!
Fudge is delicious but can be time consuming and even somewhat difficult to make if you've never tried. This fudge only takes 3 ingredients, while being Gluten Free, Vegan and Paleo friendly.
All you need is Dark Chocolate Chips, Tahini Paste, and Pure Maple Syrup. Even better, you don't bake this and only really use the microwave and the freezer! Yep, the freezer!
If you've ever had chocolate mousse before you know that it is wondrously fluffy, surprisingly creamy, and oh so good. This recipe takes just TWO ingredients, as well as being Gluten Free, Low Carb, Paleo and Dairy free. What's not to like about something easy peasy craving pleasing?
Afghans are a cookie that are popular in New Zealand and are said to be loved by both kids and adults. They're easy to make with one bowl, and actually feature corn flake cereal. Have you ever tried cookies with corn flakes inside?
You can also put a walnut on top – which is said to be traditional, or use a chocolate candy, or sprinkles. Either way, the chocolate cookie with the crunch of the cereal has got to be a delicious combination.
You've probably tried some kind of pastry filled with chocolate, custard, or some fruit filling. You can find these in store bakeries and even in gas station food marts all over the place. It's no wonder, as chocolate and puffed pastry makes a delicious mix!
No one will ever guess how easy this was for you to make. You can buy puff pastry in the freezer section of the grocery store, and a good mid to high quality chocolate bar to make this treat. The only other thing you need? An egg!
Chocolate pudding is a simple but satisfying treat that you can make at home without the need for cows milk, a box mix, or just pudding cups. Wow your guests, and your kids with this recipe. It would be a great way to sneak some extra nutrition into any picky eaters in your life.
How's that? Well, this recipe is made healthy by the use of avocados and bananas. Avocados offer Protein, Vitamin C, Vitamin A, Iron, and Dietary Fiber. You sure can't say that about box mix pudding. You only need 6 ingredients and a blender to make this yummy but guilt free chocolate pudding, and you don't technically even need to chill it before eating.
Love cake but don't know how to make it without a mix? It's okay, you can take that normal every day chocolate cake mix and take it to another level with the help of this recipe's added ingredients – which include sour cream!
Your cake will be extra delicious without the extra stress of trying to find a good by scratch recipe. You don't even have to tell anyone you "cheated" by using the box mix. Just let them enjoy this delicious cake with Chocolate Ganache!
Do you want chocolate, but also something crunchy and salty? Yeah, you could buy chocolate covered pretzels or something, or you could get the extra benefits that comes from eating the cashews. 1 ounce of cashews has 5g protein, 10% of your daily Iron needs, and 1% of your calcium needs.
Chocolate, cashews, coarse chocolate salt, and a microwave are all you need to make this yummy treat.
This creamy chocolate treat is perfect for parties, featuring Oreo cookies and absolutely no need to turn on your oven. Chocolate Chips, Oreos, Cream Cheese and Cool Whip help make this a treat friends and family will be begging you to bring to the next get together.
Sure, regular chocolate chip cookies are good, but double chocolate chip cookies are even better! They're soft, thick, gooey and chewy, the perfect cookie to satisfy a craving, without being hard to make. Pictures and clear instructions really help make your cookie dreams come true.
Think box mixes are boring? No way! You can take a box mix of so many types of baked goods and just bring them to another level with simple little hacks and additions.
These frosted peppermint brownies pair Triple Chocolate brownie mix with an easily homemade peppermint icing, homemade chocolate topping and candy cane bits for a minty chocolaty marriage that will make you dream of winter.
Think salted caramel is only for fancy coffee drinks or candy? Think again! As this pie will blow your mind with both how delicious it is and how easy it is to make – only about 20 total minutes between prep and cook time!
Oreo cookies make the crust of this pie, and the delicious salted caramel layer uses simple ingredients like butter, heavy cream, and brown sugar.
Do you know the difference between a Macaron and a Macaroon? No? That's okay, I'll tell you!
A Maracon is a meringue based cookie that is made with almond flour, egg whites, granulated and powdered sugar. They take a fair bit of time to make and aren't easy. Two pieces of the cookie are sandwiched together with fillings such as ganache, buttercream in various flavors or fruit curd.
A Macaroon on the other hand is a more dense treat – using dried coconut, sugar and egg whites. They're sometimes dipped in chocolate as well. This recipe is for Macaroons – a simple, sweet treat that is perfect for coconut lovers.
Want chocolate cake but don't have a cake mix? Don't worry, this chocolate cake can be made by throwing all the ingredients in the food processor at once and letting it process until it's a thick batter. There are easy instructions to follow if you don't have a food processor, so don't let that stand in your way of your cake having dreams.
The cake itself only takes 10 ingredients, and the icing 7. They are common ingredients that if you've baked before you'll likely have on hand too.
Did you know you can still eat yummy chocolate while on a Keto diet? This is high in fat, sugar free and perfect for those going low carb. Plus the added spice gives things a kick! Of course, you can lessen the amount of spice if you think it's too much.
Use any chocolate mold you might have on hand, or check out some awesome ones on Amazon or any store around you that sells baking supplies.
Treat in shot glasses are a fun way to enjoy something in a small manageable size. Perfect for parties of all types, these ones include Oreo cookies, Reese's Peanut Butter Cups, Pudding and Cool Whip. Sprinkles and other garnishes are totally optional, but really do bring a bit more fun to the treat.
These look like they took a lot longer for you make than they really did, so you can give yourself a pat on the back for making a fantastic treat with little fuss at all. Plus, who doesn't love chocolate, peanut butter and whipped cream?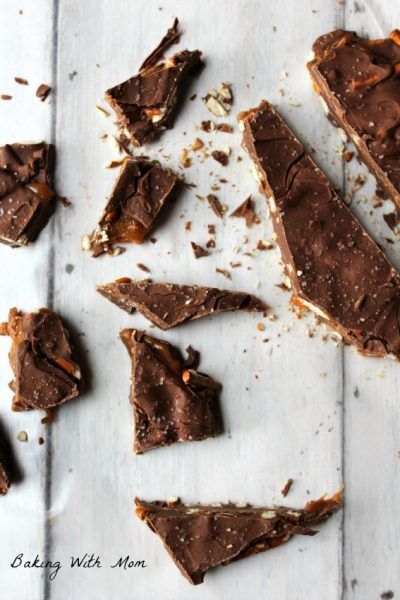 Chocolate, Caramel and Pretzels are a winning combination that give you sweet, salty, and smooth! With this recipe it looks like you've put in a lot of work for an amazing pay off, but shh no one has to know just how easy it was. Unless you want to tell them, we promise not to spill your secret.
All you need are chocolate chips, caramel bites, pretzels and some sea salt. Yes, just four ingredients and 30 minutes are all it takes.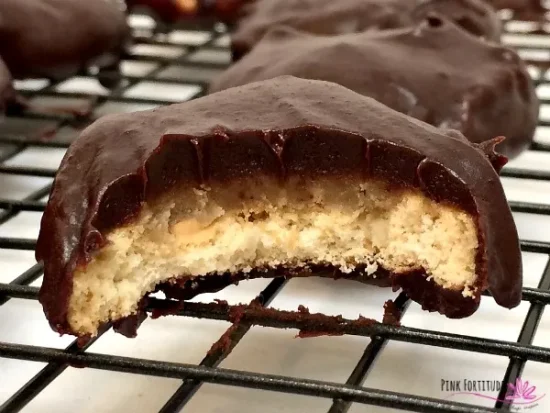 Want those Girl Scout cookies but have food restrictions? It's the wrong time of year? You don't have enough money for how much one box of them costs? Don't worry, you can make these Tagalongs instead!
These can end up being Gluten Free, Dairy Free, Paleo and Healthy if you follow the recipe exact. Which calls for Gluten free short bread, nut butter, vegan butter, maple syrup, cacao powder, and arrow root. Enjoy!
This recipe can be made with either 4 ingredients, or just three! The espresso powder is completely optional but really gives this a good a little extra flavor as it's such a small amount.
If you use dairy free chocolate, the recipe ends up being gluten free, paleo and vegan as well. Plus almonds themselves are a good source of protein, potassium and even some fiber. The recipe itself only takes 5 minutes of cooking after 15 minutes of prep. Quick and easy for something so delicious and crunchy.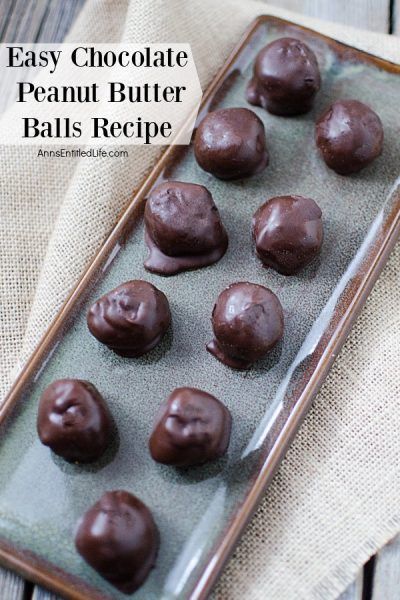 Small treats you can pop in your mouth are sometimes exactly what you need. These Peanut Butter Balls are perfect, only take 5 ingredients, and the most time of spent having fun rolling the peanut butter insides into balls. Which both feels and smells good.
They can be made with either crunch or smooth peanut butter, but make sure you have an 18oz jar!
Want to enjoy chocolate but also need a more healthy snack? It's easy with these yummy treats. Almond Butter, Oats, Chia Seats and Dried Cherries give a nutritional boost. While the sweetened coconut, semi-sweet chocolate chips, and dried cherries give you some sweetness to enjoy.
What's not to love about something that's both healthy and chocolaty?
Well there you go! An amazing list of easy but delicious chocolate treats you can try out next time you have a craving, or someplace to go and need a treat to bring. Even if you haven't made anything with chocolate before you can make some of these treats. Start with no-bake ones, or jump right in and try something new. Maybe you'll find out you love making treats for people!
[amazon box="B07H8GMX7S,B07F6GHJRX,B07DDNRMGV,B07F3Q614B,B07F88B47Z,B01HQ9T4H2,B00R5LBPHO,B01H8QF3U0,B077P7VGK3,B077P56TWJ,B07DW5X647,B07F9HDY9L,B001D1FJ2E,B008XCZ21O,B075ZFBKP3″ template="table"]