It's no secret that kids can eat a lot. Though not always at mealtimes, they can just seem to be constantly hungry. So feeding them healthy snacks can be great, and sometimes kids will even eat them as they are, without any fancy preparation. However, sometimes you have picky eaters or your kids want something outside of a straight-up healthy snack.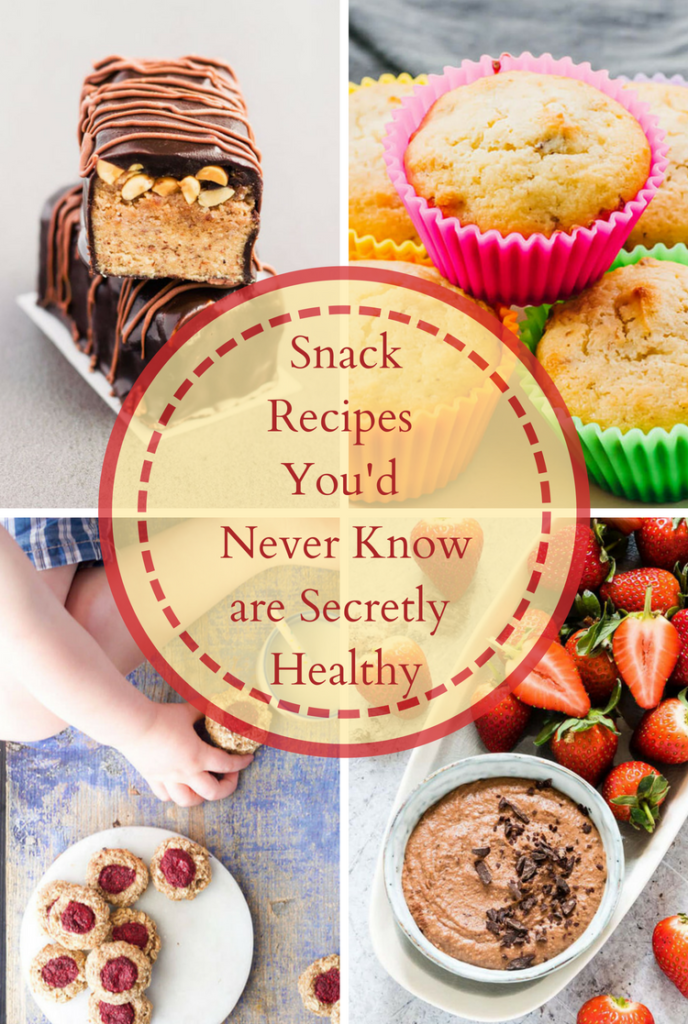 20 Secretly Healthy Snacks Recipes
That's where these snacks come in, all of them are healthy treats, but they also are fun and look more like treats than a plate of fruits or vegetables.
You're probably wondering why there is a bowl of spinach in the background of this picture of Chocolate Chip Cookies. You might also be wondering how can these cookies be healthy?
Well… These cookies actually contain spinach! No kidding! They actually have spinach, bananas and pineapple to make them healthy. These cookies won 3rd place in the Farmers' Almanac Spinach Contest. Wow, I've never imagined spinach in cookies, but I'm going to try these out!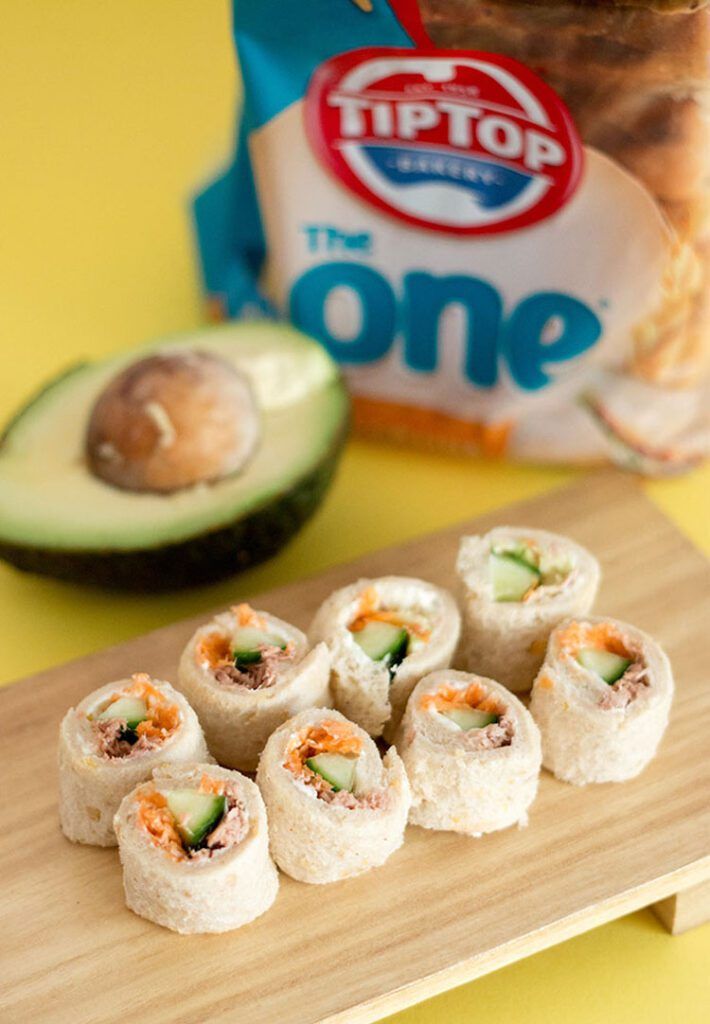 While technically sushi is only sushi because of the rice and not raw fish or just rolls, I understand where this recipe is going by calling them sushi sandwiches. They're makizushi, that's what sushi rolls are called, inspired sandwiches that are a cute way to get your kids interested in eating healthier ingredients.
No need to have them be worried or scared of seaweed or all that rice, which can intimidate some kids. Your filling options are pretty endless, and these is a cute way to let your kids see what is going into their food while getting to roll it up and have it in bite-sized pieces. Of course, you can make this for them when you're making sushi for yourself if you want, the idea is pretty adorable.
These muffins are vegan, and perfect for an easy breakfast or a snack for those bottomless children's stomachs. Plus you don't have to feel guilty that they're eating too much junk when they're snacking on 5 muffins in the span of 30 minutes because they're just, so hungry!
Sweet Potato and Applesauce give a healthy spin to these muffins with no need for egg or oil, and coconut milk keeps them dairy-free.
You're probably as surprised as I was when I first saw these muffins. They look just so rich and chocolatey, how could they be good for you? I promise you that these are actually delicious pumpkin muffins that use a full can of pumpkin, and a box of cake mix, and are pretty darn easy to put together.
Plus, even if your kids don't super like pumpkins, they won't even notice them in this. As the chocolate cake mix will mask the flavor, while the pumpkin gives a nice softness to the muffins that is just dreamy.
This healthy cake bar is actually vegan, gluten-free, sugar free, oil-free and low carb! Yep, really! Plus they're only 66 calories a serving, so even if your kiddo, or you we wont judge, eat an entire pan it wont be too much of a calorie bomb!
One secret ingredient that you might not have guessed would be in this recipe? Yellow squash! Give it a look-see and tell me if you try them out on your kids and if they like them or not?
Spinach puree and unsweetened applesauce make these brownies a healthy, but deliciously soft treat that you won't feel guilty about letting your kids snack on or even snacking on yourself.
Made by the same culinary genius that had the award-winning chocolate chip cookies mentioned above, I never realized I could get spinach in my picky child with brownies and cookies!
This bread doesn't actually use apples at all, but zucchini to have that boost of nutrition and moisture. Still, with some apple extract, you won't really know the difference. This recipe is also gluten-free, by using almond and coconut flour.
It's perfect for those with gluten-related diet restrictions, or just those who want to lessen the amount of gluten in their diets. This recipe has a boost of Vitamins A and C, Calcium, Iron, Protein and Fiber.
These muffins are the perfect snack for banana lovers. Low carb, gluten-free, and sugar-free, what's not to love about something you can snack on that tastes good and doesn't involve a ton of sugar?
Each muffin offers calcium, iron, protein, potassium, and fiber. They're great on the go, at the park, at school, or anyplace else your kids will need a healthy snack that's still yummy and will make their friends jealous.
These Snickers copycat protein bars are no-bake, gluten-free, vegan, dairy-free, egg-free, and flour-less! Despite being all that, they're still delicious and kids love them. Who wouldn't love just being able to snack on a candy bar? Hey, they don't need to always know it's healthy right?
Each bar has 12g protein, 8.3% of your daily calcium needs, 4g fiber, 266mg of potassium and only 13g of sugar. Compare that to the whopping 29g of sugar in your average Snickers, and it won't be hard to make the switch!
I've only tried hummus once I think, but I wouldn't have any problems not wanting to try this one! This hummus is deliciously sweet and surprisingly healthy! Chickpeas are used in this recipe, and they're full of protein, calcium, fiber and iron.
One serving of this dessert hummus, which your kids can dip fruit into for an extra nutritional boost they'll think is just a sweet treat, has 4g protein, 3g fiber, 5g sugar, a boost of iron, calcium, and potassium.
These brownies are great for those on low carb, paleo, sugar free, or gluten-free diets. Or even just those who want their family to have less sugar really. Your kids will love them despite them being sugar-free, and you'll love knowing that they're not being pumped full of sugar.
Each brownie offers 4g protein and 3g of fiber, and only 0.5g sugars. The protein and fiber will help you stay fuller longer, all while indulging your sweet tooth.
Thumbprint cookies are cute! These ones are more than just cute, they're healthy too with oats, banana, raspberry, and chia seeds to boost up nutritional values while minimizing the "my child just ate a dozen cookies" guilt.
Each serving has only 90 calories and the entire recipe only uses 5 ingredients, plus they're so easy to make your little ones can help too.
Sometimes when making cookies it's not always easy to get many cookies made and not a lot of cookie dough eaten right from the bowl. This recipe takes that problem away by just flat out making protein cookie dough bites that are low carb, gluten-free, and sugar free.
Plus they're easy and delicious, that's a mom win right there. Two 1″ cookie dough bites have 9g protein and just 1g sugar. They're sweet and the protein will help keep your kids full without realizing that they're eating healthy.
These Rice Krispie Treats are Gluten-free, Sugar Free AND Vegan! On top of that, they're top-8 allergy-free.  They're a no-bake treat that uses crispy brown rice cereal, and homemade vegan marshmallow fluff. Thankfully, this recipe links you to the recipe for the marshmallow fluff.
Though you do have the make it, unless you can find some that suits your needs of course. I think they look like an absolutely delicious but much quicker way to make Krispie Treats!
These little Snickers-inspired ice cream bites actually take just 4 ingredients and are healthy. They're also vegan and gluten-free, as long as you use dairy-free dark chocolate.
All you need are pitted dates, peanut butter, roasted peanuts and dark chocolate. From there, you'll have an amazing little snack that is perfectly portable and great for warm or cold days.
These gummy fruit snacks are a great alternative to store-bought fruit snacks. They have magnesium powder, water kefir, honey and gelatin which each offers health benefits. They're grain, gluten, egg, dairy, and refined sugar-free as well.
These gummies provide niacin, thiamine, riboflavin, vitamins C & B6, on top of iron, magnesium and calcium. They're a perfect little healthy boost while still being a treat your kids will love.
Sometimes you just want cake, for a party, for just because, does there always have to be a reason for cake? Nawww!
This cake is made even better by the use of shredded zucchini! It helps make the cake nice and moist, but is well hidden and the kids will never have to know that you've snuck a vegetable into their dessert. One piece of cake will have 3.2g fiber, and 3.7g protein. Go zucchini cake!
These yummy muffins are dairy-free and don't use too much sugar. Plus with carrots and coconut you'll have wonderful textures, flavors and some vitamin benefits as well.
This is a healthy take on carrot cake made into muffins, and you wont feel too guilty about you or the kids having "one too many" as you go about your busy days.
It's no real secret or surprise that the cuter or more fun-looking a food looks, the more likely kids are going to want to eat it. It's why so many things come in fun shapes, bright colors, etc.
These Chocolate Peanut Butter Banana Roll-Ups are no exception to this rule, just look at how yummy they look! They're so inviting and look like an absolutely delicious dessert that even though I know is healthy doesn't make me go "aww.. but it's a healthy dessert… so it won't be as good."
They're great as a breakfast, dessert or quick snack and are packed with 8g protein,3g  fiber, 6.7% of your iron needs and 481g potassium!
If I had realized sooner that I could hide Zucchini in so many things I would have done it years ago. These brownies are moist and delicious, using zucchini and applesauce for a hidden nutritional boost. As someone who needs more vegetables in their diet too, this is the perfect way for me and the kids.
What Are Your Favorite Secretly Healthy Snacks?
There you have it! Did you realize you could hide spinach in cake and cookies?
If you try any of this recipes, or have anymore recipes that help hide vegetables or other nutritional boosts in foods we'd love to hear them. Thanks for reading!
Last update on 2023-11-29 at 23:35 / Affiliate links / Images from Amazon Product Advertising API