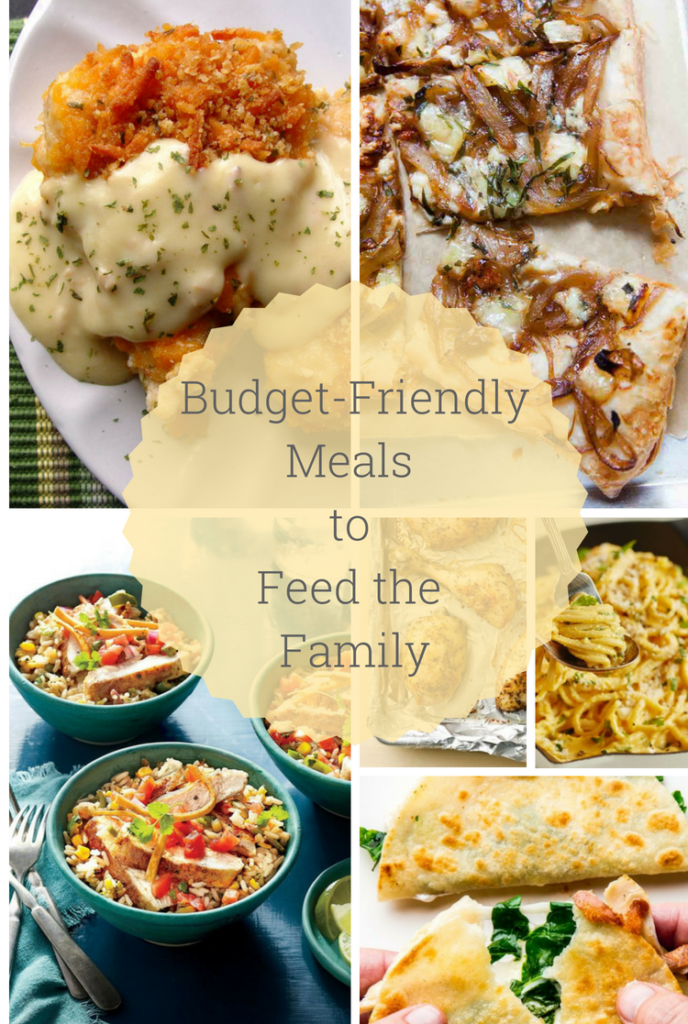 Budget meals for the family don't have to be bland. Even favorite budget meals like black beans and rice should be bursting with flavor if prepared the traditional way.
One tip for maintaining a budget for grocery shopping is to value variety! There's no need to eat the same food over and over again. You can eat everything from puff pastry tarts to sausage pie and still eat affordably.
A lot of people will talk about the many uses for a store-bought rotisserie chicken, but it's just as easy to make a moist, flavorful chicken at home. Sure, you can grab a super cheap rotisserie chicken at chain grocery stores. Meat, like chicken, is one of those foods where every dollar more dramatically increases the health benefits of what you're eating.
On the low end, commercial chicken has tons of antibiotics, hormones, pesticides, and even heavy metals. For example, "commercial chicken feed and commercial chicken meat may be the potential cause of development of polycystic ovary syndrome in females due to steroid hormonal imbalance." YIKES!!
On this higher end, a free-range chicken just tastes amazing, first of all! Second, it tends to be super high in vitamins, minerals, and omega 3 fatty acids. Plus they are leaner.
Did you know….? A farmer's market can be a great place to buy super fresh, amazing free-range chicken as most of them take EBT "food stamps" these days.
For this recipe, just layer onion and garlic in a slow cooker, then break down a whole chicken rubbed in herbs on top. Leave it to cook while you're at work, then pop it under a broiler for 5 minutes to make crisp, flavorful skin.
Pasta sauce makes a great base for sauces in a pinch…and its also good to use in the winter when tomatoes aren't in season. This recipe is awesome because it uses organic sauce and pasta from Walmart, so it's still incredibly inexpensive (a meal for 5 costs less than $15!) and it is less processed than commercial food.
You can use 2 cups of organic pasta sauce (this recipe uses Wild Oats brand), extra virgin olive oil, extra small shrimp, sliced mushrooms, basil leaves, and spaghetti. You can also add in fresh garlic, fresh cracked black pepper, bacon, or try experimenting with other ingredients you have on hand.
Spaghetti is a great "kitchen sink" meal that uses up wilted produce and half-open bags of frozen veggies in the freezer.
Most people tend to put some shredded Mexican cheese in their quesadilla, or maybe chicken if they're ambitious. But there are so many ways to prepare the humble quesadilla!
You can add onion and spinach to start, for a much more interesting main meal. You can also use corn tortillas instead of wheat tortillas, as quesadillas are when they really shine in terms of texture and flavor!
There's no shame in making instant ramen for the kids! Ramen is just as good as spaghetti or rice. And it only take 2 minutes to cook!
The "mince" is made from a bit of ground beef, carrots, onions, peas, corn, and dried herbs. The flavor packet that comes with ramen might be too salty for little bodies, so try dry herbs, ketchup, or a little stock for flavoring.
This is a great way to get kids to eat their veggies! You can just by a frozen mixed vegetable pack, or mix in some fresh veggies if you have them on hand.
Bisquick chicken pot pie is a super popular budget meal, but have you ever tried sausage pie? It's a similar idea – you cook sausage, onion, red pepper, garlic, and mushrooms. Then you mix milk, eggs, biscuit mix, sage, and pepper and pour it over the sausage mix and bake. Top with Monterey cheese at the end.
By the way, did you know Bisquick is:
1 cup flour.
1 1/2 teaspoons baking powder.
1/4 teaspoon salt.
1 tablespoon shortening (you can use olive oil or melted butter)
Bisquick was invented in 1930:
"Bisquick was invented in 1930 after one of their top sales executives met an innovative train dining car chef on a business trip. After the sales executive complimented the chef on his deliciously fresh biscuits, the dining car chef shared that he used a pre-mixed biscuit batter he created consisting of lard, flour, baking powder and salt. The chef then stored this pre-mixed biscuit batter on ice in his kitchen, enabling him to bake fresh biscuits quickly on the train every day. As soon as the sales executive returned from that business trip, he created Bisquick."
This recipe is best with fresh ingredients, but it's easy to adapt it with salsa, rotel, frozen onions, and more. You can buy chicken breast in bulk at stores like Walmart, and rice is also incredibly cheap.
The best part of this recipe is that it uses dried herbs to rub the chicken before cooking, which is affordable and makes it so flavorful.
Black beans and rice are one of the most common budget meals out there. Start with the authentic recipe from Mexico:
Saute fresh onion and garlic in a pan. Add the black beans and cook for at least 2 minutes. Stire in cooked rice and pour a little bit of the bean broth from the can or from when you soaked the beans overnight. Season with salt, oregano and cumin.
Try a couple other variations of black beans and rice, like this one with peppers and bay leaves. Squeeze some lime over the finished meal. Eat it plain or use it as a base in burritos.
Budget meals are all about money and nutrition, and can't be fancy, right? Wrong! Puff pastry costs around $1.20 in stores like Walmart. Brie and gorgonzola are also inexpensive, especially for non-specialty version. In fact, you can use a bit of any blue cheese instead of gorgonzola.
Carmelized onions can be daunting, but here's a quicker way to cook them. Then you spread the puff pastry, cheese, onion, and herbs and cook! This is a cheaper and much tastier alternative than takeout pizza. You can play with other kinds of cheese and flavors. Just don't weigh down the puff pastry, or it won't bake up to be crispy.
Butternut Squash Fettuccine Alfredo
Fettuccine Alfredo is a big favorite, and it can be tempting to buy a can of sauce to throw together a quick meal. Unlike tomato sauce, jar cream sauce is always going to be much lower quality than homemade. And it's easy and cheap to do homemade!
This is an awesome and easy take on the classic that blends roasted butternut squash with cream and Parmesan cheese to make a creamy, amazingly flavorful sauce. The squash and garlic add a whole different flavor dimension that will make the family beg for more! Parmesan is the most expensive part of this dish, and you only need a small amount to make this dish.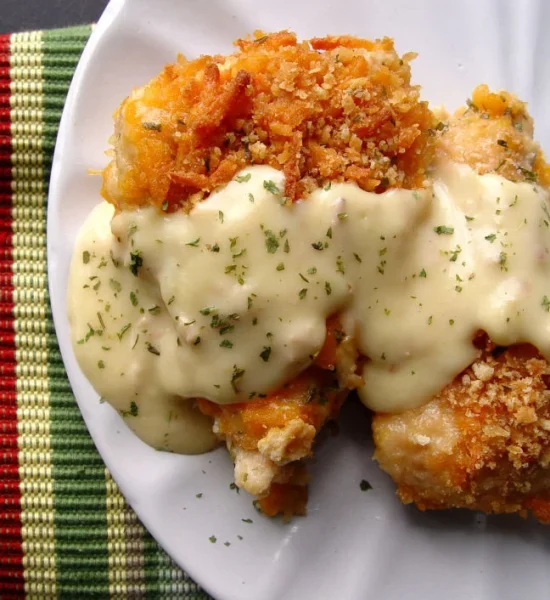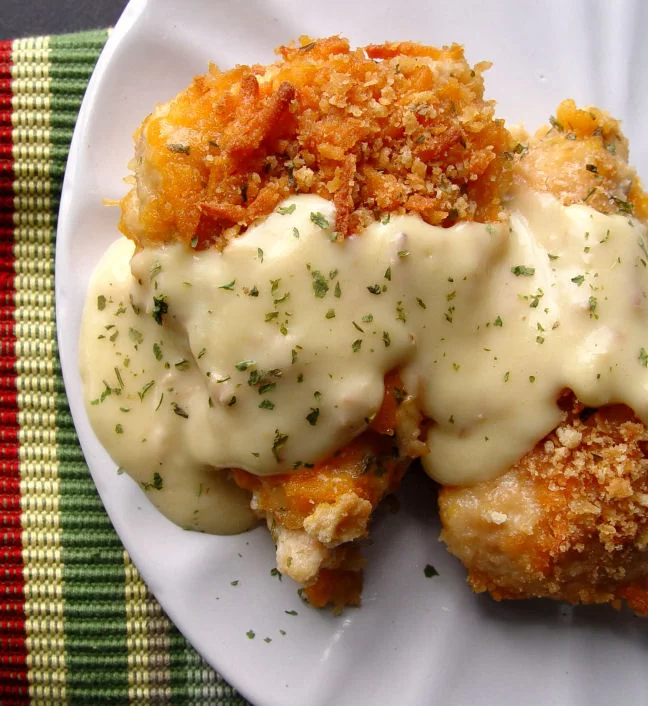 The (kid-pleasing) secret of this dish is ritz crackers! Dip chicken in milk, then cheese, then ground up ritz crackers to make the batter. Just lay them in a baking pan and cook for 40 minutes.
You'll end up with crispy, cheesy chicken "tenders" that your kids and spouse will beg for over and over and over again!
To make a nice gravy sauce for this, cream of chicken soup, sour cream, and butter in a saucepan while stirring. But you can also skip it and serve these with plain old ketchup.
This also makes a great freezer meal. Put everything in the pan like you're going to bake it, but cover tightly with foil and put it in the freezer for later on in the week.
Google "one pot meals" and get ready to make your life MUCH easier! These are meals that only use one pot or saucepan to prepare – less dirty dishes.
You cook onions, garlic, and ground beef in a skillet with tall sides. Then add in the tomato paste, broth, water, oregano, basil, black pepper, mixing well. Then you add the spaghetti so it's covered with the sauce, then cook it covered for a little under 20 minutes. You haven't lived until you've had pasta cooked in sauce. It's so much more flavorful than pasta cooked in water.
Top this with parmesan cheese if you have it when serving.
Pasta and rice are two big budget favorites for inexpensive family meals. But we introduced some alternatives, like puff pastry or Bisquick! You also don't have to eat the cheapest meat or skip organic foods, even though you're on a budget. Nutrition and variety should always be balanced when considering your family budget!
What is your biggest challenge when it comes to making budget family meals?
Last update on 2023-11-30 at 17:53 / Affiliate links / Images from Amazon Product Advertising API