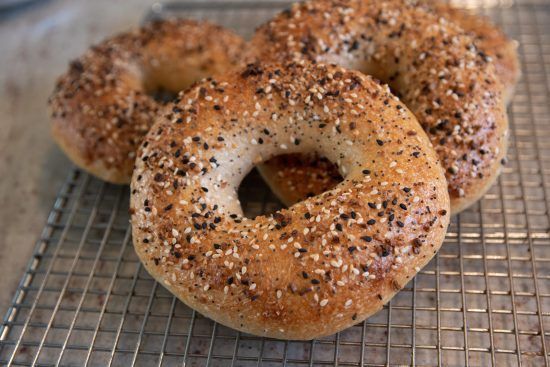 There's nothing like a fresh-from-the-oven bagel. Sometimes, though, you can't just drop everything and run to the bagel shop. But you can make your own bagels at home.
And here's a secret: it's actually pretty easy. The only things you need are the ingredients, a little time, and a flavor in mind.
So Many Recipes
Remember when all the cool kids were making sourdough? Wild yeast and sourdough starter were an obsession, from Silicon Valley to the neighbor across the alley.
Home bagel making hasn't hit its peak yet, but I predict it's not far off.
A lot of people are intimidated by the idea of homemade bagels. The humble bagel has a reputation for being difficult to make at home. It's not.
The process can be time consuming, it's true. But the actual steps of that process are easy enough that your kids can do it — with proper supervision, of course.
The problem is, there are a lot of recipes out there. Some are better than others.
But don't worry. We're here to help you sort out the details.
What Makes an Amazing Bagel?
The first thing we did was try out some bagel recipes. You'd be surprised at the different twists people come up with. The recipes that we tried had three main differences.
Type of flour
Flour is flour, right? Actually, no.
Bagel recipes tend to use one of two types of flour: plain flour and strong bread flour.
Plain flour, or all-purpose flour, is a combination of hard and soft wheat. It has a gluten content of between 8 and 11 percent.
Gluten is a protein found in wheat and some other grains, and that's what gives bagels their characteristic chew.
Strong bread flour, on the other hand, has a gluten content of 12 to 14 percent.
My family agreed that while the plain flour recipes produced a tasty bagel, the strong bread flour recipes produced a more bagel-y texture and chew.
But what if you can't find strong bread flour? Don't worry. You can make your own by adding vital wheat gluten to all-purpose flour.
Number of rises
Some of our recipes called for the bread to rise twice: once after kneading, and then a second time after dividing the dough into balls.
Other recipes called for a single rise.
Why do we rise bread, anyway?
Rising your bread, that is, letting it sit for a bit between kneading and baking, allows the yeast to convert sugars into gasses. These gasses will expand the dough.
Too much expansion will make the dough light and airy, and it won't stand up as well to boiling. Too little expansion will result in a dense, unpleasant texture.
Our favorite bagels came from batches that rose once.
The boiling solution
The thing that makes a bagel into a bagel is boiling the dough before baking it.
Boiling it in what, exactly?
Different recipes call for different solutions.
Most recipes call for either a sweet solution or an alkali solution.
Sweet solutions include a mixture of water with a small amount of honey, barley malt, or brown sugar.
Alkali solutions generally require adding baking soda to your water. This is also how you make pretzels, by the way.
My family preferred the bagels boiled in a solution of water and honey. Pretzel-loving family members, however, also enjoyed the bagels boiled in baking soda solution.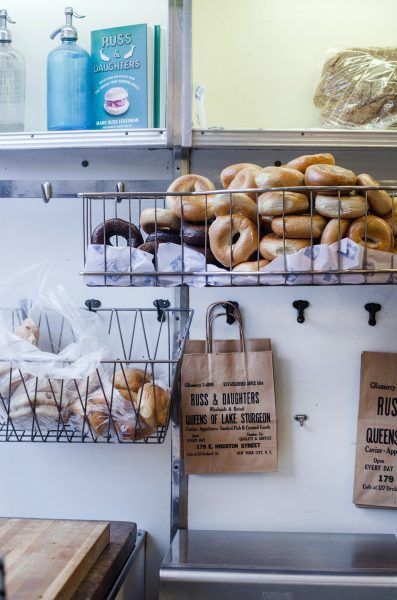 How to Make Your Own Bagels
Here's how we made the best homemade bagels my family has ever eaten.
What you need to make your own bagels
This recipe makes one dozen full-size bagels or two dozen mini-bagels.
For the dough
Six cups of strong bread flour
Two cups warm (not hot!) water
Two tablespoons olive oil
Five teaspoons (two packets) active dry yeast
One teaspoon granulated sugar
Three packed tablespoons of brown sugar
One tablespoon of salt
Boiling solution
One quarter-cup honey
Two quarts water
Dressing up your homemade bagels
First, you'll need an egg white wash. That is, one egg white beaten with a teaspoon of water. This will help your toppings stick to your bagels.
Not a fan of eggs? You can also wash your bagel tops with:
Milk or cream
Butter
Almond milk
Oil
Malt syrup
Ground flaxseeds mixed 1:3 with water
The exact toppings are your choice, of course. Some of our favorites incude:
Grated cheddar or parmesean cheese
Coarse salt
Garlic granules or garlic salt
Make your own bagels: step by step
So, how do you make bagels?
First things first. As I said, the process isn't technically difficult. It does, however, take a while.
Don't worry! You won't be spending every minute working your dough. Rather, you'll need a few sessions of 10 to 20 minutes spread over several hours.
So block off a morning or afternoon to devote to your bagels.
Step one: prepare your yeast
First, you'll need to prepare your yeast. Some people also call this proofing.
Proofing your yeast means testing it to make sure it's still alive. Dead or expired yeast won't convert sugars into gasses. As a result, your bread won't rise.
Take your two cups of warm water. Add one teaspoon of granulated sugar. The sugar is food for the yeast. Stir the sugar into the water, then add the yeast and stir some more.
After five minutes or so, the yeast should be foamy. This means that the yeast is alive and ready to use.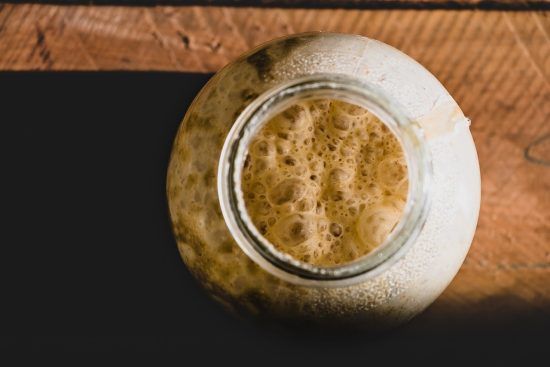 Now stir in the oil and brown sugar.
Step two: your dry ingredients
In a separate bowl, stir together your flour and salt.
Step three: combine
Slowly mix the liquid ingredients into the dry ones. Mix with a spoon until you have a cohesive dough.
Step four: knead
Kneading your bread helps to develop the gluten. That is, it helps the gluten strands to form a strong network. This, in turn, gives bagels their wonderful chewy texture.
Turn your dough out onto a floured surface and knead. Kneading is basically moving the dough around with your hands. It's not hard. In fact, many people find it relaxing.
A lot of people have a lot of opinions on how long you should knead the dough. My family's favorite bagels were kneaded by hand for 10 minutes.
You can also use your stand mixer to knead your dough. Simply attach the dough hook and go.
Just be careful. Because a stand mixer is so powerful, it's easy to over-knead your dough. Over-kneaded dough will be dense and stiff.
You can bake over-kneaded dough, but the finished product will be dry, heavy, and crumbly.
There are a few things you can do rescue over-kneaded dough, for example:
Let it rise longer, possibly even twice as long
Rise it overnight in the refrigerator
Give it a second rise before baking
The easiest thing, though, is to not overknead in the first place.
So if you're using a stand mixer, keep an eye on your dough. When it's stretchy and shiny, you'll know it's time to stop.
Step five: rise the dough
Recipes definitely differ on the subject of rising time. Some of the recipes we tried called for a one-hour rise. Others wanted a two-hour rise.
Still others said, simply, to rise the dough until it doubles in size. If you're not a regular bread maker, this probably isn't much help.
My family's favorite bagels had a single rise of one and a half hours.
An hour and a half is a long time to wait. You might consider using that time to go for a walk as an advance against all of the bagels you'll be eating later.
Seriously, my family couldn't put these away fast enough.
Step six: preheat your oven
No matter what you're baking, a properly hot oven makes all the difference.
For this recipe, preheat your oven to 425 degrees Fahrenheit (220 degrees Celsius).
Step seven: make your bagel balls
For bagel shop-sized bagels, divide up your dough into 12 sections. You can also make smaller bagels.
Roll each section into a ball and use your thumb to poke a hole in the ball. Gently stretch the ball out into a ring shape.
While you're doing this, put your two quarts of water into a saucepan, add your honey, and bring it to a rolling boil.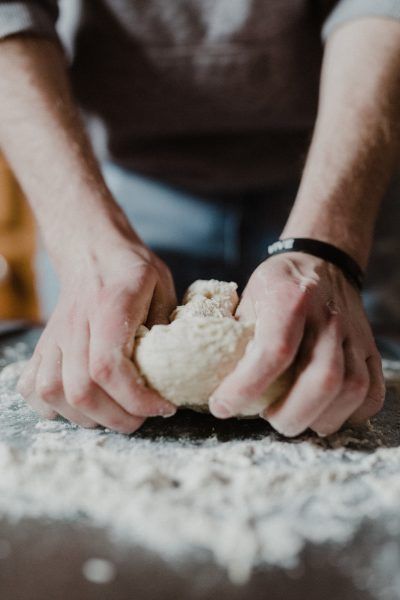 Step eight: the boil
Lay a baking sheet with paper towels or a clean dish towel.
Drop your bagels into the water two at a time (or four at a time, if you're making minis).
Boil your bagels for 45 to 60 seconds on each side. Remove them with a slotted spoon, and let them drain on the covered baking sheet while you do subsequent batches.
When all the bagels are drained, place them onto cooking sheets lined with parchment paper.
Step nine: time for toppings
This is the fun part.
Brush your egg white (or other) solution over the tops of your bagels. Sprinkle your favorite toppings over them. You can also leave them plain.
Step ten: ready, set, bake!
Bake your bagels for approximately 22 minutes for full sized bagels and 15 minutes for minis. They should be golden brown.
The hardest part will be staying away from them long enough for them to cool!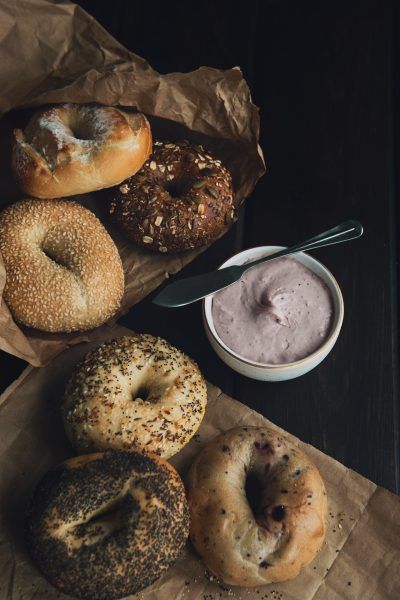 Make Your Own Bagels: FAQ
Still have questions? We have answers!
Is making your own bagels really hard?
No! In fact, it's a great way for older kids and teens to spend a screen-free afternoon.
How long does it take to make your own bagels?
Set aside a morning or afternoon for bagel making. You won't be working all that time, but you will need the full stretch to space out the different steps.
How long will each step take? Here's what we needed:
Testing your yeast: five minutes or less
Making your dough: one to two minutes
Kneading: 10 minutes
Rising: 90 minutes
Shaping your bagels: five minutes
Boiling: 15 minutes
Decorating: one to two minutes
Baking: 22 minutes
Total: Around two hours. But give yourself another hour to cushion against accidents and mishaps.
How many calories does a homemade bagel have?
One full-size bagel made with this recipe contains:
305 calories
57 grams carbohydrate (9 of these are from sugar)
10 grams protein
Four grams total fat (one gram saturated)
Three grams fiber
14 milligrams cholesterol
602 milligrams sodium
Cut these numbers in half if you're making minis.
Can you make gluten-free bagels?
Yes! Even better, it's super easy. In fact, the dough has just two ingredients: self-raising gluten-free flour and plain yogurt.
And you can skip the boiling.
For each bagel, use one-third cup (50 grams) flour and one-fifth cup (50 grams) yogurt.
Divide your dough into four pieces and shape into bagels. Add your toppings, then bake for 22 minutes at 400 degrees Fahrenheit (200 degrees Celsius).
Even if you're not gluten free, this is a simpler recipe that small children can make safely.
Other uses for bagels
Bagels aren't just for noshing. Enjoy them as you would bread, alongside your favorite soup or stew.
And did you know that bagels make great buns for burgers?
How to make bagels last longer
Don't refrigerate your bagels. This will reduce their life, not lengthen it! Also, keeping your bagels in a paper bag at room temperature can keep them fresh for a bit longer.
How to make hard bagels soft
To revive a stale bagel, sprinkle it with water, wrap it in a paper towel, and microwave for 10 to 20 seconds.
What to do with leftover bagels
Don't throw away those leftover bagels! Instead, toast them in the oven with a bit of olive oil and salt for croutons. Use these with your favorite soup or salad or to eat hot out of the oven.
Get Baking!
It's easy and fun to make your own bagels. It can also be an excellent activity for family members to do together.
Different family members can perform their favorite steps, and everyone can learn a bit about kitchen chemistry.
It's easy to alter your bagel recipe for different tastes and dietary needs.
In fact, the only problem with homemade bagels is how quickly they'll disappear!
What's your favorite bagel recipe? Do you have any advice for our readers? Drop it in the comments!
Last update on 2023-12-01 at 19:10 / Affiliate links / Images from Amazon Product Advertising API