Can you picture yourself eating a salad that's also delicious and filling? Your answer is most likely going to be a staunch "no." Try our recipe for Salad Nicoise (pronounced nee-SWAZ) to experience what a sumptuous salad should taste like. Packed with protein, crisp greens, tender potatoes, and juicy tomatoes, salad nicoise is like a party of flavors in your mouth.
This salad can be eaten as a complete meal itself, or you can pair it as a side with other entrees. No matter how you eat this salad, we bet you will love the complex flavors and textures. Plus, the tuna and eggs will keep you full for longer, preventing hunger pangs or the urge to snack.
Recommended Read: 20 Best Party Food Ideas Everyone Will Love
What Is Salad Nicoise?
Salad Nicoise originated in the city of Nice in France but is now relished the world over. This recipe is traditionally served as a composed salad, which means all ingredients are arranged on a serving plate, and the dressing is drizzled over them.
A composed salad makes for a wonderful presentation, allowing the bright hues of the various veggies to shine through. The next time you're hosting a special lunch or dinner at home, salad nicoise can bring much color and flavor to your table.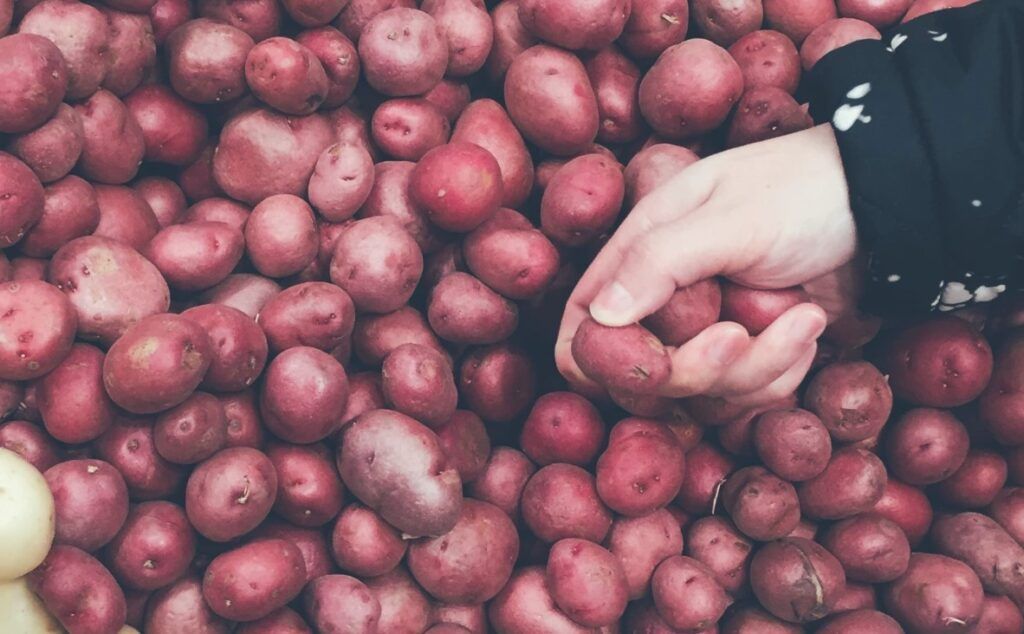 Recommended Read: 15 Best Soup Recipes
Why Is Salad Nicoise Popular?
So, what's special about Salad Nicoise that makes it so popular? When you think of salads, most people picture a boring platter filled with plain-old greens, lacking flavor and texture, which leaves you feeling unsatisfied.
Salad Nicoise is nothing like your mundane salad. It's packed with protein, and you'll find an amazing variety of raw and cooked veggies and fresh herbs, all drizzled with a flavorful dressing that elevates its taste several notches higher.
Who Should Eat Salad Nicoise?
If you're on a weight-loss journey and need to eat protein-rich recipes and a ton of veggies, give this recipe a try. This salad is also great for anyone looking to eat healthy, clean, and unprocessed foods while ensuring their taste buds stay happy. Salad nicoise is a low-carb recipe, suited for those on keto.
While there are many variations to this recipe, the backbone of this salad is great-quality canned tuna in olive oil. Olive oil adds a great depth of flavor to tuna, making your salad taste sumptuous. Also, don't forget to use the freshest veggies to bump up the taste, texture, and nutrient profile of this famous salad recipe.
Best Salad Nicoise Recipe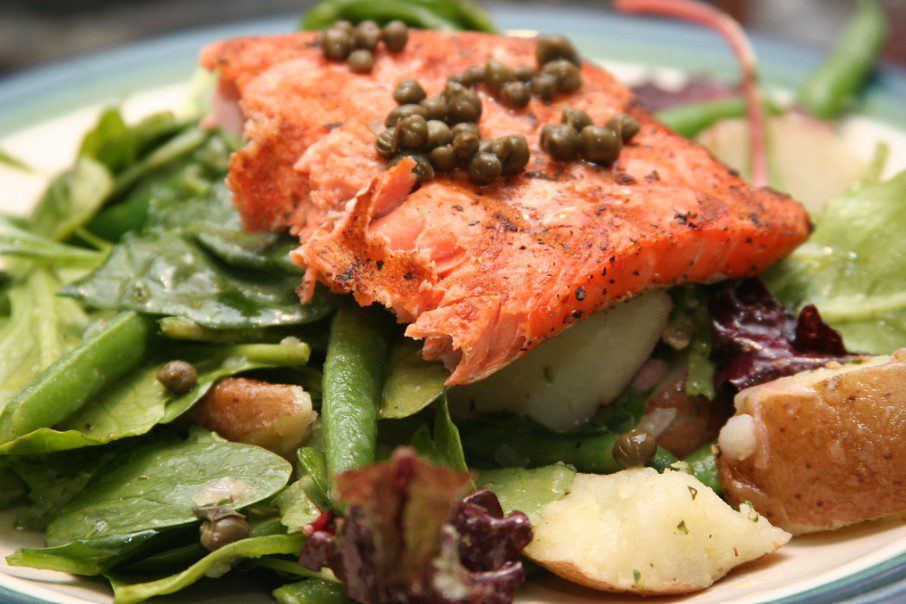 Below is the most delicious recipe that we've found, you'll find all the ingredients and instructions for each element below.
Salad Nicoise: Ingredients List
Vinaigrette:
1/4 cup lemon juice or white wine vinegar
3/4 cup extra-virgin olive oil
2-3 tablespoons finely chopped shallots
2 tablespoons finely chopped fresh basil
1 tablespoon finely chopped fresh thyme
1 teaspoon Dijon mustard
Salt and freshly ground black pepper
Salad:
2-3 cans of tuna, packed in olive oil (You can also use grilled fresh tuna steaks)
4-5 hardboiled eggs
1 pound of small red potatoes
Salt
Cracked black pepper
1 head of Boston lettuce, torn into bite-sized pieces
2-3 ripe tomatoes, cored and diced into cubes (Cherry tomatoes sliced into half can be used too. You'll need 7-8 cherry tomatoes)
1 small onion, thinly sliced
½ pound green beans, trimmed
1/4th cup Nicoise olives
2 tablespoons capers
How to Make the Salad Nicoise Recipe
Now that you have all your ingredients gathered, let's start by putting together the ingredients.
1. Making the Vinaigrette
The first step is to make the vinaigrette. Whisk together white wine vinegar, shallots, Dijon mustard, fresh herbs, salt, and black pepper. Slowly add olive oil until all ingredients are well blended.
2. Prepping Onions
In another bowl, place the sliced onions and drizzle a spoon or two of the vinaigrette on them. This adds immense flavor to the onions while reducing their mildly bitter taste.
3. Cooking Potatoes
Place the red potatoes in a large pot covered with water. Add a pinch of salt and bring it to boil. Lower the heat, and simmer for 10-12 minutes until the potatoes are tender. Drain the excess water and dice the potatoes. Drizzle about 4-5 tablespoons of the prepared vinaigrette on the cooked potatoes and set those aside.
4. Cooking Green Beans
In a separate saucepan, bring salted water to a boil. Fill a bowl with salted ice water. Add the trimmed green beans to the boiling water. Cook for 2-4 minutes until the beans are crisp yet tender. Be careful not to overcook the green beans, or else they will lose their crunchy texture and bright green color.
Drain the excess water and immediately plunge the cooked beans into the ice water to cool. This process is known as blanching and is widely used to retain the crispness and color of green veggies.
5. Assembling Salad Nicoise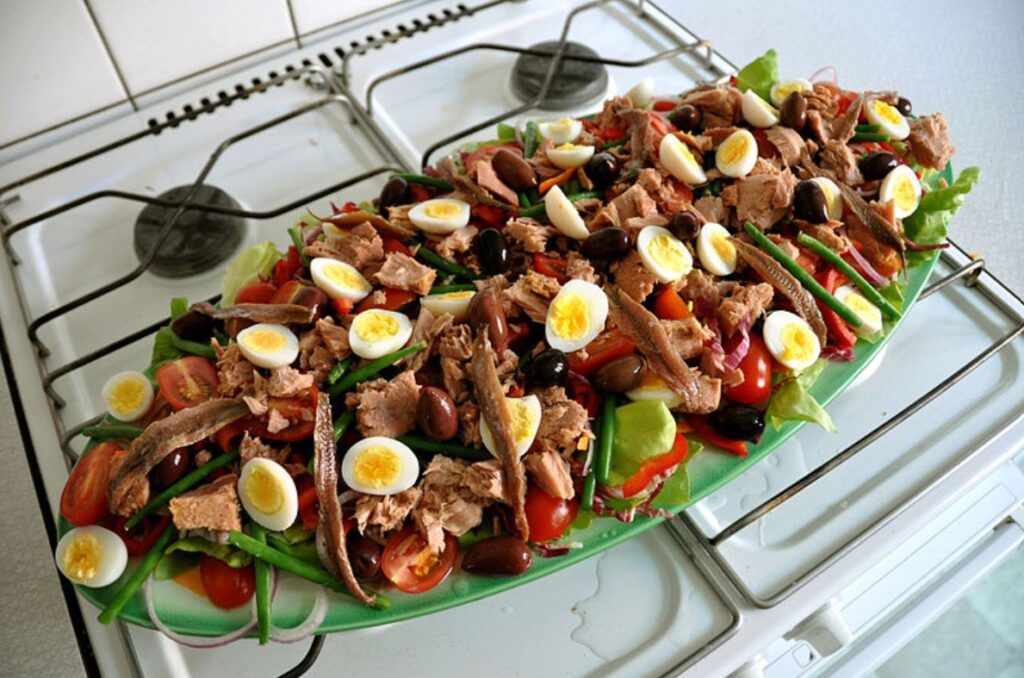 It's now time to assemble your salad. Arrange lettuce on a serving plate and place the tuna cut into ½ inch thick slices evenly on the lettuce. Add cubed tomatoes and sliced onions over the tuna.
To make your plating look deliciously attractive, place the cooked potatoes and green beans around the lettuce in a symmetrical fashion. Slice the hard-boiled eggs into quarters and arrange them around the potatoes and beans.
Drizzle the vinaigrette all over the salad and serve garnished it with capers and Nicoise olives. Your drool-worthy Nicoise salad is ready!
Salad Nicoise Variations
The recipe we've discussed uses ingredients that are traditionally found in salad nicoise. However, this can be customized to suit your needs. Add any other veggies of your choice: cucumbers, cooked carrots, celery, etc. work well in this recipe.
You can also add cooked beans of your choice to add more protein and fiber to this salad. Chickpeas, kidney beans, or white beans like cannellini are wonderful additions to this healthy salad.
Enjoy Your Salad Nicoise!
If you're on a mission to eat healthily, this recipe for Nicoise salad is a must-try. Packed with high-quality protein, this hearty salad gives you well-rounded nutrition. This salad is highly satisfying and provides an extra boost of essential vitamins, antioxidants, phytonutrients, and fiber.
All you need is a bit of prep and you can enjoy a sumptuous salad that's bursting with flavor and texture. Healthy eating is not about starving yourself: it's all about savoring delicious food that's wholesome, natural, and nutritious – salad nicoise embodies the concept of clean eating at its best.