No matter what time of year it is, having a drink cooler that keeps your beer, soda, and bottled water frosty is a must. Whether you are going tailgating or having a backyard BBQ with your neighbors, you want your beverages to stay cold,  and the best beverage cooler can do that.
Having a drink cooler will help you do this. Sure, you can purchase a cooler form your local Big Box store or even the dollar store down the street, but will it really keep your drinks cold for the long haul?
You pop a few sodas into the white, styrofoam cooler at noon and by 3 pm your pop is warm and fizz-less. Gross!
No worries! We've handled this problem for you by searching Amazon for the very best beverage coolers on the market. You'll see big name brands like Yetti and Igloo as well as many others. We like to give you choices.
Whether you're looking for an industrial-sized drink cooler or one of those cylinder-like models that you see football players dumping on their coaches after a victory, we've got a little something for everyone.
Are you ready to find the beverage cooler of your dreams? OK, let's get this party started!
10. YETI Tundra 65 Cooler
If you're looking for a top-of-the-line beverage cooler to take with you to that tailgate party, Yeti is the answer. For decades, Yeti has been known for their high-quality cooler products. If you put your drinks in a yeti cooler you can be sure they will stay cold for pretty much ever.
The Yeti Tundra 65 is a spacious ice chest that keeps your drinks and food cold as ice while you frolic and play either on the ball field or in your backyard. It is the perfect size for cans of beer or a large brisket. Whatever you want!
Let's take a look at what the manufacturer has to say, "The Rotomolded Construction makes the Tundra armored to the core and virtually indestructible so wherever you decide to take it, this portable cooler's sturdy constructio will stand up to the rigors of the journey".
Did you know that this cooler is certified bear-resistant? You'll never have to worry about Yogi and BooBoo ruining your camping trip with the Yeti Tundra 65 in tow!
The Tundra 65 dimensions are 30 1/2 in long x 17 3/8 in wide x 16 in high with an empty weight of 27 lbs.
Pros
Rotomolded construction makes the Tundra armored and strong and virtually indestructible
Featuring a T-Rex Lid Latch that is constructed of heavy-duty rubber and made with patented technology
Comes with a standard dried goods basket
Cons
A few reviewers claim the cooler doesn't keep ice very well
---
9. Danby 120 Can Beverage Center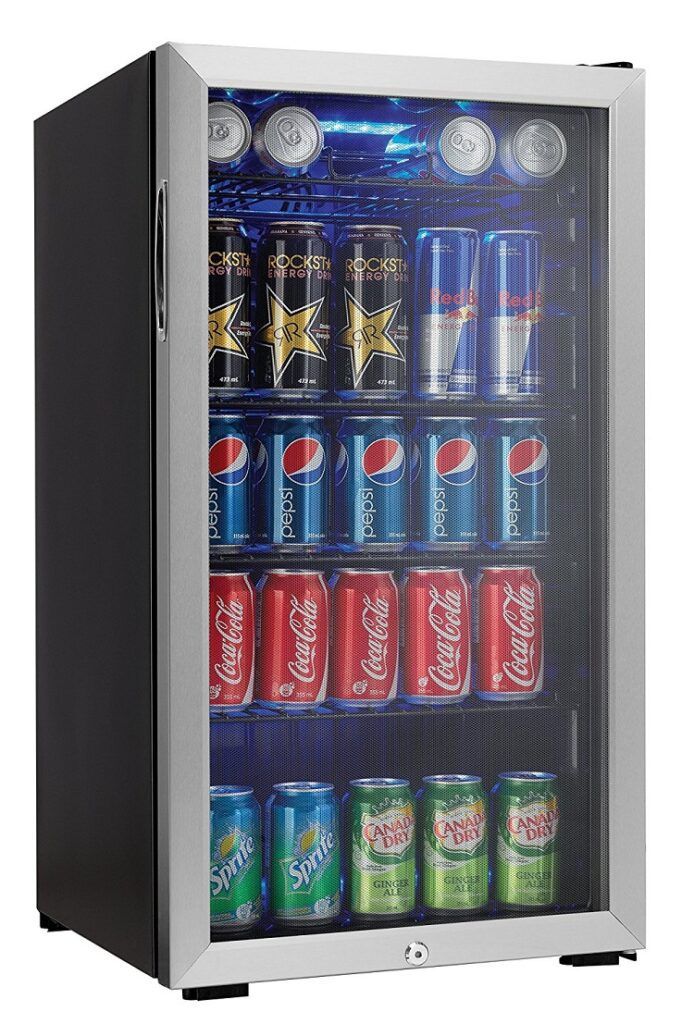 Wow! Can you imagine having this fantastic beverage cooler in your garage or game room? Fill it with all of your favorite drinks! No more sending your buddy up to the store to get cold beers or soda pops because you'll have a fully stocked cooler of them right in your home.
The Danby beverage cooler holds 120 cans of your favorite drinks. From pop to beer this little ditty can contain them all.
This model has a 3.3 cubic foot capacity, comes with a mechanical thermostat with a temperature range of 43F – 57F, and an interior light.
Stock the 3 wire shelves to capacity with bottled water, energy drinks, and soda. Yum!
You'll love the recessed side mount door handle with integrated lock and key so you can keep your kids out of the cooler…and freeloading friends.
Find the beverage you are looking for with the energy efficient blue LED light that illuminates the interior of the cooler.
Pros
Energy consumption is only 368kWH per year
Features a tempered glass door with attractive stainless steel trim
Reversible door hinge for left or right-hand opening
Cons
A reviewer claims the cooler isn't great for glass bottles
---
8. Igloo 5-Gallon Beverage Cooler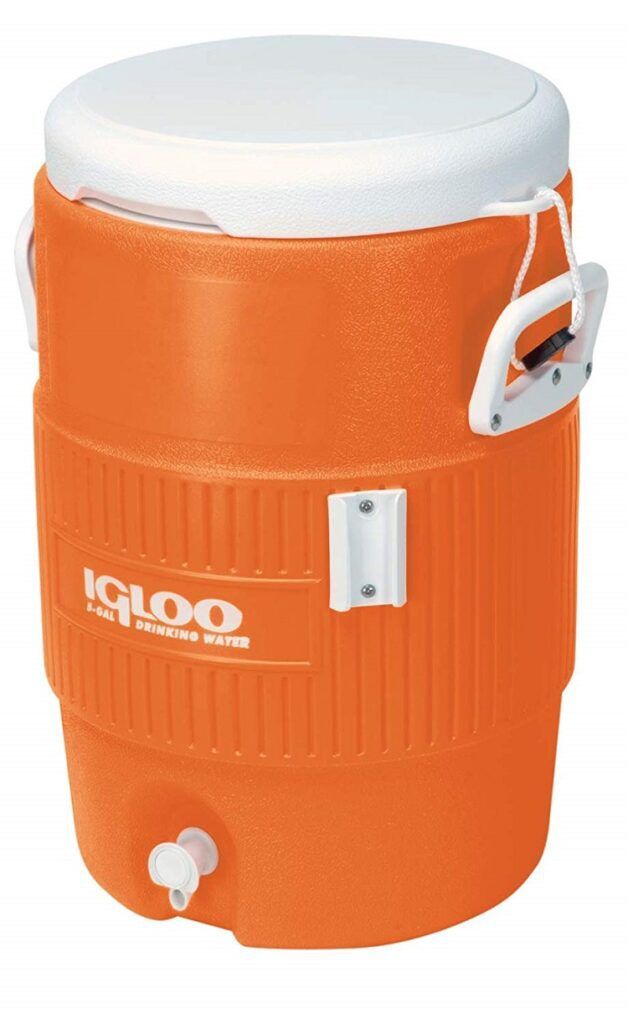 A great beverage cooler for taking to sporting events, parties, and camping trips. Igloo, for years, has made these jugs with integrity and strength. That's why you always see them being used by the NFL, colleges, and even little league ball games.
The design is sturdy, dependable, and perfect for keeping beverages cool whether they be water, Gatorade, or lemonade.
Some folks have even stored hot drinks in the Igloo cooler and claimed that it kept their cocoa and coffee piping hot! So, I guess you could say this Igloo cooler serves a dual purpose.
Pros
Keeps cold liquids cold and hot liquids hot
Affordable
Easy to use and clean
Cons
The bigger models are very bulky
Some reports of the nozzle breaking, easily
---
7. NewAir Drink Cooler and Refrigerator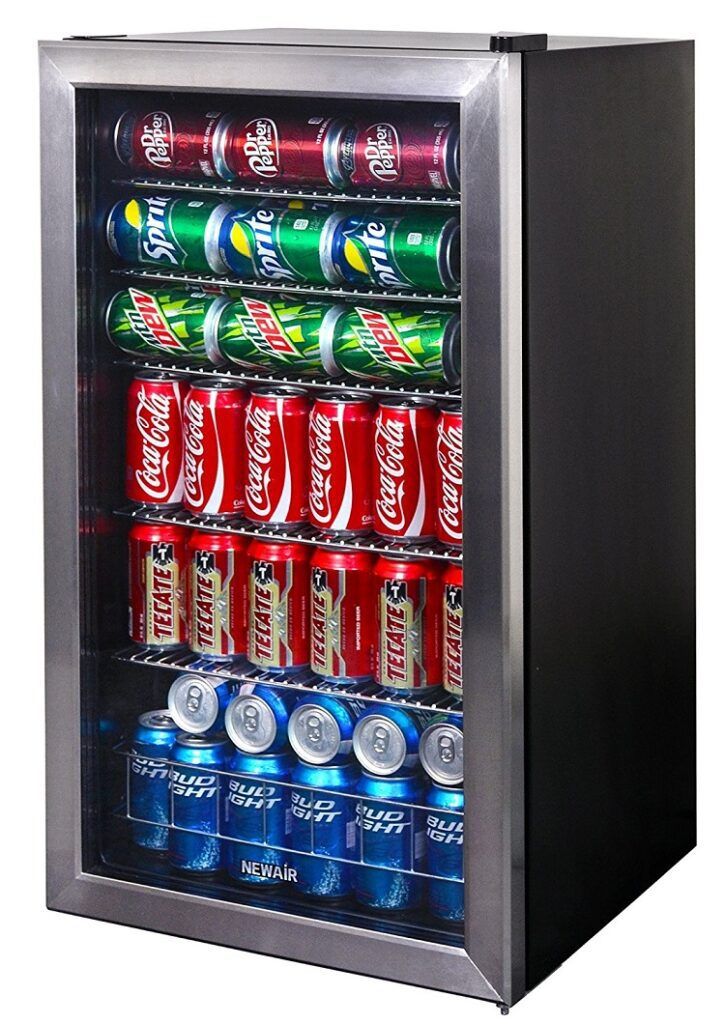 Here is another beverage cooler that can hold over 120 cans of your favorite drinks! Not only is this cooler great for storing soda and beer but it also acts as a mini fridge, too!
Leftover pizza that you don't want to share with the rest of your family? No problem! Stick it in this mini fridge and enjoy it when you get home from work.
ThisNewAir cooler/refrigerator combo is the perfect touch for your garage, man cave, or she shed.
It cools down to 34 degrees F, which is much lower than other models. The 3.4 cubic foot capacity holds around 126 cans.
You'll love the metal rack construction as it is extremely durable and long-lasting. And get this…the cooler comes with 5 removable chrome racks so you can fit bottles, cans, and food of varying sizes and shapes.
Pros
Stylish black and stainless steel design complements your decor
Freestanding design fits in most spaces at 19″ Long by 18.25″ Wide by 33.13″ High
Temperature range of 34 to 64 degrees F
Cons
Some reports of the cooler making noises that some folks find annoying
---
6. UPHA 80 Quart Cooler Cart

Check out this awesome rolling cart cooler! Just imagine yourself and your friends hanging out by the pool or patio with this beverage cart. No need to walk over to your buddy Tom to grab a beer, just have Tom wheel it over to you!
Check out what the manufacturer has to say about this amazing cooler cart, "Dimensions: 31″L x 15″W x 34″H.Oversized 80 Quart rolling patio cooler cart, holds up to 100 cans / 50+ bottles and keeps cool for days. Simple assembly required but all necessary hardware is included.
High-quality steel body with plastic imitation rattan and powder coated finished steel legs for ultimate stable and durable; The exterior is plastic imitation rattan, the interior is PP lined injection-foam-unitized, the bottle opener is stainless steel".
The top is uniquely designed for full access of the contents of the cooler. You'll love the handy drain plug on the back to easily drain liquids which makes this model very easy to clean.
Pros
4 multi-directional rolling wheels, complete with braking system
Cooler box separates from the base which makes it completely portable
Perfect for any leisurely occasion where drinks and ice are needed
Cons
---
5. Moon Boat Food/Drink Holder

This is the perfect cooler for backyard parties, BBQs, patio fun, and poolside shindigs. It is super easy to use and store because it's inflatable! Very easy to clean, as well.
You can use this lightweight cooler to keep both foods and drinks cold. Simply inflate the device, fill it with ice, and load it with your favorite snacks and drinks.
This cooler is also waterproof and comes with a clear plug at the bottom so you can easily drain out melted ice or spilled beverages.
This model is made with a spacious interior to accommodate many cans, bottles, and large bowls of food.
Pros
Reusable
PVC material inflates to 51.5″ L x 24.5″ W x 5″ H and folds flat when deflated
Cons
Susceptible to punctures
Not the best model for tailgating or camping due to having to inflate before storing food and drink
---
4. Keter 7.5-Gal Cooler

A fashionable and trendy beverage cooler for poolside fun, camping trips, and even elegant cocktail parties. This model is a cooler and table all in one!
Keep your drinks cold for hours on end while you party the night away. Simply load the bottom vessel with ice and your favorite beverages. Use the upper portion of the cooler as a table. Very innovative!
The table locks into place so you don't have to worry about instability or knocking it over.
This cooler/table combo is made from 100% recyclable materials.
Pros
Durable, weather-resistant plastic/resin material
Comes with a drain plug for easy cleanup
7.93-gallon capacity holds enough drinks for the entire family
Cons
Some reviewers were disappointed by the packaging
A user claims the cooler only lasted a year before breaking
---
3. Pelican Elite 30 Quart Cooler

If you're looking for some serious cooling action then the Pelican cooler is just what you need. This amazing cooler has a 30-quart internal volume that will keep your sodas, water, and beers cold for the long haul.
Have you ever heard of extreme ice retention? You will when you invest in the Pelican cooler due to its 2-inches of polyurethane insulation with a 360-degree freezer-grade gasket that delivers extreme ice retention for up to 10 days!
Check out some of the features of the Pelican cooler as listed by the manufacturer, "Molded handles,3-inch locking latches, reinforced lockable hasp, stainless steel bottle opener, anti-shear hinge system, molded tie-down slots".
Pros
Comes with leakproof drain plug, 4 self-draining cup holders, integrated measuring board on the lid in centimeters and inches, non-skid rubber feet
Made in the USA
Features a lifetime guarantee warranty – if you break it, Pelican replaces it, forever
Cons
---
2. Lifoam Industries THE FRIDGE

We really like these freezable drink coolers because they are small, portable, and very handy. You don't need to worry about lugging around a large cooler that is heavy and bulky.
Simply pop one of these mug-huggers into the freezer, wait until its good and cold, and there you have it! An instant cold sleeve for your favorite beverages.
The soft foam insulation of The Fridge keeps cold and ensures comfort when being handled. No cold hands!
The device is ideal for bottles, cans, and glasses. You'll love the sturdy plastic ring at the top of The Fridge with flexible flaps for a secure fit.
Pros
Made in the USA
Comes in a  pack of 2
Cons
Some complaints that the inside of The Fridge gets "all bulged out" during the freezing process which makes it hard to conform around bottles an cans
Some folks have claimed these freezable coolers are poorly made, however, many other reviewers disagree
---
1. Buddeez Beverage Dispenser

This cute little beverage cooler is perfect for parties! Serve cold drinks with style with a Tritan, BPA-free beverage server.
Features of this drink cooler include a 1.75-gallon liquid reservoir, ice cone, and compartmentalized base that can be used for additional chilling or separately as an ice bucket.
The top of the cooler can be used for cut up fruits, sweeteners, and as a cup holder for serving ease.
Pros
Includes cup holder, faucet, hangtag, and chalk as well as the actual dispenser and ice cone
Made in the USA
Makes a great gift
Cons
Can't be washed in the dishwasher
As ice begins to melt it is no longer in contact with the beverage, therefore, resulting in the beverage not keeping cool. However, it takes a long time for the ice to melt
Ways To Get The Most Out Of Your Cooler
No matter how advanced your cooler is, the heat from a hot summer's day can melt ice and frozen items fast. Especially, if you're out for a long period of time for a cookout or tailgating. But don't worry, there are ways you can fight back against warm weather to help your cooler stay cold longer. Here are a few tips:
Insulate Your Soft Drinks
Insulation is key to helping beverages maintain their cool, crisp temperature. Items such as foam beverage sleeves and beer cozies prevent condensation from forming on bottles and cans, thus keeping your drinks cold. But, if you don't have those items, try rapping your cans and bottles with a face towel.
Chill Beverages Beforehand
If you're going out for a long day at the beach or another activity, a cold beverage is necessary. One of the best ways to ensure your favorite soda doesn't get warm is to chill it beforehand. Even if you're putting it in a cooler, it's best to put cold beverages inside. Plus, you should refrigerate your cooler as well. By doing so, your cooler doesn't work as hard to chill your beverages, and everything stays nice and frosty. If you're in a hurry and you don't have much time before heading out, wrap your room temperature drinks with a wet towel and pop them in a freezer for 10-15 minutes.
Utilize Your Environment
If you're using your cooler in a mild climate near a river, creek, or lake, the air is colder in those types of environments. To get the most out of this kind of atmosphere, wrap cans or bottles in a sock and stick them into cold water—it'll only take a few minutes to cool your drinks.
Store Your Items Properly
Most people know to put ice in the cooler, but some don't understand how to do it the right way. Put your drinks and other items into the cooler first and then add ice on top. Since cold air rotates downwards, your food and sodas will cool quicker and stay chilled longer. Plus, you can add salt to the ice as it starts to melt to continue to keep the water temperature low.
Here are a few more hacks to help you out:
Pack bottles and cans close together.
Use an insulation blanket, windscreen shade, or a fleece over the cooler to help keep things cold for longer.
Make sure the cooler is closed all the way, so warm air doesn't get in.
Final Thoughts On Beverage Coolers
There's nothing like a fun day in the sun. However, you must stay hydrated and refreshing beverages are vital. Luckily, there are tons of tips and tricks to help keep the drinks flowing—even through warm weather. As long as you follow these hacks, your beverages should stay chilled for hours, and you won't have to spend money using expensive vending machines!
The Beverage Cooler That Worked Best For Me…
There you have it, folks! 10 of Amazon's most popular drink coolers. We hope you have found exactly what you are looking for on our list.
If you want a portable cooler that isn't bulky and is extremely lightweight then we suggest you check out The Fridge freezable mug/bottle/can holder. Great for those who have an on-the-go lifestyle.
Are you interested in some extreme ice retention technology? Well, then, The Pelican is what you need. This cooler keeps ice frozen for up to 10 days!
Now, with all of that in mind, we had to choose a reasonable cooler for our number one spot. So, we went with the Buddeez Beverage Dispenser. This drink cooler is affordable, easy to clean, and can be used by everyone.
Whether you choose our number one cooler or something else on the list, we have confidence you'll be happy with your purchase.