Halloween is a fun time of the year for kids AND adults. When you think of Halloween decor, probably one of the first things that come to mind is a creepy jack-o-lantern. Here are Creepy Halloween Decor Ideas to make.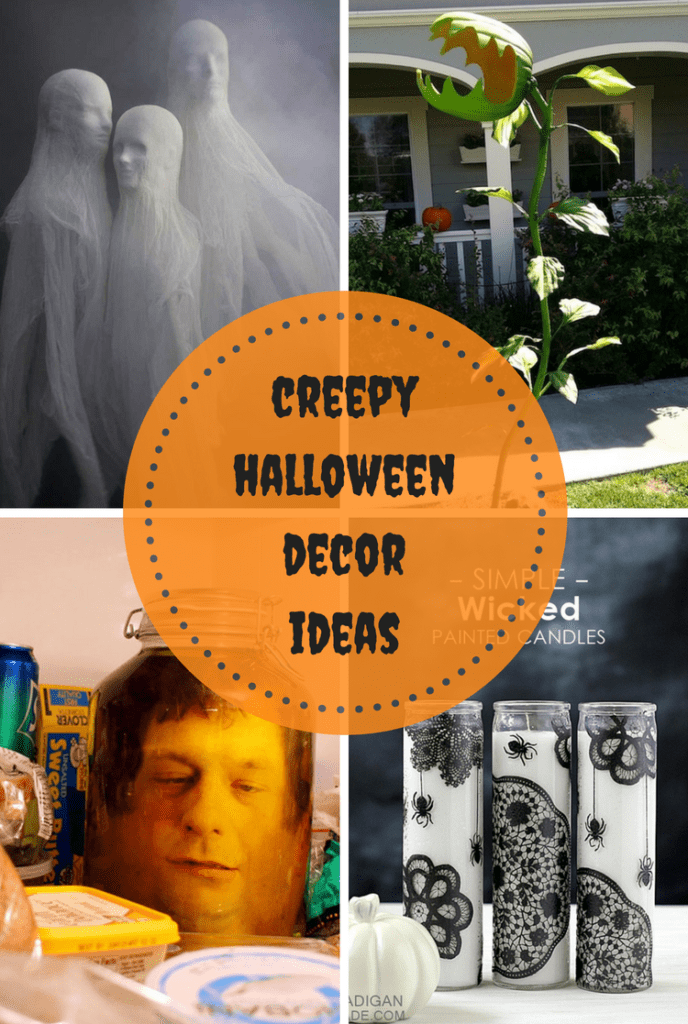 No products found.
Did you know that jack-o-lanterns used to be cut out of potatoes and turnips? Here's the reason why (and the origin story of jack-o'-lantern) from Huffington Post:
The jack-o'-lantern comes from an old Irish tale about a man named Stingy Jack. According to folklore, Stingy Jack was out getting sloshed with the Devil when Jack convinced his drinking partner to turn himself into a coin to pay for the drinks without spending money. Jack then put the Devil, shaped like a coin, into his pocket, which also contained a silver cross that kept the Devil from transforming back. Jack promised to free the Devil as long as the Devil wouldn't bother him for a year, and if he died, the Devil could never claim his soul. Jack tricked the Devil again later, getting him to pick a piece of fruit out of a tree and then carving a cross into the bark when the Devil was in the branches. This trick bought Jack another 10 years of devil-free living.

When Jack finally died, God decided he wasn't fit for heaven, but the Devil had promised never to claim his soul for hell. So Jack was sent off to roam Earth with only a burning coal for light. He put the coal into a turnip as a lantern, and Stingy Jack became "Jack of the Lantern" or "Jack o' Lantern." Based on this myth, the Irish carved scary faces into turnips, beets and potatoes to scare away Stingy Jack or any other spirits of the night.
How interesting is that!?
This Halloween, don't go to the store to buy expensive decorations. If you're looking for some DIY Halloween decor beyond carving pumpkins (or turnips!) read on for our top list of DIYs: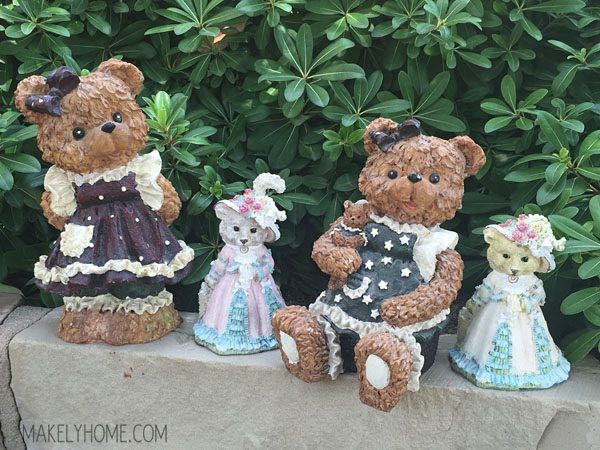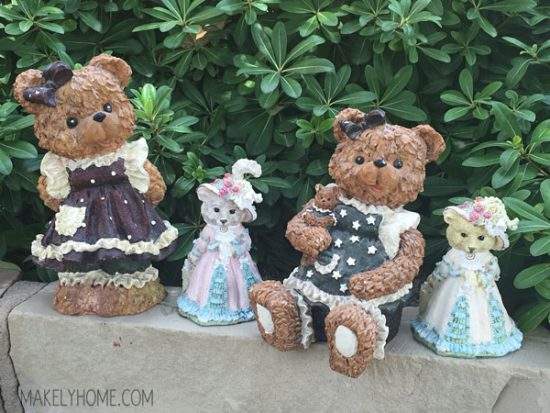 Keep an eye out at Goodwill or other thrift and second-hand stores for cute ceramic figurines like teddy bears and dolls. A simple layer of black spray paint and red paint pen for the eyes will turn cute into terrifying in mere minutes!
This post has some great info on using a Spray Shelter to keep your home and yard free of paint while doing spray paint project. We've always just used newspaper, but this was such a great read!
Doily And Spider Covered Glass Candles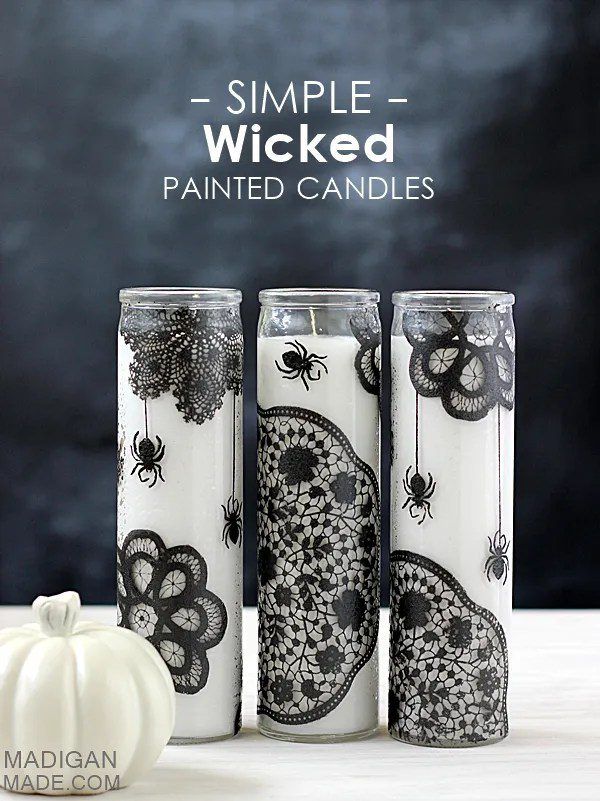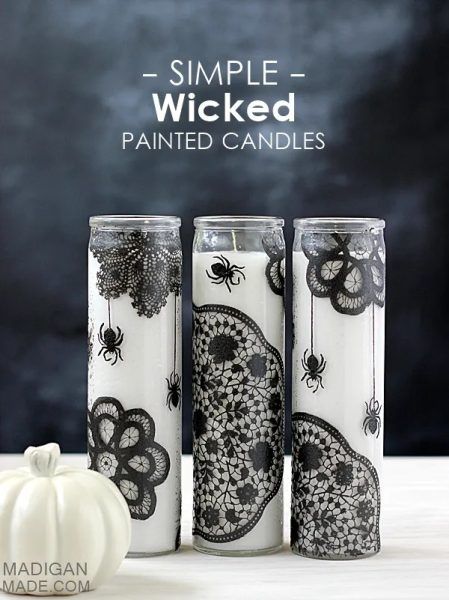 If you're looking for something a little wicked and little pretty, these lace inspired spider candles are for you. It's a step above beginners as a DIY, but if you're up for the challenge, the results are gorgeous.
You'll need tall, skinny prayer candles, rubbing alcohol, blakc glass paint, doily glass silkscreens, a spider glass stencil, painter's tape, sponge daubers, and toothpicks and cotton swabs. Marth Stewart's site sells great black paint, silk screens, and stencils for this project (follow the affiliate links from the linked post to help support the lovely author!)
Sometimes a cool DIY decor is something simple but repeated in great numbers to cover a wall or empty space. These bats are a perfect example. They're made out of cardstock and using a bat template and a Cameo cutting machine (you can cut these by hand if you have a lot of helping hands, otherwise you're in for a world of hurt and curse words!)
Make at least 2 dozen and then use double-sided tape to stick them in a formation to a wall to make a jaw-droppingly awesome Halloween display!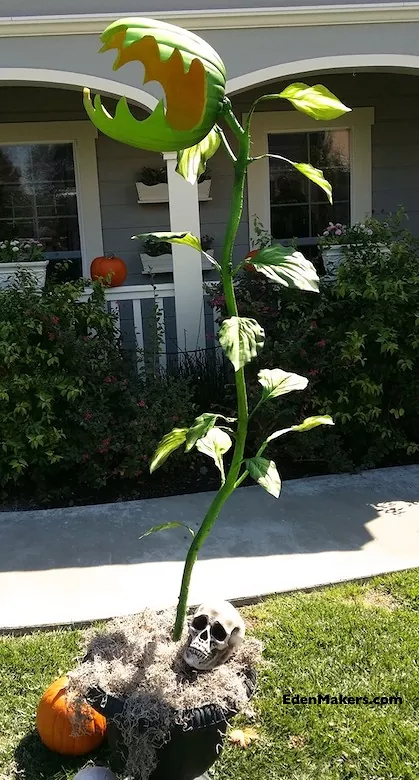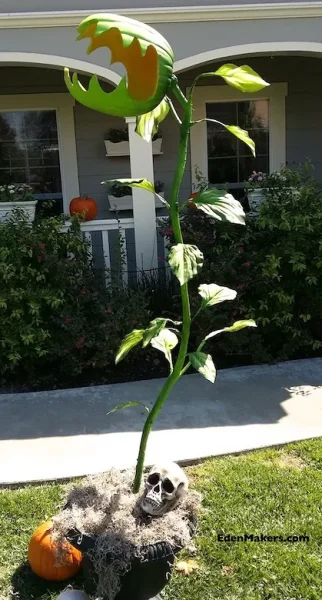 How awesome are these "man eating" plants? The authors spent $30 dollars for materials and were able to make at least three of these plants, so they're also economical!
To make this project, you'll need a tree branch, planter, spray insulation foam, spray paint, glue gun, silk or fake plant leaves, moss, and some decorative materials like bones, skeletons, spiders, small pumpkins. A dollar store is a great place to pick some up!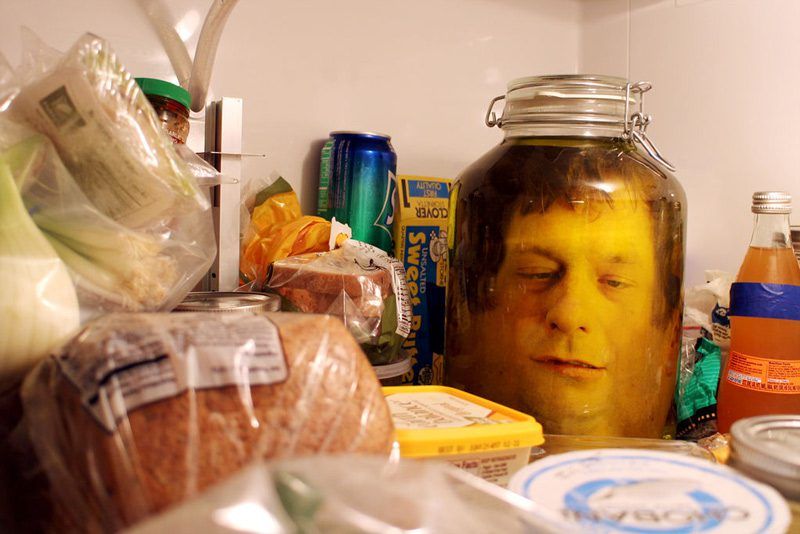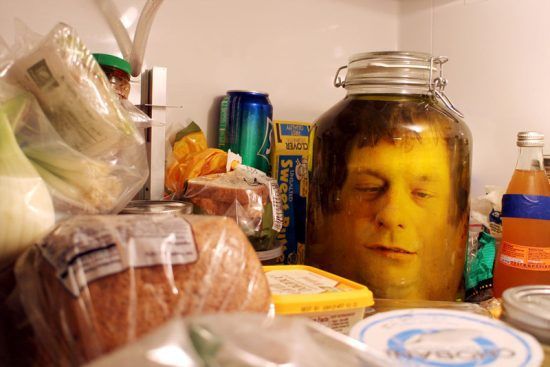 This project gives us the willies just looking at it. Place it in the fridge as a Halloween prank only if you dare!
The trick to this is actually using a laminated photo. Not just any photo, you need to use some photo editing tricks to make the curved photo look "3D" and realistic. If you're not up to the digital challenge, the original instructable how-to has a downloadable photo of the "head" used above.
How much funnier (and creepier) would it be if it were YOUR head?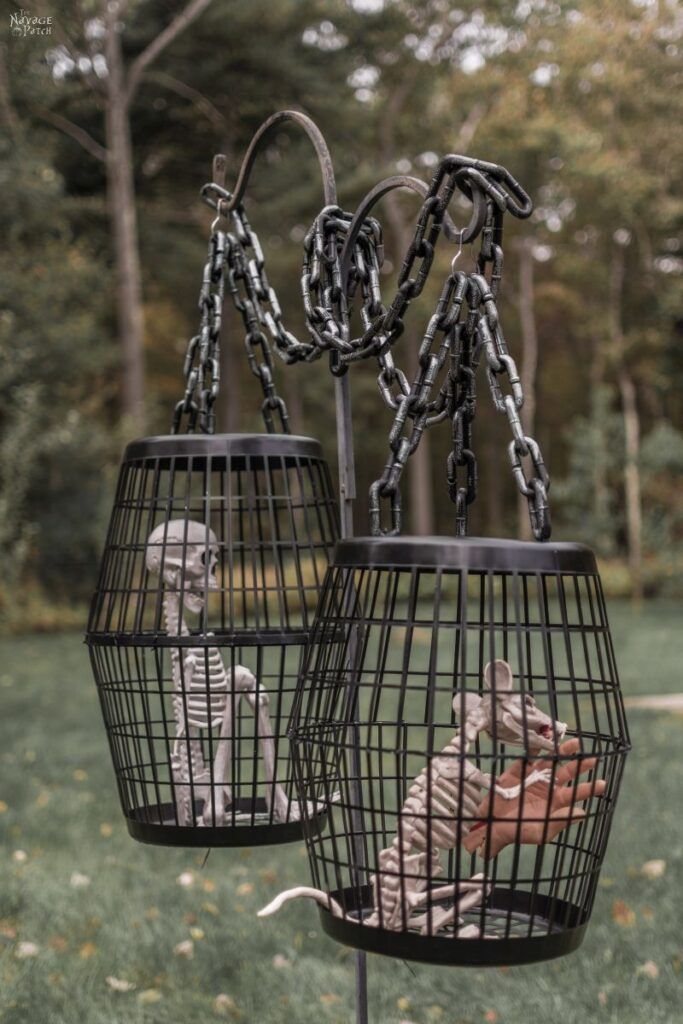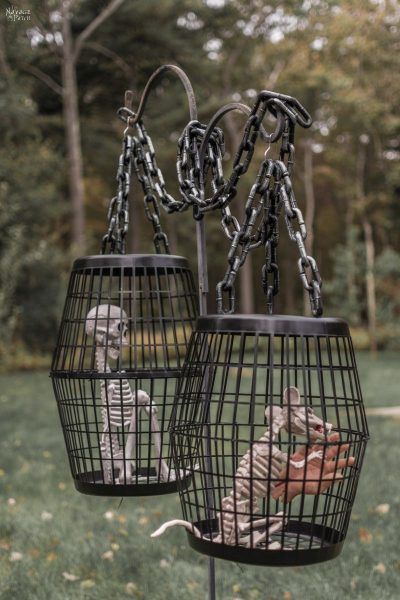 These cages are so fancy and realistic, you'll never guess they were…
.
.
.
.
Laundry baskets!
It takes some time to spray paint them and some zip ties, cut down the edges, and then zip tie them together. You'll end up with one of the coolest Halloween decors on the block if you give this a try!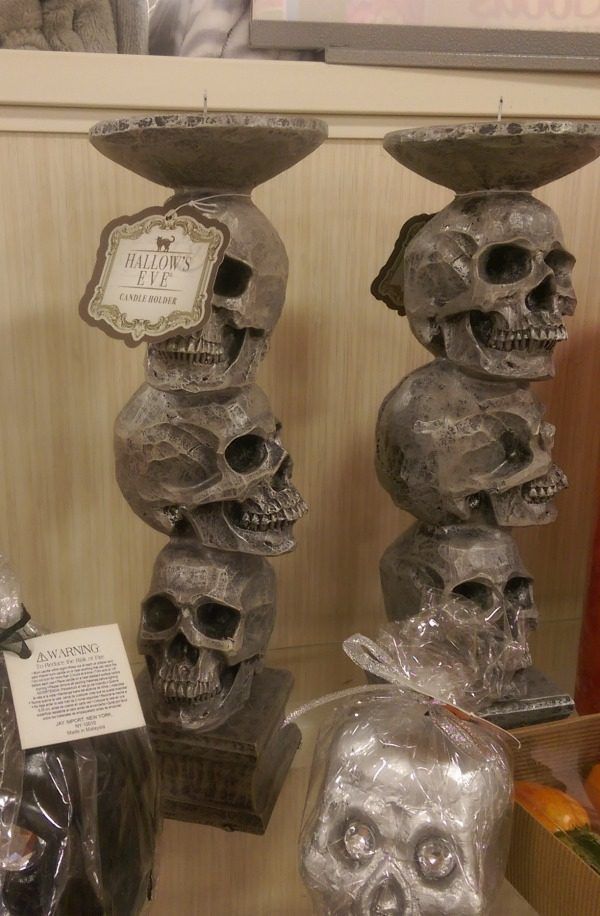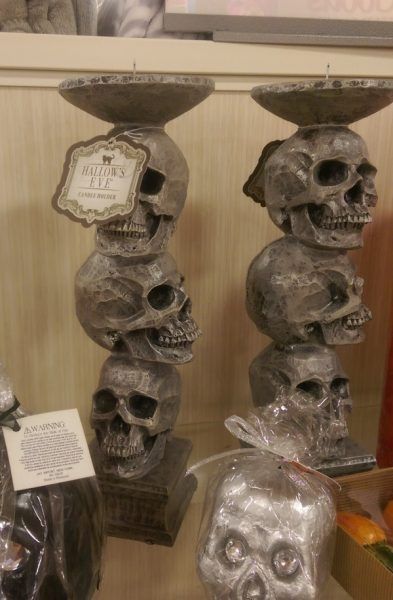 I know we've all been DYING for a skull candle holder, right? Why pay thousands of dollars (ok, $19.99) when you can quickly make your own?
Just keep an eye out for cheap skulls which are ubiquitous pre-Halloween, and terra cotta planter saucers. Spray paint it all a ghoulish, macabre black, and hot glue it all together. SPOOKY!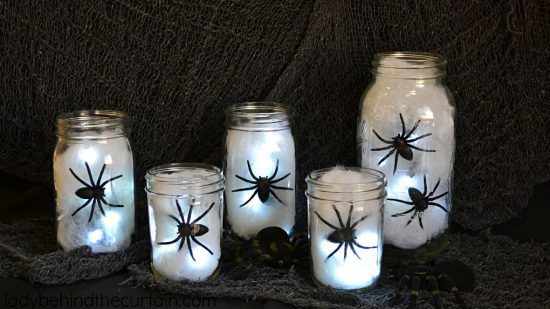 If you're the kind of DIYer who has hundreds of mason jars lying around (what, you don't?) then you'll have scrolled down to find a mason jar Halloween decor DIY. We could never disappoint you, mason jar fans!
To make this awesome DIY, have multiple sizes of wide mouth mason jars, battery operated white lights, spider web and spiders (usually sold in packs just about everywhere).
Spread out a piece of spider webbing and place the lights on top. Wrap the webbing loosely around the lights. Then follow the directions to make your very own spookey, scary Spider Lights!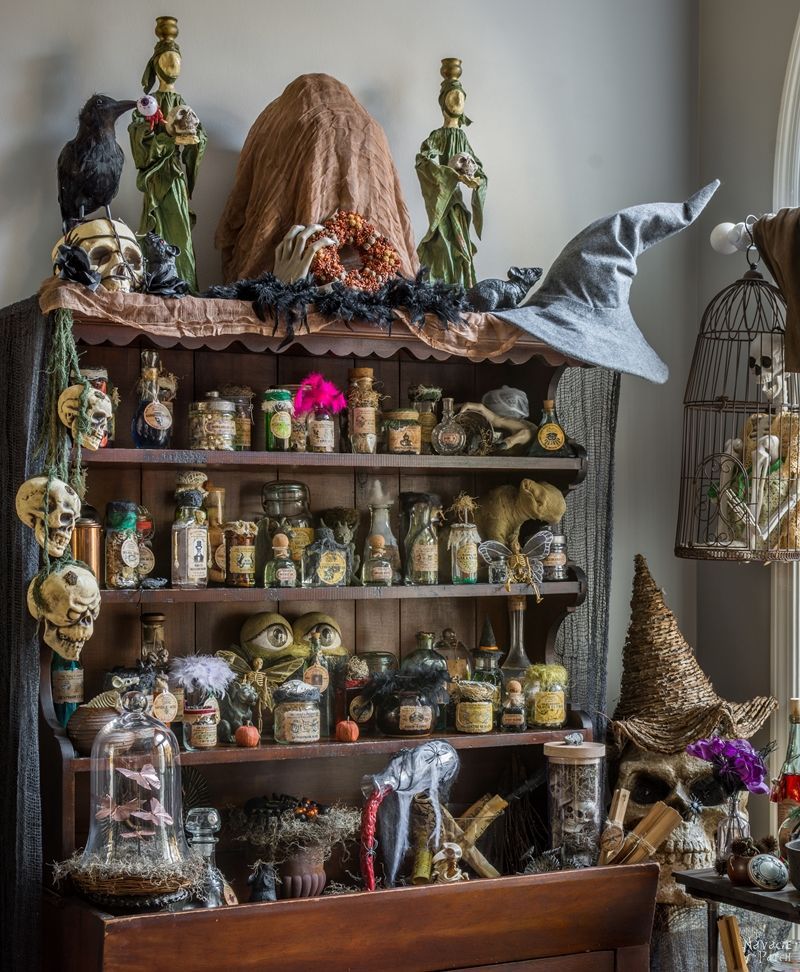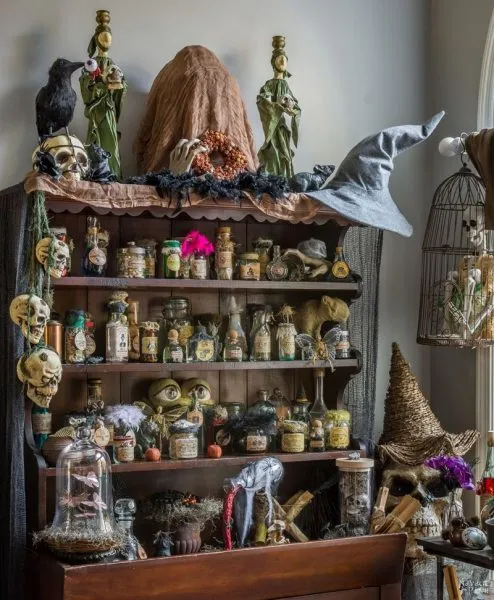 Did you know…? An apothecary was a medical professional who formulated and dispensed "materia medica" to physicians, surgeons, and patients. The modern-day pharmacist has taken over this role.
The term apothecary jar harkens back to a time when powders and potions were kept in glass bottles and jars with handwritten labels. This is a super fun DIY to make a Halloween decor version that would be great to make with a group that you could display afterwards.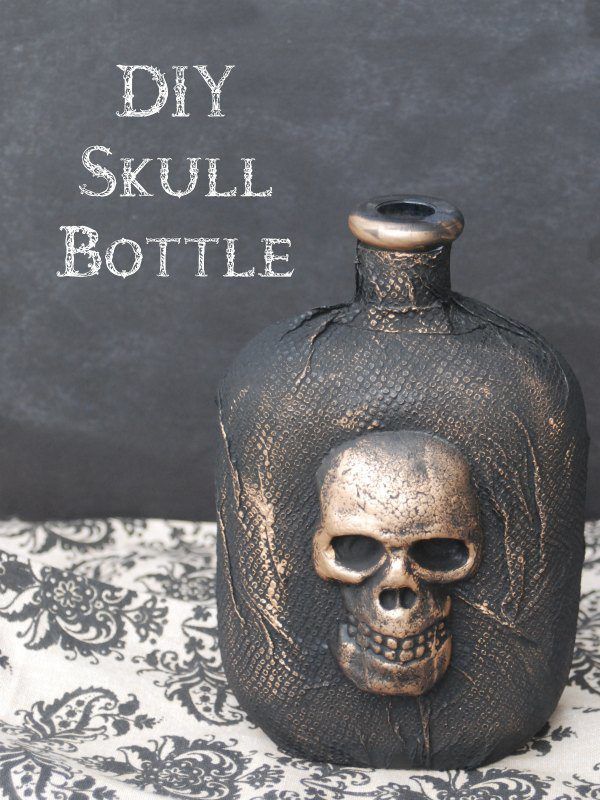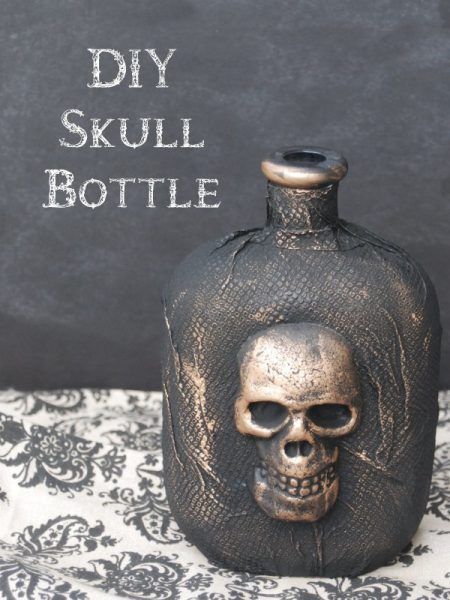 The foundation of this really fancy looking bottle is just a whiskey bottle, paper towel, and a styrofoam skull. The aging effect is done with mod podge, black spray paint and something called Rub 'n Buff which sounds like a joke product, but is for real. Check out this review:
"This stuff is the best product I have ever used for a REAL metal look. It requires NO priming and no topcoat. I have used it on wooden furniture, brass hardware, metal tray, black painted hardware, and picture frames. All of this was done with one tube. a little goes a long way. I will never buy another can of "Silver" spray paint thanks to rub n' buff!"
Wow! Bet you can't wait to get your own tube of rub n buff! Doesn't the finished product look just like the real thing?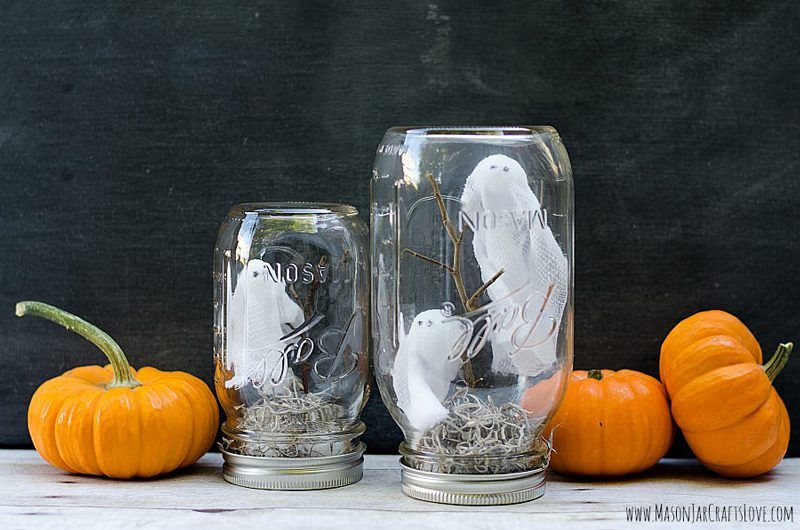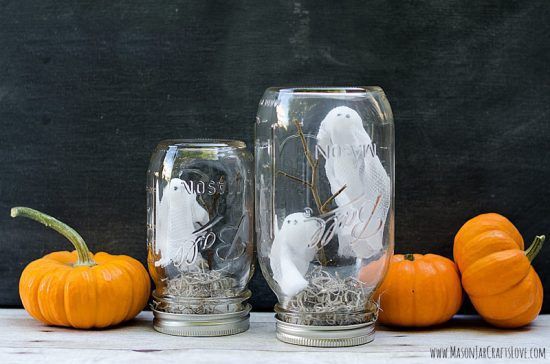 Obsessed? With mason jars? Us?
(maybe a little)
This Halloween DIY is DEAD easy. With just a few supplies – mason jars, styrofoam disks and balls, moss, twigs, and gauze – you can make ghosts in a mason jar so terrifying, so chilling…
Ok, these are more cute than terrifying (though the creative among you could probably come up with some truly MURDEROUS versions!) It's a sweet and fun Halloween decor for the young and faint-hearted.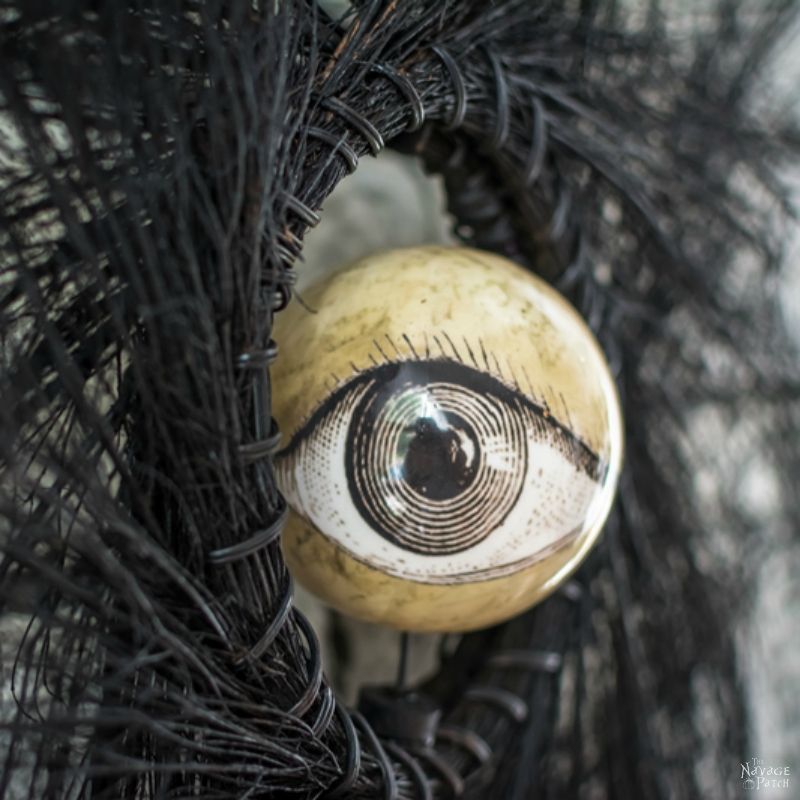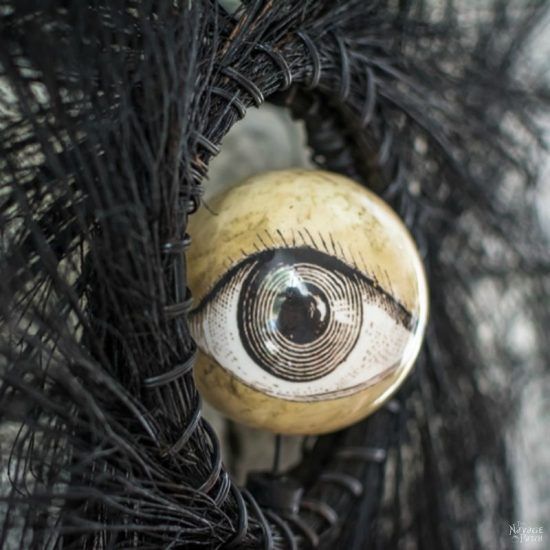 Never have Pinterest-y DIY craft magic and late night heart attack come together as they do in this wonderfully disturbing eyeball orb wreath. It's a truly technical craft, not for the beginners. You'll need wire and wire cutters, glue gun, spray paint, and lots of patience. Put this together right and no burglar will dare to approach this floating eye wreath that won't stop watching, not even for a moment…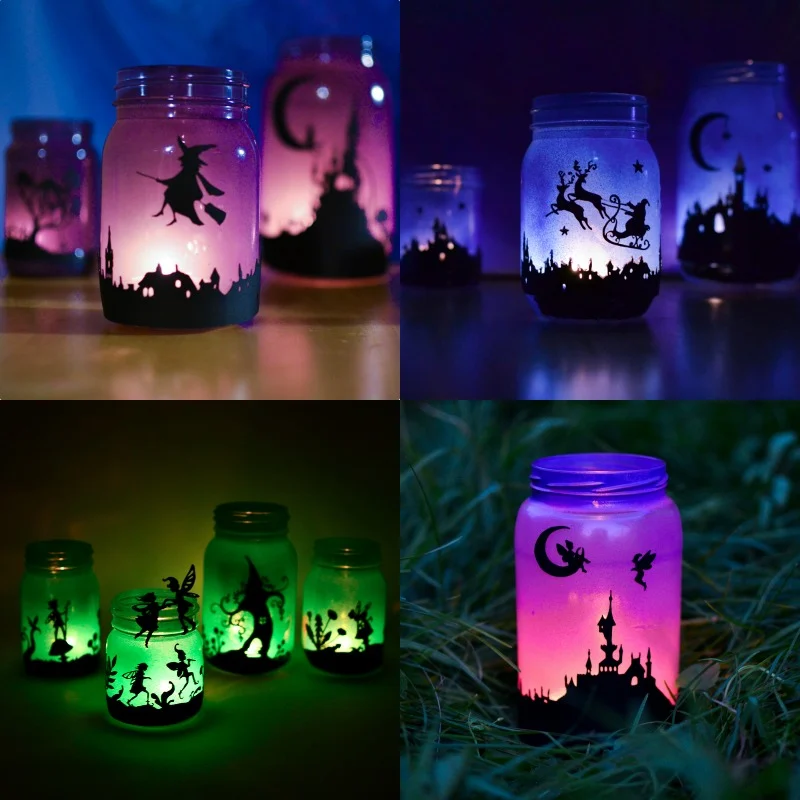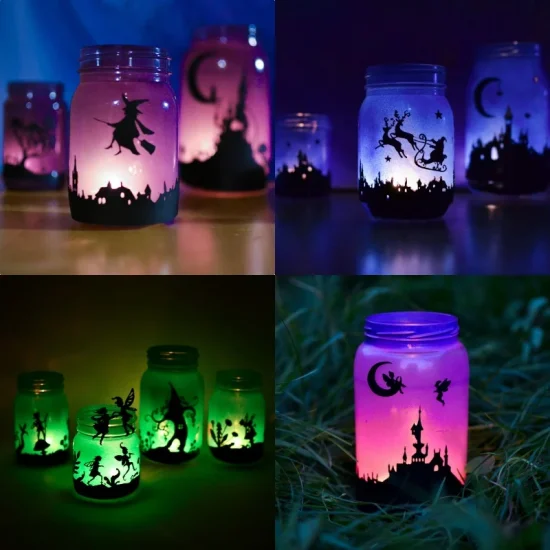 How many DIYs can you make with mason jars and Krylon paint? Probably thousands, possibly millions. Spray paint the inside of a mason jar with Krylon purple, although this post says Rust-Oleum grape paint is even better (GASP!)
This post is a veritable choose your own adventure of design. Paint, draw, cut and glue, or use cut vinyl to make your very own Halloween Lanterns!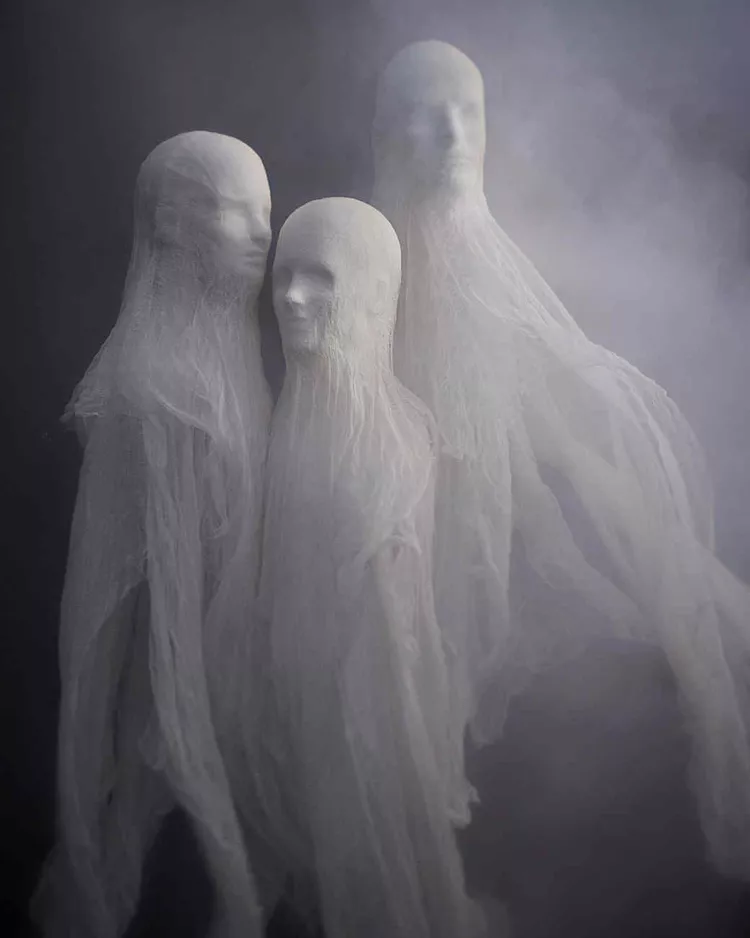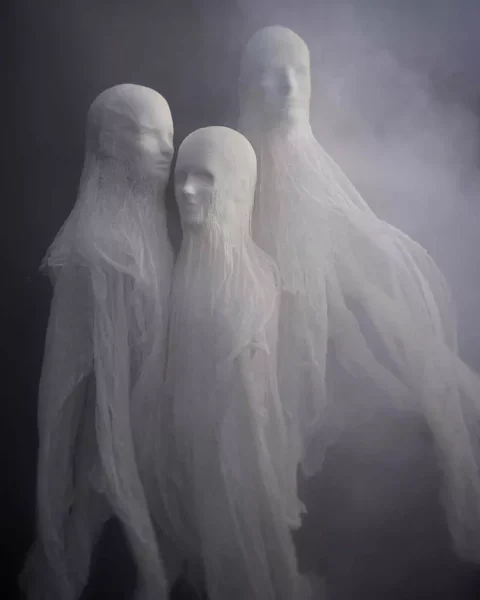 Have you been looking for some Halloween decor that you'll forget you put up late at night on the way to the bathroom, then spot out the corner of your eye only to spend several long seconds awash in the paralyzing terror? Well, then, these cheesecloth spirits are for you.
If you've got a true commitment to the utterly disturbing, just pick up some styrofoam mannequin heads. Cover the head with cheesecloth, then generously brush over the head and face with glue (water it down a bit if its too thick and gloppy.) Use your hands to smooth the cloth into the facial features (and shudder repeatedly.) Don't brush down the neck; stop at chin level so the fabric is loose below that.
Once you finish, attach a screw eye to the top of the head and thread it with monofilament to hang silently in your living room in the middle of the night.
Phew, that got real spooky, real fast! Whether you're sticking to mason jars and some cute plastic spiders or you want to go all out with heads in jars and lifelike ghosts, we have you covered. Just don't call us in the middle of the night if your own DIY is just to TERRIFYING!
Last update on 2023-05-29 at 16:10 / Affiliate links / Images from Amazon Product Advertising API