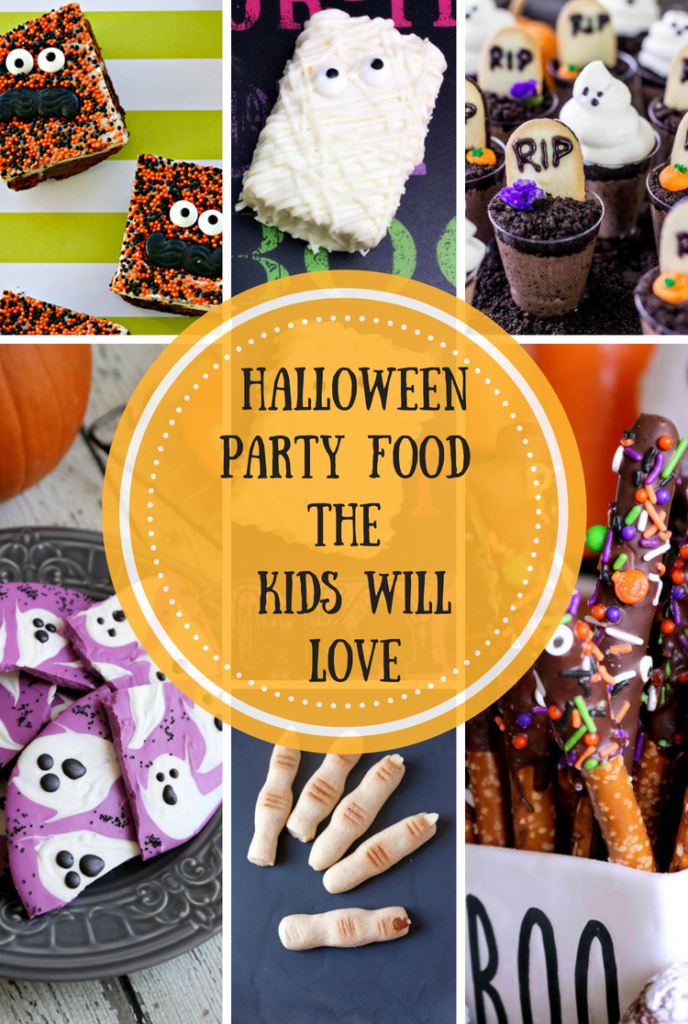 [amazon box="B077XN5PTV,B01KKOTLBY,B07GRMFWNN,B073JWP1KJ,B01M0XV1UL,B079B1R5NN,B01K0D0DGW,B00030LCJ0,B00OCGUG02,B009V4T9NA,B079YY714G,B07F6Q9Z7Z,B00S9BX3B0,B071WSTJHP" template="table"]
Fall is coming and now it's time to plan Halloween parties both are school and at home. Halloween is such a fun holiday with costumes, candy and awesome treats of all varieties.
These spooky and fun treats will make your Halloween party one that will be remembered for many years to come!
I've actually done pretzel rods for a school party before, but they weren't this cute! I love the little sprinkle eyes to make these little monster eyes and general Halloween colored sprinkles.
What's not to love about the combination of sweet, salty and crunchy with chocolate and pretzels? These would make good treats wrapped up and handed out individually, or just put out on your table spread.
These adorable little treats are a fun take on Buckeyes with a Halloween twist! Buckeyes are easy to make on their own, and this recipe tells you how to make the sweet kitties and pumpkins featured above.
What other Halloween creatures would you want to make?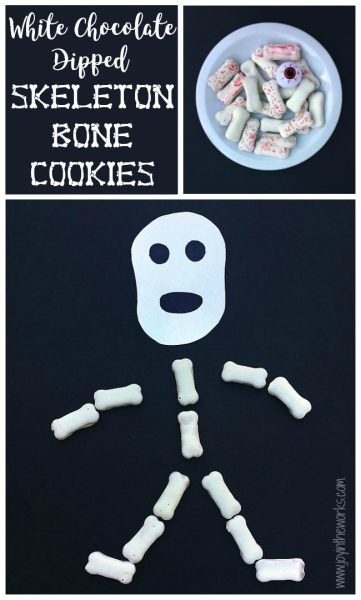 Bones and skeletons are one of my favorite aspects of Halloween decorations. I like things a bit spooky, and none shaped treats are just awesome! These ones are actually pretty easy, as you use the dog bone shaped graham crackers to start with.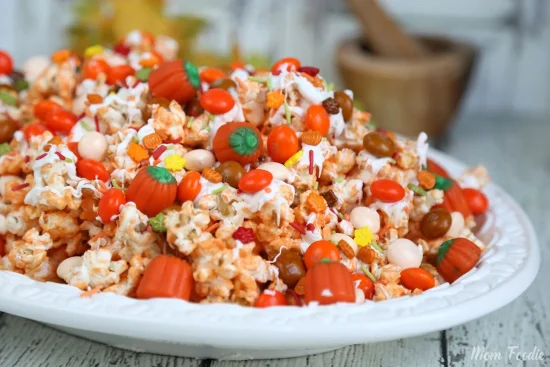 I love kettle corn and caramel corn. Fun takes on popcorn are just so much fun to me. I really love caramel corn with chocolate and other fun inclusions, so this Pumpkin Spice Popcorn seems perfect for me to try.
I love the pumpkin candies in this recipe to really give it that perfect Halloween feel. You could even do more spooky sprinkles instead of the leaves to give an increased festive flare for the kids!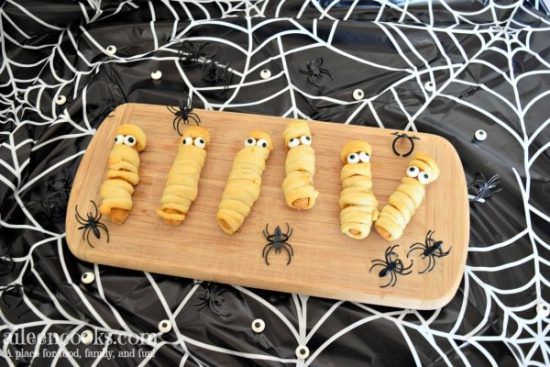 Sometimes you need more than just sugary treats for your Halloween bash. This is perfect for that! Chicken fries and Croissant dough work together to make these adorable little mummy treats that will give that boost of protein from chicken to maybe counter some of the sugary stuff.
While these aren't too spooky, I think owls fit right in with a spooky dark Halloween night. We have a couple of owls in the area and I love hearing them hoot, but I can see how spooky the sound can be when it's dark. I love the way the sprinkles make adorable little beaks on these cookies.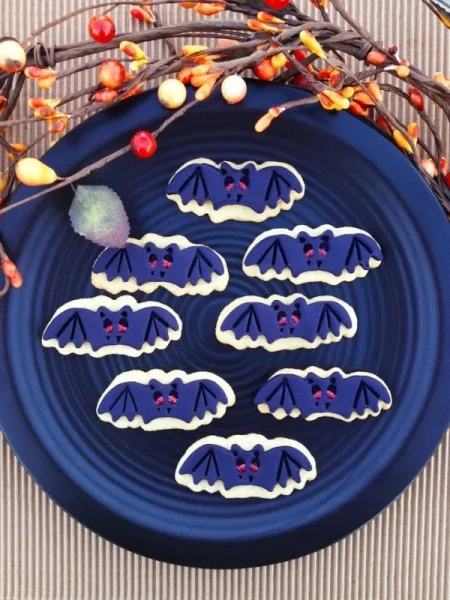 If you're looking for a slightly more spooky, but still rather cute cookie, then these bat sugar cookies are right up your alley! Sugar cookies are delicious, and I love the extra spook factor the red eyes give the cookies overall. I think you could even add a little red to their fangs to make even even spookier!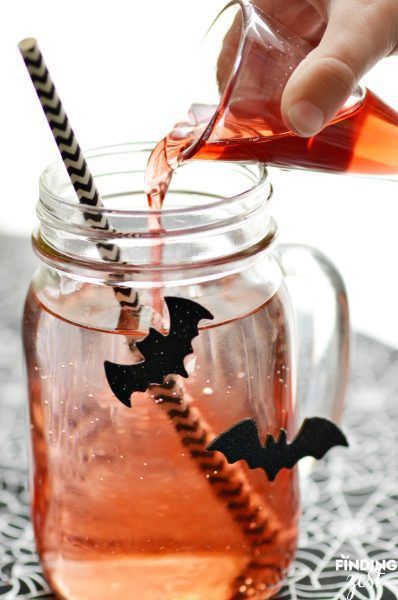 Of course your party needs a cool drink, and this one is easy but just perfect for the party table! Clear soda/sparkling water, a red juice, and little syringes filled with your choice of reddish juice. Decorate your cup with Halloween stickers as much as your heart desires and you've got the perfect drink that many little ghosts and ghouls will love.
Another fun drink for your party table that I love seeing served in the little plastic cauldrons is this Witches Brew! It's quick and easy to make, but is a fun addition that I think would even look cool with some dry ice. Just make sure you have an adult taking care of the drink if it has that in it. You don't want little fingers to get hurt.
Another fantastic use of pre-made cookies is this recipe above! Adorably spooky Frankenstein's Monster plus his Bride! Candy melts really can make things so much more awesome when used creatively like this. I love the eye sprinkles so much, I really need to use them more often myself.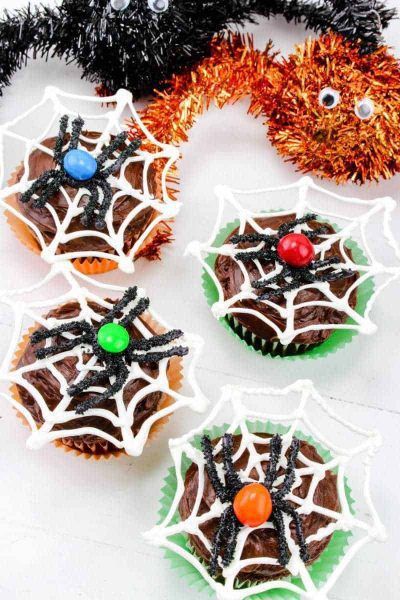 Is it really Halloween without spider webs and spiders? Spiders are creepy to many and stepping into webs can cause your heart to race. So these cupcakes are a perfect addition to any Halloween bash! Candy melts yet again make something as ordinary as cupcakes a special treat by making the webs and the spiders. Yummy, spooky and cute!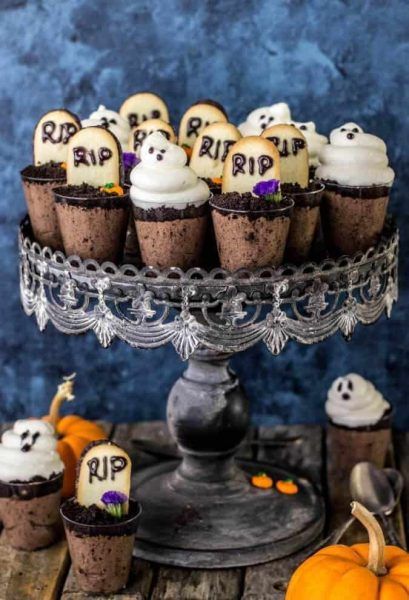 These little shots of Halloween magic are non-alcoholic, so don't worry, they're kid friendly! My kids play a game called Ghosts in the Graveyard sometimes too. It's like hide and seek/tag while in the dark? I only played it a couple of times when I was younger myself so I don't exactly remember how it goes.
Still, this delicious treat uses Milano cookies, a cheesecake type filling, Oreo crumbs, whipped cream and a little imagination to make a spooky fun treat for your party table.
This fudge is cute, but super festive with the black and orange Halloween sprinkles! You could use other decorations if you wanted, but I think they look just perfect the way you are. I've never tried to make fudge myself, but I think this recipe has given me the right encouragement to give it a go. It's a fun Halloween treats without being too creepy for younger children at a party.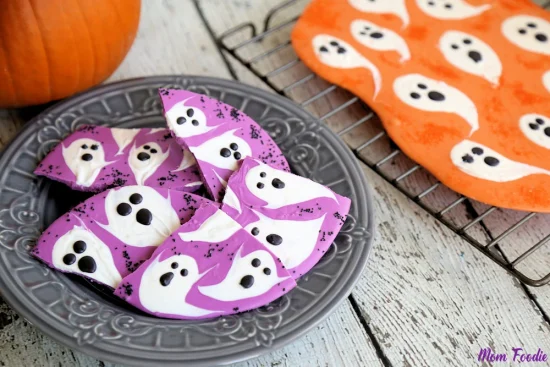 This is a festive, spooky, and fun little Halloween treat that's great for the party table as kids will love it. On top of being perfect to make for a Halloween BOO! bag to gift to neighbors, friends or co-workers! Plus with candy melts you can use whatever spooky colors you want, and it's an easy treat that doesn't require fancy molds or anything else.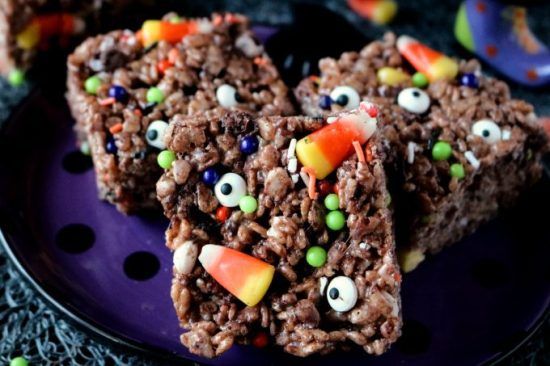 Rice Krispie Treats are some of my favorite things!! Yes, it deserves two exclamation points right there. I'm not kidding that I can't let myself make them too often or I will be constantly in and out of the kitchen grabbing one to munch on.
These ones, using Cocoa Krispies are just perfect for Halloween. The sprinkles, the eyes, the candy corn! What a mishmash of monster goodness that kids and adults will fall in love with.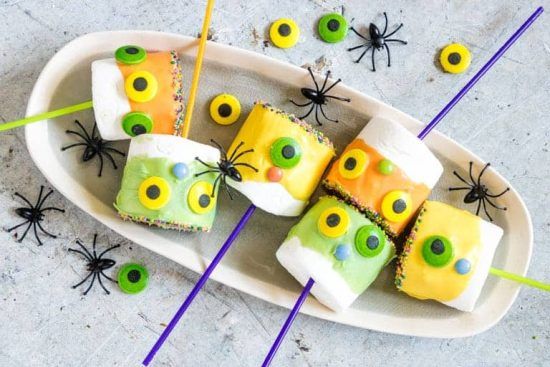 Another easy, but still fun and perfect for the occasion, Halloween treat is these adorable Monster pops that use marshmallows! The treat is Gluten-free, and takes advantage of the awesomeness that is candy melts and sprinkles. I would love some spooky black and dark purple marshmallow monsters on a Halloween party table.
I think I might actually host a Halloween party this year instead of doing Trick or Treating.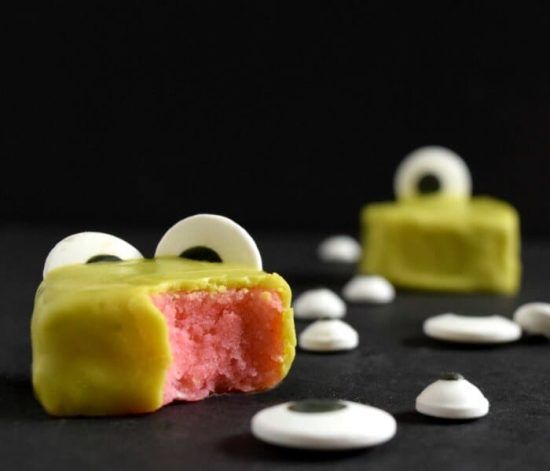 If you're looking for another fun Monster themed treat then look no further! These little cakes (petits fours) are a perfect little monster treat that have so many options. You can have colorful insides or just regular cakes but they'll still be amazing and fun. I'm loving the giant eye sprinkles too, and would love to see more external colors too. Just imagine all the fun you can have making these?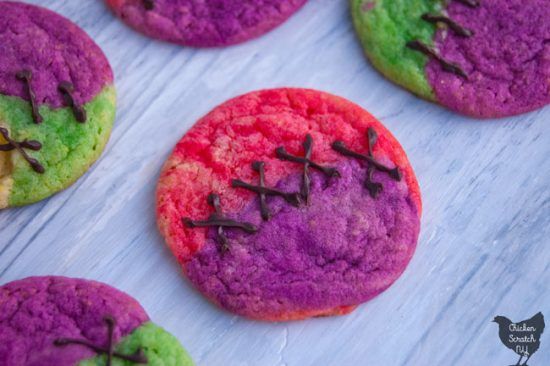 The Nightmare Before Christmas is probably the only Halloween movie I can think of that I've watched more than once or twice. I don't know why, it's just my favorite if I had to pick. These cookies look like Sally and I absolutely love that!
The fun chocolate stitches on the colorful cookies will look great at a Halloween party. Plus any Nightmare Before Christmas fan will be able to understand the reference right away, don't you think?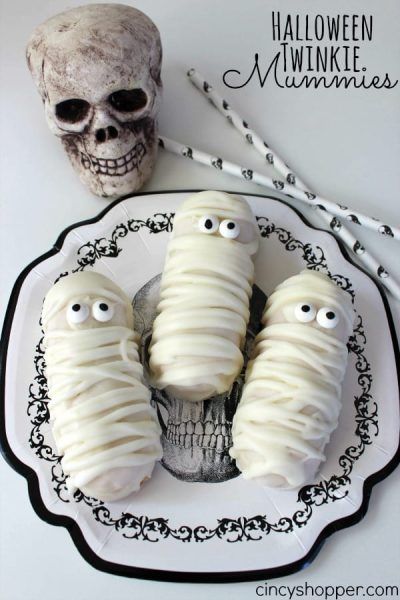 Treats made easy with Twinkies, white chocolate, and eye sprinkles again. Goodness eye sprinkles, you're just too cool for me. Okay, I don't know why I've fallen in love with them, but I have. These fun little treats look a lot more involved to make than they end up being, which is perfect if you have a last minute treat to make but what to be deliciously spookily on theme.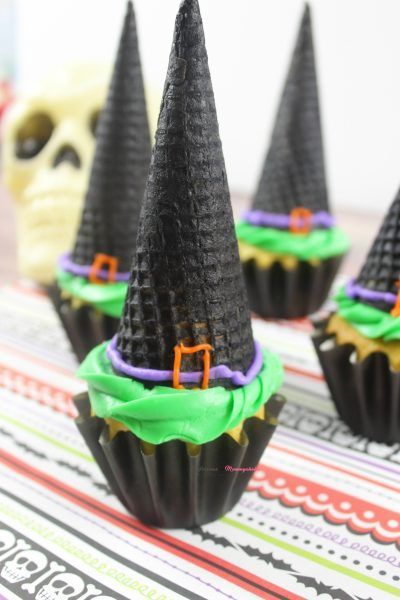 I absolutely love the use of sugar cones in this recipe to make these cupcakes just over the top. You know, because the cones are so big and tall and over the top of the cupcake? … No?
Okay, I'll see myself out. 😉 Kidding!
I think this recipe could be made even more fun if you hide some candy in the cone for the kids to find as a surprise when they take the cone off the cupcake! What do you think?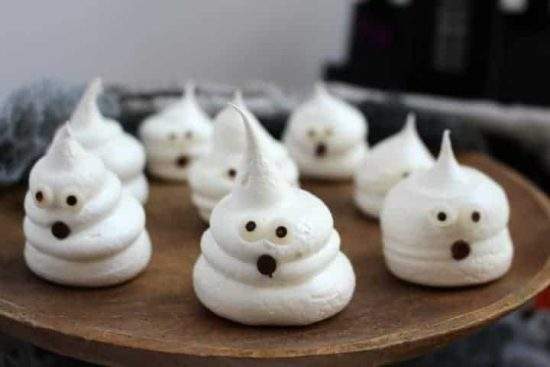 These spooky treats are perfect eaten on their own or used as an edible decoration on something else if you ask me. I love their little faces and just how perfect the little tips at the top of their heads are. Plus yes, of course, the sprinkle eyes again! I think I need to stock up on those.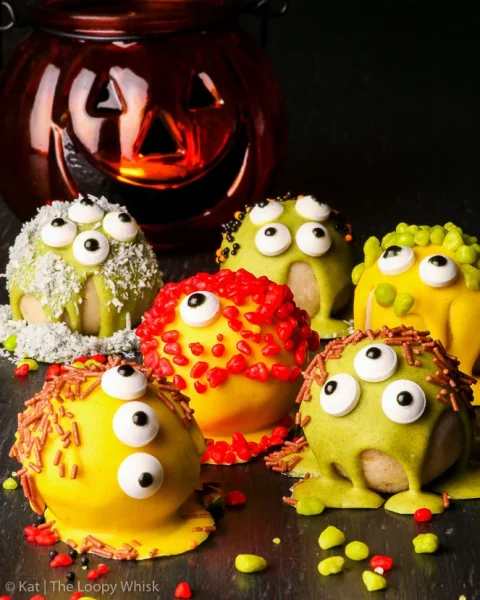 These fun Halloween Monster cake balls can of course be cake pops by adding a lollipop stick, they're also gluten-free and have an dairy free option you can use as well. I love the variety of colors and textures they've managed to come up with using candies and sprinkles for these. What a creepy fun treat to present to your party guests!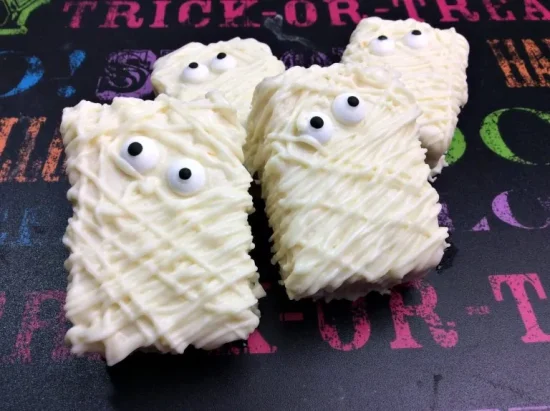 Another fun take on a mummy treat, this time with rice krispie treats and again a white chocolate coating. These are perfect if you have a white chocolate lover in your life. Plus, eye sprinkles, of course. 😉
I can just imagine the delicious crunch of the rice krispie treat on the inside while dressed up in a fun costume on a cold Halloween night. I think these would be so much fun at a school party! Spooky, fun, but not too scary overall if you ask me.
Vampires! I thought there'd be a bit more representation of the spooky, scary, night walking blood suckers at first, but that's okay. These cupcakes fill that void.
On top of that, they're egg free and dairy free, so if you needed something for any allergy or dietary restrictions such as that, these are perfect. Well, I think they're perfect even if you don't have to worry about eggs and dairy to be honest.
These cupcakes are ones your little goblins and ghouls will enjoy taking a particularly spooky bite out of.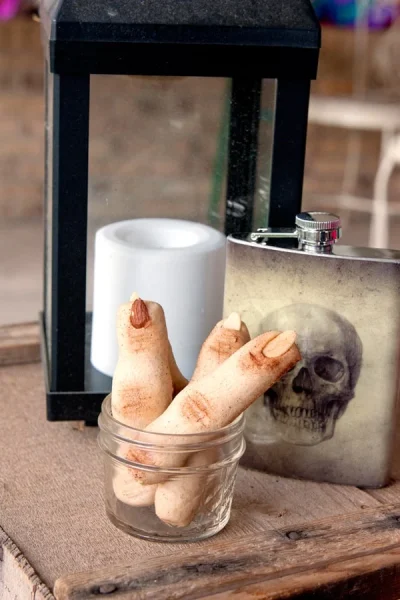 This treat is creepy but awesome! Cookies that look like fingers with a long, sharp, witchy nail! I've had some that were dyed green before, which you could even do with these ones if you wanted. A yummy cookie but are rather creepy. I couldn't resist adding this one to the line up just because I love the overall look and idea of witches fingers as cookies.
Don't let the witch eat your little spookies, let them take the first bite!
Too creepy?
What do you like to do for Halloween with your kids? I think parties can be just so much fun and I love how many ideas are out there to make the holiday even more magically creepy.
Do you have any other Halloween recipes to share? I'd love to check out more if you leave a comment below.