What makes the best duster? A duster may seem like a pretty straightforward tool, but in fact, there are lots of features to consider to choose the best duster for your dusting. The old-fashioned feather duster with its thick plume of feathers emerging from a stick is what many of us think of when we think of dusting. Since it is also the traditional type of duster that we know.
Types of Best Dusters
The image of a maid dusting with a feather duster is ubiquitous. But how functional are the old-fashioned feather dusters? Feather dusters are efficient at removing dust as long as a brisk brushing motion is used.
The mobile feathers can get into little nooks and crannies to whisk out dust and dirt. Feather dusters can't pick up dust, just move it around, so you will need to vacuum or sweep and dust mop after dusting. Feather dusters also require a lot of motion to be effective, and all that movement sends dust into the air where you will breathe it in. You must prepare a cover for your nose.
Furthermore, natural feather dusters cannot be easily cleaned and will tend to accumulate dirt as well as break down over time.
Microfiber dusters work by attracting dirt and dust and holding onto it, so you can pick up the dirt and dust as you clean instead of pushing it around. There are a wide variety of shapes and sizes of microfiber dusters, so you can get dusters for every dusting job at home, in the car if you want a substitute for your missing car mitt, or at work. The microfiber fabric can be machine washed after use so it is fresh and clean every time you go to clean, and the fabric is quite durable.
Since the fabric picks up and holds onto dirt, you can't shake it out between cleaning, so if you have a lot of cleaning to do you will need a lot of microfiber dusters or a wash between dusting.
Vacuum dusters attach to your standard vacuum or function as stand-alone tools to suck dirt and dust into a chamber that can be emptied or disposed of. The versatile attachments allow you to reach lots of places for versatile and quick clean-up. Have one of them in your house quickly.

Top 10 Best Dusters on Amazon in 2023 Reviewed
10. M-jump Retractable Long-Reach Washable Duster Brush
These dusters are a great deal, with three separate dusters for less than $9. Since microfiber must be washed in between uses, having three tools available for such a low price is very convenient. The microfiber fibers grab dust, dirt, and moisture for a sparkling clean with ease. You can extend these dusters for long reach. They are anti-static and can be washed many times without breaking down.
Pros
Very affordable

.

Comes with three

.

Extendable with a telescoping pole

.
Cons
Must be hand washed

.

Dirties quickly

.
---
9. Best Dusters: OXO Good Grips Microfiber Dusters Extendable
This duster is easy to extend with a simple twist, so you can reach wherever you need to effortlessly as you clean. The large head covers a big area with every sweep, for quicker cleaning. You can rotate the head completely to use the clean side of the duster, extending the use possible between washing.
Pros
Microfiber is easily removed from the head for machine washing

.

soft, non-slip grip

.

It Rotates 270 degrees and locks in multiple angles.
Cons
Dirties quickly

.

The metal part sometimes rubs against what you are cleaning

.
---
8. Microfiber Dusters, Feather Duster, Spider Web Cleaner
This microfiber duster has a modern flexible design. The microfiber head is flexible so it can fit into whatever nook you are trying to clean. The fine strands of this duster can absorb all kinds of particles and hair easily and can pack a lot of dirt before it needs to be washed. It won't kick up dirt while you are cleaning.
Pros
A telescoping duster can reach above windows or bookcases

.

Absorbs a lot of dust and pet hair

.
Cons
Must wash by hand

.

Doesn't pick up dirt as well as pet hair and dust

.
---
7. OXO Good Grips Microfiber Delicate Duster

For Cleaning
If you like the finesse of the old feather dusters but long for the dust-grabbing abilities of microfiber, this delicate duster might be right for you. This duster is designed after the old-fashioned feather duster so that no hard pole or metal will come into contact with your delicate knick-knacks. The microfiber picks up dust so that you won't have to vacuum after cleaning.
Pros
Requires less agitation than a traditional feather duster

.

Fine microfiber strands trap dirt

.

Easy pop off the head for machine washing

.
Cons
Catches on anything with sharp edges

.

Less delicate than ostrich feathers

.
---
6. Best Dusters: Swiffer Duster Starter Kit
If you want the dust gone for good so you and your family won't struggle with allergies, this extremely effective disposable duster kit might be perfect for you. The specially coated fibers of the duster lock in dust so it won't be kicked up while you are cleaning. Because dust is locked in thoroughly, you can dust a lot before needing to dispose of the head.
Pros
Comes with one handle and five dusters

.

Picks up dust, dander, and hair better than the competition

.

Great for delicate items

.
Cons
Can get expensive to replace dusters if you dust often

.

The dusting

pad that attaches to the

handle comes loose

.
---
5. O-Cedar Dual-Action Microfiber Duster Set with Telescopic Handle
The adjustable handle of this duster can extend from 24 to 49 inches so that you can reach everything you need to clean. Microfiber technology holds dirt, dust, and moisture easily. The fluffy duster is perfect for removing dust and dirt from more delicate items, while the bendable chenille is great for wet scrubbing. It's also ideal to use for food residues stuck on corners from cookies and crumbles.
Pros
Use dry or damp for versatile cleaning

.

Extendable handle

.

Comes with two cleaning heads

.
Cons
Difficult to exchange heads

.

Flat attachment doesn't work as well

.
---
4. Pure Care Microfiber Duster with Extension Pole
This duster's microfiber head is lint-free and can rotate and bend, as well as being lockable at several angles. This duster can extend up to 64 inches so you can reach everywhere in your home. The huge duster covers large surface areas but can also squeeze into small places. So, you must use the best duster to reach them.
Pros
Head unsnaps for easy cleaning

.

Removes all kinds of allergens

.
Covers a large surface area for a

shorter cleaning period

.
Cons
The plastic

tip of the head keeps fibers from reaching the

smallest corners

.

Should not be machine washed

.
---
3. Best Dusters: Royal Ostrich Feather Duster
Why fix what isn't broken? If you have always loved your feather duster, this quality duster is sure to satisfy you. Natural ostrich feathers are hand placed into this duster so the tiny filaments in each feather can trap dust particles. This duster won't trap dust as well as microfiber, but it is extremely soft and gentle, so it is great for delicate dusting. Now, it's easier to wipe some paper residues from your projects like paper chains.
Pros
Trusted, classic design

.

Handmade with 100% genuine ostrich feathers

.

Attractive color

.
Cons
The handle feels very short

.

Needs to be shaken out frequently

.
---
2. Norpro 24-Inch Pure Lambs Wool Duster with Wood Handle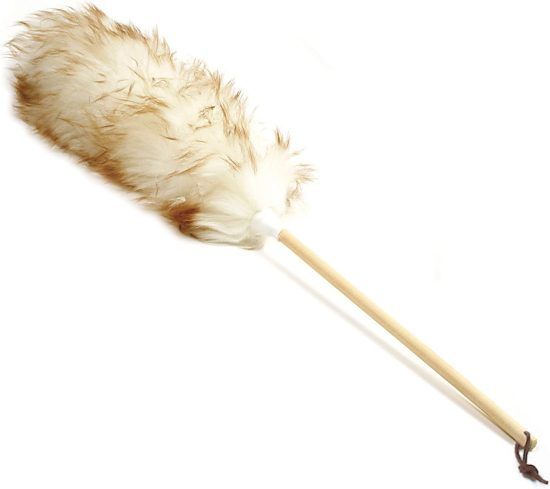 This beautiful natural lambswool duster gives you a natural feel while picking up dust better than a feather duster. The lanolin which exists naturally in lambswool attracts and holds dust similarly to how synthetic microfiber can. The very soft wool will not damage even the most delicate surfaces.
Pros
Durable one-piece wooden handle with leather hanging loop

.

Great for reaching narrow, hard-to-reach places

.

Clean by spinning out dust, no washing

.
Cons
Simply shaking out dust won't get this duster completely clean and it will get dirty over time

.

Duster is easily damaged by abrasive surfaces

.
---
1. Our Best Duster: Jet Clean Microfiber Hand Duster-Feather Dust Appliances
This effective duster includes an extension pole so you can reach from 25 inches to 44 inches for versatile cleaning. The microfiber feathers of this duster sweep a large area for quick cleaning, but can also bend and squeeze into tight and oddly shaped places. This duster is long enough to reach behind and around furniture. This will also be a great duster for cleaning the table after your kids are having glitter crafts.
Pros
Lightweight feathers are good for delicate items

.

Strong enough to last a long time

.

Quick, versatile cleaning

.
Cons
The top of the pole hits against things, but is soft plastic so doesn't scratch

.

The handle doesn't break down, so difficult to store

.
Suggested Read: Spring Cleaning Checklist
The Benefits Of Dusting Your Home
When you think of a maid, you think of a lady in a black and white outfit, holding a feather duster. That might seem cliche, but there's a reason why dusting is such an essential cleaning technique. Here are a few benefits of dusting your home:
1. Avoid Health Issues
Dust might seem harmless, but lots of health issues are caused by it, such as:
Coughing

;

Allergies

;

Asthma Attacks

;

Eye Irritation

;

Sneezing

;

High Fever

.
When you're having these issues, you might not think that dust is the culprit, but that's false. Dust also irritates other conditions like emphysema and other respiratory problems.
2. Dust Is A Pollutant
As you know, dust is comprised of elements like rock, sand, and dirt which can include pollen, dander, and other particles. As you walk through your home, you can stir up dust and fill the air with small organisms that can aggravate your sinuses and respiratory systems.
3. It's Harmful To Your Body
Breathing in small amounts of dust, won't hurt you. However, long-term exposure can cause damage to your body. It can hinder your lungs and breathing. Plus, dust can potentially trigger bronchitis and lung illnesses. You wouldn't want that to happen.
4. Dust Consists Of Toxins
Dust is a product of animal feces, ash, and other particles that float into the air. Pretty much any of the elements in the environment can create dust and settle in your home.
5. Dusting Makes Your Home Cleaner
When dust starts to accumulate, it's an eyesore. Therefore, cleaning on a regular basis will keep your home looking neat and clean. Not to mention, it will create a safer environment for you and your family.
Suggested Read: Quick Home Fixes
Dusting Hacks And Cleaning Tips
Now that you know how important dusting is, here are a few tips and tricks to help you out:
1. Use Dryer Sheets
Believe it or not, dryer sheets are great at collecting dust. Use them to clean your baseboards to easily attract dust while you're cleaning. It makes life much simpler.
2. Use A Pillow Case To Clean Your Ceiling Fan
Ceiling fans are notorious for collecting dust. Not only that, when large amounts of dust particles build up on the fan blades, it looks unattractive. A great way to clean them is to use a pillowcase instead of a duster. By doing so, you can ensure that the dust falls into the case, rather than on the floor. Slide the pillow covering over the blade and gently wipe the dirty area. It's an easy, no-hassle cleanup job.
3. Don't Make Your Bed In The Morning
If you like a nice, tidy bedroom, you might be tempted to make your bed first thing in the morning. However, letting your sheets air out first keeps dust mites from collecting in your sheets and covers. So instead, make a cup of coffee or do another chore before making your bed.
4. Apply Wax
Dusting takes a lot of time and energy. Therefore, it's a good idea to put wax on your appliances to help reduce dust particles. It'll help keep your appliances and other items dust-free for a more extended period of time.
Suggested Read: Tips For New Moms
What Is the Best Duster for You?
If you want versatile, quick dusting, the Jet Clean Microfiber Hand Duster-Feather Dust Appliances, Ceiling Fans, Blinds, Furniture, Shutters, Cars, Delicate Surfaces-Extension Pole Reach 25-44″ has you covered. The microfiber feathers of this duster are light enough to dust delicate knickknacks but sturdy enough to sweep behind furniture or appliances with ease.
The single-piece extension pole won't wobble like competing for collapsing poles. This duster can bend and twist to get into the tightest places with ease, and cleaning is easy with simple hand washing. Use the duster with the extension pole to get the cobwebs in the corners or use the handheld handle to dust easy-to-reach surfaces.
There are lots of things you can do at home, may it be for your home beautification, simple homemade recipes, preparation ideas for upcoming holidays and events, or even just crazy DIY tutorials that you can do while sitting on your balcony bench. Check those out on our website.