[amazon box="B071GLDW4T,B01F49FMCM,B0742B5594,B007VBXB48,B071768FQ3,B00BWU3HNY,B0027A39PY,B004M59O4C,B000P0LNRE,B0788YRV9V,B005BLQTEE,B01178RVI2,B015W8DWUO,B012YWQ9PQ,B0013CDJTS,B00IMMOY28,B000W5R6UA,B00FF93ZF8,B017Y20RI6,B00RF7A1TG" template="table"]
It's always fun to decorate your balcony, porch, or yard! Whether it's for a party, or just to make your home look nice, it'll cheer you up just to look at them.
The nice thing about patriotic decorations is that you are free to leave them up for the summer!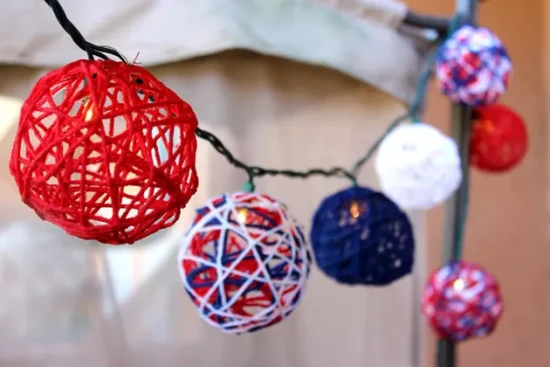 If you haven't made yarn spheres before, you're in for a treat! For this project, you'll need small balloons, around 5 inches in diameter, to make nice round globes.
Inflate them and cover them in vaseline. Mix two parts glue and one part water – this is actually based off of paper mache, but instead of paper, you're using yarn! Soak the yarn in the glue mixture and wrap it around the balloon. Follow the guide and you'll end up with hard wrapped yarn balls. It's super easy to pop in a light from a string of lights into each ball and you'll soon have such cute set of patriotic lights!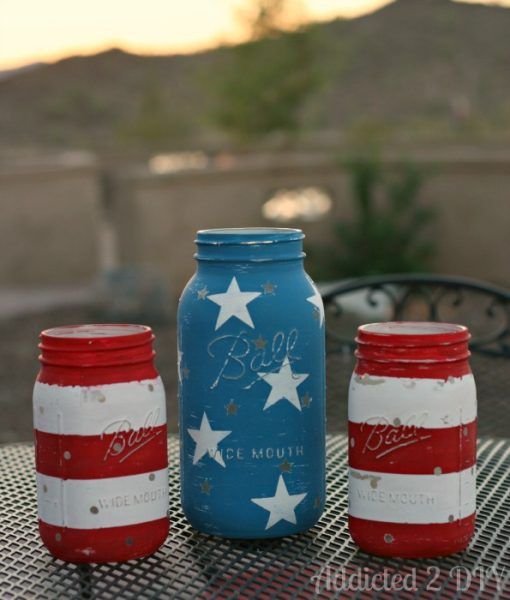 Mason jars are just so much fun to decorate! With a little chalk paint and patience, you too can make these fun patriotic versions.
The secret to these is using start stickers when starting. After the paint dries, you peel off the stars and leave blank spaces on the jar for the flickering light of a tea light to come through on a beautiful summer evening.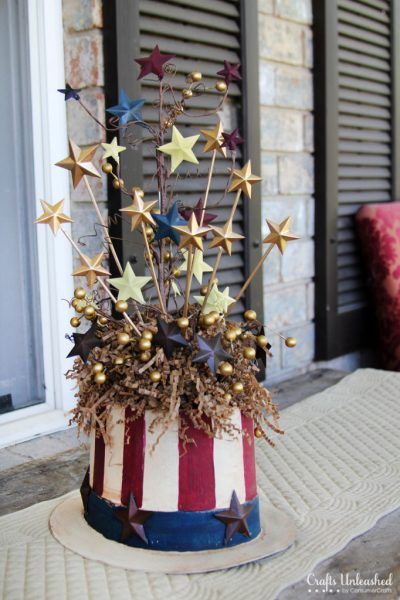 Looking for a patriotic centerpiece for your Fourth of July barbeque? This is the perfect craft to show off your Uncle Sam flair!
To make this craft, you'll need a Paper Mache Top Hat, Acrylic Craft Paint (Deep Red, Deep Blue, Cream, & Brown), Rusted Tin Stars, a Rusted Tin Star Garland, Rustic Red, White and Blue Star Spray, Metallic Gold Berry Spray, Thin Wooden Dowels, Gold Shred, Floral Foam, Hot Glue Gun/ Glue Sticks, Sand-it Gadget, and Gold Spray Paint. If you don't have a Sand-it Gadget, sandpaper will also work!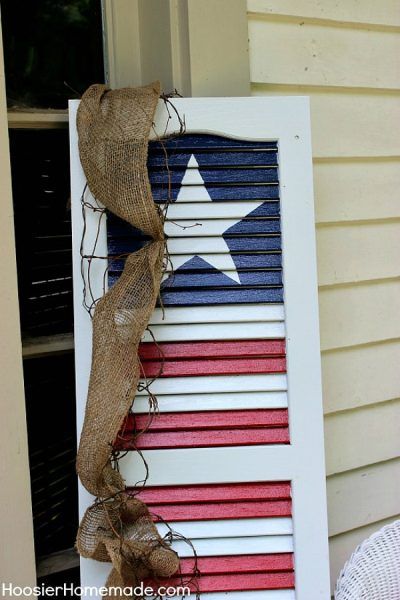 This project is a fun way to use an old house shutter (made from plastic or wood). All you need to do is tape it off and paint it red, white, and blue! Don't skip the primer, either. Of course, you can also cut out a big paper star to make it really feel like fireworks.
You can put this out on your porch and decorate it with some grapevine and burlap, and place some flowers around it, or the patriotic mason jars from above.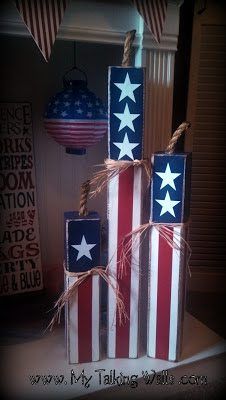 If you're making the patriotic shutter above, you should also try these oversized wooden "firecrackers". You'll need:
4×4 post
White Paint
Blue Paint
Red Vinyl stripes
White Vinyl Stars
Rope for fuse
Raffia
Sander for edges
Ink Pad for edges (optional)
Painters tape
1″ wood boring bit
Glue gun
You'll need something like a chopsaw to cut down the post to different sizes, then follow the directions to paint and assemble them. When you're finished, they'll make beautiful pieces for your front porch.
When you learn how to make these tissue paper "fireworks", you'll be wanting to make them for every occasion! They essentially are folded tissue paper, folded, stapled and cut, then fluffed out to make big floof balls. It's easy to make tons of these quickly, and they make such gorgeous decorations for any event!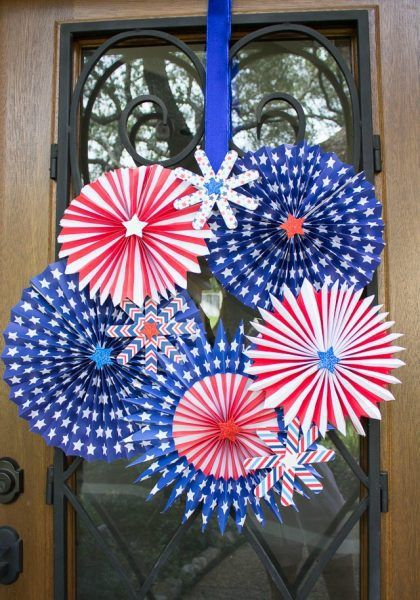 If you're in a hurry, this is a great craft that has a shortcut – using premade patriotic pinwheels from the craft store and assembling them together to make a patriotic wreath.
The page for this also has a guide for making your own pinwheels if you want to go the 100% homemade route! Add in "fireworks" made from popsicle sticks and some glittery stars with a hot glue gun to make a cohesive, beautiful patriotic display for your front door. You neighbors will be so jealous.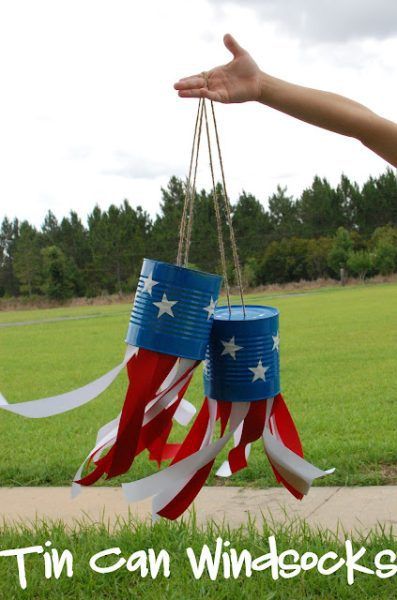 This is a fun craft to do with the kids! You'll need a couple of tin cans, bigger ones are nicer, but regular soup cans are fine. Spray paint them and affix star stickers. Poke two holes in the cans and carefully wind through thick ribon and twine. The twine is for hanging the windsocks when they're finished.
Did you know a windsock is mostly used in airports to quickly see wind speed and direction? These are mostly decorative, or they'll definitely fly around if its windy enough!
Table runners are a great and inexpensive way to make a dinner or buffet look thoughtful and nicely decorated. Instead of buying a table runner, why not make your own?
Start with burlap, stitching the sides so it isn't too frayed. Then you can either buy or make star stamps. Of course, paint soaks right through burlap, so be sure to put down newspaper or something on the other side. You can use any kind of paint for this craft. Just stamp your stars until your satisfied, let it dry and wow! You have a beautiful table runner for your patriotic get together.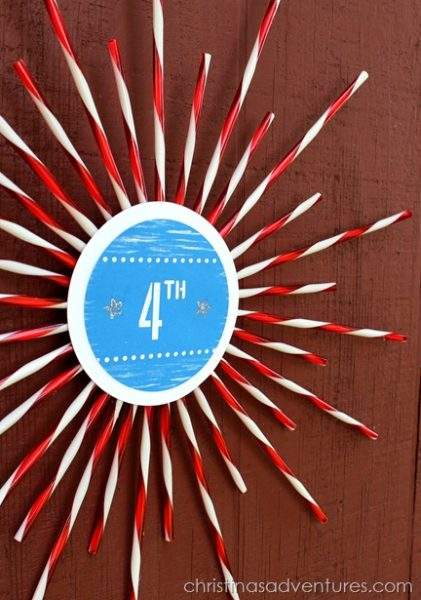 This is a fun craft that's quite fast to make. All you need is to hot glue paper medallion onto straws, then hot glue a ribbon loop to the back of the cardboard. You'll also need some stencils and paint for the "4th" in the middle, though you could easily use a vinyl sticker instead.
We think these would look great over a table for a Fourth of July barbeque or to decorate a drab room or even for a prop for a summer photobooth!
Bandanas are very inexpensive, you can often buy 2 or 3 for $1, and make a fun and easy way to wrap silverware for your Fourth of July party. The author also offers a few more uses for red, white, and blue bandanas, like wrapping party favors or wrapping up an apple pie you're bringing to a potluck. It's a fun reminder that sometime you don't need to paint and glue to decorate for an event.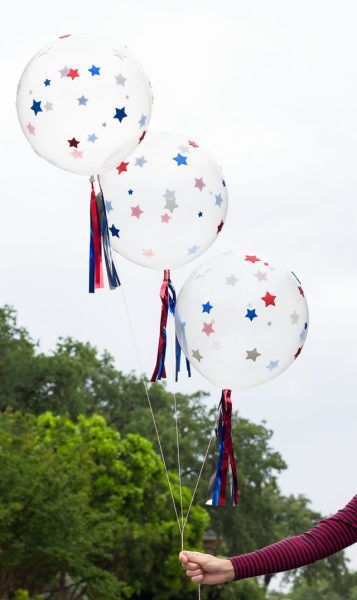 This post has great ideas for using balloons as a decoration for the Fourth of July. For example, using clear helium quality latex balloons, using big balloons that can hold the weight of stickers, and how buying a Balloon Time portable helium tank will save you time and money!
One way to decorate your balloons is to glue on foam star stickers, then glue on red, white, and blue garland cut short to make a fringe. What's more summer than balloons?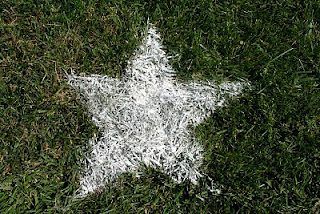 This is just a fabulous, fun project to do with kids. It makes a huge statement, but its completely temporary and the stars will disappear overnight.
Cut huge stars out of big cardboard or pizza box tops. Spray them, using them as a stencil, with water over grass or the sidewalk. Then toss flour or crushed chalk to make large decorative stars all over your yard, or as a path to your party.
These look impossibly difficult, but thanks to printable templates from this site, you can make them at home! Just print them on text weight colored paper, follow the directions to cut and bend, dot them with your hot glue gun, then tie them up as fancy decorations.
DIY Patriotic Outdoor Garland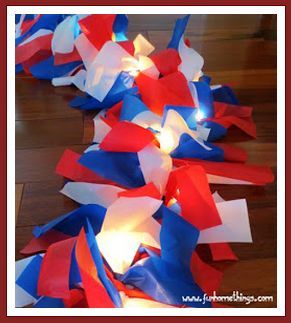 You can easily make this gigantic garland that would cost a fortune to buy in stores. You'll need 3 large sized red, white and blue plastic tablecloths, a string of 100 clear lights, and scissors. Cut the tablecloths into roughly ruler-sized strips. Sit with some friends and tie the strips one by one to your string of lights. When you're finished, hang them and be ready for the palpable excitement you'll feel when you see the lights flickering under the colored strips.
Most of these crafts use repurposed materials or things that can easily be purchased at a dollar store. You can also keep an eye out for materials at your local secondhand store like Goodwill. Start with an easy project, like the light and plastic tablecloth garland before moving on to harder DIYs.
As the summer heats up, why not work on one of these patriotic outdoor crafts outside with some family and friends? Whether with your kids, your partner, or your best mates, you'll feel a great sense of fun and accomplishment when you see your final product displayed for all to see. You don't need to spend a lot of money, and your guests and passersby will definitely appreciate your effort to cheer up your neighborhood!
[amazon box="B071GLDW4T,B01F49FMCM,B0742B5594,B007VBXB48,B071768FQ3,B00BWU3HNY,B0027A39PY,B004M59O4C,B000P0LNRE,B0788YRV9V,B005BLQTEE,B01178RVI2,B015W8DWUO,B012YWQ9PQ,B0013CDJTS,B00IMMOY28,B000W5R6UA,B00FF93ZF8,B017Y20RI6,B00RF7A1TG" template="table"]