Happy fall, y'all! I don't know about you guys, but I love making autumn-themed crafts with my kids. From Jack-o-lantern cutouts to paper chains sporting fall leaves, we do it all around here on the homestead. So, why won't you try some fall crafts for children? I promise your little ones will love them!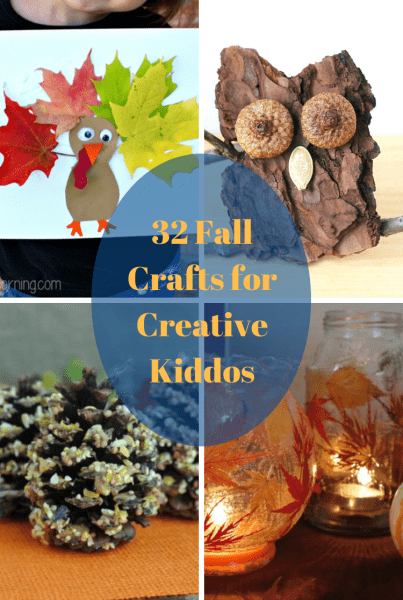 Fall Crafts for Children: 32 Autumn-Themed Project Ideas
It really doesn't matter if you're a homeschooling family or simply looking for fun weekend crafts to do with your children, this list is for all family types. When the weather starts to get crisp and cool, it's time to break out the hot glue gun.
You'll find over 30 different crafts for creative kiddos in this post that'll be sure to put a smile on your face. Are you ready to get started? Great! Let the creative juices flow!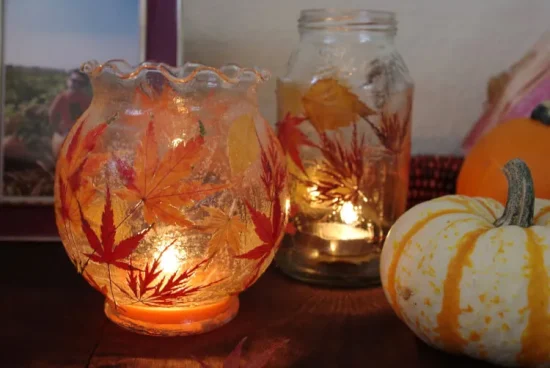 These fall leaf lanterns are gorgeous! Seriously, would they not make the perfect gift for a friend or family member? I know that if my kids made these for grandma, she'd be head over heels.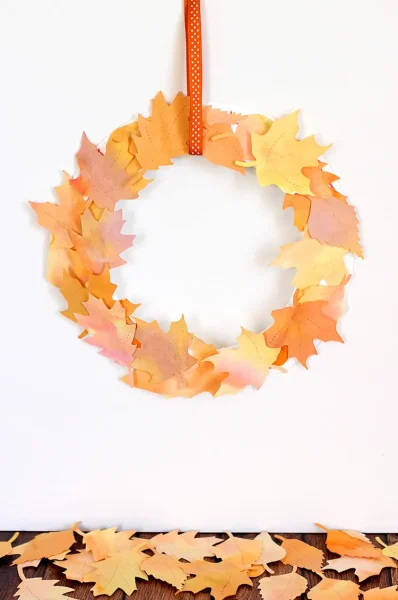 This is a great craft for kids of all ages. It isn't too terribly difficult or labor-intensive. You'll have a sweet-looking little wreath to hang on your door that welcomes the fall season with a bang. Isn't this wreath adorable?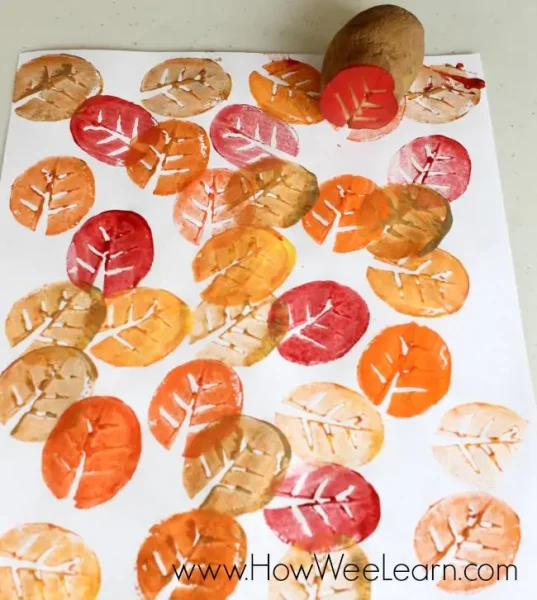 I don't think fall crafting gets any easier than this. Fall leaf potato stamping is the perfect project for your preschooler. It's easy, hands-on, and allows your wee one to get in touch with his creative side.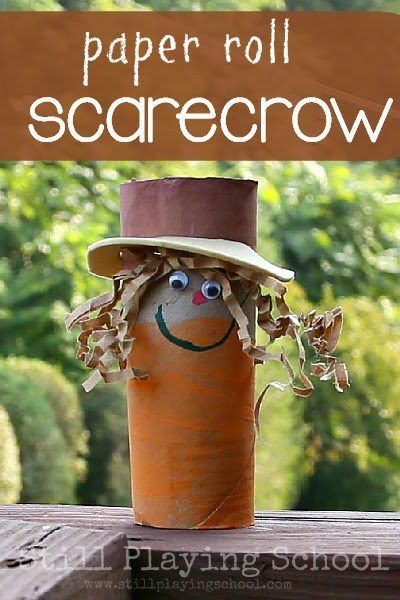 Have you ever wondered what you could do with empty toilet paper rolls? Well, you can make crafts for creative kiddos with them! Add a little hat, some googly eyes, and some paint and you're ready to rock the fall season.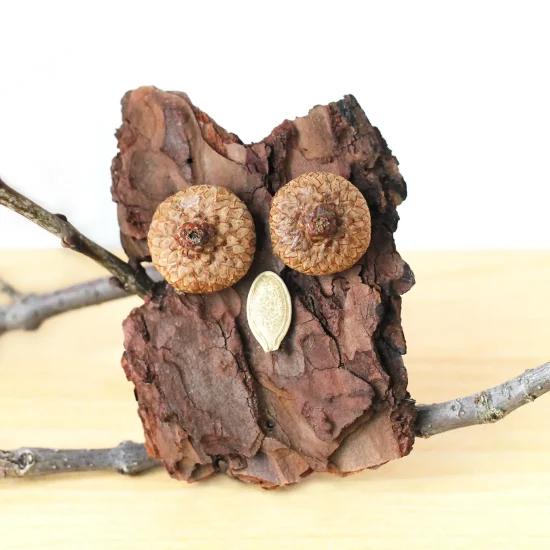 You'll never look at pieces of bark in your yard the same way after you and your kids make this fun little project. Bark owls couldn't be cuter! I love this craft because it uses materials straight from nature.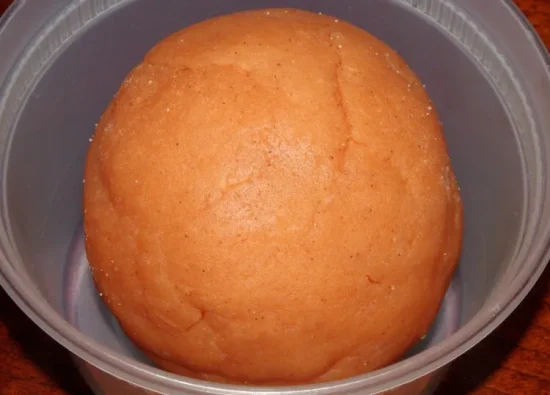 Do you smell that? It's the sweet scent of pumpkin pie playdough. The only downside about this craft is that it smells good enough to eat. We don't recommend taste testing the playdough, no matter how badly you or your kids want to.
This is a great fall-themed craft for your little kiddos who are learning fine motor skills. Not only is the craft cute to make but it helps encourage your child's hand/eye coordination, too.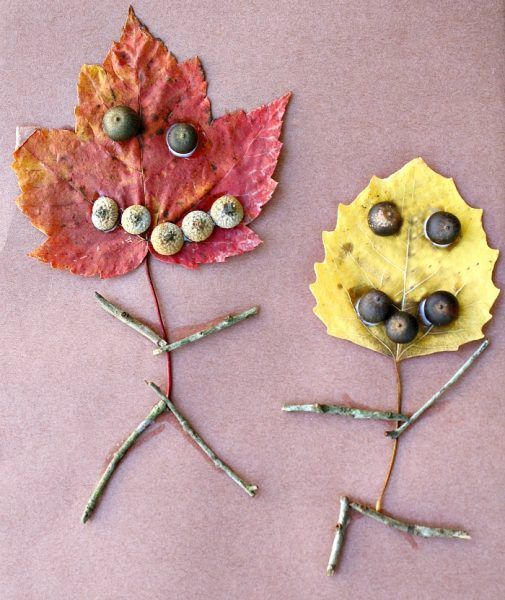 Another adorable fall craft that allows children to utilize materials from outdoors. Use pebbles, seeds, and nuts to create smiles for your leaf people. The world is at your fingertips.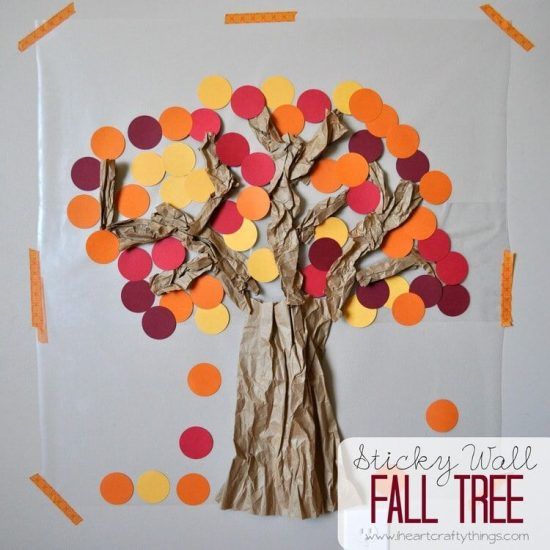 Decorate your walls with a fall tree made from sticky contact paper. Don't worry, it comes off, easily. Let your kids be interior designers for a day.
A super simple craft made from recycled toilet paper or paper towel rolls. This project only takes a few minutes to construct so it's perfect for kids with short attention spans. I like to make this with the preschool and kindergarten Sunday school classes.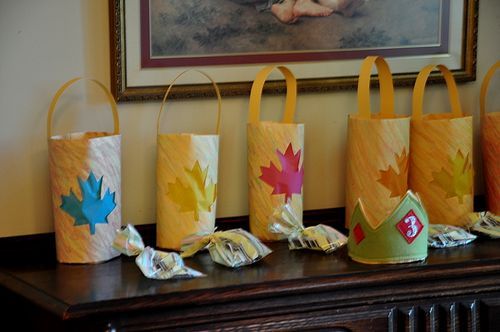 These little paper lanterns are the epitome of fall-themed crafting. You've got adorable leaf cutouts adorned in autumn-esque colors. What could be better? I love to display my children's artwork and these little lanterns always go on the windowsill.
This project is more on the Halloween side rather than strictly fall, however, it is so cute I thought it deserved including. If your kids are anything like mine, they totally dig glow sticks. These luminous brooms will light up your life, this fall.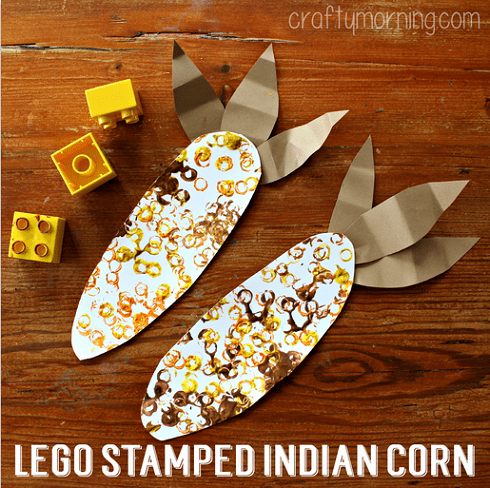 Finally, Legos are good for something other than laying all over the floor! Hook your kids up with some paper and paint and watch them create some of the prettiest corn on the planet. These little guys are worth displaying all over the home.
This is a craft that I remember making when I was a child. It was a lot of fun, which is why I'm so excited to be sharing it with my kids. You'll have fun hanging these from the trees with your brood once they are complete.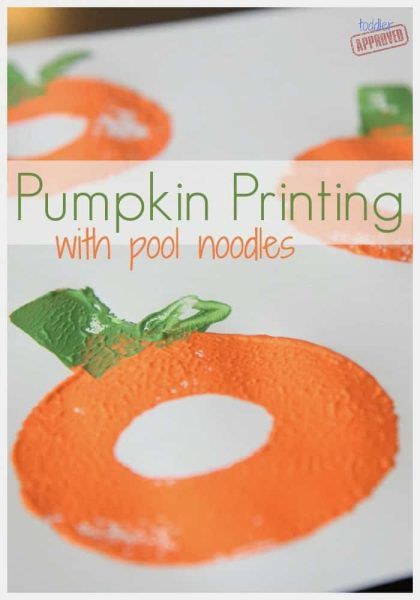 Don't store those pool noodles away for the season just yet! You can use them to make cute little pumpkin prints. Did you know that a plastic spoon works well for making leaves, too? This is an easy craft for your youngsters.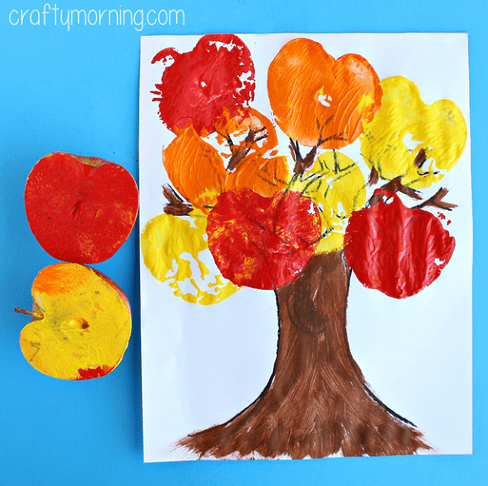 I can truly remember doing this craft in preschool. One of the other kids took a bite out of one of the apples that was covered in paint. Hopefully, you won't have the same issue with your kiddos. Use non-toxic paint just in case.
A great way to get rid of some egg cartons and create a cute fall craft. These acorns are adorable and make wonderful gifts for teachers, friends, and neighbors. Your kids will have a blast making them.
Perfect for your fall centerpiece or sitting on the mantel, these tin can pumpkins are nothing less than darling. This project is better off completed by the elementary-aged child, but little ones can certainly help the big kids.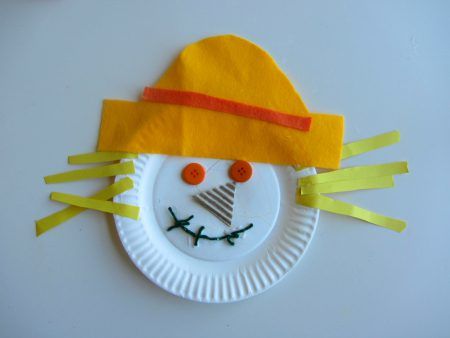 A simple and fun project for kids of all ages, paper plate scarecrows are a real scream! You can use large paper plates or small snack plates. The way you decorate your scarecrow is completely up to you and your kiddos. Have fun!
This owl is so much fun to make! Create realistic-looking feathers using the end of a celery stalk. How innovative is that? Proudly display your owl in the front room window or on the door as a fall decoration. Kids love this project!
This project is loads of fun for littles! Yes, it tends to get sort of messy, but hey, you're only a kid once, right? The best paints to use are orange, red, yellow, green, and brown is you're sticking with the fall theme.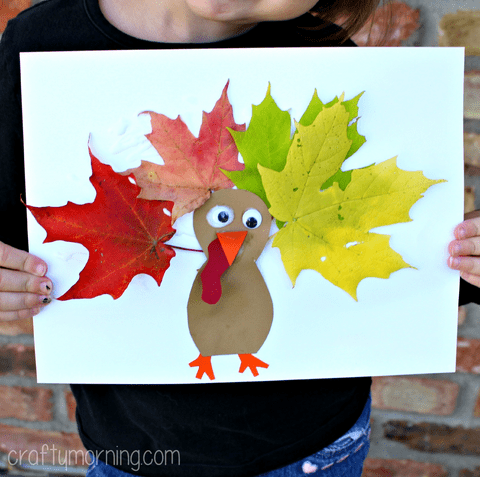 A cute little craft that lets you use freshly fallen leaves to create turkey feathers. I like to have the kids make this craft as Thanksgiving approaches. It's fun, gets them outside to collect their leaves, and the finished product is adorable. Gobble, gobble!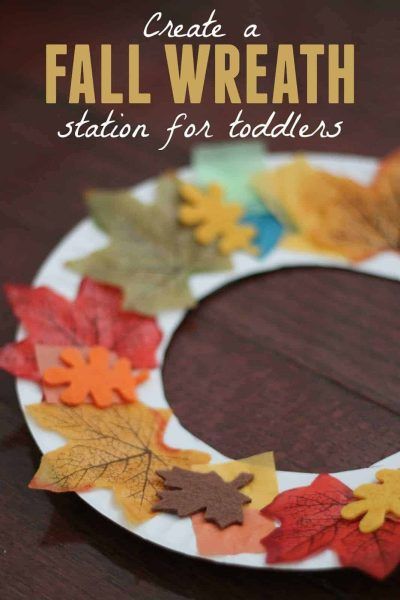 This fall wreath craft is geared more towards toddlers. It's perfect for little ones because you set out the leaves and shapes for them to stick on their paper plate wreath. Basically, the wee ones get to choose what they want on their wreath and stick it to the glue. Easy peasy!
This is another great fall craft for the younger kids. Little bits of scrunched-up tissue paper can really make a paper pumpkin look neat. Watch your toddler's eyes light up as she creates a special decoration for the wall or door.
These little pinecone hedgehogs are too cute for words! Talk about epic crafts for creative kiddos! I think my kids made about 30 of these little dudes last year around Halloween. We passed them out with candy to some of our favorite trick-or-treaters as a little bonus surprise.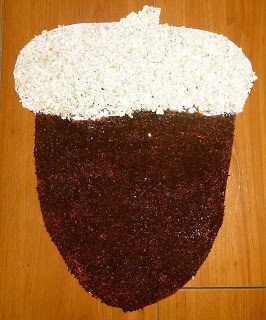 This project is fun in so many ways! For one, it smells amazing and for two, your kiddo gets to cover his or her acorn with glue and then sprinkle oatmeal and coffee all over it. I think mom and dad will enjoy this project, too.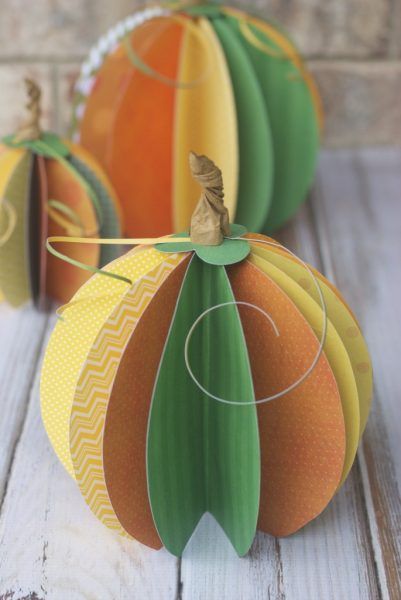 These paper pumpkins are so cute and colorful! I like to hang them from the ceiling in our breezeway. You can also allow them to sit on the table as a lovely fall centerpiece. Kids love seeing their artwork on display.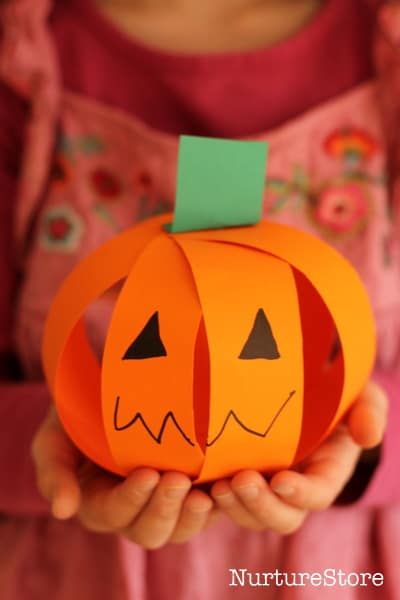 Here's another simple little fall craft for the 3 and 4-year-olds in your life. These fun pumpkin cutouts are great for kids who are developing their scissor skills. Plus, who doesn't love a happy pumpkin sitting on their table?
This is more of a big kid craft, but with a little help, your wee ones can create a fall tree luminaries, too. These jars look so sweet when placed on a windowsill. You and the kids will have fun going outside to see what their artwork looks like from the sidewalk.
How adorable is this project? No matter how young or old your child is, you'll always enjoy getting a project that uses their handprints. A fall-themed craft like this one will be cherished for years to come. Yeah, it's a tad messy, but it's nothing a little soap and water won't clean off.
So, this craft is a bit more labor-intensive and is probably best suited for older kids, however, it is worth making. After all, what's the fall season without football? You can even go as far as to stitch on your favorite team's logo.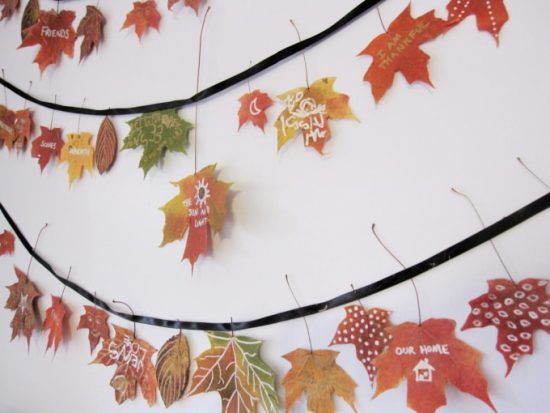 I really like this craft! When we created the leaf garland we treated it as a group effort. No one made their own garland, we simply made a large string of it together and draped it around the perimeter of the dining room. Yes, it was huge. Ha! Have fun making this garland with your kiddos.
---
What Is Your Favorite Fall Craft for Children?
Did you enjoy this list of crafts for creative kiddos? I know I sure enjoyed making it! These 32 craft ideas are sure to bring some fall-themed joy to your household. We've got all sorts of things both the little kid and big kid, alike.
Which craft will you make first? I think, this year, I'm going to shoot for one craft a day. I homeschool so it is a totally doable project for our daily art lessons. Even if you don't homeschool, these crafts are perfect for working on during the weekend. Happy crafting, friends!