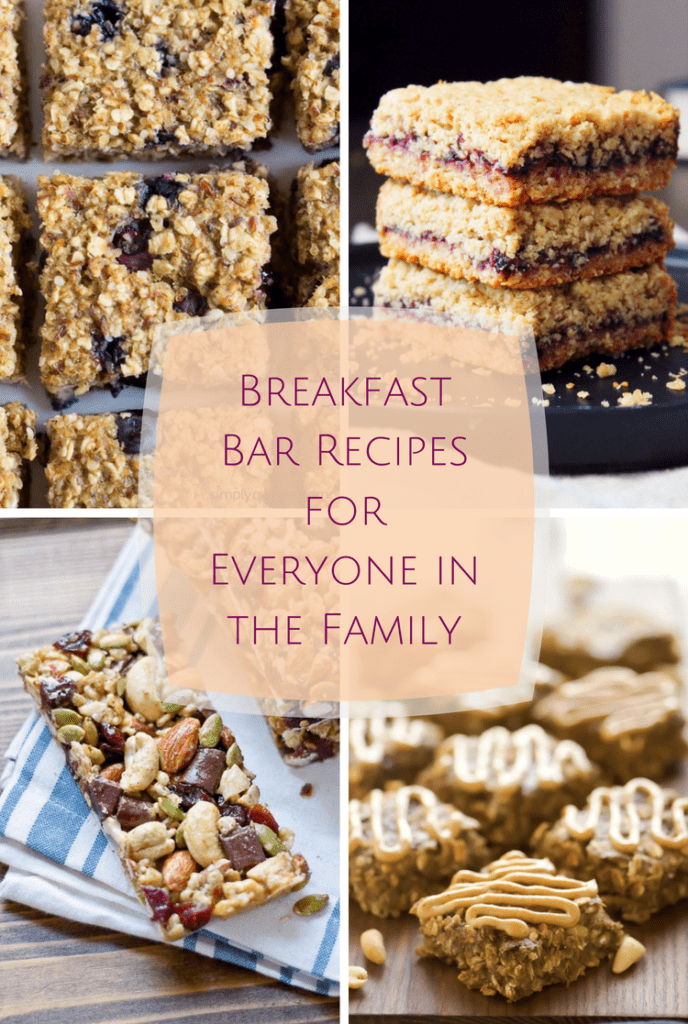 One should not attend even the end of the world without a good breakfast.

Robert A. Heinlein
Breakfast is the most important part of the day! That doesn't mean you have to skip it if you're on the go. Here are some amazing breakfast bars you can make yourself. Skip the high cost and additives of premade breakfast bars for the whole family by making your own ahead of time!
Blueberries contain fiber, potassium, folate, vitamin C, vitamin B6 which are great for your body, especially your heart and digestive system. Fiber helps reduce cholesterol in your blood and decreases the risk of heart disease!
Quinoa is a recently discovered (in the West) superfood that's particularly good for its high protein. Combine quinoa and blueberries in these super tasty breakfast bars to make a c you can feel good about eating any time.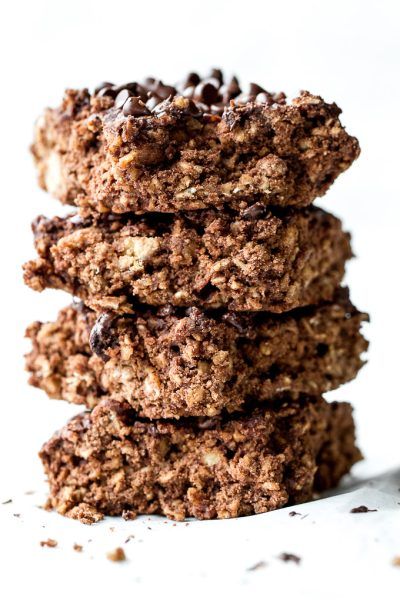 Brownies for breakfast? Sure! These have a ton of oats and almond, which are both great for feeling satiated and getting a lot of protein-energy to get your day going. Cocoa, especially the good, less processed kind, also has great health benefits.
So don't feel bad, eat your brownies for breakfast or whenever!
Lutein and Zeaxanthin are a type of nutrient, not a weird alien language! Zucchini is rich in them – they are two kinds of phytonutrients from the carotenoid family, the same nutrient family as beta-carotene (the carrot one), a source of vitamin A. Lutein and zeaxanthin help give us healthy eyesight. They filter light rays when enter your eye, protecting them from harmful rays that damage your eye tissues.
For these bars, combine very ripe bananas, shredded zucchini, maple syrup, vanilla extract, oats, peanut flour, salt, cinnamon, baking powder, and baking soda. The peanut butter frosting is made from peanut flour and water.
Yum!
Did you know Michigan has around 35,000 acres of tart cherry trees? It grows almost 75% of the tart cherries produced in the United States. Wow!
These are a much better version of store-bought nut and fruit bars. You'll need raw cashews, raw almonds, tart cherries, rice cereal, pumpkin seeds, chocolate chunks, salt, flaxseeds, brown rice syrup, and almond butter to whip these babies up.
Bake them for 15 minutes then chill before cutting them into yummy bars that you can eat all week.
Do you love carrot cake but hate baking? These bars are for you! They are paleo and grain-free, so what's not to love? This recipe also comes with a variety of frosting options, depending on what you'd like.
Of course, we know that carrots are good for you, but did you know that they used to be used for treating wounds? Carrots were used long ago as the main kind of poultice, which was applied to wounds to heal them.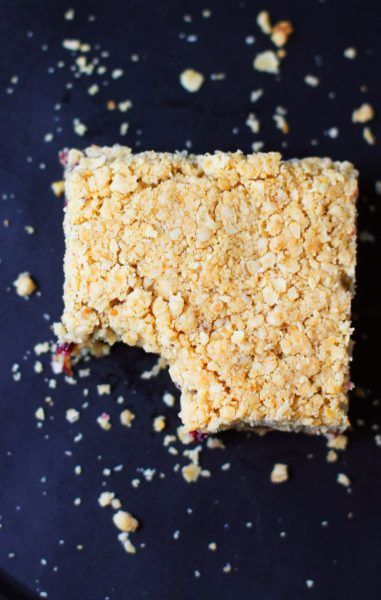 If you ever have the chance to visit Seattle, you'll notice it is covered in blackberry bushes. A man named Luther Burbank planted them here to sustain urban cities and the environment has made them a bit of a weed that covers the city. Locals call the breed of blackberry marionberry.
Burbank was right that blackberries are a highly nutritious fruit that could benefit anyone. Blackberries have high levels of vitamin K that can act as a muscle relaxant. They have higher levels of antioxidants than blueberries.
They have something called ellagic acid that is considered to be anti-viral, anti-bacterial, and anti-cancer. Sheesh, what a miracle fruit!
Give this blackberry bar recipe a try and get healthier today.
Lemon Coconut Breakfast Bars
Lemon bars are such an awesome dessert, and these coconut lemon breakfast bars are a sneakily healthy version. They're also paleo, which is awesome. You'll need coconut oil, mashed banana, honey, vanilla, coconut flour, lemon juice, grated lemon peel, and shredded coconut.
Bake them, then score and cut them into bars and chuck them in the freezer since they're a bit gooey. The cold with the citrus flavor makes them a refreshing treat
Spices have a lot of health benefits, but we tend to miss out because we buy stale, low-quality spices that are also somehow overpriced. Skip all that and buy them bulk at a health store or ethnic grocery. You'll end up paying about the same price for fresh, organic spice packed with health benefits. Like did you know that cardamom is used for digestion problems like heartburn, irritable bowel syndrome (IBS), constipation, diarrhea, intestinal spasms, liver and gallbladder problems, and loss of appetite? Ginger is another super hardy root that should never be bought dried…it can easily last for a month with no issues.
This recipe also uses plant-based protein. Protein has been a big part of diets lately, because it helps maintain and lose weight, stabilizes your blood sugar, improves your ability to learn and concentrate, reduces "brain fog", increases your energy levels, supports your muscles and bones, and helps your body absorb important nutrients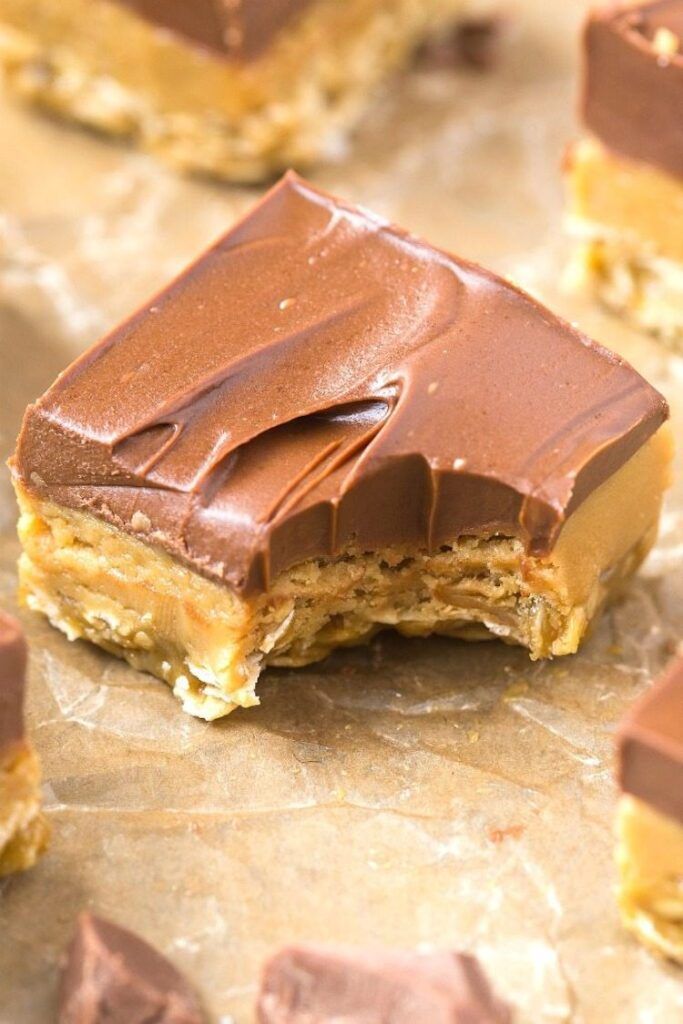 Did you see recent news that commercial peanut butter may have up to an "average of 30 OR MORE insect fragments per 100 grams" and an "average of one OR MORE rodent hairs per 100 grams." The FDA lists the "significance" as "aesthetic." Ummmm….
Skip all that by making your own peanut butter! Most grocery stores let you grind your own in the bulk section. Or you can make your own with a food processor!
Use your homemade peanut butter in these tasty chocolate and peanut butter bars that taste very similar to Reese's cups. Nice!
Who doesn't love pumpkin pie? Don't banish it to a once-a-year Thanksgiving treat! Make these pumpkin pie bars instead.
You'll need granola, coconut oil, pumpkin puree, eggs, milk, greek yogurt, maple syrup, pumpkin spice, vanilla, and salt.
This recipe is so fast and easy, you'll want to make it all the time!
Hummingbird cake is a spice cake served in the South that has crushed pineapple, mashed banana, and pecans, topped in cream cheese icing.
This is a much healthier take on hummingbird cake that you can eat every morning. You'll need pitted Medjool dates, pecans, dried pineapple, banana chips, chia seeds, and cinnamon. Just mix and press into a thick sheet and refrigerate. They make awesome no-bake bars!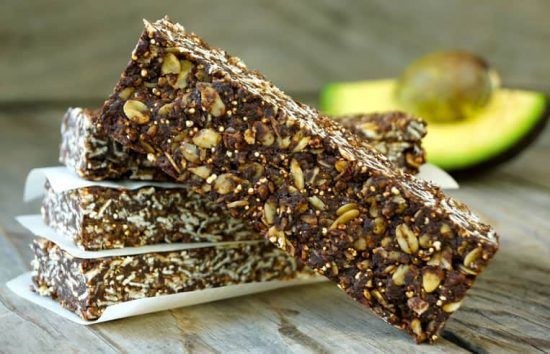 Dark chocolate is rich in cocoa solids, which have compounds known as flavanols. Cocoa flavanols have been shown to help lower blood pressure and cholesterol, improve cognition and possibly lower the risk of diabetes. The more processed and less dark the chocolate, the fewer benefits they contain. But, yes, you can healthily eat up to an ounce of dark chocolate a day!
Mix oats, almond meal, shredded unsweetened coconut, salt, coconut oil, amaranth, dark chocolate, avocado, and honey and bake to make these tasty, health-packed breakfast bars that'll keep you going through the morning.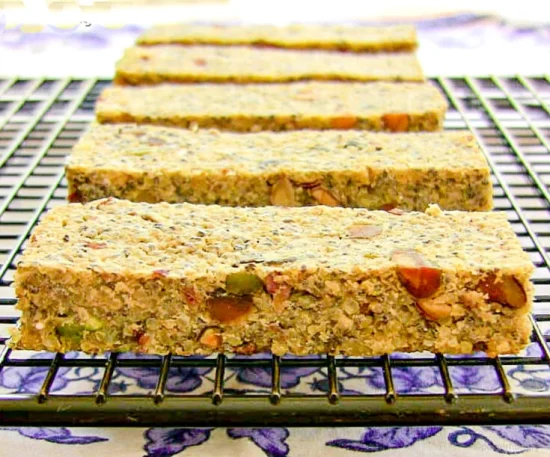 It's hard to find truly savory power bars. Even salty peanut ones tend to have honey or chocolate. These have oats, pea protein powder, quinoa, chia seeds, roasted, salted pistachios, roasted, salted almonds, salt, almond milk, black pepper, and parmesan cheese. Nothing sweet here, baby!
More savory bars! These have a meditteranean, sun-dried tomato and olive flavor that will have the family begging for more!
You'll need oats, salt, oregano, basil, chili flakes, nutritional yeast (or parmesan), flax, tomato paste, sun-dried tomatoes, black olives, cashews, and nut milk.
Did you know black olives have monounsaturated fat aka the "good" kind of fat? They can reduce the risk of cardiovascular disease, increase brain function, and increase longevity!
One last yummy, savory breakfast bar for you! Did you know rosemary is another one of those foods that can speed up wound healing (like the carrot). It also helps keep your scalp clean and cures dandruff. No idea if it works if you eat it!
Pecan and vinegar and salt harmonize with a little sweetness from dates, and a little salt, and a little hot sauce….yum! Give these a try ASAP!
Whether you want a quick sweet breakfast bar for when you're on the go or a savory bar for adding a protein-packed treat to your everyday diet, we've got you covered! Bars are a great way to pack in a ton of nutrition and to have something on hand when you're hungry, so you don't stray off into unhealthy options. A lot of these recipes take around 10 minutes to make, minus the baking/cooling, so why not give them a quick try and see how you feel?