Thank you to Flora Craft for sponsoring this post!
Spooky Head Frames are simple to make and are the perfect creepy Halloween Decor for your home or a Halloween Party!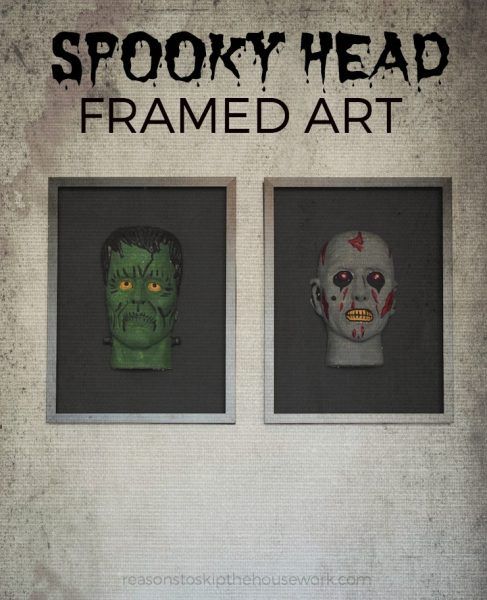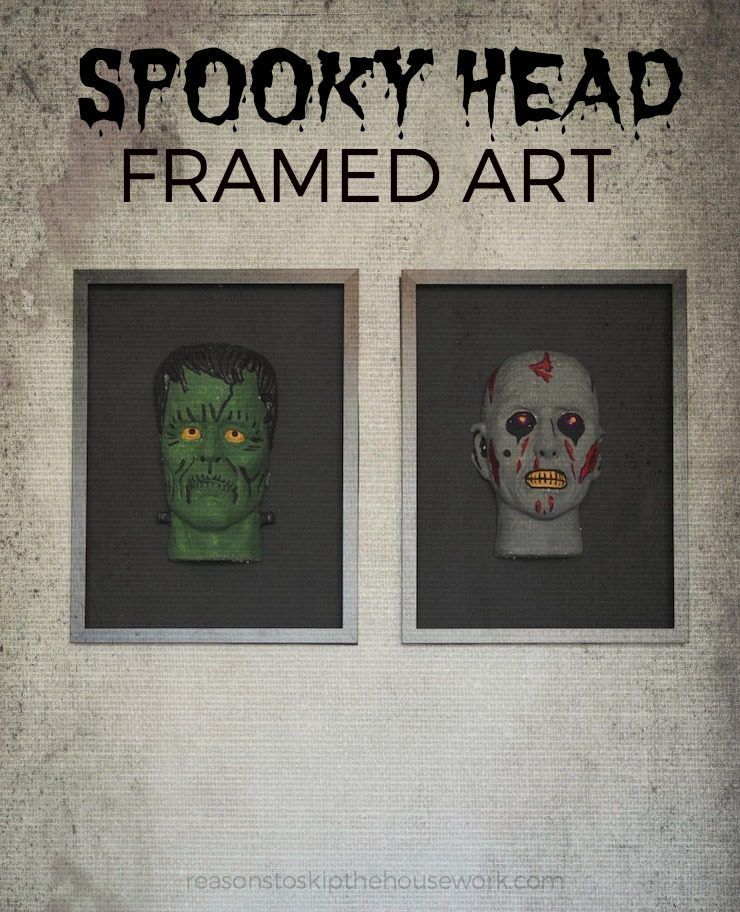 When I received a box of FloraCraft® Foam Heads for this month's Make It Fun Team Challenge, I worried a tad!  I am not the best "spooky" decorator, but then I had a girl's night out to Carlos O'Brien's Mexican Food Restaurant and was inspired to make these Spooky Head Frames and they are the coolest "spooky" decor ever!
The restaurant I visited with my girls had some really cool (probably really expensive) ceramic Day of the Dead heads on the wall, with frames around them.  It inspired me to make these "fun" spooky head frames with my FloraCraft® Foam Heads!
To make your own Spooky Head Frames, you'll need:
acrylic paint (green, black, white, yellow, grey, red, and any other creepy colors you want!)
foam brush and various small detail paint brushes
Foam Cutter
Simple Frames
Black poster board
double sided foam tape
First, you need to paint the foam heads.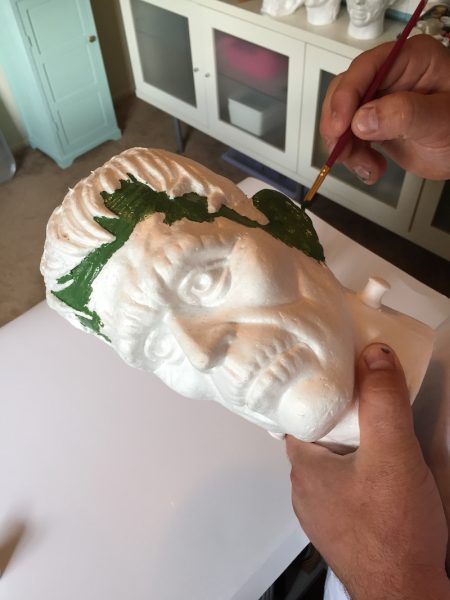 I was too worried I wouldn't have any creativity so I had my mister paint Frank, but I have to say, once he started, and followed the lines on the mold, I saw how easy it was and started to paint the Zombie myself.  There are ridges and edges on the foam heads that make it really easy to get the desired look!  It was so therapeutic for both of us!  Peace and quiet and those silly heads!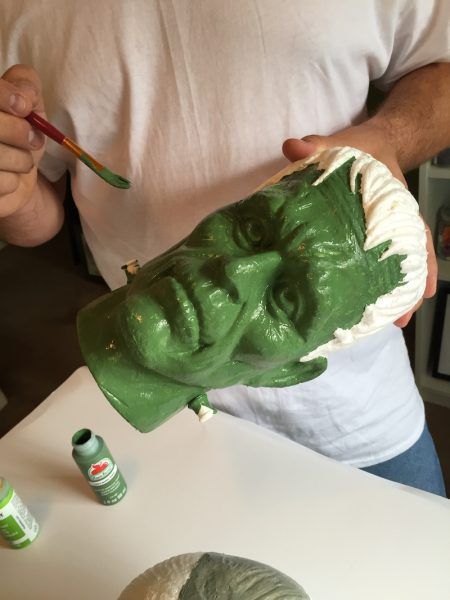 After adding all of the details and letting the foam heads dry,  you'll want to cut the heads in half.  You may lose part of an ear, but it's all part of the effect, so it's ok!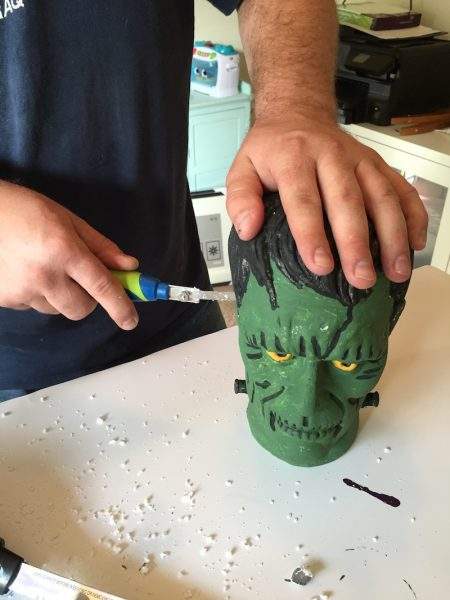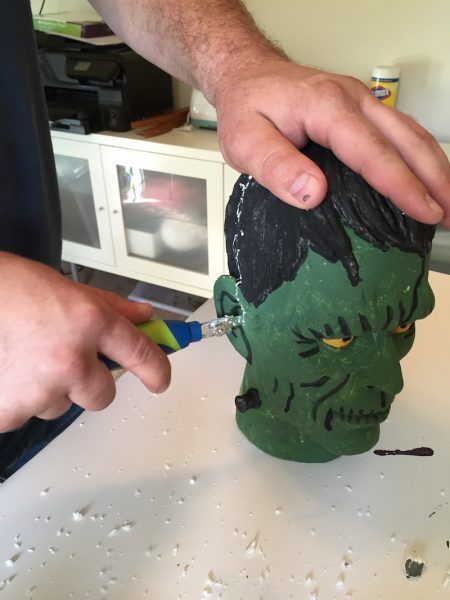 For the background of the frame, trace the frame on the poster board and cut it out so it's the exact size of the frame.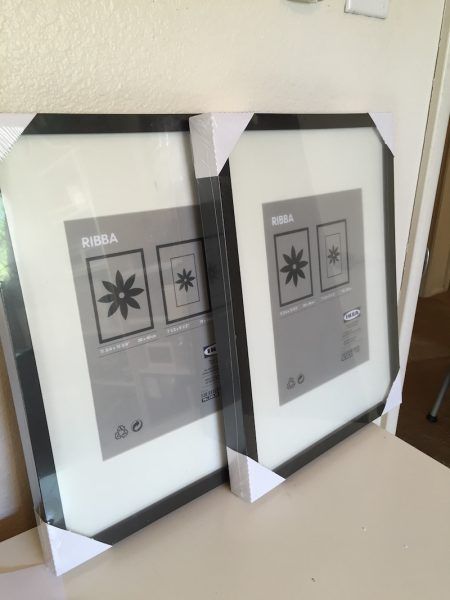 You may need to paint the insides of your frames if you get IKEA frames.  Since I wasn't putting the backing at the front of the frame, the insides became visible, but it took 3 minutes to paint both frames so it was a fast step!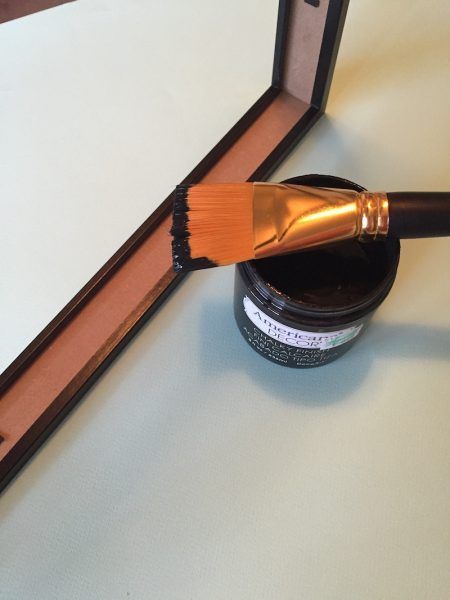 Add double sided foam tape to the back of the empty frame and place the poster board onto the tape.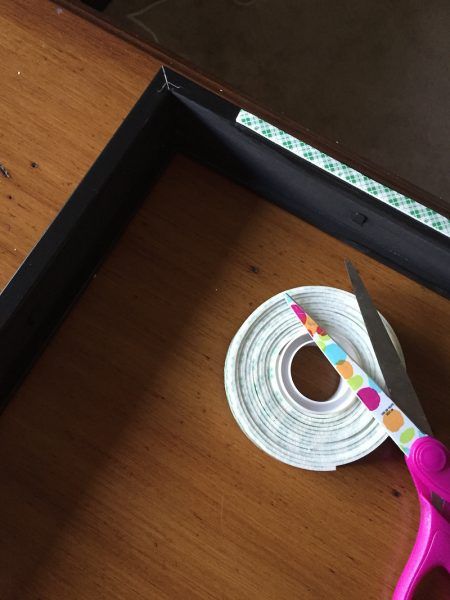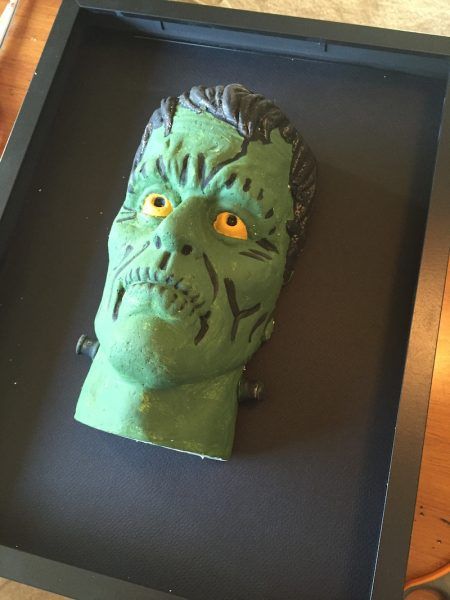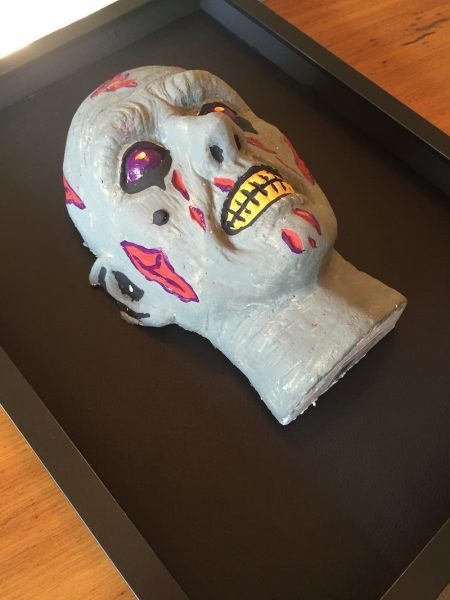 Place another piece of double sided tape onto the back of your head and place the head in the middle of the frame opening.  Poke a small hole in the back of the poster board and hang on a nail.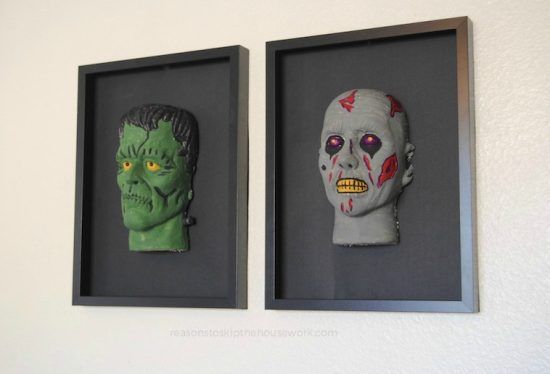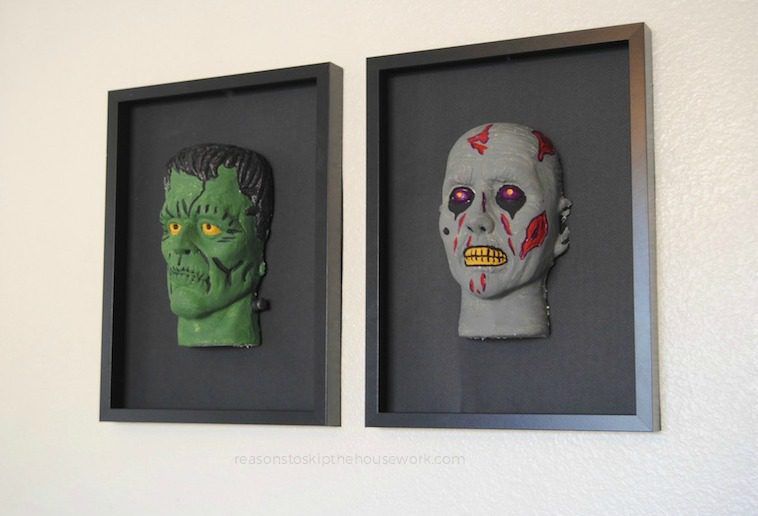 That's it!  They're simple to make and you can add them to any room. How cool would these be in a bathroom for a Halloween Party?  I just love AND hate them at the same time.  Add a flashing blacklight to them in the dark and they're deadly spooky!  Perfect for any Halloween Party!
You can get the entire line of FloraCraft® Foam Heads at Walmart and select heads are available at Jo-Anns and Michaels.  They're the perfect accessory to any Halloween Decor, and honestly, my favorite Halloween decor I've made so far.
Having a Halloween Party?  You should check out my Halloween Party Food post for some fun and spooky food!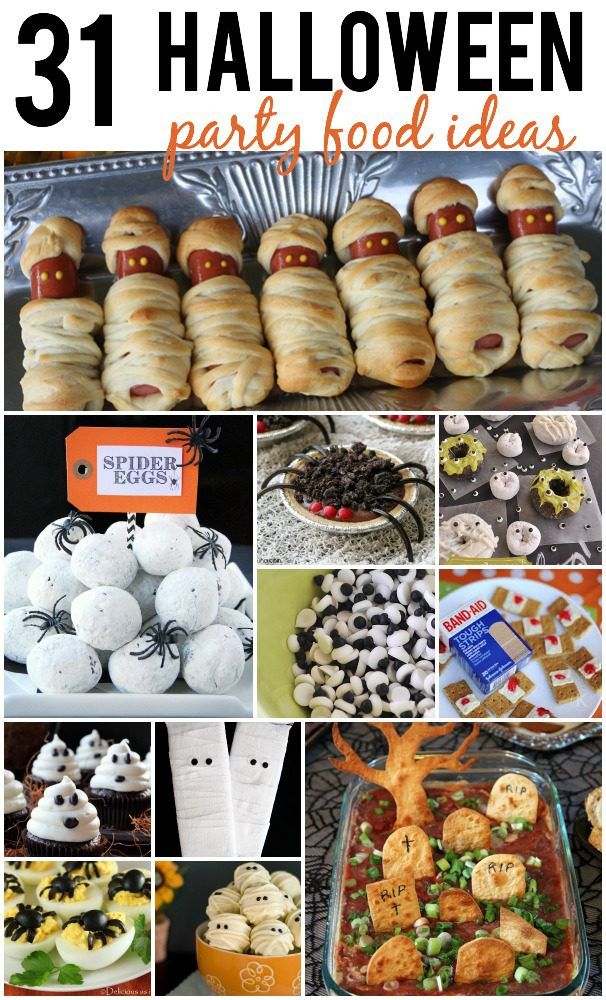 And if you need more Halloween Decor ideas, check out my Spooky Halloween Decor post!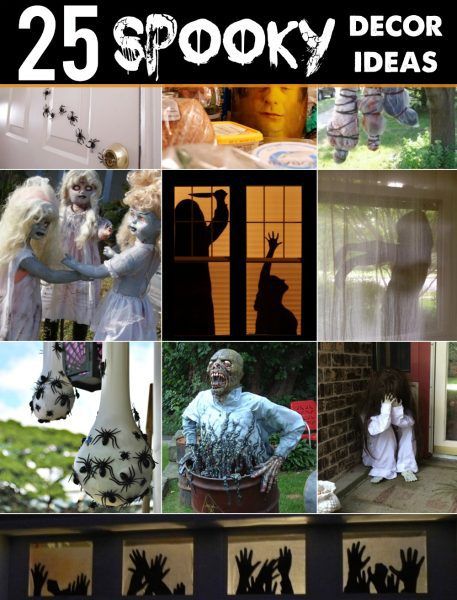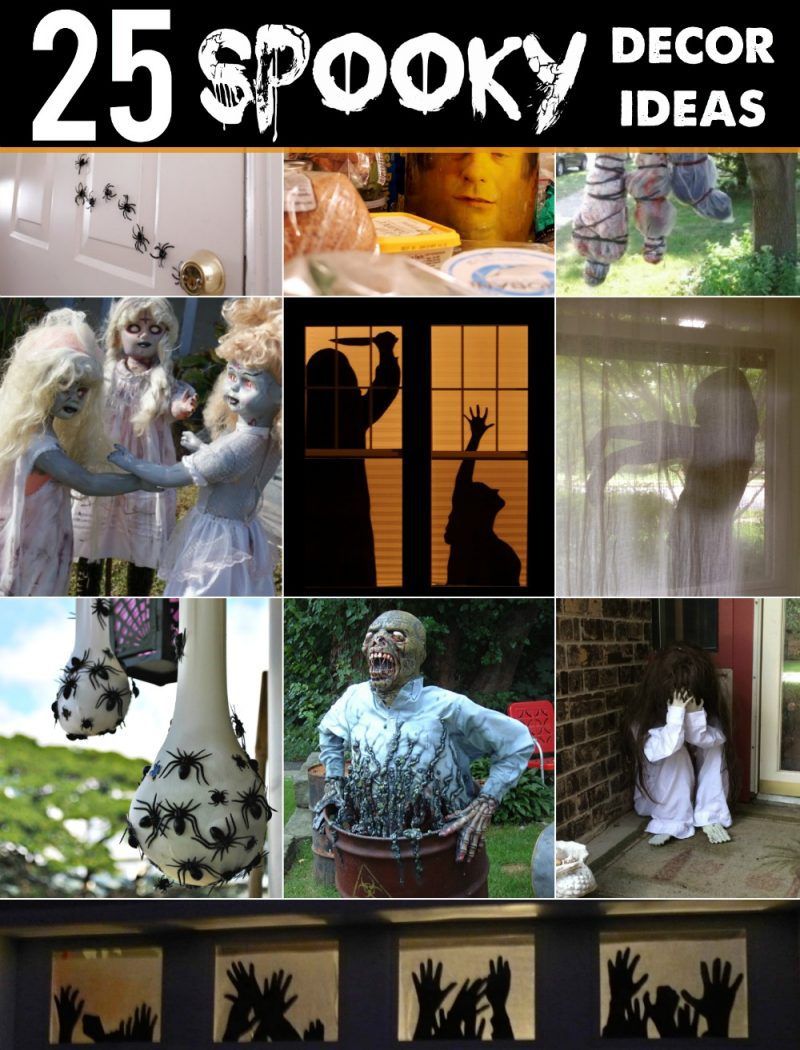 Are you a Halloween decorator?  Do you go all out?  I'd love to hear what you do in your neighborhood!