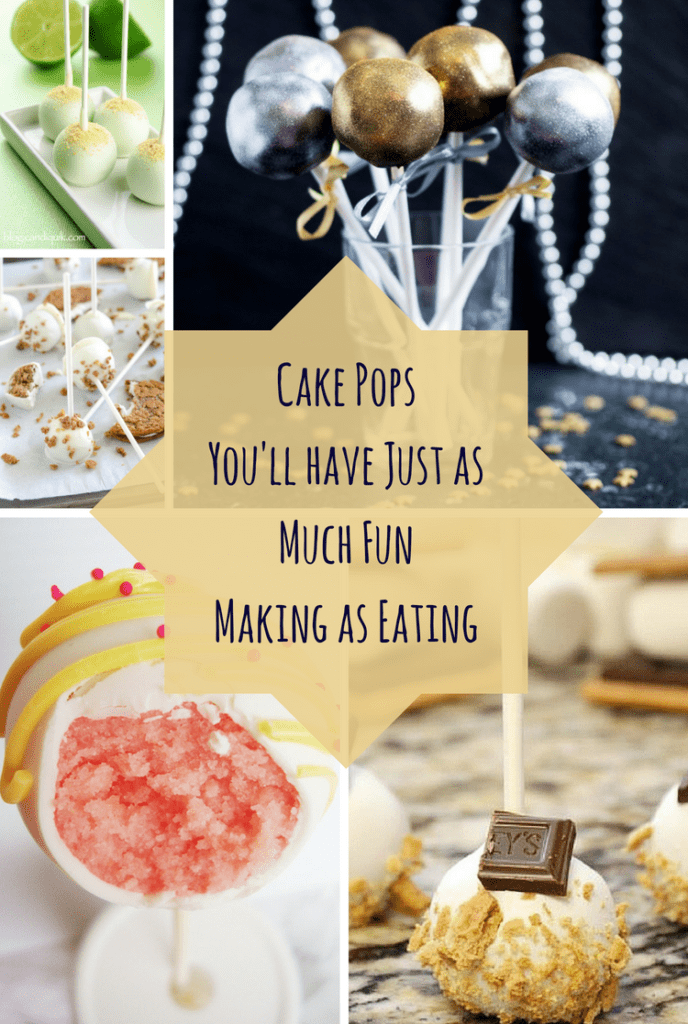 First things first, a cake pop is cake, baked, crumpled, and shaped into a ball, hand dipped in frosting or ganache (or many other options!), decorated, and then put on a stick to be eaten easily. Of course, you don't have to use cake, as you'll quickly see in this list! And even if you do use cake, you can use any cake under the sun…even Pink Lemonade cake!
Before diving into this fancy stuff, here's a quick video on how to make easy cake pops for your first try!
S'mores are a dessert snack made of a chocolate bar and toasted marshmallows sandwiched between graham crackers. It's traditionally made at a campfire.
To make these awesomely delicious s'mores cake pops, you'll need chocolate cake pop dough, marshmallow flavored candy melts, graham crackers, chocolate bar, cake pop sticks, and wax paper. Dip chocolate cake pop into a marshmallow chocolate frosting, sprinkle with graham crackers, and top with a chocolate. Yummy!
These British cake pops are a fun way to celebrate the holidays, or any time! Plus they're vegan. You'll need vegan margarine, sugar, vegan egg replacer, vanilla, flour, baking powder, baking soda, salt, rice milk, dark rum, white or dark chocolate, coconut, nuts, and sprinkles.
Make a few variations of these, like white chocolate dipped in coconut, or dark chocolate dipped in nuts. Have fun!
Amaretto, which is Italian for "a little bitter" is a sweet Italian liqueur that originated in Saronno, Italy. It was originally flavored from bitter almonds, but modern commercial brands are prepared from a base of apricot pits, peach pits, or almonds, all of which are natural sources of the benzaldehyde that provides the principal almond-like flavor of the liqueur. Huh!
These are no-bake, so really easy to make. Ingredients include almond butter, cocoa, almond flour, almond extract, maple syrup, dark chocolate, and Amaretto.
Did you know that the Key lime is a citrus hybrid, that is yellow when ripe? It is smaller and seedier, with a higher acidity, a stronger aroma, and a thinner skin than regular limes. Neat!
This is another easy recipe. Just use a box of key lime cake mix, key lime frosting, Vanilla CANDIQUIK Coating, Lime oil, and Graham cracker crumbs. Plus the author uses a special tool to quickly make the cake pop balls.
These cake pops promise to deliver serious flavor! Sometimes in all that decorating and preparing, the pops tend to dry out or don't wow in the flavor department. These are different!
For ingredients, you'll want a box of German Cake mix or bake one from scratch using this recipe. You'll also want one can of Coconut Pecan frosting, coconut, milk chocolate candy melts, cake pop sticks, and wax paper.
You can keep these for a week or so in an airtight container or freeze them for even longer.
Oatmeal cream pies are made by Little Debbie. They are two soft, chewy oatmeal cookies baked with whole grain oats and molasses, then layered with creme. The very first snack baked under the Little Debbie ® brand name in 1960.
These are made from those same pies! Toss them in your KitchenAid mixer until you've got a moist crumb mixture that you can roll into balls. Then dip the balls in white chocolate. How simple is that?
Raspberry and chocolate are always a delicious mix! This recipe calls for flour, cocoa, sugar, baking powder, salt, coffee, oil, vinegar, vanilla, coconut milk, dark chocolate, and dehydrated raspberries.
Buttercream frosting is made with butter and sugar, but there are so many types of frosting: cream cheese, Swiss Meringue buttercream, Italian Meringue buttercream, French Meringue buttercream, and ganache just to name a few.
These are actually balls of frosting, not cake! They're prepared and chilled, and then dipped in white chocolate and chilled again. Pop in lollipop sticks to make them "cake" pops!
You'll love these vegan cake pops that are healthy, gluten-free and easy to make! There's no baking required. They even call for plant-based protein powder added for extra nutrition. Some of the required ingredients are coconut flour, cocoa, vegan protein powder, almond milk, maple syrup, and chocolate chips. You'll also need chocolate and coconut oil to make the chocolate outside.
Pink lemonade is made from lemon juice, sugar, water, and some sort of red or pink dye (natural or artificial) for coloring. Natural food colorings people use are cranberry juice, grenadine, and crushed strawberries.
These are pretty easy to make, you just need Pillsbury Pink Lemonade cake mix and Pink Lemonade frosting!
Cookie dough is delicious, but the original has raw eggs, which can be dangerous to eat. This has a vegan version which is just as good and safe and healthy to eat! The "dough" is made from almond flour, tapioca flour and sea salt. Give it a try!
Strawberry shortcake is a famous dessert! Sliced strawberries are mixed with sugar and sit until the strawberries have surrendered plenty of their juices (this is called macerated). The shortcakes are split and the bottoms are covered with a layer of strawberries, juice, and whipped cream, typically flavored with sugar and vanilla. The top is replaced, and more strawberries and whipped cream are added onto the top.
For this recipe, you mix pound cake, frosting, and strawberries together. Put lollipop sticks in them and freeze, then dip them in white chocolate. Strawberry shortcake on a stick!
Pumpkin Spice is a way of life! This recipe uses a tasty Pumpkin Spice Cake recipe, along with store bought cream cheese frosting. Warning! You'll make too much cake for the cake pops and have to eat the extra cake. What a tragedy.
Freeze, dip in candy melts, and then in chopped pecan. Then enjoy some delightful Pumpkin Spice Cake Pops!
Want to eat cake pops AND be healthy? You can! This recipe has oatmeal, chia seeds, flax seeds, almonds, dates, almond butter, and coconut oil. It's dipped in dark chocolate at the end, so don't worry about getting so healthy that you're basically eating a carrot on a stick.
This recipe is vegan and gluten free, but it's still outrageously yummy! It uses a flax 'egg' instead of an actual egg, which is milled flaxseed mixed with hot water as it cools it sets into a thick, gloopy mixture which acts as a binder in cake. Then you use buckwheat flour, cocoa, almonds, sugar, and coconut oil to make a chocolate cake base that's hard to distinguish from the non-vegan kind.
For the coating, use whipped coconut cream (you make it by refrigerating a can of full-fat coconut milk overnight, then removing the solid part only and whipping it for a few minutes using a hand mixer), maple syrup, and melted dark chocolate. Then you spray with edible glitter which is as fun as it sounds!
The difference between the cake pops and some of the others on this list is that these are 100% homemade. No cake mix (not that there's anything wrong with cake mix!)
This is the process: make homemade cake, make homemade frosting, crumble cake into homemade frosting, mix well, roll into balls, and dip. The cake is made from the old standards: flour, butter, sugar, vanilla, milk. Same with the vanilla frosting: butter, confectioners' sugar, vanilla, milk. You can learn about making traditional cakes AND cake pops at the same time!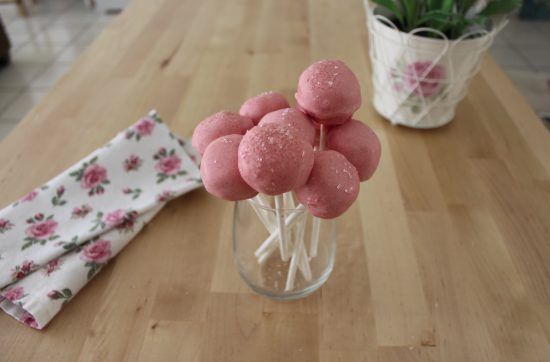 Starbucks really popularized cake pops and people go nuts trying to copy them at home. Don't go nuts, try this awesome recipe instead! It uses vanilla sponge cake, vanilla icing, white chocolate chips, red food coloring, and sugar sprinkles.
Using a brownie base recipe is an easy way to get a moister, richer cake pop. You'll need to make your favorite brownie recipe or use a fudgy brownie mix, and have some Dove Chocolates for the outsides. Sounds amazing, right? Most of these recipes combine melted chocolate with oil to keep it liquid and workable while dipping your pops. You can use just about any kind of oil, from vegetable to coconut.
We hope you learned a ton about cake pops and got a ton of cake pop inspiration going forward! Make cake pops for a birthday, a party, or a potluck. People will love them!
Last update on 2023-11-29 at 23:56 / Affiliate links / Images from Amazon Product Advertising API