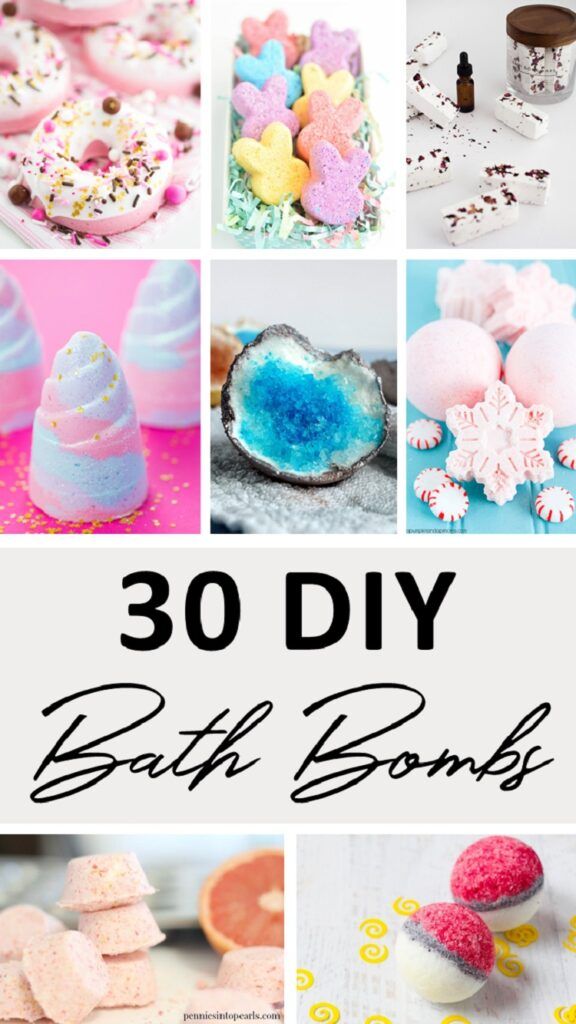 [amazon box="B071RXT6N8,B0013OXEFK,B01N1856R7,B004N7DQHA,B0170R9TAC,B00BBD508C,B00HMSU4ZE,B00VTHCARY,B07CLCV4HF,B073P4RPFP,B076FQX6T2,B07H2PWJRQ,B07H268VQZ" template="table"]
Bath bombs aren't just fun to watch as they fizzle away. They also serve a myriad of benefits for your skin too, especially when they're made using essential oils, salts, and other beauty-loving ingredients. While it can be convenient and quick to purchase a bath bomb during your department store wanderings, you have to admit: do you really know what's in it? And are all of the chemicals it lists in the ingredients really good for your skin?
To avoid any guesswork, we've rounded-up 30 of the best bath bombs that you can make yourself. These won't cost you a fortune to create, nor will they take up your entire day. In fact, some can be made in as little as 10 minutes! From the colorful and creative, to those that remedy issues such as headache and sinus – there's sure to be plenty of bath bombs within this list that take your fancy!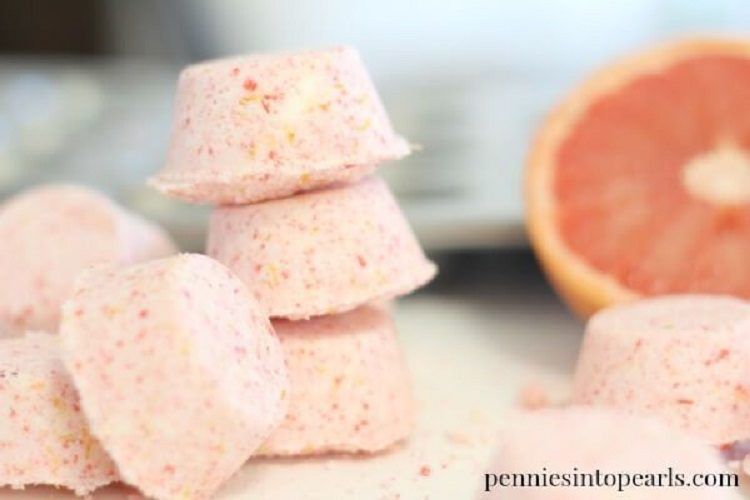 Did you know that these gorgeous DIY grapefruit bath bombs will cost you just less than $5 to make? Now that's affordable! They also only take 10 minutes to create, meaning that you can quickly whip them up this afternoon after your tea break. We love the beautiful coloring of these bath bombs, as well as the fact that they contain exfoliating ingredients that are great for sensitive skin!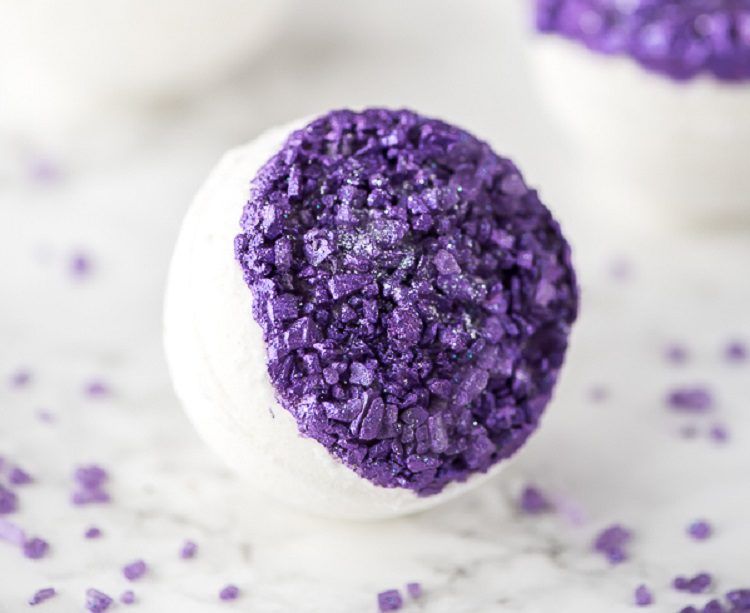 When it comes to stunning elegance and luxury, look no further than everyone's favorite gemstone, the amethyst. This incredible DIY bath bomb is inspired by the stone and uses ingredients such as sea salt and lavender essential oil to not only help you smell great, but make your skin feel great too. We love that sparkling shade of purple!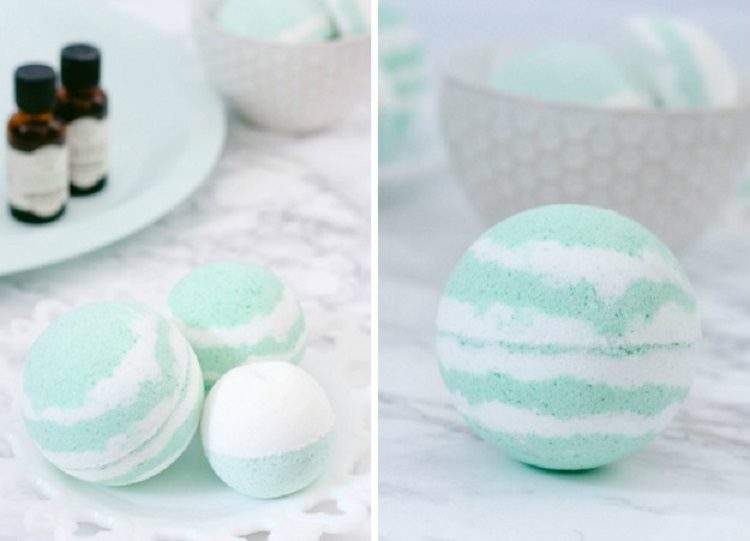 If you suffer from nasal congestion, sinus, or the common cold, then this is one bath bomb you won't want to miss! Not only is it a lovely peppermint hue, but it also contains ingredients such as coconut oil, Epsom salt, and essential oils including peppermint and eucalyptus. That's sure to clear those nasal passages! You'll love sitting back in the bathtub and relaxing to this healthy blend.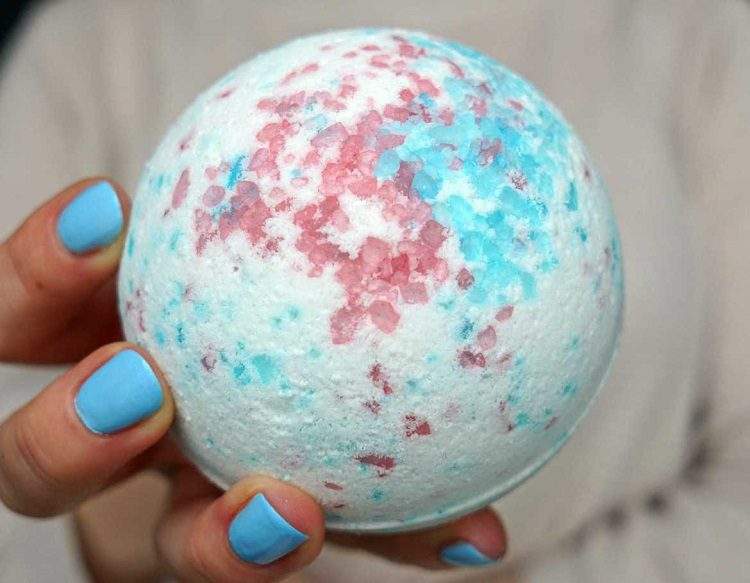 We all know how good Epsom salts are for our skin and wellbeing, so it makes sense to create a bath bomb loaded with their goodness! This fun and colorful bath bomb does just that, using additional ingredients such as coconut oil and essential oils to add even more skin-loving nutrients. You can also add a bit of color using a touch of food coloring.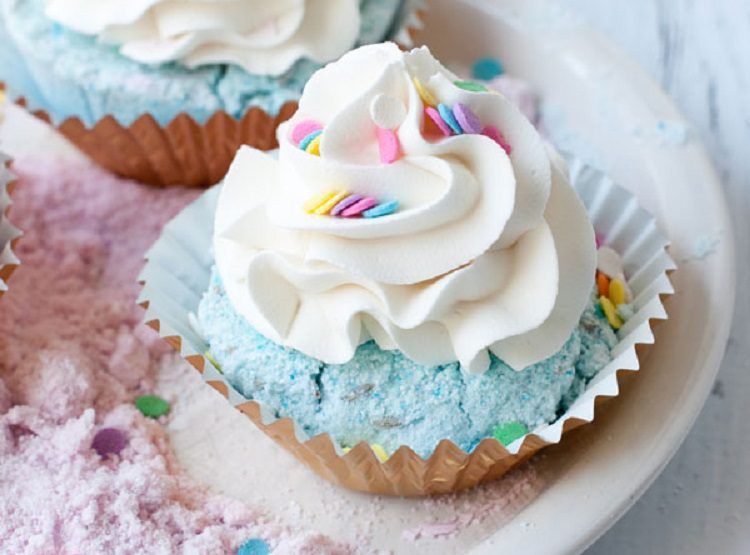 If these cute DIY bath bombs are making you salivate, you're not alone! We think they're works of art. You'll find these bath bombs incredibly fun to create, plus they make the perfect gifts for loved ones on special occasions or simply 'just because'. You can even experiment with different colors or patterns to create similar sweet treats.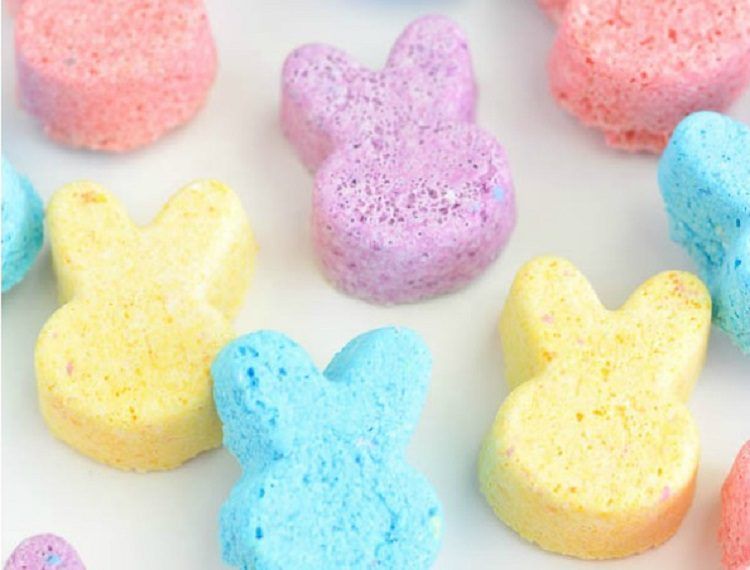 Easter is just around the corner, so why not embrace the special holiday during bath time too? These DIY bunny-shaped bath bombs are just the thing for both adults and children, plus they can be created in fun colors and scents. They might look sweet, but they're good for your skin too.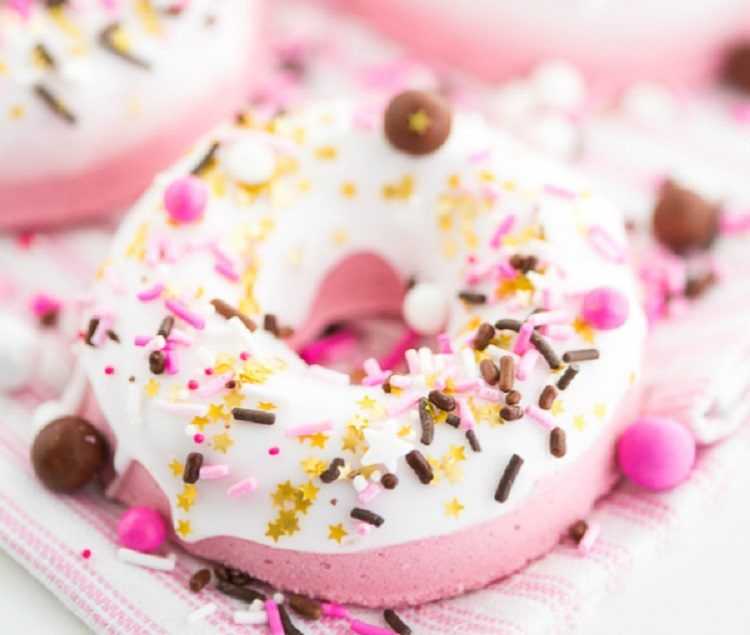 How incredible do these donut bath bombs look? They almost look too good to use, with their decorative 'icing' and sprinkles. We think this is such a fun DIY bath bomb idea, plus you can fill them with your favorite skin-loving essential oils or salts. Bath bombs are very versatile, just as this incredible project shows us.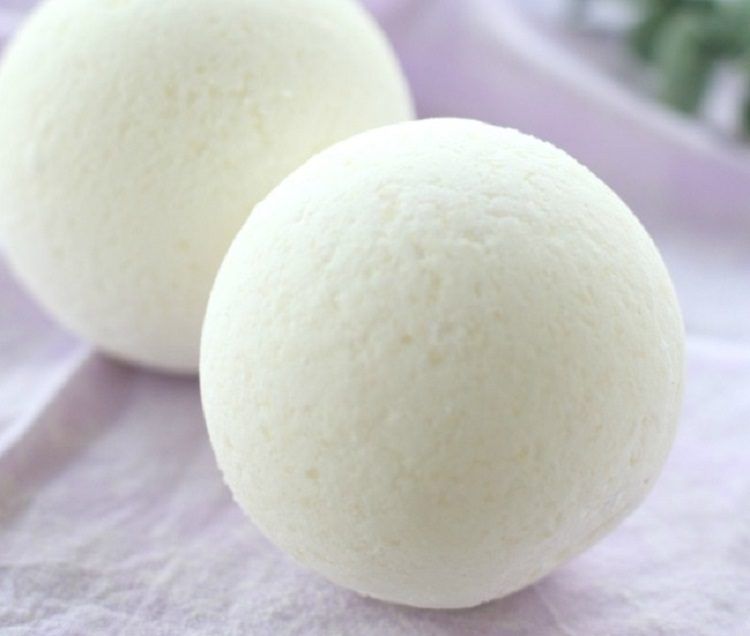 We all know how good eucalyptus oil is for your skin, as well as other health concerns such as colds and flus. This DIY bath bomb recipe embraces the ingredient to create a bath bomb that will have you feeling on top of the world. Just make sure you stock up on them so they're always there in times of need.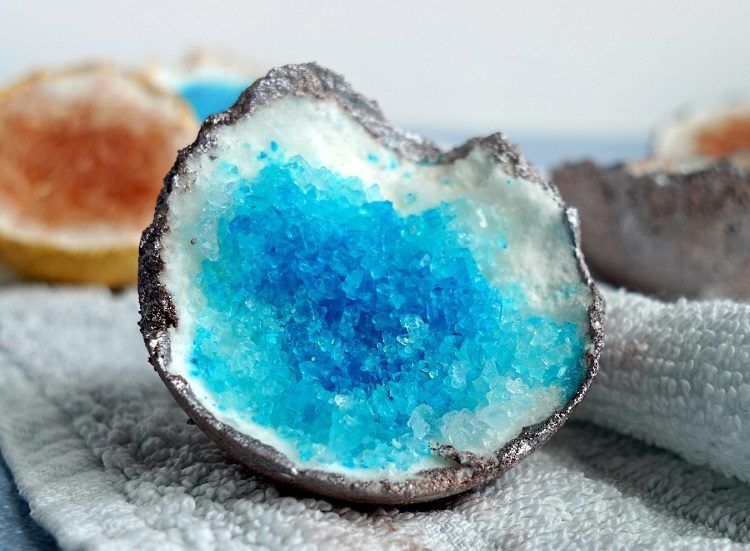 If you love geodes and all things related to crystals, then you're going to adore this DIY bath bomb. How realistic does it look? It's a sure-fire way to add some sparkle and luxuriousness to your relaxing soak. Filled with sweet-smelling ingredients, this bath bomb doesn't just look good, but it smells good too!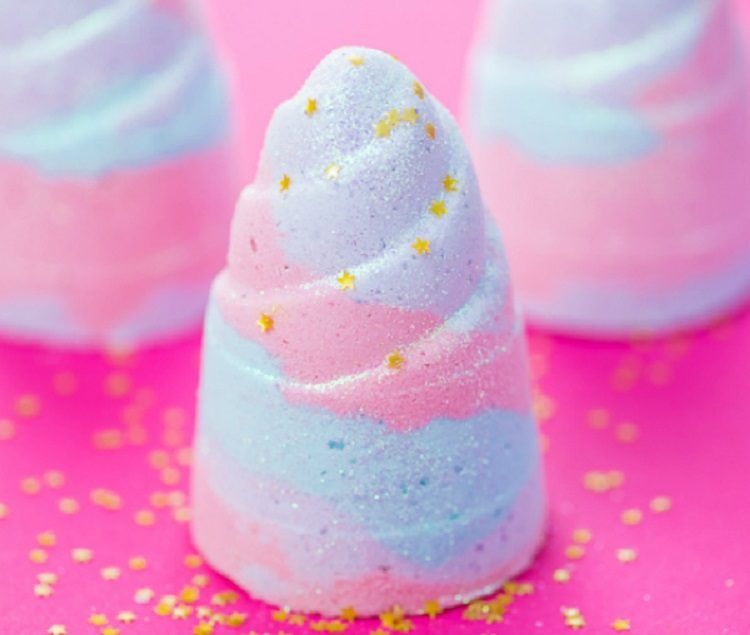 If you've ever wanted to embrace your inner unicorn, then now is the time! This DIY glittery unicorn horn bath bomb will be a hit with both children and adults. It contains dainty glitter stars, as well as a pastel color palette you're sure to love. We'll definitely be making a few batches of these to give out as party favors!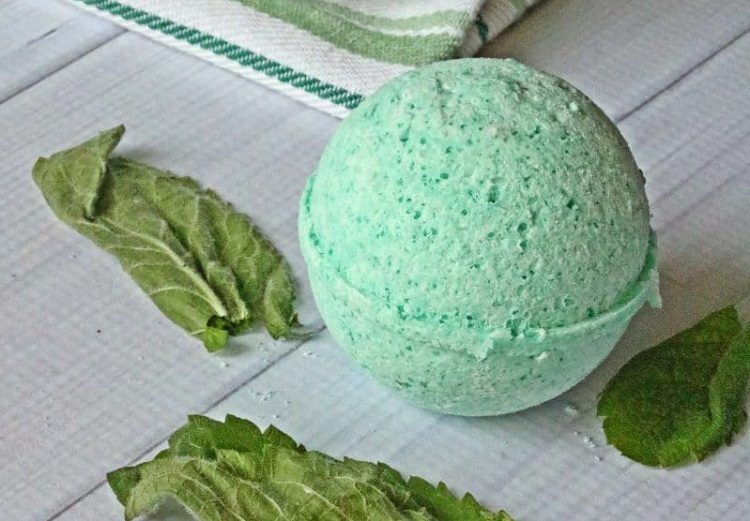 If you regularly suffer from headaches due to sinus, tension, or eye strain, then you're going to love these DIY bath bombs. They combine ingredients which have been scientifically-proven to ease headaches and can easily be placed in a bath to help those experiencing the common health complaint. We love the relaxing green hue of these bath bombs too!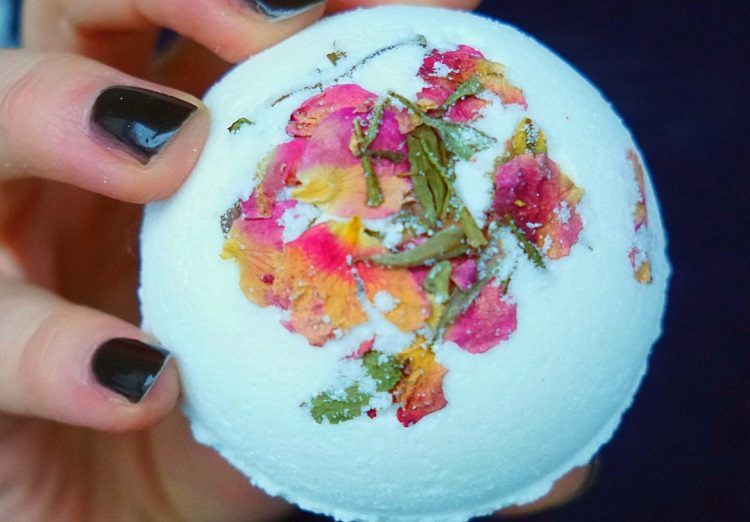 This bath bomb might look innocent from the outside with its pressed flower petals, but inside it lurks a Halloween inspired surprise. You see, you drop what appears to be a normal bath bomb in the bath, only to soon have dark black leak out of it. It might sound creepy, but fear not! This fun surprise is still packed full of skin-loving ingredients!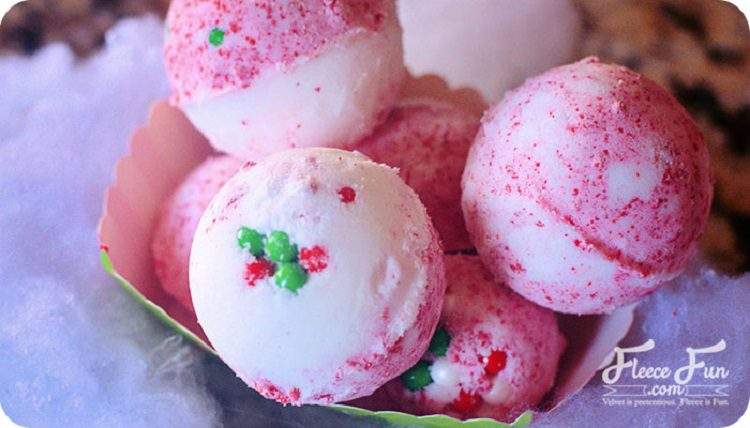 Finding DIY stocking stuffer gift ideas can be hard each year, but this DIY festive bath bomb tutorial makes it a whole lot easier for you! We love how the bath bomb uses traditional Christmas colors to give everyone some extra cheer. It even smells like candy canes when peppermint oil is added to the mix. Delightful!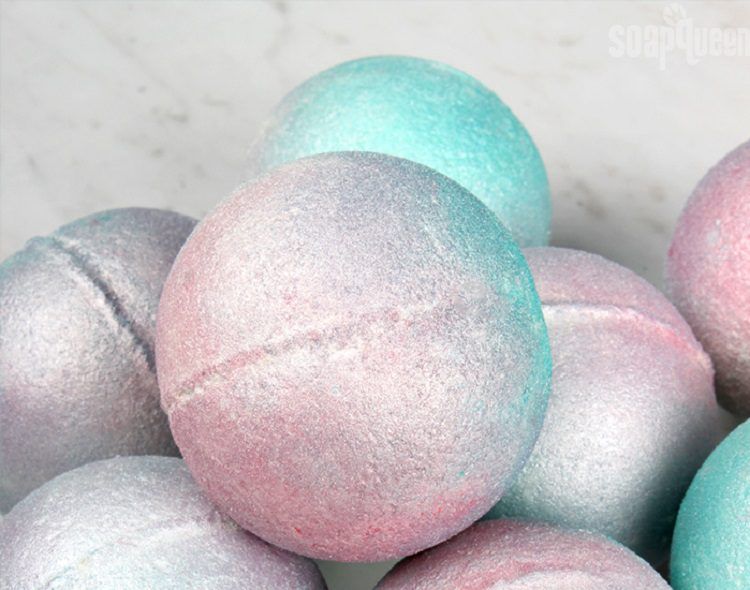 Want to add some extra sheen to your skin next time you soak in the tub? This DIY iridescent bath bomb has been made with a pearly sparkle to help you achieve just that! We love the mermaid-inspired color palette of pink, lilac, and aqua blue too. They'd be the perfect party favour for an under-the-sea themed party.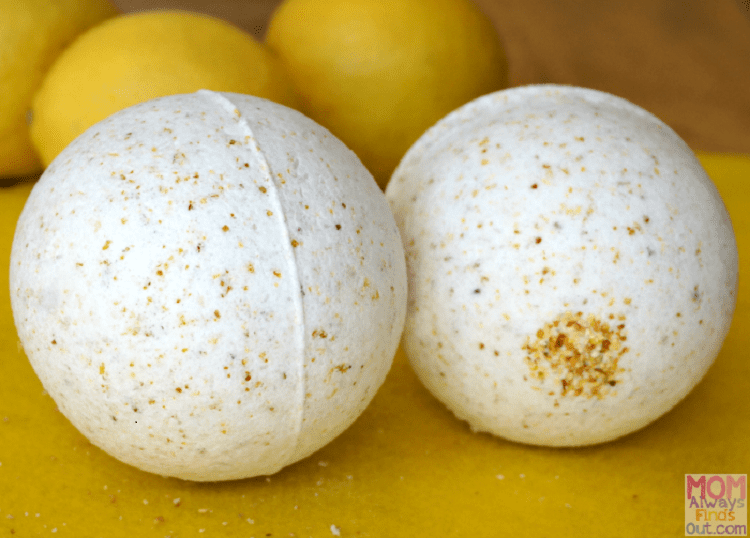 Everyone loves the simple yet sweet-smelling combination of lemon and vanilla. This bath bomb uses the two scents to provide something that your skin is sure to love! The subtle aromas will have you feeling relaxed in no time, plus chunkier ingredients can be lathered-up to offer skin exfoliating properties.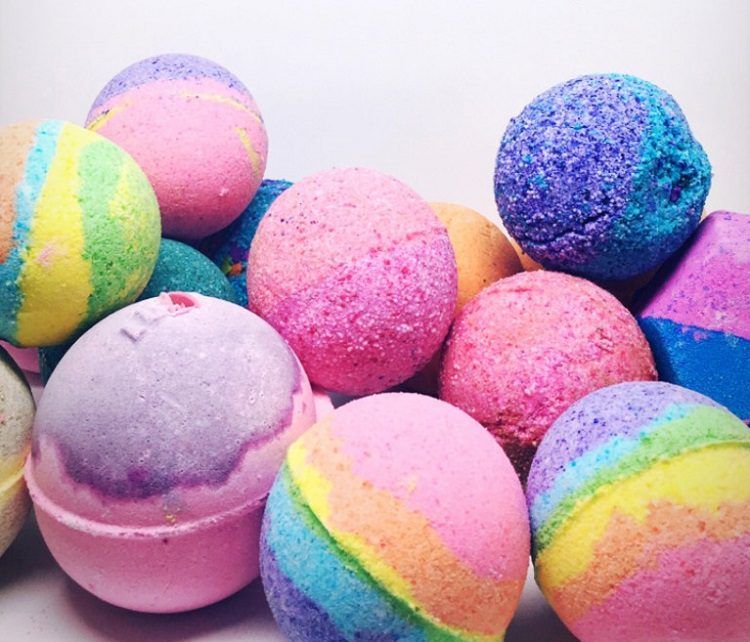 Love LUSH's range of famous bath bombs but can't justify the more expensive price tag? This DIY bath bomb tutorial helps you recreate the store's colorful and awesome-smelling creations on a budget. How great is that? Now you can treat your skin to beneficial ingredients and gorgeous aromas every night of the week.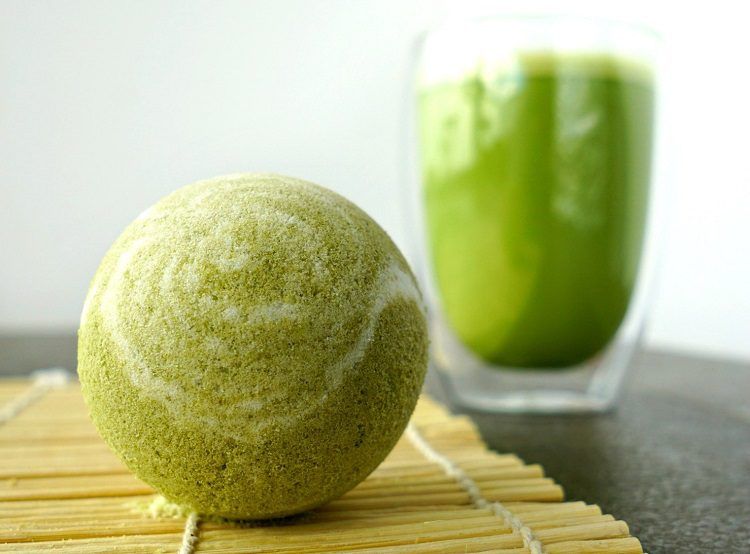 Move over matcha green smoothies – there's a new matcha in town! These bath bombs use the highly beneficial powder to pack a seriously good punch during bath time. You'll soon notice your skin feeling smoother, softer, and looking more radiant. Make a few batches of these to give to your matcha-loving friends too!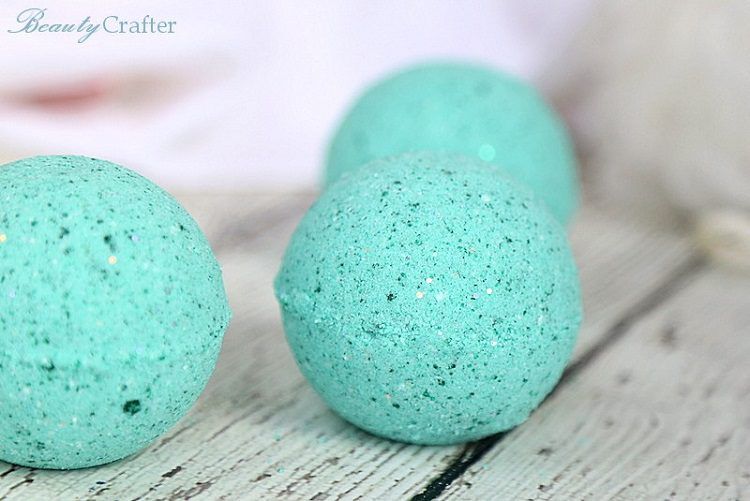 This stunning DIY bath bomb is filled with glitter and shine to give you glowing skin within just minutes. We love the stunning aqua coloring, as well as the beautiful aromas this bath bomb produces. It's filled with popular ingredients such as lavender essential oil and coconut oil. We have a feeling that children will love these too!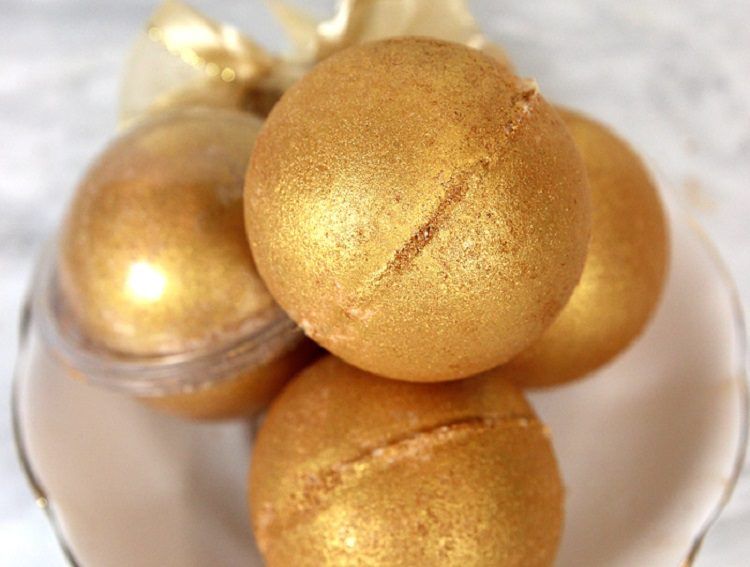 Does it get any more luxurious than a gold bath bomb? We think not! We've been told that this fruit mix smells just like a mimosa too. Using ingredients such as cocoa butter, champagne fragrance oil, and witch hazel (optional), it sounds like a lavish and luxurious way to enjoy a bath. Count us in!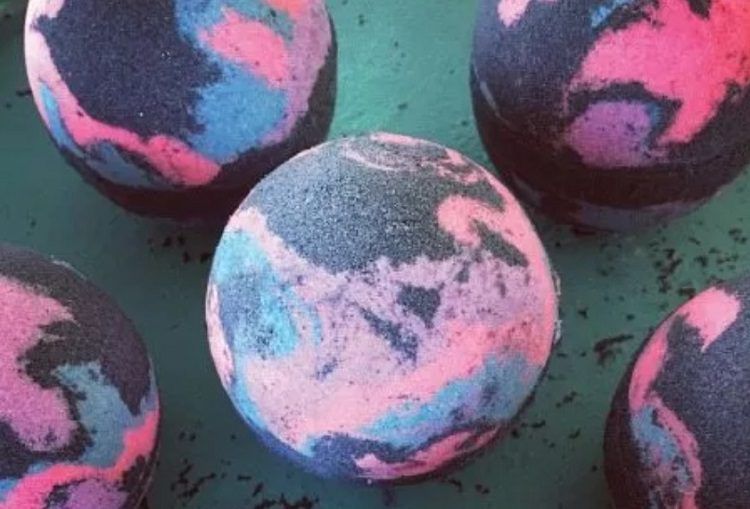 If you love the milky way inspired swirls of purple, black, and pink, then you're going to love this DIY galaxy bath bomb. With ingredients such as jojoba oil and cardamom fragrance oil, it doesn't just look great, but smells wonderful too! We think this would be the perfect project to tackle on a rainy afternoon.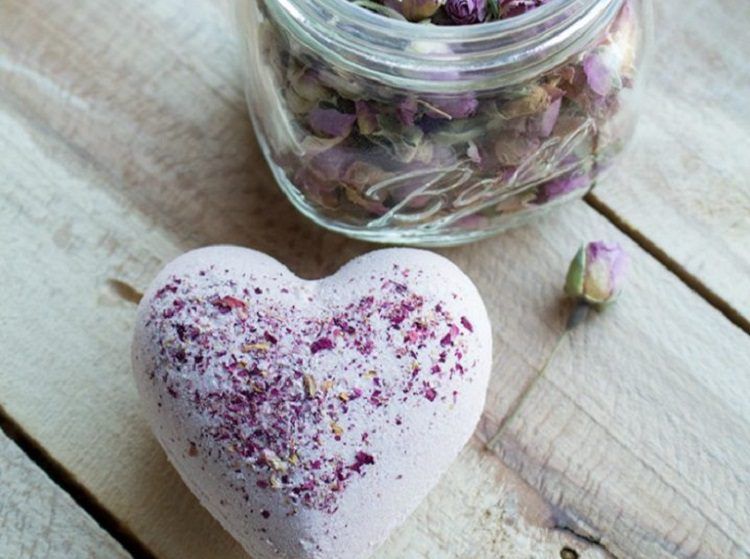 How luxurious does a rose and milk bath bomb sound? For us, it conjures visions of supermodel beauty routines and floating petals. Divine! We love that this DIY bath bomb is filled with ingredients that work to both relax and soften skin, leaving you feeling moisturized and totally refreshed. You'll love the adorable heart shape too!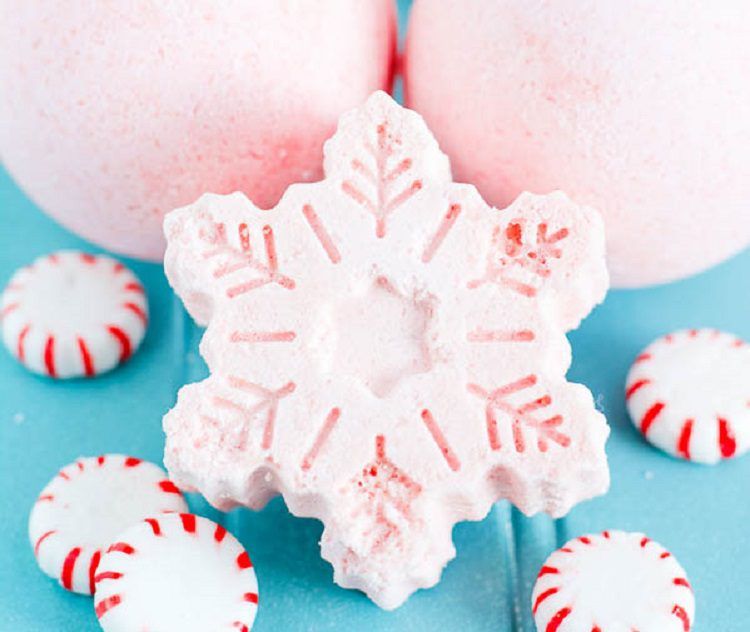 These DIY snowflake shaped bath bombs don't just embrace the season of winter. They're also filled with peppermint oil to smell just like a candy cane, one of Christmas's most nostalgic smells. Therefore, they serve as wonderful DIY gift ideas for stocking stuffers or even to spoil your loved ones with when they least expect it.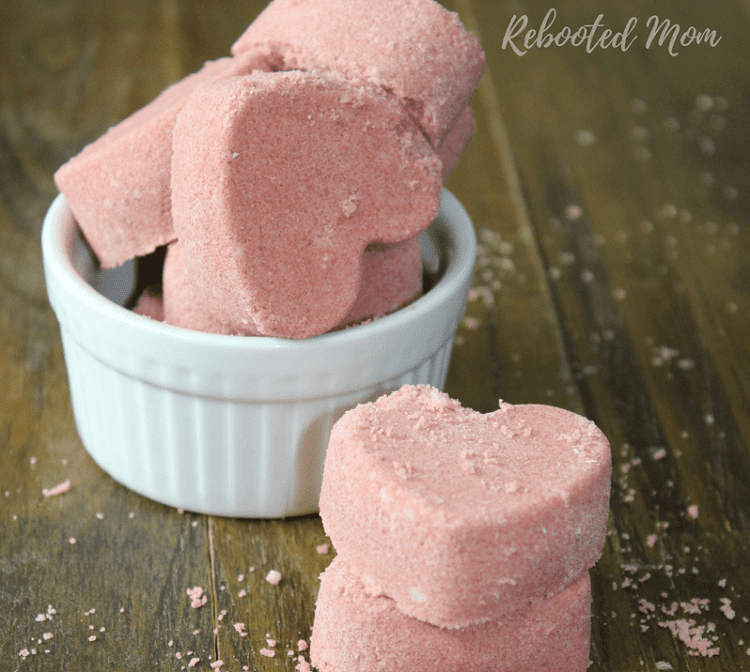 Have you ever used pink Himalayan sea salt in beauty products before? This stuff works wonders for your health and skin, including exfoliating dead skin cells, detoxifying, balancing skin pH, and relaxing cramped muscles (just to name a few!). Soak in these beautiful DIY bath bombs and your worries will soon melt away.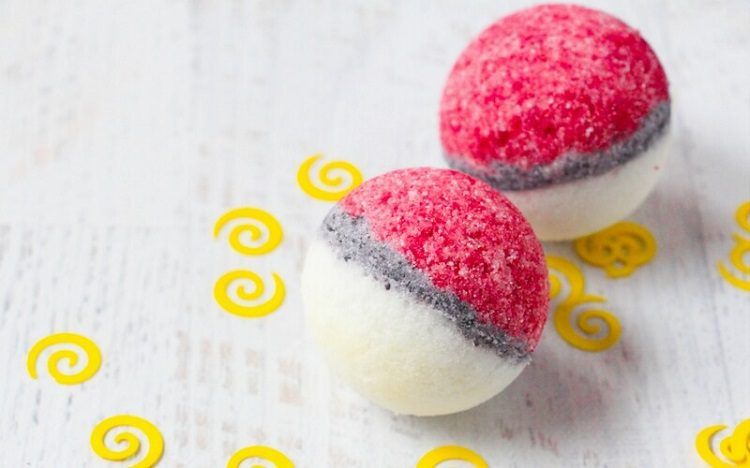 Whether you're a fan of Pokemon or you're creating these for your children, you're still sure to love creating these DIY Pokeball inspired bath bombs. The different colors slowly swirl together, before soaking into your skin to leave it feeling nourished and immediately softer. It's something Ash Ketchum would be proud of himself!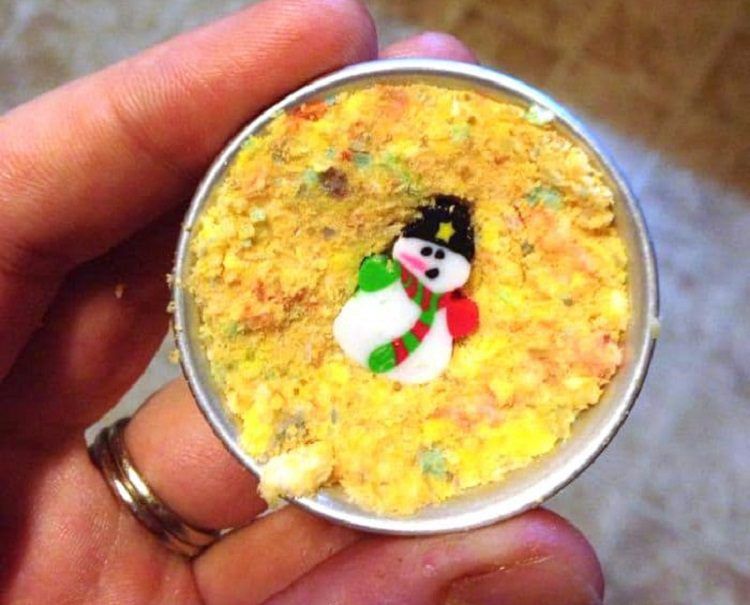 Here are some more kid-friendly bath bombs, this time featuring a small toy inside! Children will love watching the bath bomb as it fizzles away, before being surprised by the little gift it leaves behind, whether it's a bouncy ball, figurine, or other fun treat. Plus, these bath bombs are rainbow colored, so they're super colorful!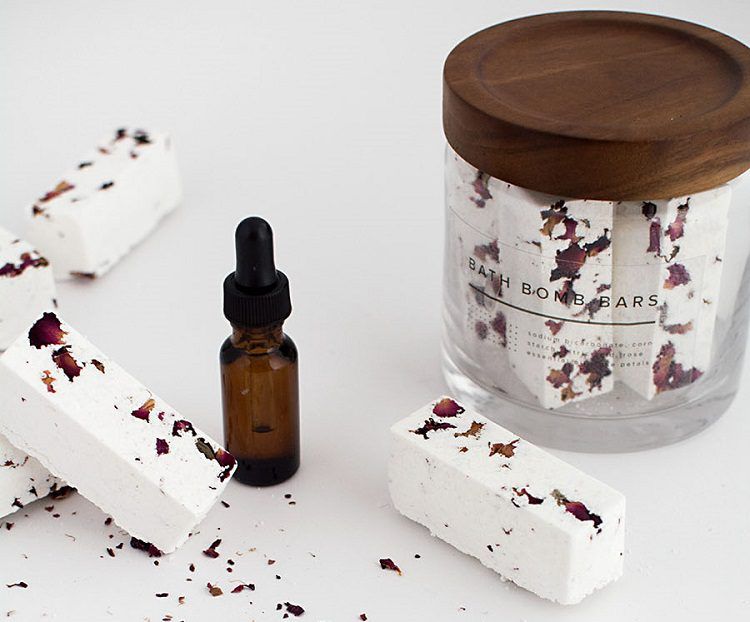 We've featured various shapes of bath bombs among this list, but none quite as elegant as these DIY bath bomb bars. They can be wrapped a whole lot easier than a sphere, plus this specific recipe contains nourishing ingredients such as rose buds, rose petals, and rose essential oil to pack that pretty punch!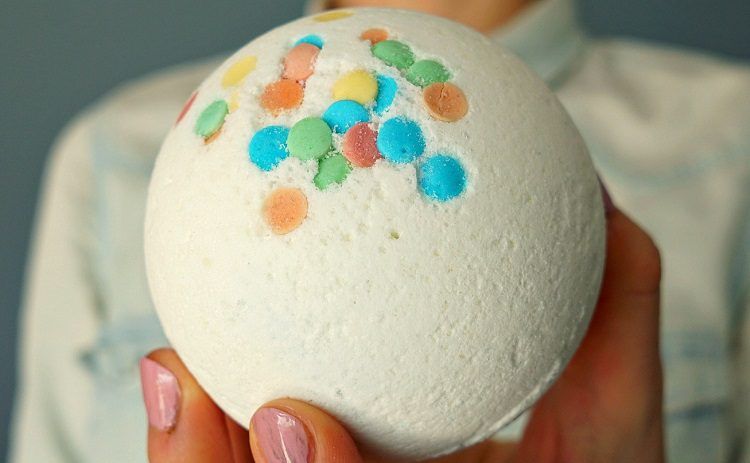 At first, these DIY bath bombs look like many others, but they hide a special secret. The seemingly plain bath bomb erupts into a rainbow of colors as soon as it's dropped into the water. How great is that? It might seem fancy, but this bath bomb can easily be made within no time at all!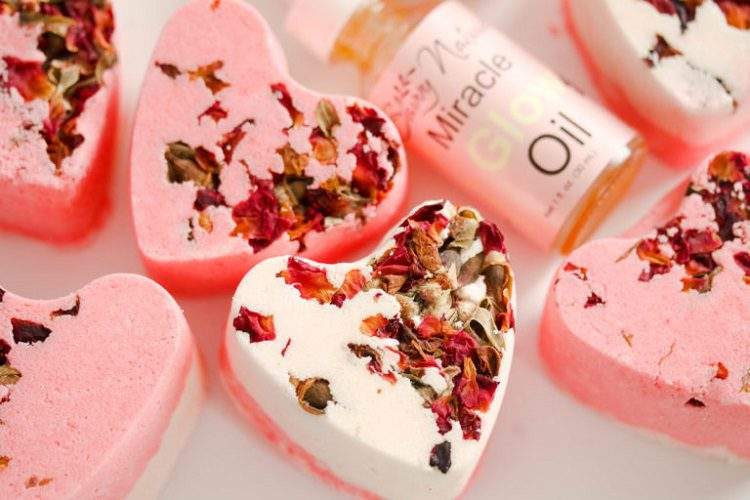 Let's face it, who doesn't love Lush's products? Sometimes a Lush addiction can leave you feeling a bit broke though, so that's where this DIY version of their popular product comes in handy. It uses a ton of awesome ingredients for your skin, plus it'll save you plenty of dollars in the long run. Sounds good to us!
A Citric Acid Free Bath Bomb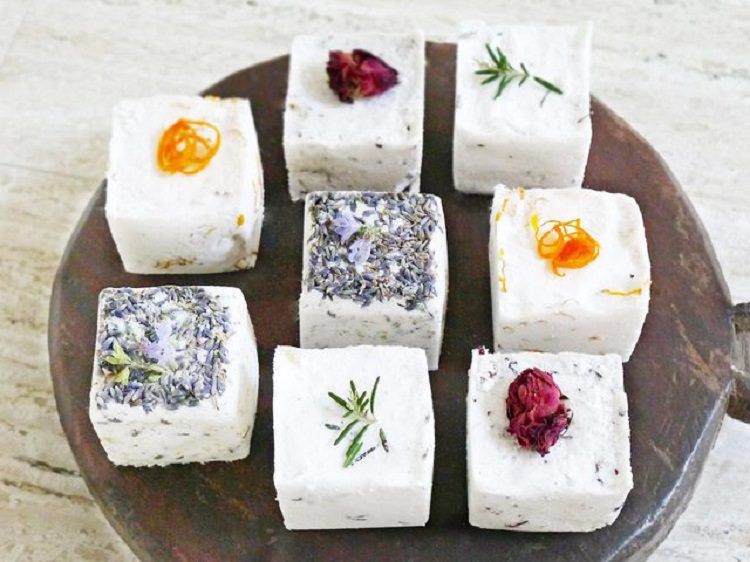 Bath bombs generally use ingredients which are great for your skin, but some people can react poorly to one popular additive: citric acid. Thankfully, this DIY bath bomb recipe doesn't use the ingredient, so even those with sensitive skin can enjoy the fun and fizz that a bath bomb provides. Plus, these ones have gorgeous petals and sprigs as decorations.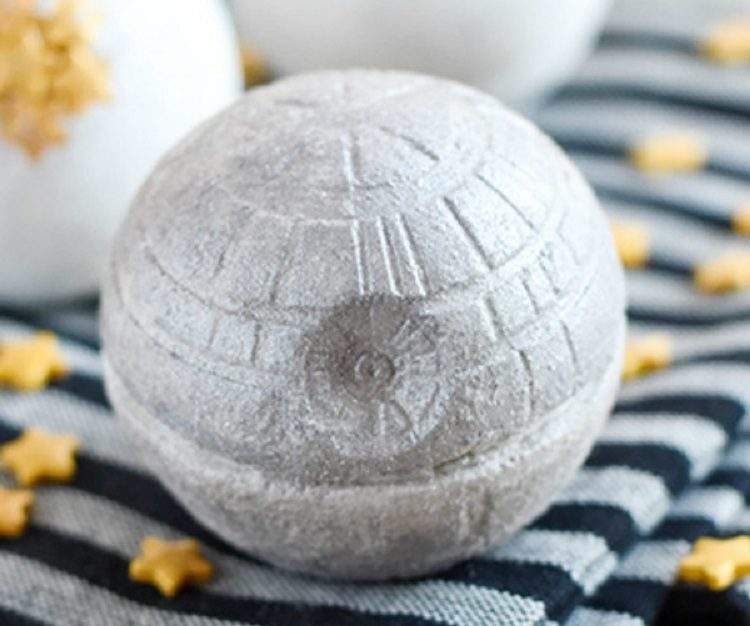 If you or any of your loved ones are Star Wars fans, then you need to make this DIY Death Star bath bomb as soon as possible! Isn't it clever? You simply prepare the model by brushing it with silver pearl dust before adding your combined ingredients (such as Epsom salts, almond oil, and essential oils) to it. This is sure to wow anyone who lays eyes on it!
Conclusion
There you have it – 30 of the best DIY bath bombs to help you relax and moisturize your skin. The best part about these projects is that they range in difficulty and preparation time, so beginners might like to begin with the simple, 10-minute bath bombs before progressing to those involving a lot more ingredients and steps.
There's certainly a bath bomb here to suit every bather, plus you can also use them as cute gifts for loved ones or last-minute stocking stuffers. It's the most fun and fragrant way to enjoy bath time!
[amazon box="B071RXT6N8,B0013OXEFK,B01N1856R7,B004N7DQHA,B0170R9TAC,B00BBD508C,B00HMSU4ZE,B00VTHCARY,B07CLCV4HF,B073P4RPFP,B076FQX6T2,B07H2PWJRQ,B07H268VQZ" template="table"]