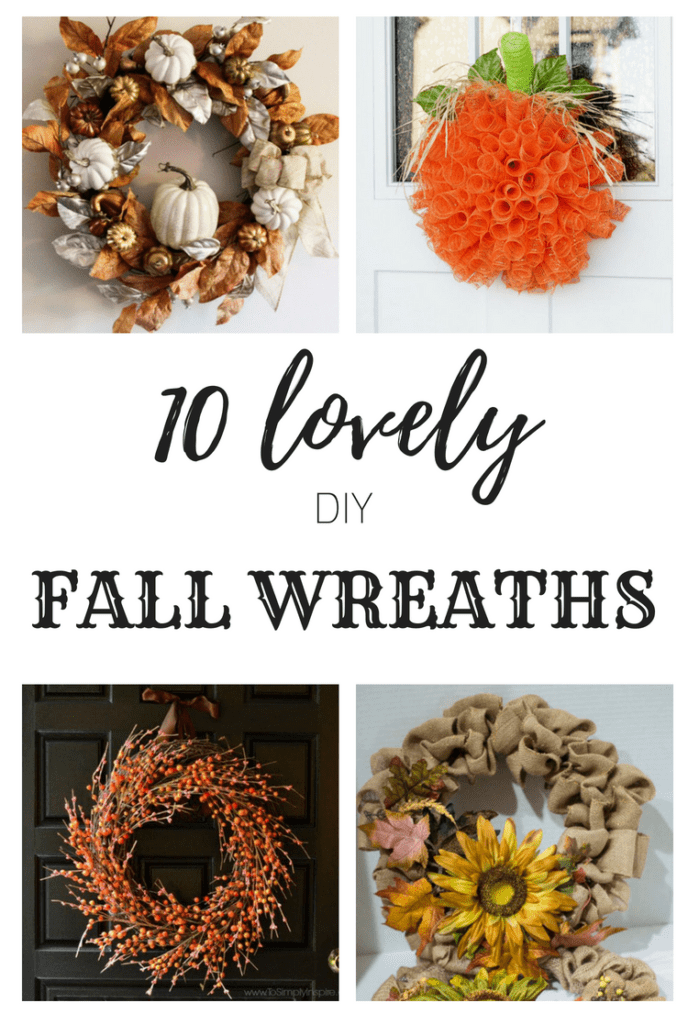 I'm so excited that it's almost fall! It just so happens that fall is one of my favorite times of year for a variety of reasons. The gentle breeze, the heat dying down but not being overly too cold, the colors are beautiful, the smells are fantastic, pumpkins are ready for picking and are showing up all over, and decor items are just so pretty!
One of my favorite parts of fall decor is the use of pretty pumpkins and reds, yellows and oranges in a variety of ways. These wreaths are perfect to decorate indoors or out, and you can make them all yourself! Some don't even require a lot of money to make. So lets get those hot glue guns and plenty of hot glue sticks ready to craft some wonderfully perfect fall wreaths that will get you in the mood to celebrate before the cold winter weather comes.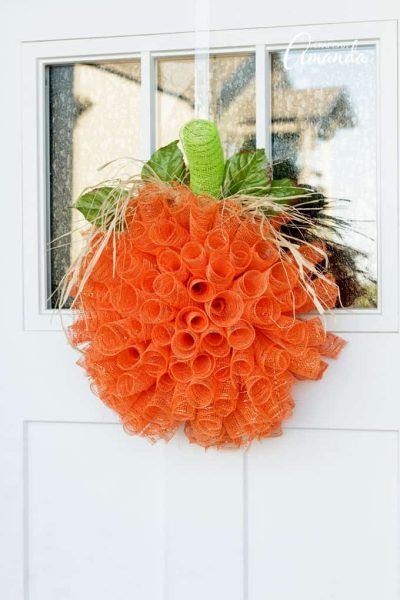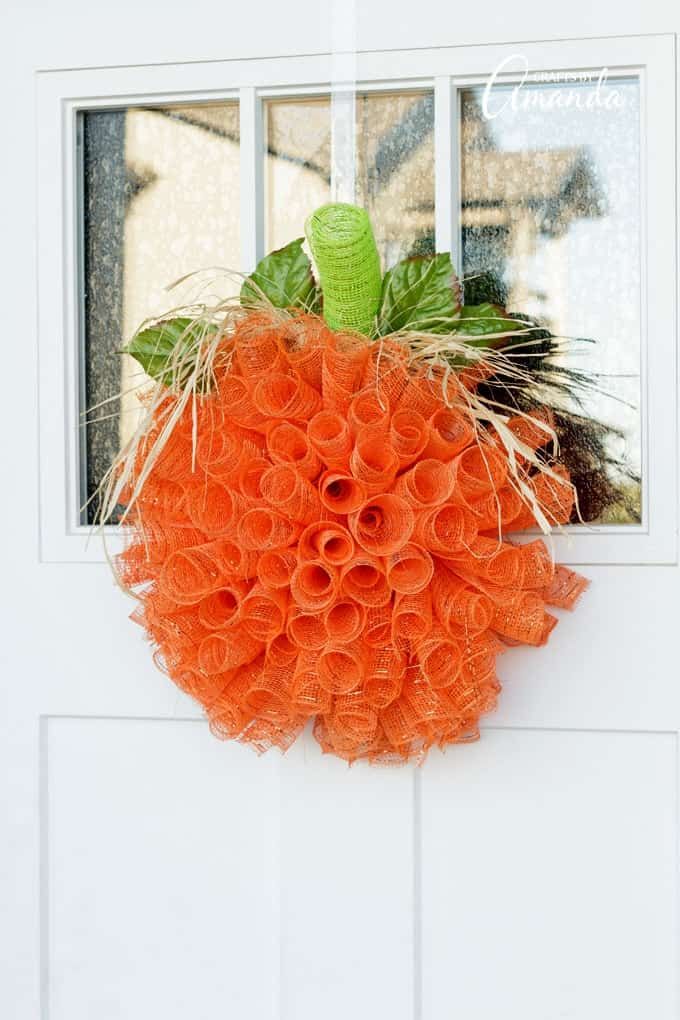 Pumpkins and pumpkin treats are absolutely one of the best parts of fall for me. Pumpkin cookies, pumpkin bread, pumpkin muffins, pumpkin pie… need a go on? This is an adorable bit of pumpkin decor that you can make yourself. No need for plastic or cardboard cutouts or anything else. I love the spirals of the deco mesh and the texture they creative.
Everything about this wreath is so cute. Plus, if you wanted something perfect for this season but didn't want a full out wreath that has a hollow center and all that, this is perfect. The instructions include a video, which I would need to use because I struggle with following instructions that are word heavy without pictures that give me the best idea.
Not that this is at all a bad tutorial, at all! I'm just very visual and sometimes words and images don't work enough. So yes, there is a video plus a full supply list. If you wanted, I think you could easily make a face on this to make it more Halloween themed even! What do you think?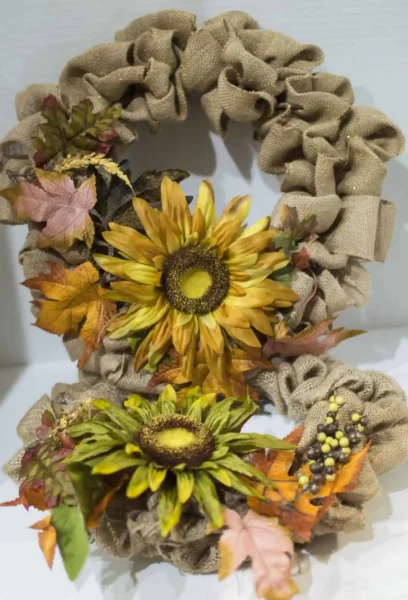 You know that really tall bumpy slide they have at the county fair where you ride down it on a burlap sack? I love that thing so much! Even if I haven't been on one in many years, I remember just loving them when I was little. Also, I think burlap can be adorable when used right in a craft.
This wreath? It uses burlap ribbon just right! It takes a fair bit of it, about 20-30 yards of burlap ribbon, but I think it looks absolutely perfect. I love the scrunched up burlap and the beautiful fall colors. You could even get certain items from the dollar store to make the overall product much cheaper.
I wouldn't have thought to do something like this myself to be honest, sometimes I wish I could think of decor items a bit better. Still, I love the look and would love to experiment with other items that could be placed on this wreath just starting with the wonderful scrunched up burlap ribbon.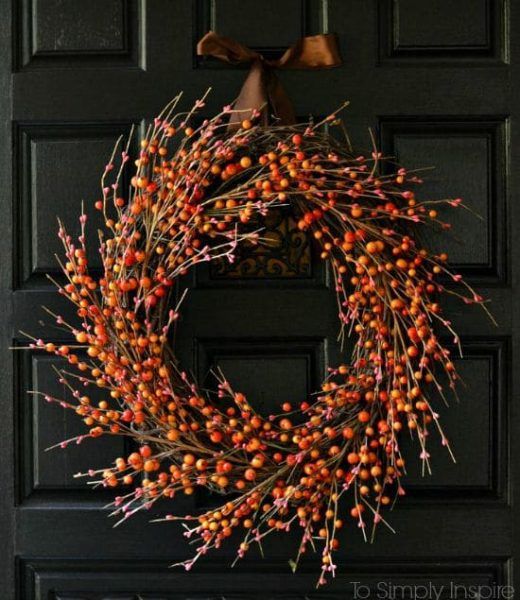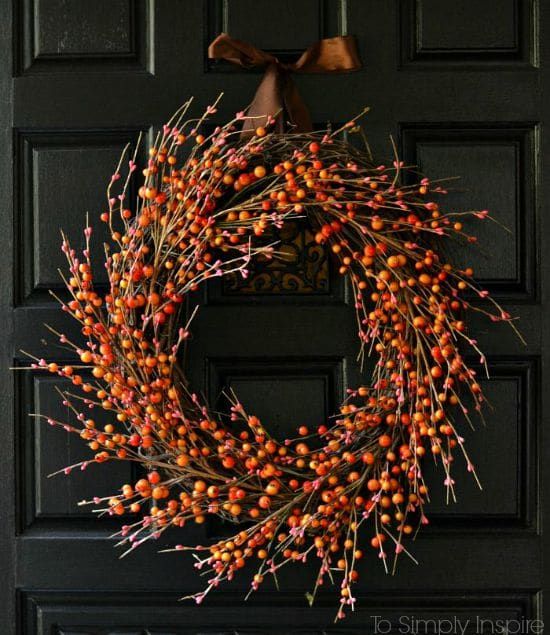 This wreath looks more complicated to make than the post makes it sound. I know it's not over the top in the items placed on it, but I have to admit that I love the look of this one too. Sometimes, simple is just absolutely perfect, and I really think that is the case here. I love the look of berries like this in the fall.
This wreath takes about 15 minutes to make, according to it's DIY post, and I'd love to see if you can get it done within 15 minutes if you're looking for something like this. Why buy one when you can make it for far cheaper? Okay, that's what I think when it comes to a lot of crafts. I buy craft supplies and try out a great many crafts. Do you to the same?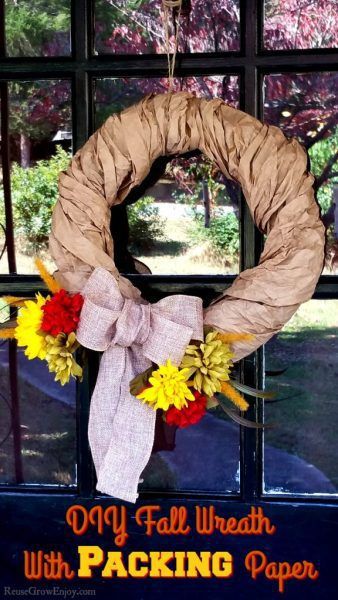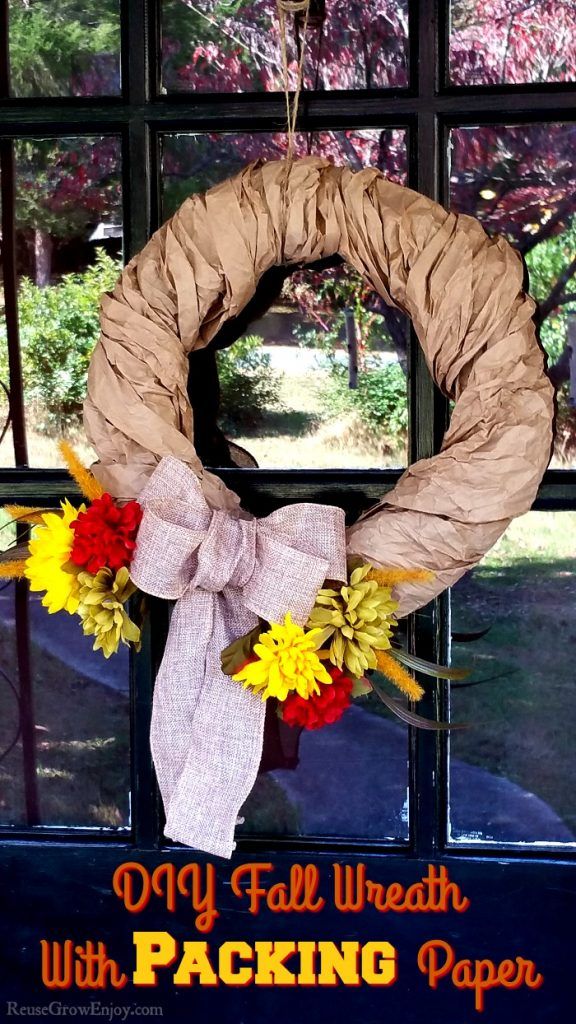 Since I shop online a fair bit I end up with a problem of what to do with packing paper. Do I just keep recycling? Do I do something more fancy with it? Do I throw it away? So many questions, there has to be something that can be done with it, right? Well this wreaths answers that question. Yep! I love the way packing paper is used to make a wreath, another thing I wouldn't have thought to do.
If you have packing paper come in a package, I would save it to try out this wreath making the cost go down even more. Plus you can use some left over burlap ribbon for the bow. You can easily do so many things with the basis of this wreath, I mean just the packing paper part. I'd love to hear any ideas you have!
I think this is another project where a bit of your supplies can come from the dollar store. I know that my local one already has some fall items and I believe soon they'll have their fall colored and themed fake floral items.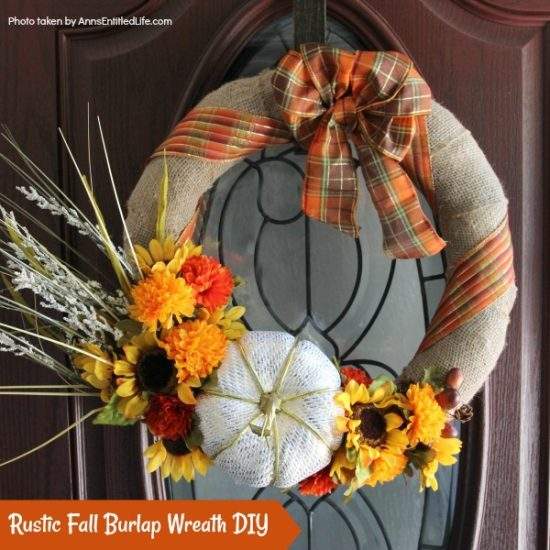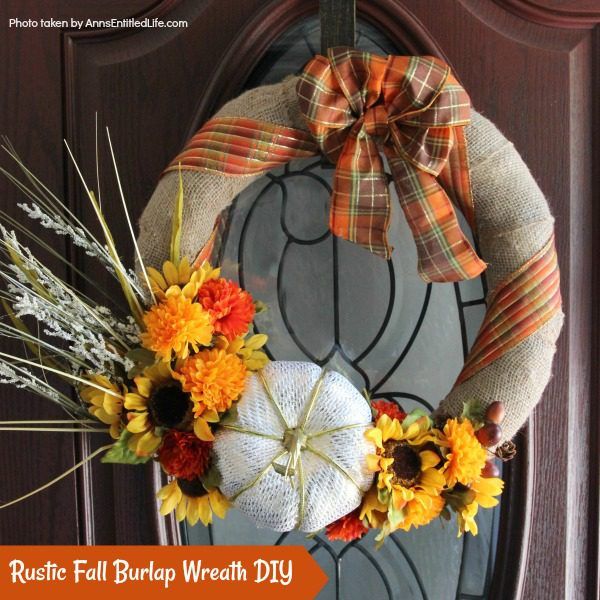 Another pretty use for burlap that actually starts with a burlap wrapped wreath form. So no need to do that step yourself if you don't want to. I love the use of flowers and stems/thick grass to decorate around the pumpkin. The contrast in colors is really pretty. I also love the use of plaid ribbon, I love plaid, even more so in the cooler weather.
Also, did you notice the adorable acorns used in the decorations on this wreath?! I love them so much, acorns are just so cute! I would personally put a few in the center of the bow, I think that'd be even cuter and tie it together really nicely. What do you think?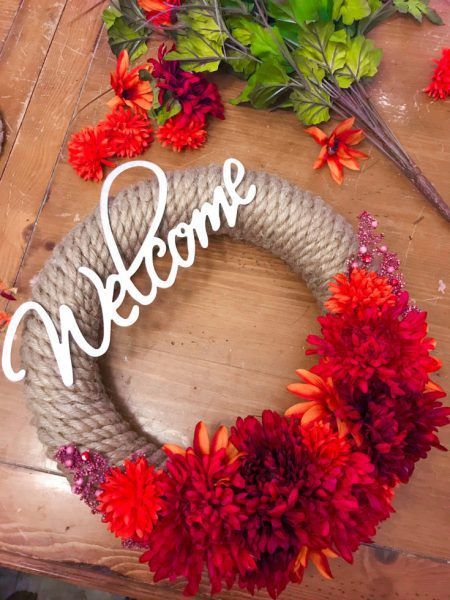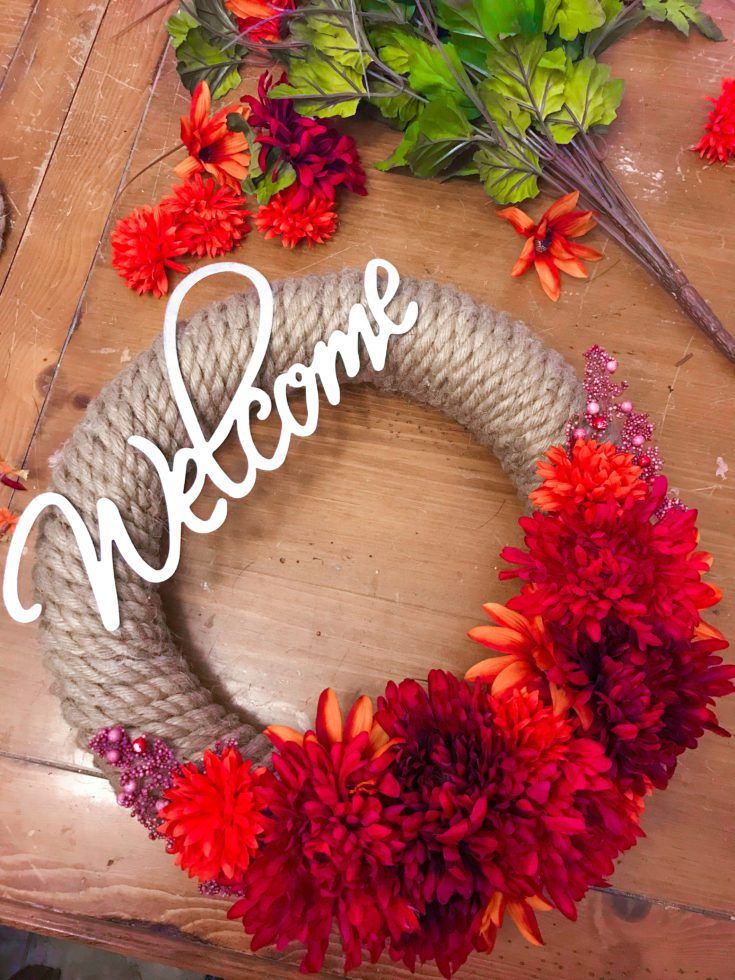 I really like the look of jute rope when it's used well. Granted I'm used to jute and hemp rope being used in cat trees and a few other decor items, I love how it can look in wreaths. I believe the last wreath I actually had used rope as well, but it's been a lot time since I've had a wreath.
This DIY post mentions using a water shield spray on your wreath, which I think is actually a very smart idea if you'll have it on a door that's outside instead of inside. I also love the addition of the metal Welcome on this wreath. What a wonderful way to welcome guests to your place as they snuggle in their sweaters and enjoy the smells of fall than with a beautiful wreath on your door?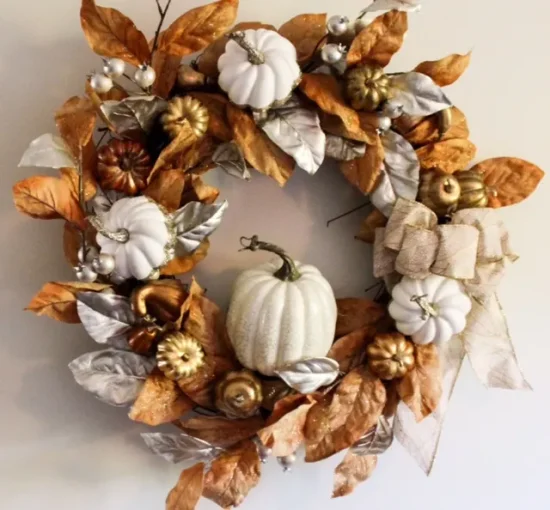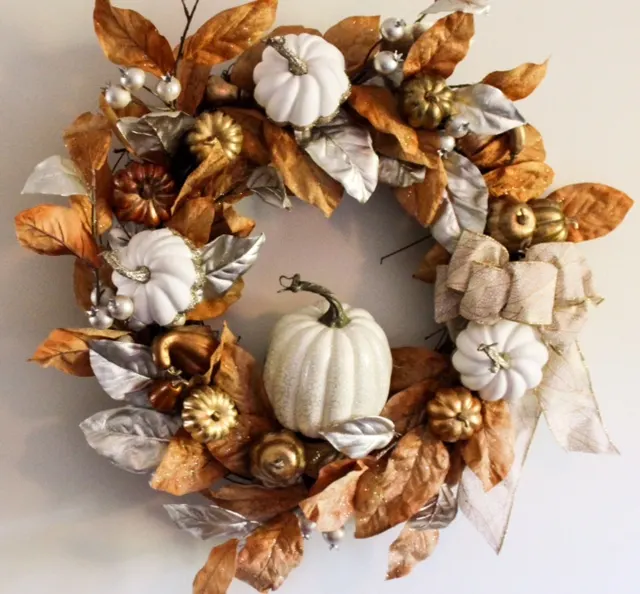 Sometimes you want something far more over the top than a simple wreath. Hey that's totally okay, I saw this one and fell in love! I mean, look at it, it's beautiful. The pumpkins, the colors, the shimmer, the bow! I've never been too big into very fancy wreaths, but this one has entirely changed my mind.
The fact that you can make this yourself makes it even better. I want to go buy all sorts of pretty pumpkins now and do this one myself. I want it on my front door as soon as September starts darn it. Shh, I know that fall doesn't officially start until later September.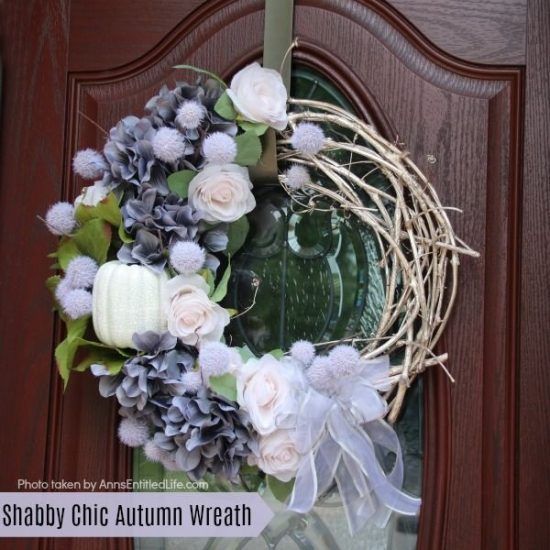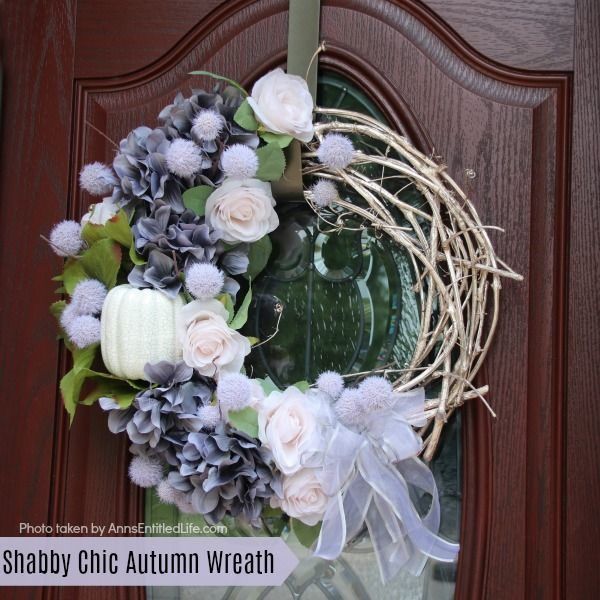 Looking at this wreath for the first time I whispered "oh my goodness!" I'd never pictured a fall wreath that didn't really include very bright fall like colors. However I have just got to say that I love this one completely. The soft colors, the pumpkin, the rose gold grapevine start of the wreath!
I don't see a lot of Shabby Chic crafts and I have to say I need to find more of them. I am highly considering making this wreath just for use in my bedroom. I'm not even kidding, I think this would look beautiful above my headboard.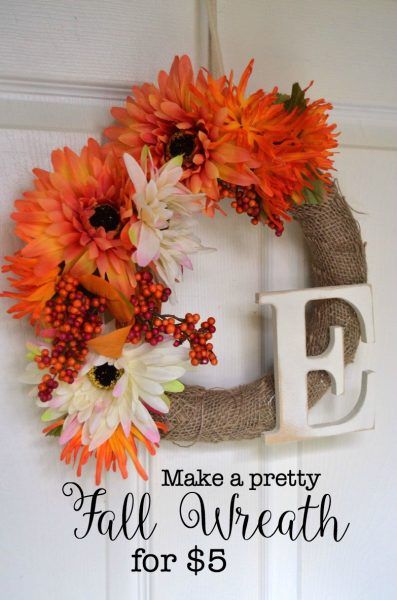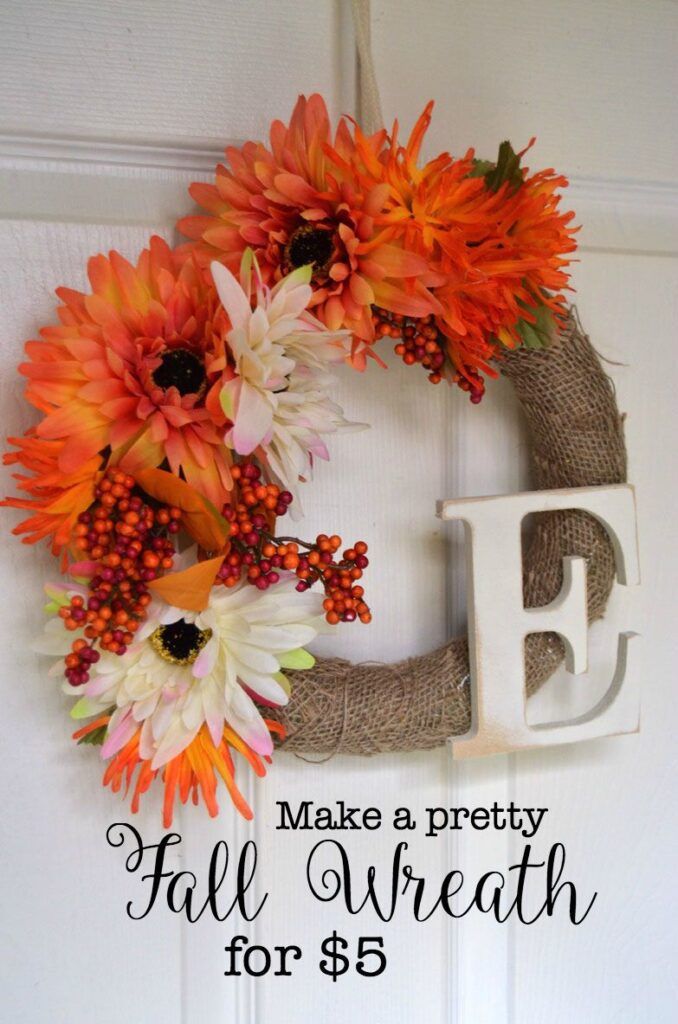 Everything on this wreath (aside from the big E) was purchased at the dollar store. Showing that you don't have to spend a lot to make something pretty to decorate no matter the holiday. It took only $5 to make the wreath and not very long time wise either.
Burlap ribbon, pretty fall colored flowers and berries? What's not to love about something this pretty that cost so little? Not much if you ask me! No one even have to know how little you paid to get all the supplies, unless you want to share of course. This would be a lovely wreath to make as a gift as well, don't you think?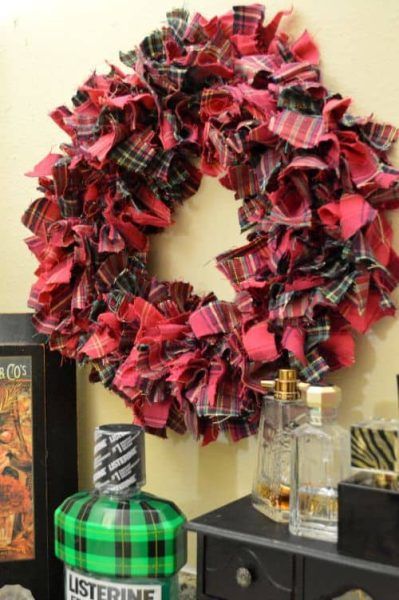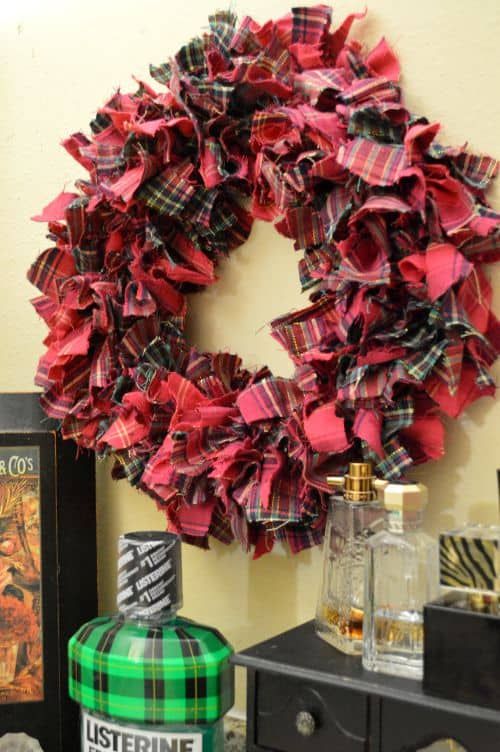 This DIY is perfect if you have a plaid shirt you don't fit in, or just have plaid fabric sitting around. Really all it requires is a small wire wreath form, plaid fabric and scissors. Plus it's fall inspired without being floral if you aren't into flowers and all that jazz.
Plus it's a super easy wreath to do and kind of looks like something that would be perfect even if you forget to take the wreath down around winter time. As the colors on this particular plaid fabric I think would be fine around Christmas time as well. What do you think?
I also think this one would look great if you added some extras too if you wanted. I could see a pumpkin and maybe some leaves in the lower left corner if you like this look but want it to have a bit more. I'd love to try this one in a pink plaid myself to be honest, I think pink plaids are just adorable!
What do you think? Would you do this one with extras or just as is?
---
There you have it! I know it's not a lot of them right now, but I just wanted to give some ideas to get you either started on making a fall wreath of your own, or just ones to make exact as pictured. Do you have a favorite of the wreaths listed above? Or, do you happen to have one that you've made yourself you'd like to share?
I love getting to hear from everyone and would love to see any creations you've made yourself. Let me know if you'd want anything you've done shown in a future round up too as I could see that being fun. A post of readers crafts that are seasonal? Maybe?
Last update on 2023-11-29 at 23:48 / Affiliate links / Images from Amazon Product Advertising API