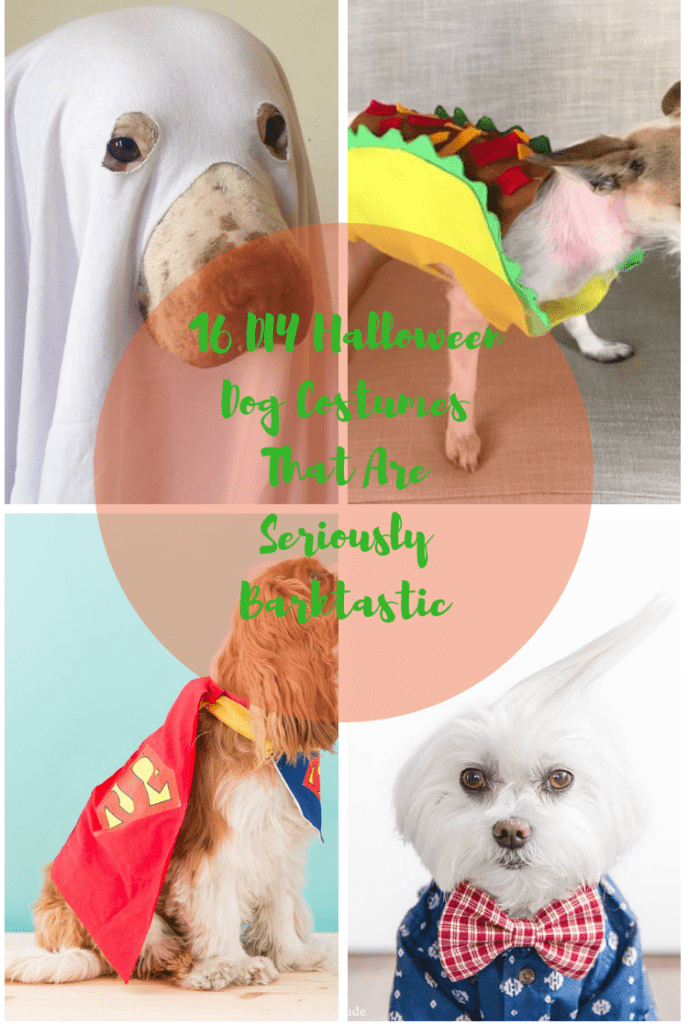 The spookiest time of year is just around the corner! Candy, popcorn balls, and…dog biscuits! Dog biscuits? Well, yes! Your dog wants to get in on the Halloween fun, too! So, why not dress Man's best Friend up in a cute costume that'll be sure to put smiles on the faces of trick-or-treaters from near and far.
Will your darling dog be a pirate, a princess, or perhaps a ham sandwich? Whatever you dress your furry friend as will certainly be adorable. I mean, how could it not? Bring Halloween in with a bang and dress your pooch in one of these 16 top dog costumes. Your four-legged friend will look so cute your cat will undoubtedly be jealous.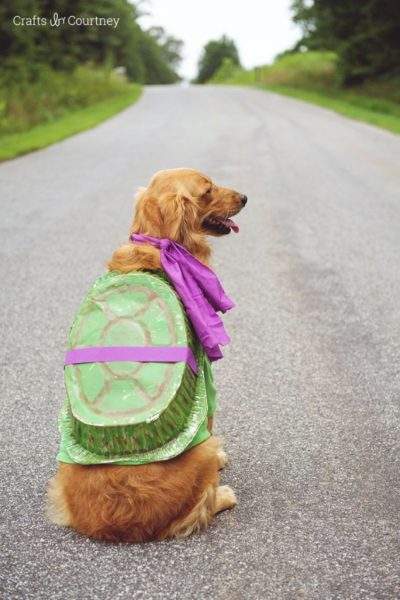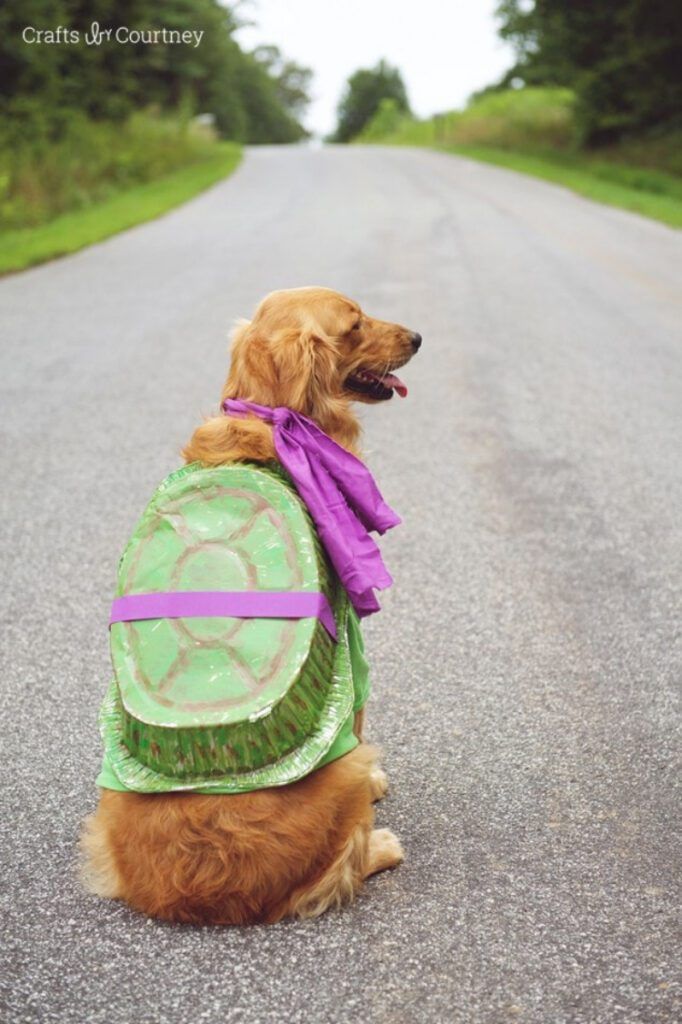 Remember the days of sitting around the TV to watch your four favorite Italian turtles battle the evil Shredder and save all of humanity? Welp, now you can take a walk down memory lane through your doggo! Dress up your furry friend as a Teenage Mutant Ninja Turtle this Halloween by making this fun DIY costume.
If it were me, I'd dress up as April or any other TMNT character and walk alongside my pup as the kids and I trick-or-treated. So. Much. Fun.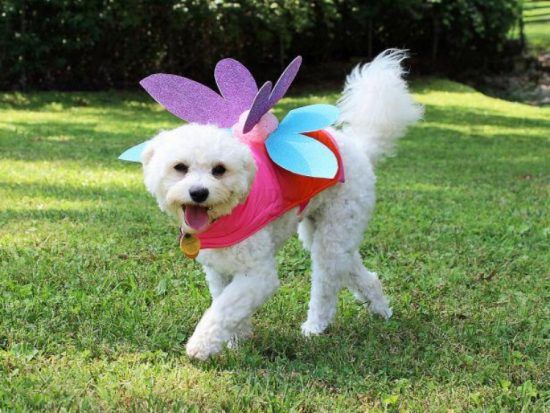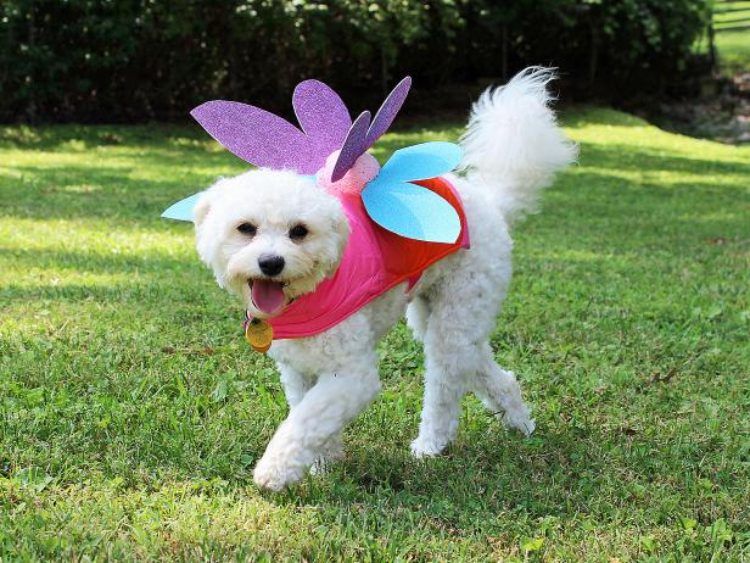 Isn't this pooch a ball of fairy fabulousness? I just want to pick her up and snuggle! Anyway, creating a fairy costume for your dog isn't hard at all and requires minimal materials. Once you're done, your little dog will look like she belongs in one of Grimm's Fairytales.
Help your sweet doggy look like she's stepping off the pages of a fairytale by making this sweet costume. The trick-or-treaters will love seeing how cute she is!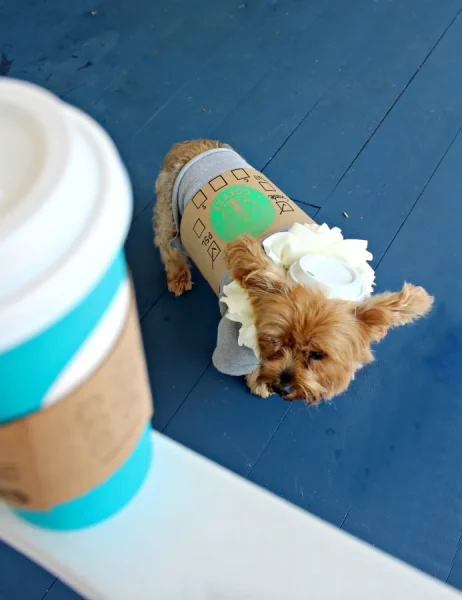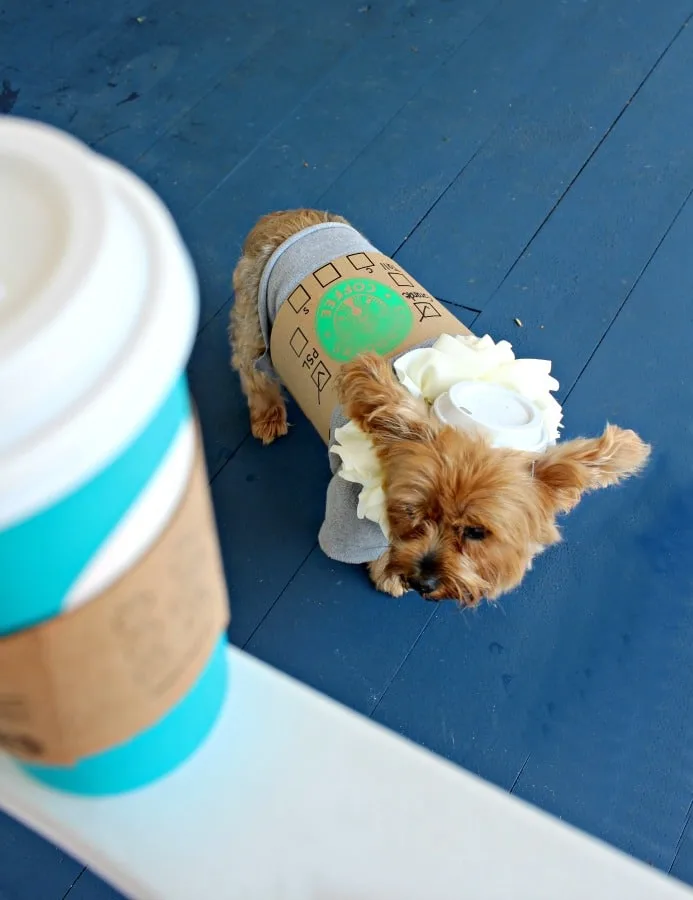 Have you ever wanted the sweet taste of pumpkin spice so badly that it made you want to cry? Good. Glad to know that I'm not the only one. Now, for my fellow pumpkin spice latte lovers, here is a dog costume that you simply can't resist! Make this DIY masterpiece using simple materials and a smile.
Your little pooch will look absolutely drinkable! Watch out for hipsters as they just may try to sip your dog. Just sayin.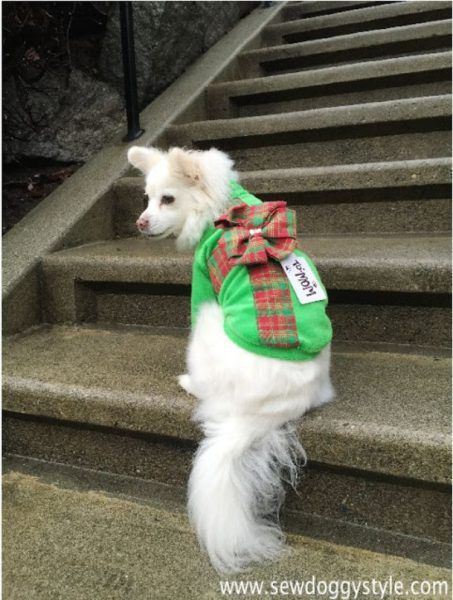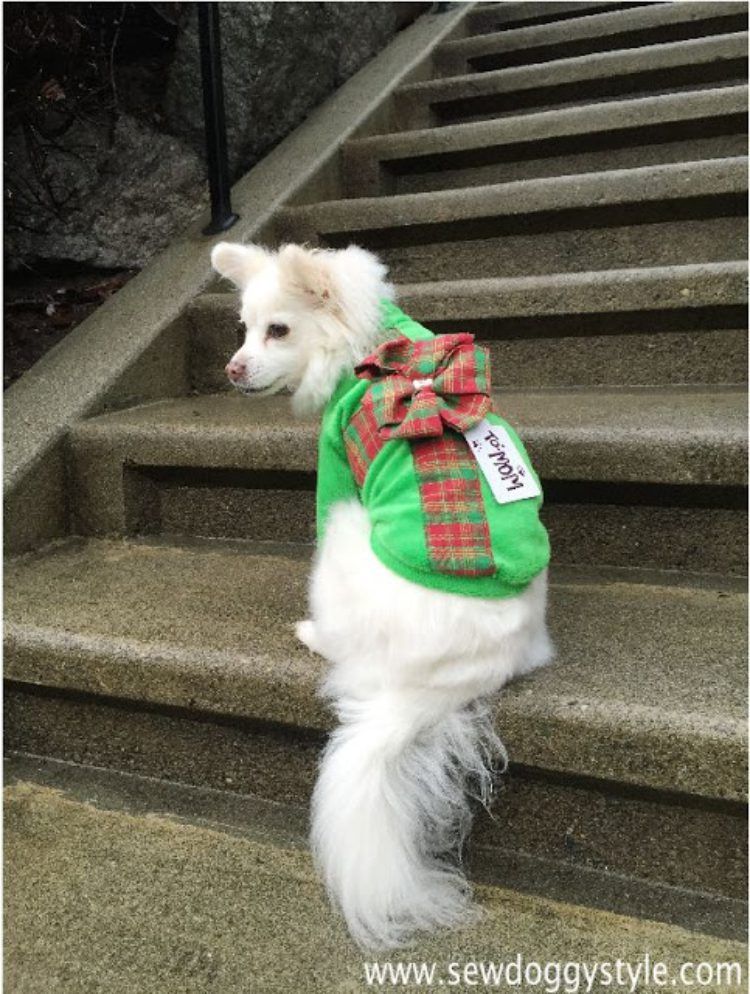 Who says ugly Christmas sweaters are just for Christmas? I've seen plenty of trick-or-treaters scampering around in angel and Santa Claus costumes. So, I don't see any issue with creating an ugly Christmas sweater for your dog as his spooktacular attire.
This costume is super easy to make and can also double as garb for the Holly Jolly Holidays. Plus, your pooch won't get cold while donning this adorable sweater.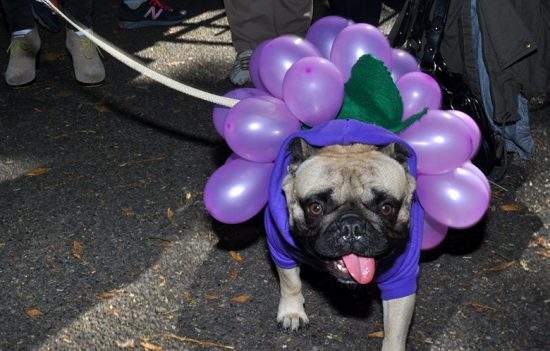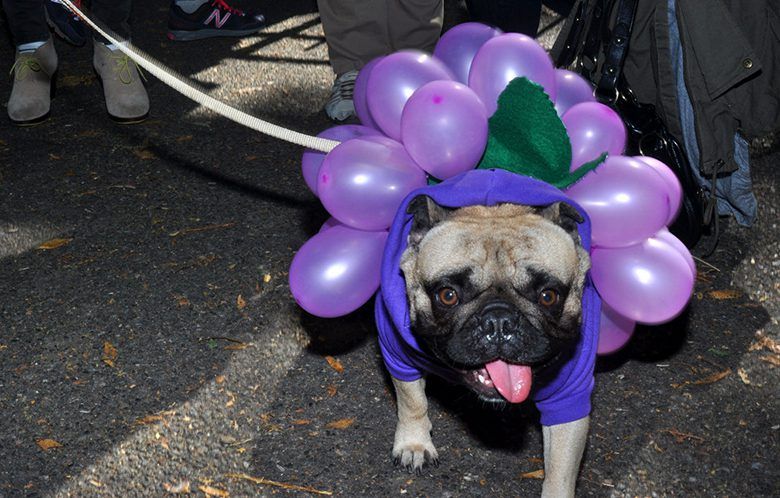 Make your dog look good enough to eat when you create him a DIY grapes costume! No, as a forewarning, this costume isn't for the skittish doggo. If one of the "grapes" happens to burst while he is wearing it, well, it can cause quite an ordeal for your furry friend.
However, if you dog doesn't startle easily this simple-to-make costume will be the perfect addition to your Halloween decor this year. Heck, you can even turn your entire family into a fruit bowl!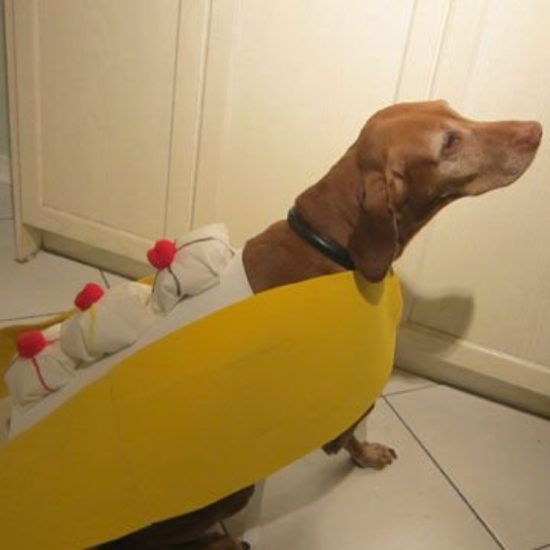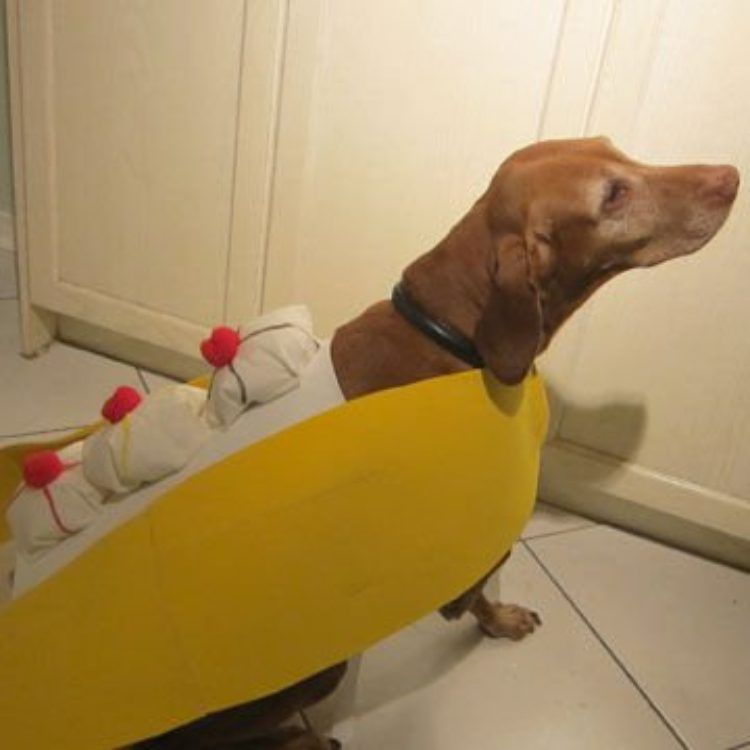 If you thought the bunch 'o grapes costume was good enough to eat check out this sweet treat! Your dog will be the yummiest looking canine on the block when he is wearing a banana split costume that you made with your own two paws…er, hands.
This DIY costume is super easy to make and it's a project that you can even allow your kiddos to help you with.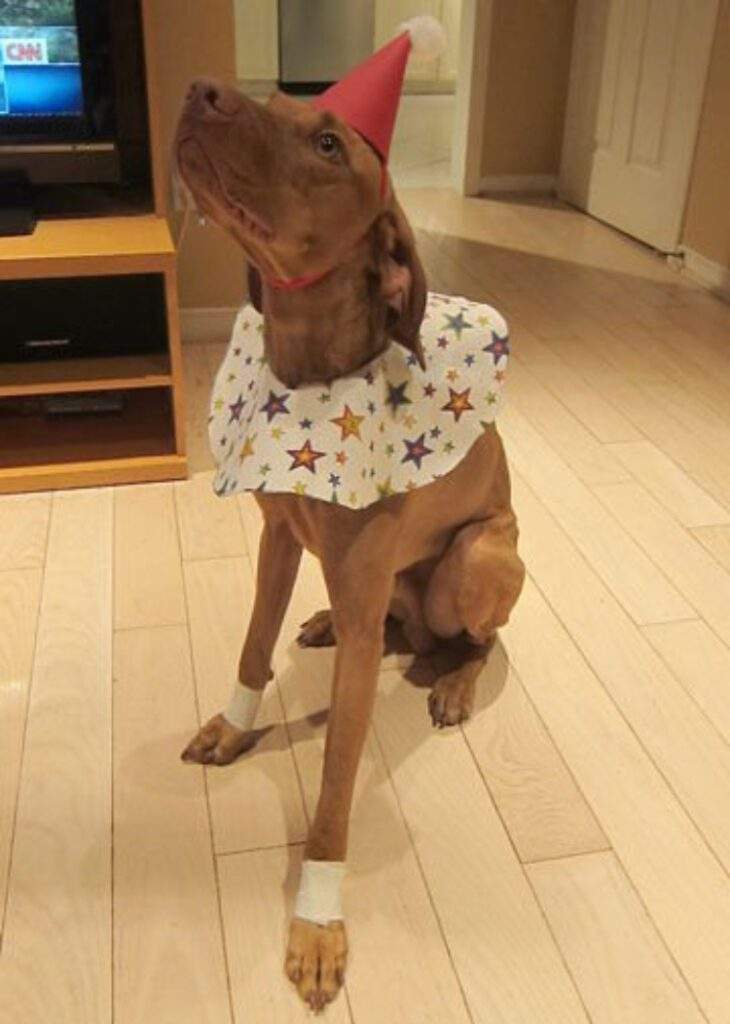 If your dog doesn't care much for costumes he may not mind this minimal clown garb. It only consists of a few pieces of material that you DON'T HAVE TO SEW. So, if you're like me and aren't great with a needle and thread AND have a temperamental dog when it comes to clothes, this is the costume for you.
Plus, consider the possibilities! You could create a circus theme for your family's Halloween costumes this year. You could all go as carnies. Creepy.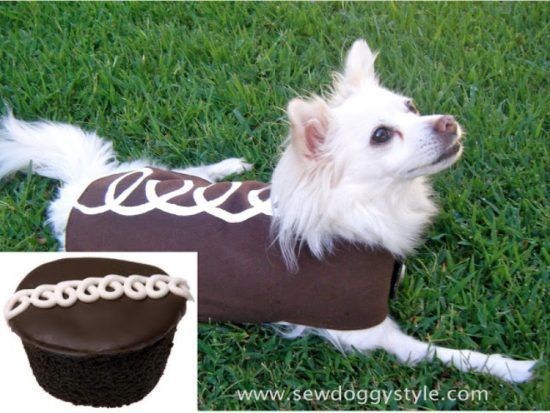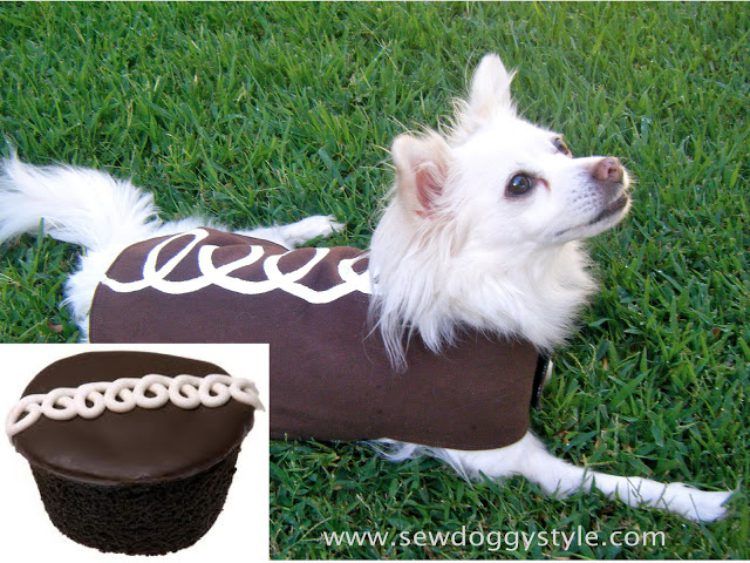 Do you remember the days of coming home from school and reaching for a Hostess cupcake snack? Ah, those chocolaty brown cakes of goodness with the white squiggle on top. So yummy! You have every reason to make this DIY cupcake costume for your pup.
You'll have your little critter looking super chocolatey and adorable. This costume is fairly easy to make and only requires minimal sewing. the folks over at Sew Doggy Style give you wonderful step-by-step instructions.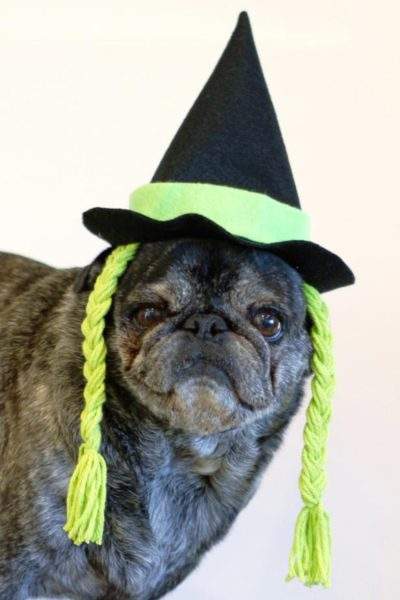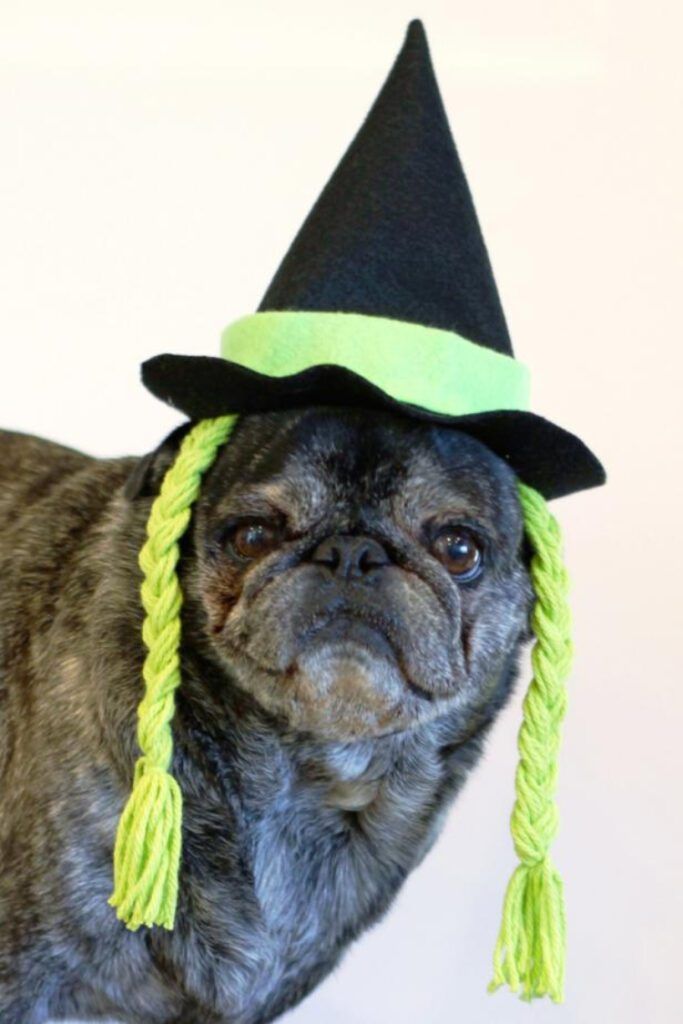 If your dog doesn't care for clothes very much then this simple witch hat Halloween costume is just what the dog-tor ordered. It's very easy to make, looks super cute, and won't constrain your four-legged friend.
If your dog happens to be a boy you can call it a wizard hat. I'm sure your pooch won't mind. This hat can be made using any color combination that you desire.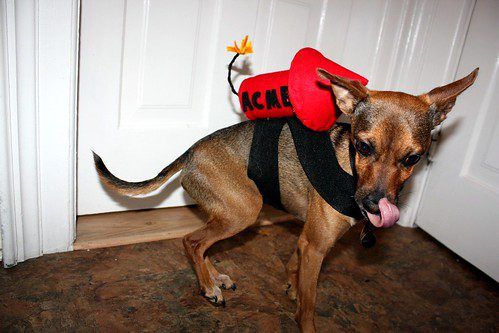 Such a simple and fun costume for Man's Best Friend! Using materials from around your house you can construct a sweet looking Wile E. Coyote costume for your pup. This costume is worth entering into a Dog Halloween Costume Contest. A top winner, for sure.
If you happen to run into the Road Runner or Yosemite Sam while your dog is wearing this costume, look out!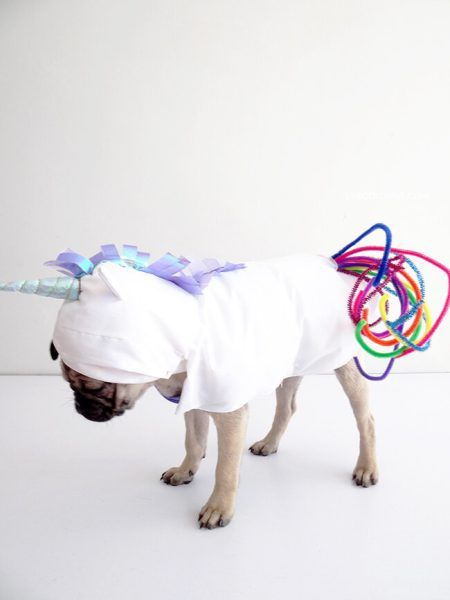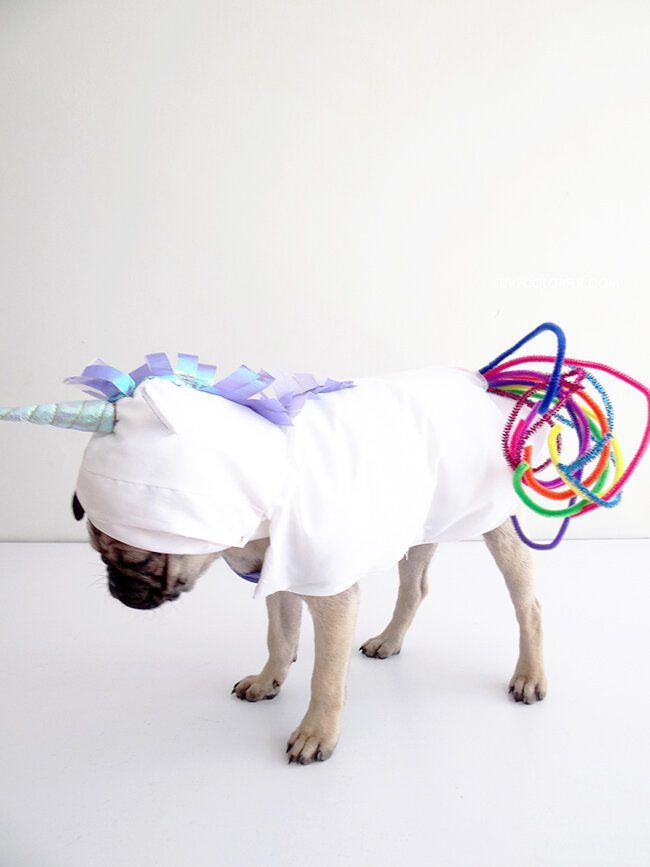 Make your dog look like something straight from Fantasy Land when you create the perfect canine unicorn costume. Such an adorable DIY creation! If you have little girls they just may be jealous over this costume and ask you to make them one to wear, too.
So colorful, so shimmery, so amazing! You may just find yourself dressing your pup as a unicorn beyond Halloween with this fantastic costume in your midst.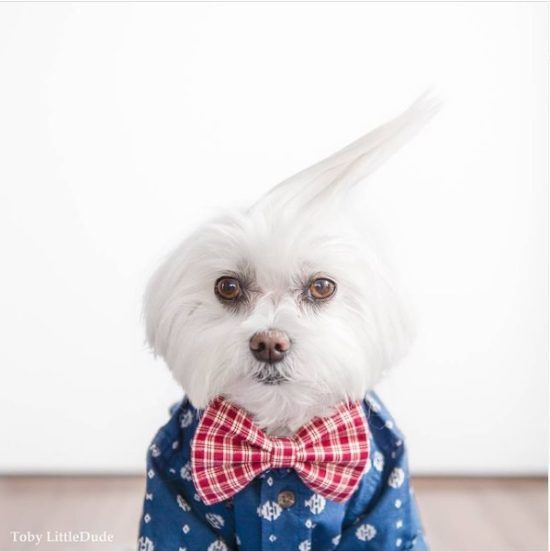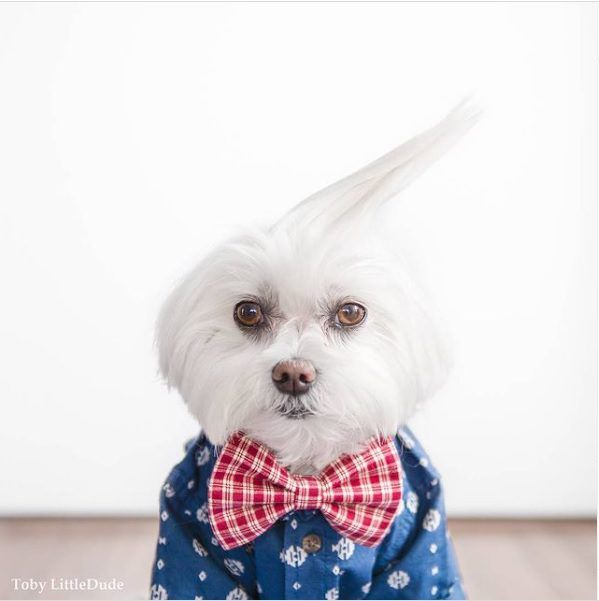 So, if you have two dogs you may want to make one of them this cute Hipster and the other the pumpkin spice latte from above. The two would go together like peas and carrots! I'd vote them as having the best Halloween costumes in all the land.
This hipster costume is very easy to put together. I mean, seriously if you have a toddler button up shirt and a bow tie, you've got the costume made. Add a little hair gel to your dog's fur to create a coif and voila!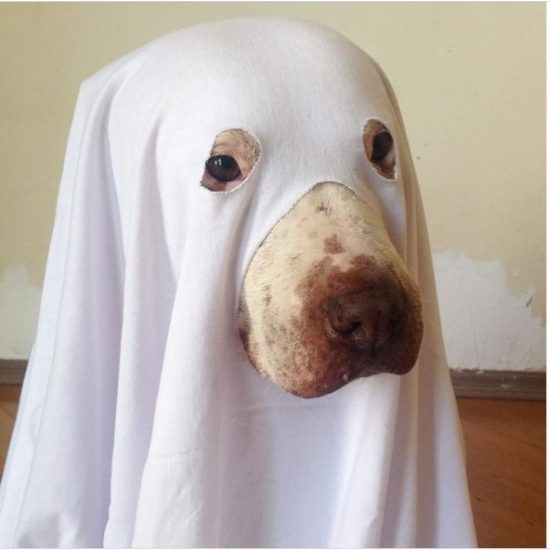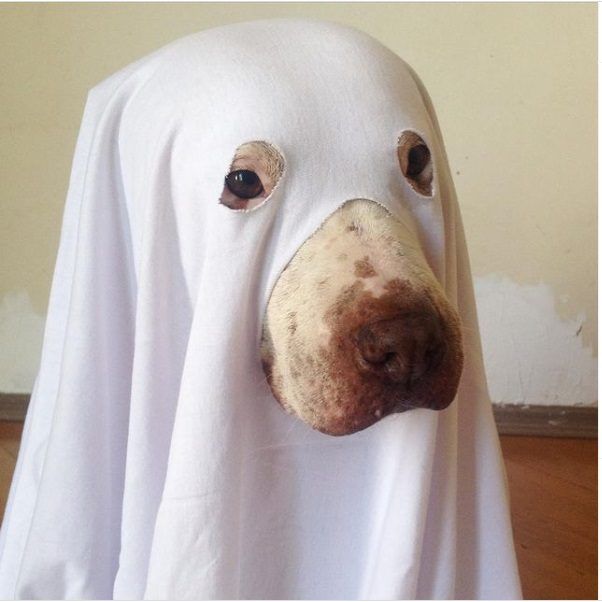 If you want your doggo to run around scaring the pants off of people, dress him in this amazingly easy ghost costume. Nothing like letting your ghost dog loose in a dark house to get grandma's heart pumping. Plus, this is one of the laziest dog costumes around so if you're not looking for a whole lot of work, go with the ghost, man.
Prepare yourself for a night of howls with this easy-to-make costume!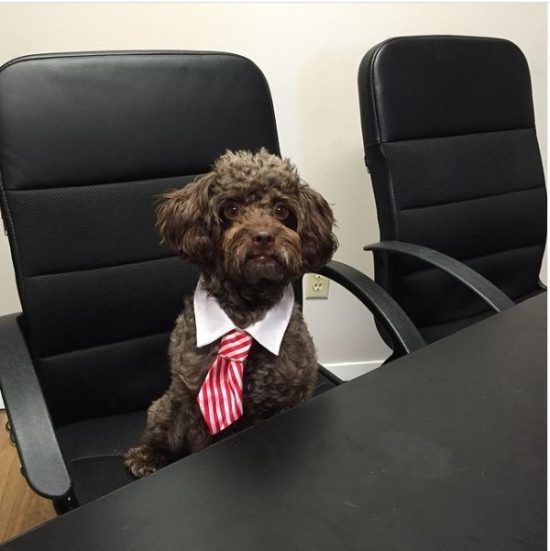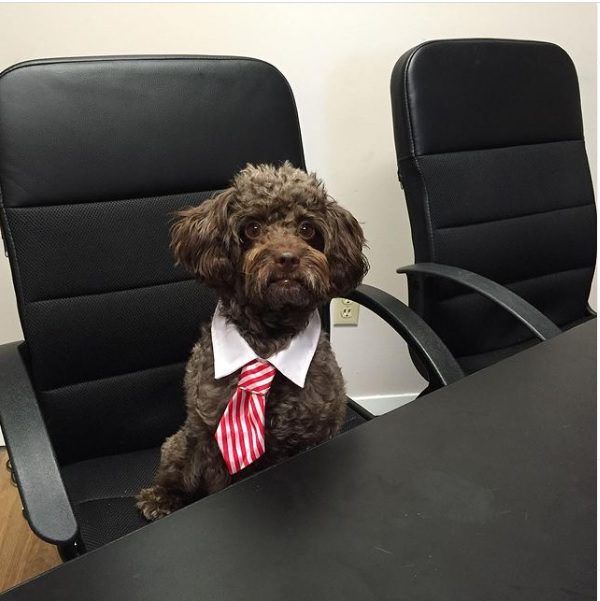 If you're a Mad Men fan and super sad that the series ended, dry your tears and make your dog a very simple Don Draper Halloween costume. All you need is a necktie and collar. Oh, and a boardroom with business chair and table for picture taking 🙂
This costume will have any and all fans of Mad Men oohing and ahhing as Pete Campbell did over Don Draper's job.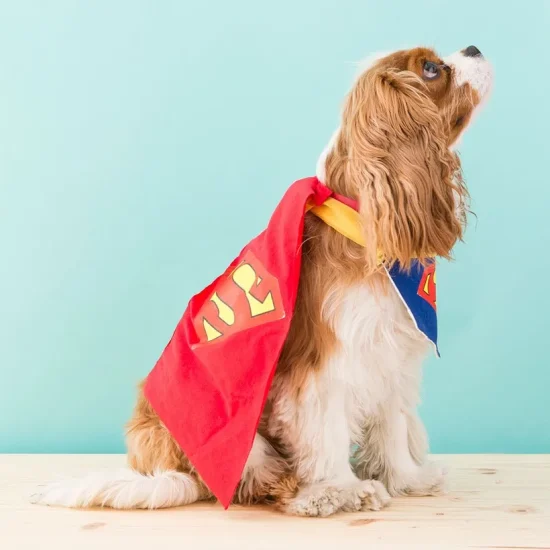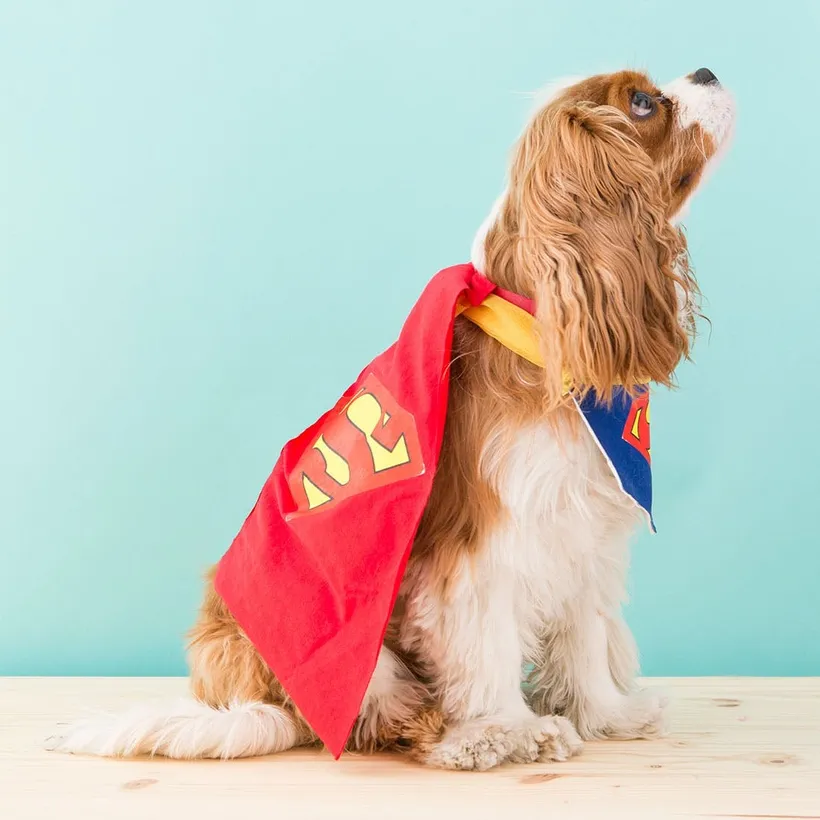 Does your dog like to save the day? Perhaps he or she is keen on keeping villains at bay. Whatever the case may be, a DIY Superman costume just might be the perfect look for your pooch this Halloween holiday. Plus, the step-by-step instructions on how to make this wonderful costume are pretty easy to follow.
This costume is so realistic that when I made it for my dog I swore I saw him fly through the sky. Or, maybe I just ate one to may popcorn balls and the sugar got to my head.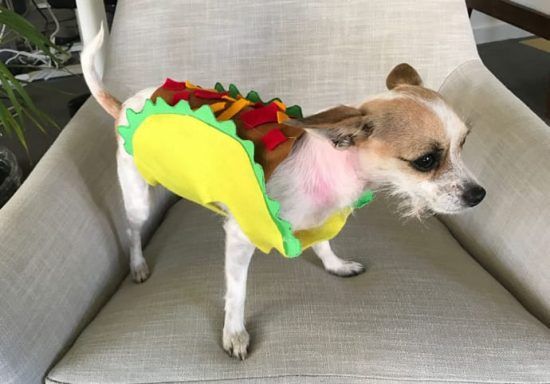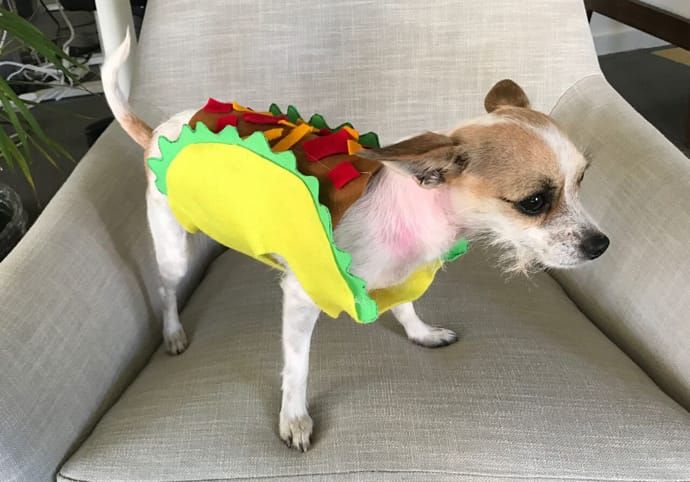 So, honestly, I think this DIY taco dog costume is my favorite look from this entire list. I mean, I've always said that I want to lose 10 pounds but I also want to eat tacos.
Anyway, you'll be pleased that this crunchy little canine costume isn't too terribly hard to create. The instructions are easy to understand and the cost is fairly small.
---
Has your cuteness meter been overloaded yet? I know mine sure has! These DIY dog costumes are so supremely adorable that I can barely stand it. Guess I had better sit down, then. Ha! Lame joke of the day goes to…
Anyway, I really hope you like the 16 costumes we have listed here for you to browse through. You'll find that making your pet a Halloween costume with your own two hands is rather rewarding, especially when you see your pooch prancing around in your creation.
Have a barktastic Halloween!