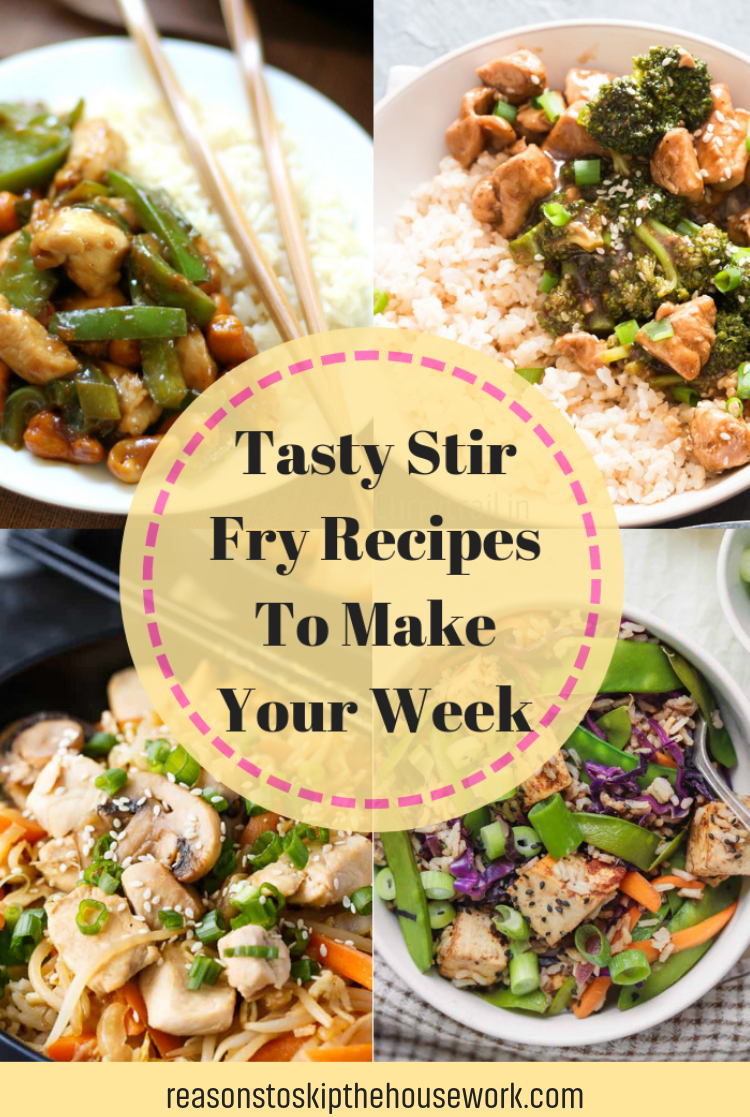 I grew up cooking Stir Fry in a variety of ways as they were easy, and could often be made with inexpensive ingredients. Stir Frying is a Chinese cooking technique that involves frying ingredients in a small amount of hot oil in a wok while stirring them. Of course we didn't always have a wok growing up, so I made do with just a standard frying pan.
I still love Stir Fry to this day, and while the kids don't always love having Stir Fry it holds a special place in my heart. Here are some delicious Stir Fry recipes to up your dinner game. A variety of ingredients and flavors to suit your tastes can be found here, and if you have a recipe that you particularly love I'd love to hear about it!
Lo Mein is a very easy dish to make, and one of the first Stir Fry meals I learned to make. This one is gluten free, vegan, and top 8 allergy free. If you're looking for a good side dish, or just an easy vegan meal this one is perfect to make and keep on hand as part of meal prep. It's fast to make, freezes well, and reheats well for later if you're in a hurry or just don't want to cook.
Chicken and Broccoli is hands down one of my favorite dishes. I love broccoli so much, and the sauce is one of my favorite parts of this dish. I have yet to make it in 15 minutes, so I cannot wait to give this one a try and see if I love it as much as my regular version.
Left over chicken and broccoli is one of my favorite things to have for breakfast, just pop it in the microwave. Can you really go wrong with broccoli, chicken and a delicious sauce? I sure don't think so.
When it comes to peanut butter I have to admit that I haven't been all that adventurous with what can be done with it. So the idea of using it in a stir fry is a little different than I'd imagine. Still, when it looks this good, how could I possibly say no?
It won me over right away with the chicken and mushrooms. There's very little not to love about this entire dish. Overall it's a very delicious stir fry that I highly recommend.
This stir fry recipe is actually gluten and soy free! It's a good option for a delicious Chinese Cashew Chicken that you can make at home for much cheaper than take out. Plus you'll know exactly what is it in. I haven't actually tried cashew chicken before, but it looks delicious and I need to actually get around to trying it out. I don't often eat cashews, so I haven't tried cooking with them before.
The secret for avoiding soy, and soy sauce in this dish is Coconut Aminos, which I've never heard before but can't wait to also try out in other recipes now that I've learned a little about it.
I don't often use pork to make stir fries, I don't know why, I just haven't really found a lot of recipes using it. I use a lot of chicken, but I have to admit that the hoisin pork looks absolutely amazing and I can't wait to try it. This recipe takes only 8 ingredients and that means it's perfect for me when I need something quick but still delicious and that looks good too.
Yeah, I like to make sure food looks good before we eat it, a lot of the time I can't get into a recipe if I don't think it looks positively drool worthy.
This recipe is also Paleo, Gluten-free and Dairy-free. Yay!
Hunan Beef is actually one of the things that always goes on my plate when we go to the Chinese buffet here in town. I love it, yet surprisingly I've never tried to make it! I don't even know why. This recipe says it takes less than 20 minutes, is low carb and gluten free. Of course, I love rice so I'd want it with rice. Though there's nothing wrong with a good plate of meat for a protein rich meal!
If you'd never tried Hunan beef before, it's peppery and a little spicy, but it's delicious. It can be made less spicy if you really want, but I love it the way it is! For the kids to eat it, I'd have to lessen the spice as some don't like spicy food. Just looking at the picture is making me hungry!
This recipe looks perfect if you love lots of veggies, and in big chunks. I haven't ever tried Indian food before, and didn't know paneer was a cheese before I came across this recipe actually. So, in the end the recipe maker made her own paneer! Which is amazing to me, I'd love to try both making paneer and this recipe.
Have you ever tried Indian food? Do you have a favorite?
I have to admit I haven't ever tried a recipe that uses fruit like this. I also have to admit that it looks pretty good! So I will probably give it a try even if I'm a little nervous at the idea of stir fried clementines. Have you ever eaten them stir fried before?
I'd want to pair this with some short grain sticky rice, if only because that's my favorite way to eat rice and I always have some in the house.
I have to admit that Rebecca from Strength and Sunshine has some amazing looking recipes! She just has so many that I'd love to try even though I don't have to follow a gluten free diet. This one is a gluten free, paleo, soy free, and top 8 allergy free take on General Tso's Chicken!
I've only ever eaten General Tso's as the crispy breaded chicken and usually get it at the buffet. I could still make it gluten free and crispy thankfully as I do that sometimes when making one of my other loves; Almond chicken. Though I will also try it this way, maybe I will enjoy it even without a delicious crunchy breading. What do you think?
I love the rainbow colors of the vegetables included in this dish, plus I love beef when it comes to stir fry. I don't often use peppers in stir fries, but the picture for the recipe alone has convinced me to give them more of a shot in my life. During the school year I tend to cook more stir fry recipes, as I'm busier than during the summer. This one will be added to our line up!
This take on Orange Chicken is Gluten free, Soy Free, and Top 8 Allergy free! Who says you have to miss out on your favorite Chinese style food when you have food allergies and things you need to avoid?
hank goodness for the internet in making it easier than ever to share delicious recipes. This recipe allows you the delicious flavors of orange chicken without the worry of certain ingredients.
I haven't tried Shishito peppers before, but they're said that they're not too spicy. So I will give them a shot, more so because I love the look of this recipe. More so because I love rice noodles like this recipe uses. Still, you could always use spicier peppers if that's more to your liking. Though if you're just looking for fiber from the peppers, the shishito sound like a good bet!
This Pad Thai recipe is Paleo and Gluten Free! So if you suddenly found yourself needing to cut gluten out of your diet, or have been gluten free for awhile now but mussing Pad Thai, this recipe is for you. I've admittedly never tried spaghetti squash, so I will need to try this one out too and see what I think. Do you like spaghetti squash?
Shrimp is one of my favorite things to use in a stir fry, and I can't wait to try this one because it's been far too long since I've used snow peas in anything. This recipe takes 15 minutes to make, is low carb, gluten free and counts as a Whole30 meal! So delicious and guilt free, what's not to enjoy there?
I first fell in love with Sriracha at one of those Mongolian BBQ places where you put all your ingredients in a bowl, pick your sauces, and watch them cook it. I usually eat small batches of my bowl in a little bowl with doses of Sriracha, as I always love to make enough to take home as left overs. I am trying to start doing a meatless dinner here and there, and can't wait to try this stir fry out.
Soba noodles are from Japan, but I haven't really tried them more than a few times. Still, I absolutely love mushrooms and noodle stir fries are some of my favorites. I can't wait to try this one out as the weather gets colder. It's officially nice warm comfort food weather for me, and noodles hit the spot really well.
Sadly I haven't tried much in the way of Korean food, and I don't often eat fish either. Two things I really plan to try fixing ASAP. The kids love Salmon and so I am trying to make sure they get more fish in their diets as well. This recipe will allow me to do just that. I love broccoli, so that makes it even better as far as I'm concerned. I can't wait to try this out really soon!
I am always jealous when I see pictures of tofu cooked so perfectly. Even when I use the extra firm tofu it seems to break up for me. I must be missing something in the cooking process. Anyway, this recipe looks absolutely delicious and is a 30 minute meal! Vegan, Gluten free, and made from delicious fresh ingredients. Another perfect one for a Meatless Monday perhaps?
I love rice noodles, their texture is interesting but not in a bad way, and they're relatively easy to work with. Plus, I actually like Tilapia a fair bit! I never thought of making a stir fry with it, and clearly I am missing out as this looks delicious.
This is another 30 minute meal, that only takes 9 total ingredients. Simply, delicious and beautiful. Perfect for a busy weeknight when you need to throw something together.
This stir fry is a close recreation of Dan Dan noodles, which I've never had but the picture makes look absolutely delicious. It's an easy 30 minute meal with a good portion of fresh vegetables. Who needs take out with recipes like this?
---
I hope this post was able to help you find at least one new stir fry recipe to try out, there are so many delicious options out there. I'd love to know what you think about any of the recipes above, and as always I'd love to know what your favorite recipes are! In this case, do you have a favorite stir fry?
Last update on 2021-04-12 at 00:24 / Affiliate links / Images from Amazon Product Advertising API