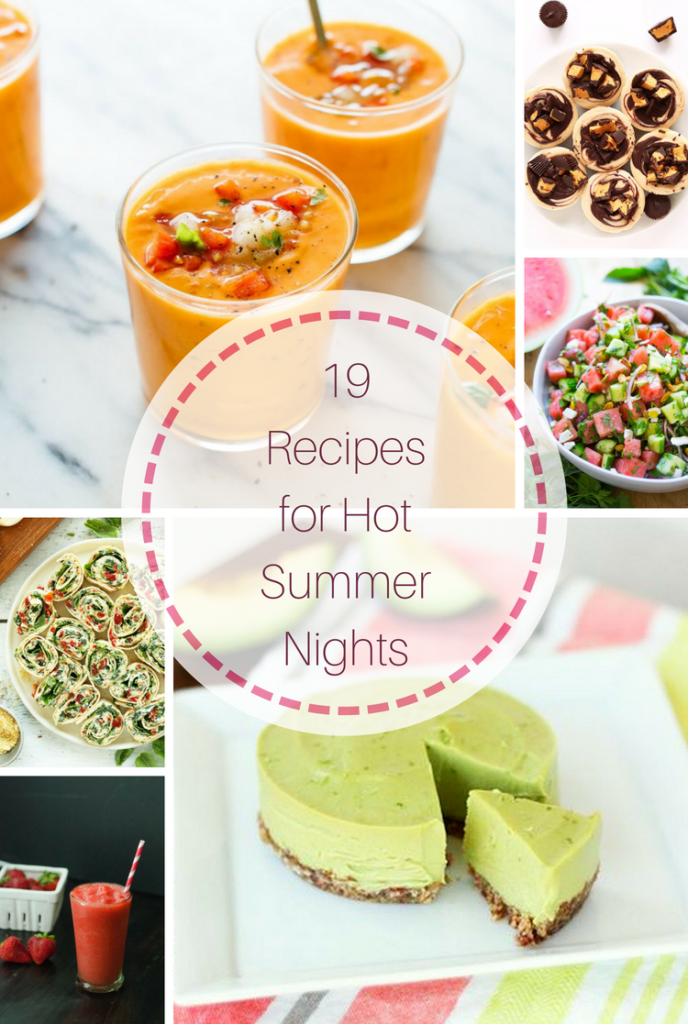 Hot summer nights…even air conditioning can't completely beat that hot, sticky heat. The last thing anyone wants to eat or drink is something heavy, thick, salty. This list features lots of vegan recipes that are dairy free, citrusy, and celebrate fresh vegetables and fruit-perfect for a hot summer's night.
You can be the hero of any nighttime summer barbeque by bringing one of these recipes along. While everyone else's heavy foods sit half-eaten, people will go wild for these light and yummy recipes!
Oh She Glows adapted this salad from the Love and Lemons Cookbook. It's a lighter version for those hot summer nights! It ditched the mozzarella, upped the balsamic vinegar, and exchanged toasted pecans for sesame seeds.
Love and Lemons: An Apple-to-Zucchini Celebration of Impromptu Cooking, is a super fun cookbook for a ton of great recipes. The book is divided into chapters by vegetable (or fruits), and is a celebration of impromptu cooking that celebrates fresh ingredients.
Gazpacho almost HAS TO be made in the summer, since it relies on absolutely, ultra-fresh ingredients. We're talking still warm from the sun, plucked from the garden minutes ago tomatoes and cucumbers.
You'll need ripe red tomatoes, a Vidalia onion, a small cucumber, a medium red bell pepper, fresh basil leaves, garlic, extra-virgin olive oil, sherry vinegar or red wine vinegar, and salt n pepper.
10-Minute Black Bean Tacos
Tacos in 10 minutes, what else could you ask for! Just quick fry black beans in just a splash of healthy olive oil with some onion and spices. Top with some shredded cabbage, salsa, and lime and voila, dinner is served!  You can keep tortillas in the freezer, frozen onion, canned back beans, and lime juice and premade salsa in a jar to always be ready to throw this together on a busy (hot!) night.
Savory watermelon is one of those things that people refuse to try, then get hooked on for life! This Moroccan Salad is a great introduction to watermelon in salad. Cool, crunchy watermelon pairs so well with fresh cucumber – Mix in red onion, toasted pistachios, parsley, mint and a light vinaigrette, then sprinkle a tiny bit of ground clove and feta crumbles. This salad is truly amazing when the watermelon is served ice cold. Keep it in the fridge and cube it to add to the salad right before you're ready to eat.
Homemade Easy Fruit Slushies
Remember slushies and icees that came from the machine when you pulled the lever? The blue flavor tastes the best (and most mysterious…what is the blue supposed to be?) and it always turned your tongue purple.
Now you can make slushies at home and shhhh…they're healthy! You just need chopped fresh fruit, 1 cup ice, and a quarter cup sparkling water. Try pairing watermelon and mint to start. Vanilla and mango, ginger and strawberry, or try a lemonade version!
Various countries in Asia make a mean cold noodle dish. Japan has cold soba, dipped in dashi, soy sauce, and mirin. China has a Sichuan peanut cold noodle dish which is the inspiration for this recipe. This one uses ingredients you could find in any grocery store in the US, like broccoli slaw. You can also add shredded chicken or edamame for a more protein laden main meal, or look for "tofu skin" in an Asian grocery store for the Chinese version.
Taking out the meat and adding a bunch of fresh avocado and pickled jalapenos lightens up this party favorite during a steamy summer. It uses both refried beans and black beans so it definitely doesn't skimp on the protein. After a quick trip in the oven to melt the cheese, top it with bacon, shrimp, chorizo, Sriracha…whatever you heart desires!
No one wants a heavy plate of pasta on a hot night! This dish could be served slightly warm or you can refrigerate it and eat as a cold salad. You can use whatever vegetables you can get your hands on, as long as they're a variety of colors (think yellow peppers, heirloom tomatoes, or purple radishes!) A lot of cold pasta salads have a heavy mayo dressing, but this one uses a super light vinaigrette.
Dole Whip is a mysterious dessert that only exists in Disneyland. It's "a popular frozen treat blended in pineapple, vanilla or swirled flavors. Frosty floats and fresh pineapple spears are also available."
Apparently people go nuts trying to recreate this treat (hey, it's ONLY available in Disneyland, can you blame them?) This is one of the recipes, and its vegan so it is extra, extra light. You just need frozen pineapple, bananas, nut milk, vanilla, and maple syrup, and a blender.
Yum!
Potato salad is a staple at summer barbeques, which is strange because heat and mayo aren't the best mix. This recipe is awesome because it is vegan and uses Vegan Soy-Free Mayo. It's actually gluten-free, vegan, and top 8 allergy-free recipe, so it's about as close to the perfect food in today's climate of people recognizing various food allergies and dietary restrictions.
Once you cook and cool the potatoes, this recipe can take less than 5 minutes to prepare. If you have time, refrigerate it to really make the flavor come together.
Sushi is an awesome food for hot summer nights, though of course, the fish can't be out for long. This is a great option because it utilizes summer veggies. It stays yummy in the heat for longer. Plus it uses fresh summer veggies. Lastly, its a much cheaper option than making sushi with expensive sushi-grade fish.
Some veggies that work well for this are peppers, carrots, cucumber, avocado, mushrooms, fresh sprouts, and asparagus. You can even set up a hand roll station where guests can make their own!
Store bought macaroni salad is both awesome and very heavy. It generally lacks a lot of nutritional value. This is a tasty option that's healthier and dairy free! Per serving it only has 184 calories and 6 grams of fat.
This macaroni salad is mostly sweet peas, crunchy celery and red onions, which is an awesome mix both texturaly and flavor-wise.
The nice thing about this recipe is that you can make a bunch of it at once and it keeps really well in the fridge for several days.
Pinwheels are one of those secret appetizers that looks so fancy at a party, but it's about as simple as anything you could ever make.
This is simply sun-dried tomatoes, fresh basil, fresh garlic, spinach, vegan parmesan cheese, and vegan cream cheese base. Just spread them on a flour tortilla, roll it up, and slice. Voila!
Of course, you can use non-dairy cheese as well, it totally depends on your diet and preferences.
"Frozen sangria slush" is one of the best three-word phrases in the English language, along with "free pony ride" and "go home early". Just blend a bottle of dessert wine like moscato, a cup of citrus rum or plain white rum, a quarter cup triple sec, two cups frozen strawberries, and two cups frozen pineapple. Be ready to prepare a lot for a party as this will go fast!
Peanut Butter Cup 9-ingredient vegan cheesecakes are almost guaranteed to be the easiest cheesecake you'll ever make.
This vegan recipe uses oreos, which are surprisingly vegan. The oreo crust is the only part that needs baking, and just 5 minutes. The filling is a mix of cashews, salted peanut butter, lemon, maple syrup, coconut milk (or another non-dairy milk), and coconut oil. Then you can make a ganache topping out of semisweet chocolate chips and coconut milk. If you really want to get FANCY, you can put a mini dark chocolate PB Cup on top of each cheesecake.
These are frozen, so what could be better for a hot summer night than a frozen mini cheesecake?
Zoodles are zucchini noodles (though you can also make similar noodles from carrot, cucumber, and other veggies.) The Avocado Lime sauce has a nice spicy kick, but it's also oil-free, nut-free, gluten-free AND has hidden spinach. Nice!
Blend ripe avocado, spinach, fresh cilantro, jalapeño, fresh lime, water, maple syrup, tamari or soy sauce, and salt and pepper to make the sauce. That's it! You could even use this on regular wheat-based pasta to make a light, fresh pasta salad.
Avocado in desserts and smoothies seems strange when you first hear about it, but the unique avocado flavor tends to disappear and you're left with something creamy and filling.
The crust for this tasty tart is made from coconut flakes, pecans, dates, and lime zest. The filling is avocados, lime, honey, and more lime. Then you just freeze and enjoy an amazing, amazing dessert! People will be so surprised to learn its vegan.
Do you like bean salad? Do you like potato salad? This recipe is both! It's cool take on a retro three-bean salad with sweet potato. After cooking sweet potatoes and green beans, and adding in the three bean mix, you just add a dressing. A mix of olive oil, vinegar, pure maple syrup, mustard, salt, pepper, and parsley makes this a light and tasty appetizer or a main meal. You'll definitely say YUM! when you taste it.
Ceviche uses seafood, so how can it be vegan? Who knows, but this is a delicious black bean salad with a ton of lime flavor that's perfect for those hot summer months. It is awesome on its own, but it's also so great as a taco topper, in a lettuce wrap, or as a dip with tortilla chips.
The key to this dish is carmelizing fresh corn and "cooking" black beans with lime ala ceviche. It really sets it apart from a basic black bean salad and is sure to be a hit with family and friends.
When the summer heat hits, don't be left stranded with heavy, salty foods that sit in your stomach all night. Try one of these awesome treats for a hot summer night, whether for a party appetizer, a main meal, or a tasty dessert or cocktail. You'll be sure to feel refreshed, both in mind and body!
Last update on 2023-11-29 at 23:56 / Affiliate links / Images from Amazon Product Advertising API