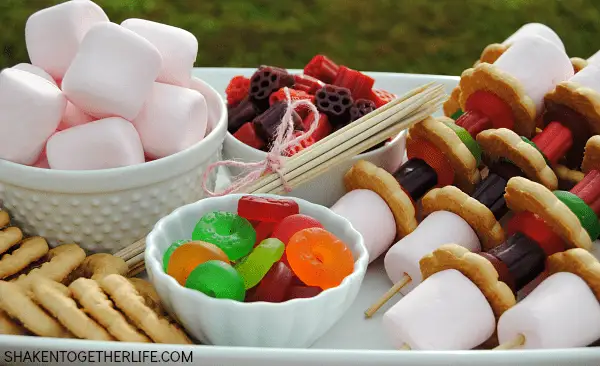 Happy Spring, everyone! It's Keri from Shaken Together and I am so glad to pop back in with a sweet activity for Spring!  I don't know about you, but I am so ready for the sunshine and warmer temperatures of Spring!  Our flowers are starting to bloom and color is popping up all around … it's a beautiful thing!  All those bright colors and flowers inspired this cute snack that is perfect to make with the kids!
Spring Snack Kabobs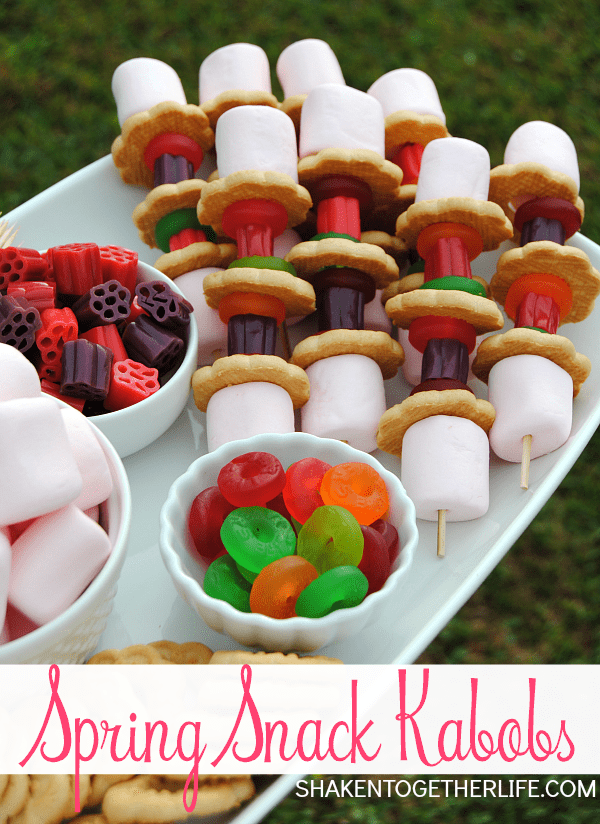 Food tastes better on a stick, right?  Tired of chicken nuggets for lunch?  But make a nugget kabob or pepperoni chicken bites and suddenly, any meal is way more fun.  Boring sandwiches again?  Skewer bread, meat, cheese cubes, mini pickles and cherry tomatoes for sandwiches on a stick. Now, let's give snack time a makeover with these Spring Snack Kabobs!
Here are some fun ideas of what you can "kabob" for these sweet treats:
Flower shaped butter cookies – these are also delicious dipped in chocolate!
Gummy lifesavers
Fudge Round cookies
Strawberry marshmallows
Twizzler bites
Mini marshmallows
Gummy bears
Gummy worms
Krispie treat squares
Mini caramel rice cakes
Cubes of frozen pound cake (they will thaw once the kabobs are ready to eat)
Grapes
Once you have all the treats decided on, place them in bowls and let the Spring snack kabob making begin!  We used small bamboo skewers (supervise small children as there is a sharp point) but you could also use lollipop sticks.  Start with a marshmallow – it's a great sticky foundation – and slide it almost to the bottom of the skewer.  Wipe the skewer clean to remove any marshmallow fluff from the skewer.  Then, begin layering cookies, gummy lifesavers, Twizzler bites and whatever fun treats you decided to stack on a stick!

Cute, right?!  These Spring Snack Kabobs would be fun to make at a Spring or Easter party, to entertain the kiddos for a play date, package them up for classmates or just make with the kids for a fun after school snack!
How about a few more fun Spring treats?!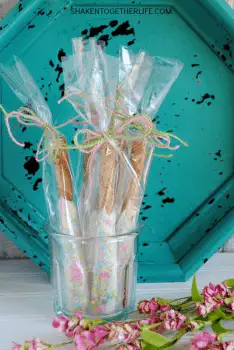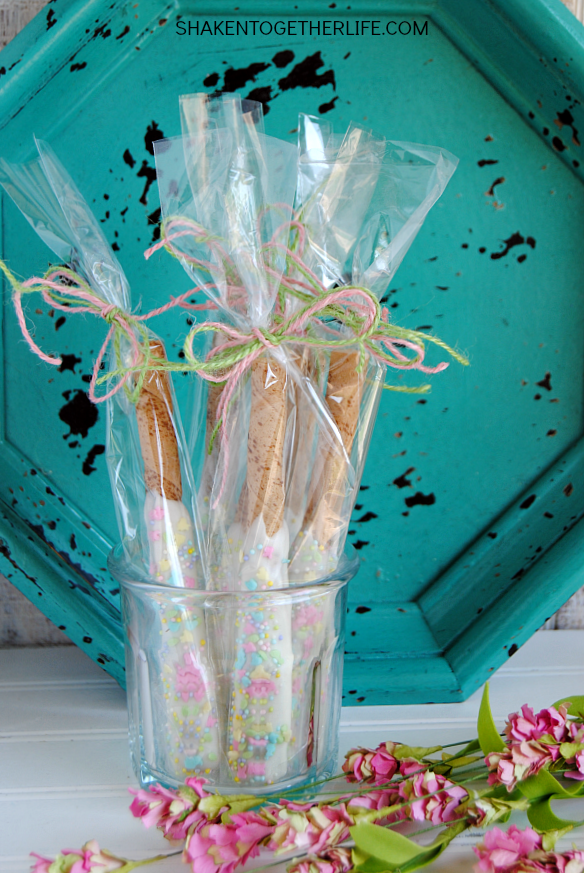 Chocolate Dipped Cookie Sticks