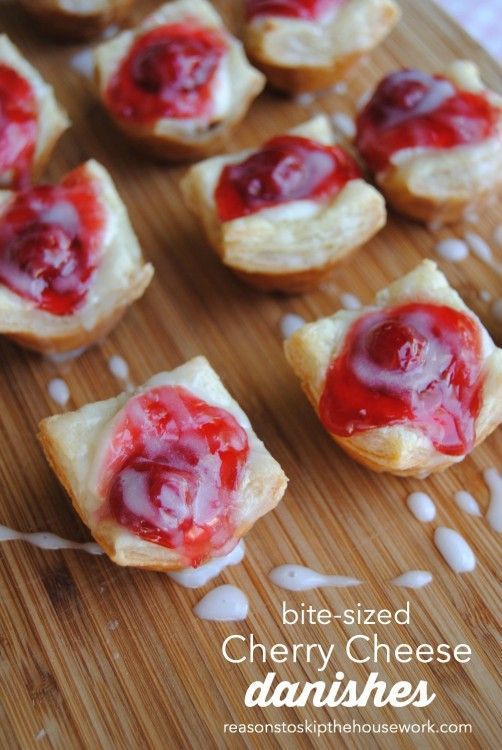 Sometimes in the mornings you just want a small bite of something sweet, but you know you can't buy the entire Cheese Danish at the store, or you'll certainly eat the entire thing in one sitting.  Make up a batch of these mini cherry cheese danishes and you're sure to make everyone happy for breakfast!
Mini Cherry Cheese Danishes
Mini Cherry Cheese Danishes are little bites of heaven that are perfectly fine to eat for breakfast!
Ingredients
2 (8-ounce) packages frozen pastry dough sheets, thawed ( they're in frozen section but need to be thawed before you unfold.)
1 (8-ounce) package cream cheese, softened
¾ cup powdered sugar (divided)
1 small egg white
1 (14-ounce) can cherry pie filling
1 ½ tablespoons milk
½ teaspoon vanilla extract
Instructions
Preheat oven to 350°F.  Spray 32 mini muffin cups with cooking spray.
Cut each thawed pastry sheet into 16 equal squares.  Place one square into each muffin cup.  Mix cream cheese, half of the powdered sugar, and the egg white in a medium bowl until well blended.  Spoon 1 tablespoon of mixture into each muffin cup.  Top with a small spoonful of cherry pie filling (make sure there's one cherry in each spoonful!) Bake for 25 minutes.
Meanwhile, make the icing: mix remaining powdered sugar, milk, and vanilla extract in a small bowl and set aside.
When the Danish bites are cooked, transfer the tins to a rack and allow the bites to cool for 5 minutes. Using a knife or mini metal spatula, remove the bites from the cups.  Drizzle icing on bites and serve immediately.