So you've got a new Instant Pot trivet and need to figure out how to use it. You're not all on your own — tons of people end up with new and fancy cooking appliances and don't use them to their fullest.
We know you have a few questions about your Instant Pot trivet, and you want to know all about the best tips and tricks.
But before we dive into the best ways to use your Instant Pot trivet, what is it anyway?
What Is the Trivet?
The trivet is the little metal rack the usually comes with a new Instant Pot!
It's made with stainless steel, and it's meant to hold food above whatever liquid you have in your Instant Pot. It also acts as a way for you to lift your fully cooked food up and out!
It's a super simple, yet very handy gadget.
How to put the trivet in an instant pot
Putting your trivet in an Instant Pot is very easy.
All you really need to do is assemble your trivet and then lower it into the main compartment of your Instant Pot. It's really that simple!
Just make sure your handles don't go in first, otherwise, you'll have quite a bit of trouble (and potentially a lot of burns) trying to grab it again.
How to use a trivet in an instant pot
This is where the tips and tricks start to come in!
There are plenty of different ways to use the trivet in your instant pot. It's best for either pot-in-pot methods or pressure steaming.
Instant Pot Trivet Tips and Tricks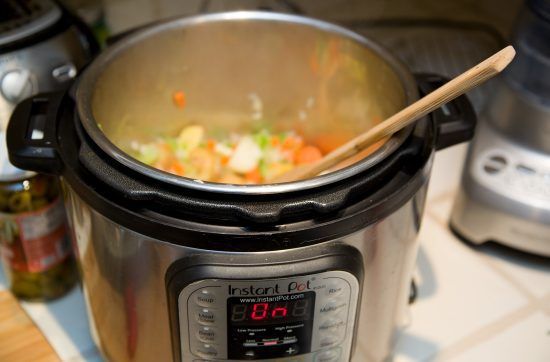 These tips and tricks can be done by both new and experienced chefs alike, and will certainly up your cooking game.
We'll start with the easiest tricks.
Remember that pot-in-pot method we mentioned earlier? We're going to teach you all about this handy trick first.
Related Read: Instant Pot Recipes
The pot-in-pot method
The pot-in-pot (or PIP) method is when you place a smaller dish inside of your Instant Pot and use that to prepare your food.
With the PIP method, you can prepare both main and side dishes.
It's also a great way to avoid burning thicker liquids as well and triggering your Instant Pot's burn message! Because there's nothing worse than a fire alarm going off while you make dinner.
To use this method, get started by placing your trivet and a cup of water in your Instant Pot's main pot. Then place the food you plan on cooking in oven-safe containers.
Once your food is on your trivet, close it up and select either the manual or pressure cook option, as you normally would.
Then just set your cooking time and wait for your food to finish up!
Pressure steaming
Here's another cooking method we mentioned earlier: pressure steaming!
With this method, you'll be able to steam all sorts of things — the sky's the limit.
This method is very similar to the PIP method.
You need to place your trivet and a cup of water in your Instant Pot's main chamber, but instead of using oven-safe dishes, you place the food directly on the trivet.
Then we recommend selecting the pressure cook option before setting the timer. After that, all there is to do is wait.
Making cheesecake
Did you know that one of the best ways to get the perfect texture in your cheesecake's crust is to make it in your Instant Pot with your trivet?
We all know that when you make a cheesecake, you can end up with a soggy crust. And that's just no good.
Just take your springform pan and ready your cheesecake. Then prepare your Instant Pot by filling the main compartment with water, as you usually would.
Then place your springform pan on top of the trivet so it's not in the water, and let the Instant Pot work its magic! The water allows the cake to bake evenly and leaves you with a delicious dessert.
Steaming vegetables
Our favorite way to cook vegetables is to roast them, but if you prefer to steam them, you can do so in your Instant Pot.
It takes only about a minute for your veggies to crisp up — and they will crisp up if they're perfectly steamed. Just place them on your Instant Pot's trivet so they don't touch the water.
Once they're safely on the trivet, all you've got to do is let them steam while you get the dinner plates ready.
Boiling eggs
Sick of trying to hard boil eggs and ending up with a pot of cracked eggs? We've been there!
You can put an end to your eggy troubles with the aid of your Instant Pot and your trivet. Simply place the trivet and water in the pot's main chamber and then set your eggs inside.
The trivet acts as a sort of basket that will keep your eggs in place and allow you to get them out of the pot with ease. No more chasing that last darn egg with a spoon!
Like with many other recipes here, you want to make sure your eggs aren't actually in the water during the process. If you can pull this off, you can truly make anything in your Instant Pot.
Double stacking
Cooking more than one dish in the same Instant Pot? No way!
More like "Yes way!"
We're about to introduce you to double stacking. This trick is ridiculously easy.
Using your trivet, you can create a platform that will hold a bowl of a side dish. For example, you can cook the main dish in the bottom of your Instant Pot's main pot while rice cooks above it on the trivet.
This method allows you to cook everything at the same time so when dinnertime rolls around everything is nice and hot — and ready to eat!
Preparing meat
You've probably made meaty dishes in your Instant Pot before, but did you know that you can use your trivet to prepare larger cuts and even whole chickens?
You can prepare any meat — whether it's chicken or an entire rack of ribs.
All you have to do is add a cup of water to the bottom of the pot, place your trivet inside, and then nestle the meat of your choice on top. Make sure it's not in the water!
Once your meat is fully, or at least partially, cooked, you can pull it out of the Instant Pot with ease thanks to the trivet's handles. Then you can finish it up in the oven or the grill if you'd like.
This is a very handy method because it opens up so many opportunities for different flavors. You can add plenty of herbs or even garlic to the water to maximize flavors.
Lasagna and casseroles
Did you know that you can make lasagna and casseroles right there in your Instant Pot? You can!
The trick is to make sure your dish stays above the water and doesn't touch the sides of the Instant Pot. That's where the trivet comes in.
Start by adding two cups of water to your Instant Pot's main chamber, and then put your trivet inside. Your trivet should allow you to place your casserole dish above the water.
And again, do not let the sides of your dish touch the sides of the Instant Pot!
If your dish is the right size, then you can whip up a delicious casserole or lasagna in no time!
Fish and other delicate foods
We've all tried to make a delicate dish, like a fish filet, in an Instant Pot before, and we've all had something fall apart on us.
There's nothing worse than trying to fish pieces of your meal out of the bottom of your Instant Pot. And getting your dinner out safely is difficult without burning yourself.
This is where your trivet comes in to save the day!
You can make a myriad of different dishes that would otherwise fall apart by placing them safely on your trivet and lowering them into the pot. Then when they're done, you can pull them right back up.
And you can even let your food touch the water if the recipe allows it. Always double-check cooking instructions before starting a recipe!
Bestseller No. 1
Accessories for Instant Pot, Sugaroom 100 PCS Pressure Cooker Accessories Set Compatible with Instant Pot Accessories 6 qt 8 quart-2 Steamer Baskets, Springform Pan, Egg Rack, Egg Bites Mold and More
HIGH-QUALITY ACCESSORY – Every piece in this pressure cooker accessories kit is made of food-grade safe materials, No...
GREAT VALUE ACCESSORIES - 100 Pcs Accessories for instant pot includes 2 Steamer baskets with 1 removable divider, 1...
MULTIFUNCTION - Make delicious eggs, chicken broth, vegetables, asparagus, meat with 2 steamer baskets, bake cake and...
Bestseller No. 2
Bestseller No. 3
Related Read: Instant Pot Soup Recipes
Other Top Tips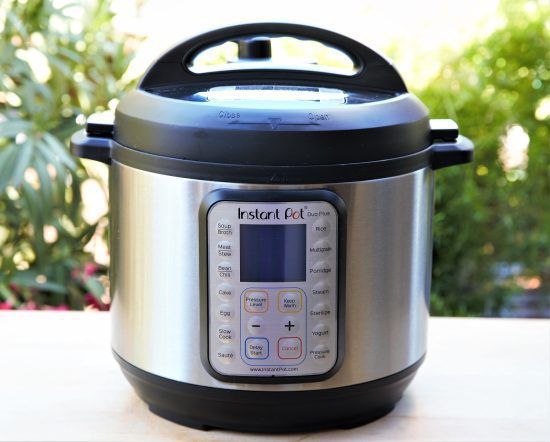 Now, we know what you're thinking. Are there any more tips to take note of? And the answer is yes — though these will probably be more helpful to beginners.
From setting up a brand new Instant Pot to troubleshooting, our tips will help you through your journey in cooking.
You can even pass them down to newer chefs, like your kiddos who love to help in the kitchen. Just remember to keep learning fun and safe.
Enough chit-chat. Let's get down to it!
How to set up an Instant Pot
If you're completely new to your Instant Pot and don't even know where to start, don't feel bad. We'll have you and your new gadget set up and raring to go in no time!
To set up your Instant Pot, start by taking all of the pieces out of the box and make sure you have all of the pieces there.
Once you've got everything out on the counter, you're ready to set up the inner pot. Wash the inner pot, the silicone sealing ring, and the lid before assembly.
Put the inner pot in the main compartment, and then put your silicone sealing ring on top of your Instant Pot's rack. To do this, just run your fingers along the ring to push it in.
Once that's done and your pot, lid, and sealing ring are all set up, you should check on the lid's other parts.
Double-check the venting knob, the floating valve, and the anti-block shield.
Now set up your condensation collector. You should have two plastic cups, the flatter of the two being the collector in question. To install it, slide it into the slot on the back of the pot.
After that's finished, you're ready to plug it in and get cooking!
Troubleshooting
If you've gotten your Instant Pot set up, we know you're excited to use it. But little problems can really rain on that parade. We'll go over the most common problems.
We'll begin with a burn alert. Sometimes when there's starch, say, from when you cooked potatoes, on the bottom of the inner pot, it can block heat dissipation.
To fix it, turn off the Instant Pot and wait until you can take the food out so you can take a look at the bottom of the pot. Make sure it's clean — and if it is, you shouldn't see the burn message again.
Another problem that can be a little frightening is when you hear a ticking or crackling sound.
Sometimes it's nothing, and it's only the power switching on. Other times, it's because the bottom of the inner pot has some kind of liquid on it.
Wipe off the bottom of the inner pot and make sure it's dry before you cook anything.
And finally, you might find that your food, such as your rice, for example, is over or undercooked.
This is likely because there's either not enough water, which will leave you with undercooked rice, or there's too much, which results in overcooked rice.
Always make sure you measure out how much water you put in the Instant Pot before you get started. It's a crucial part of making great food!
An Instant Pot Is What You've Got
Whether you're making a dinner of meat and potatoes or a cheesecake for a special occasion, you know your Instant Pot has your back.
Even more so now that you've got some of the best tricks up your sleeve!
We hope all your meals turn out fantastic, and you enjoy each and every one of them.
Do you have any instant pot trivet tricks you'd like to share? What's your favorite Instant Pot recipe?
Leave us a comment down below and let us know! We're always looking forward to hearing from you.
---
Mady Oswald is a writer in both realism and fiction, with a love for baking and animals.
Last update on 2023-12-01 at 18:36 / Affiliate links / Images from Amazon Product Advertising API