Sharpie Mugs Oven Baked – tried and true tutorial
For the couple that watches football together, and drinks coffee together, this is the perfect couples gift!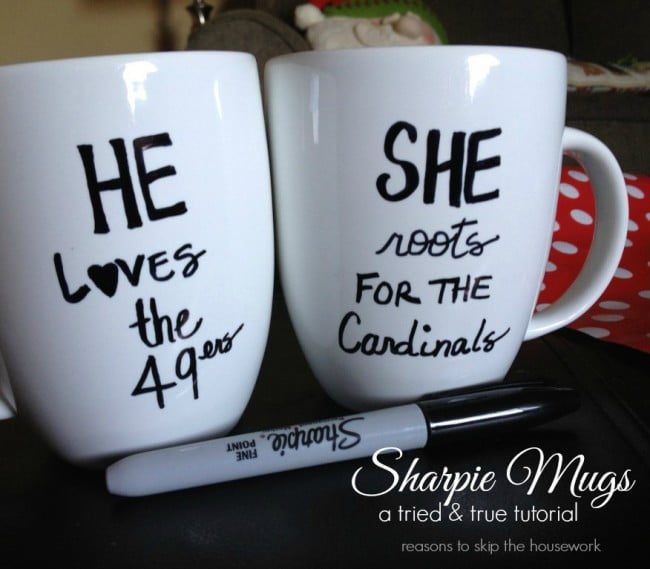 If you haven't picked up a gift yet and you're scrambling last minute, this is perfect because it will take you longer to round up the supplies than it will to make and wrap it!
Supplies you'll need:
coffee mugs, a black Sharpie, an oven, rubbing alcohol
First, you'll need to prep the surface of your mug.  You'll need to use rubbing alcohol and make sure you don't touch the surface once you've cleaned it.  Let the surface dry fully before drawing on it.  
Draw your design or words onto the mug with any color Permanent Sharpie.  Let the marker dry for 24 hours.  When you're ready to "bake" the marker on, remember these things:
Place your mug in the oven first. Then turn it to 425 degrees. The mug needs to be in the oven before you turn it on so that it slowly heats with the oven. This will prevent cracking.

Set your timer for 30 minutes.

Keep an eye on your mug so the oven doesn't bake it brown.  It's never happened to me, but ya never know!

Once the timer goes off, you can shut the oven off. DO NOT REMOVE YOUR MUG. This MIGHT cause cracking…NO BUENO!

When the oven has cooled completely, remove your mug. 
I've made several sets of mugs that have rubbed off in the dishwasher, and made new mugs using this method – at the 425 higher temp, and using the alcohol to clean the surface..  They made it through the dishwasher just fine….so I'm gonna say that for me – this method works just fine!
Remember, not all Sharpie markers will retain their color after baking.  Stick with black for perfect color! 
You can also use Sharpie PAINT markers for excellent results!