Vintage or vintage-inspired crafts are a super popular trend amongst people who like to make crafts and DIY. From furniture to clothing to jewelry, it seems that people just can't get enough vintage.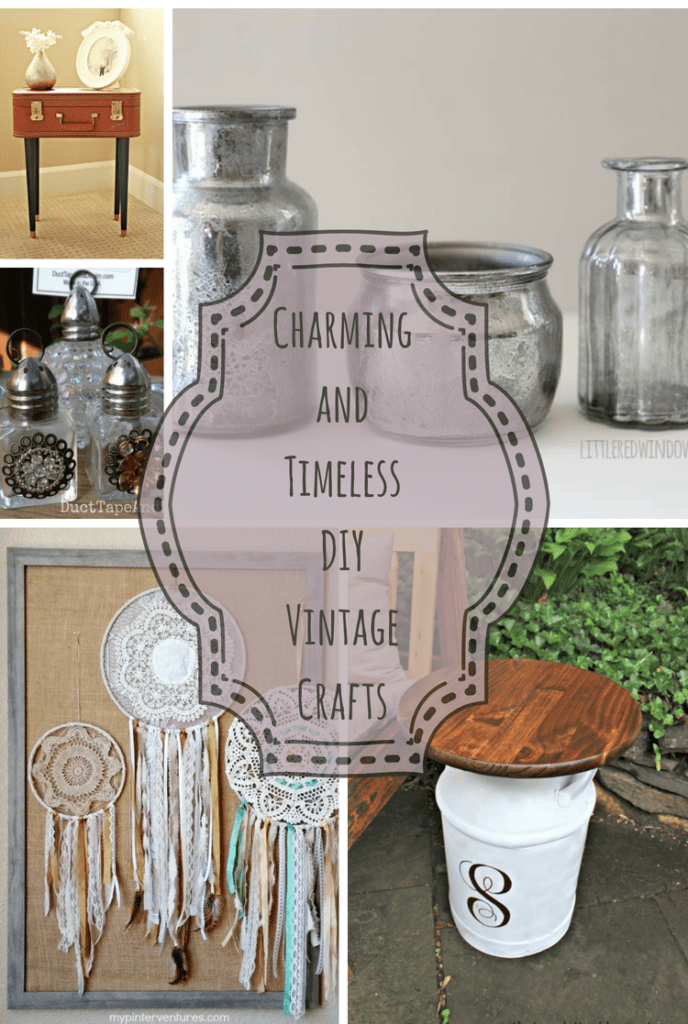 No products found.
10+ DIY Vintage Crafts
Why do we love vintage jewelry and decor so much? Is it because it gives us a nostalgic reminder of our past?
These charming and timeless vintage DIYs either utilize vintage items or use some cool methods to make new items look vintage. Your friends and family will beg you to make you one of these once they see your handiwork!
In a few Native American cultures, a dreamcatcher is traditionally a handmade willow hoop, with a web woven onto it. The dreamcatcher may also have items sacred to Native Americans, like certain beads or feathers. In traditional use, they are often hung over cradles as protection.
Dreamcatchers have become a common craft, and this bohemian lace version is a pretty decoration to hang in any room. It's a great way to utilize lace doilies, which aren't as popular as they used to be in Grandma's days.
Sadie Seasongoods is a blog by an awesome lady named Sarah, dedicated to "approachable repurposing and upcycling projects using vintage treasures and thrifted finds!"
This is such a cool way to repurpose a vintage scarf into a sophisticated necklace that all your friends will be asking you about. The beads are made from chunky wood balls, so it's not heavy pieces. You'll need some very basic sewing skills, but otherwise, this craft could take less than 30 minutes to make a great piece of jewelry for your collection.
There are many new and fun types of spray paints out there that are ushering in a new wave of crafts. Krylon Looking Glass Silver-Like Paint, Martha Stewart Crafts Frost Translucent Glass Paint, and Rust-Oleum Oil Rubbed Bronze Metallic Paint are the three types you should get for this project. Each one is quite useful for hundreds of crafts – there's almost no end to the things you could find to spray with metallic paint.
This is a great beginner project since it's just alternating spray paints and a spray of vinegar, with drying time between. You'll end up with a beautiful faux mercury glass that you should absolutely not drink or eat out of!
Vintage salt shakers are one of those cool-looking trinkets that are almost irresistible to pick up at thrift stores and garage sales. There's only so much salt you can shake though, so this is a wonderful project to put them to use.
It's so easy too! Just twist the annealed wire around a Sharpie in a coil, then work it through the holes at the top of the shakers. Annealed wire is heated and cooled slowly to harden and reduce brittleness.
The author of this blog uses hers to display her handmade jewelry at flea markets. What could you use them for?
Vintage milk jugs make some of the coolest decorations! This project is mostly a lot of painting and staining, but attaching the precut circular wood top to the jug takes some skills. You'll need L brackets, an electric drill, 1″ wood screws, and 1 1/4″ wood screws. Plus a bit of adhesive, and you're good to go!
Personalize these with a monogram to make a stunningly unique wedding gift, or keep these for your own fairy garden wonderland. You can even play with different methods of painting and decorating to make something that is truly your own.
People tend to toss their old cookie sheets, but they make such cute magnetic memo boards. A DIY magnetic memo board is useful for just about anywhere: keep it by the laundry to keep stuff from pockets, in your office for business cards and reminders, or in the entryway as a decoration with cards and souvenirs.
Once you get your sheet as clean as possible, spray it with a metal primer, wait to dry, then choose a lovely spray paint color for the board. Next, use mod podge to glue a cute backing out of fabric or craft paper. Finally, spray it with a glossy spray to keep it nice and neat for years to come! You can use a command adhesive strip to attach it to the wall when you're ready to use it.
People go crazy for antique mason jars, though you could certainly use new ones…we won't tell anyone!
Don't just toss your toothbrush and makeup brushes in them, it's easy to make them a beautiful DIY project you'll enjoy for years.
These couldn't be simpler to make. Simply paint the jar lids some fun, fanciful colors. Then drill into the and screw in a variety of vintage knobs.
Reuse, restore, and architectural salvage stores are becoming more and more popular as a way to reduce our environmental impact and keep little bits of our history and old buildings alive. They're a great place to buy old drawer knobs for projects like these or to make boring IKEA furniture way more interesting.
Some people don't like to use old books for projects, but let's face it, there are some very boring old books out there! Not to mention books that have become irrelevant. This project is made from old law books.
Home Depot sells very handy Make-A-Lamp kits and also lamp pipes (which act as a foundation and conceal the electrical wire.) You'll also need a drill to drill a hole through the books for the lamp pipe.
With a bit of elbow grease and some power tools, you'll be able to make a really cute lamp in no time.
This is a great vintage craft for your kitchen. You'll need an electric drill, Matte Mod Podge, wooden rolling pins, a wooden plaque from a craft store, two metal L-brackets, painter's tape, spray paint or craft paint, some screws, felt pads, digital scans of recipe cards, and 220 grit sandpaper.
You could use a chop saw to cut the rolling pins in half or ask a friend to help you.
This DIY is definitely not for beginners, so preparation and a handy friend will help tremendously for these cute bookends to come together just right.
A vintage suitcase table is not only an amazingly gorgeous piece of decor, but it's also great for storage as well! You'll need to cut plywood to fit into the bottom of the suitcase, then you drill to attach the legs to the bottom.
There are a lot of places to score a vintage suitcase like this one. Try Facebook Buy/Sell groups, craigslist, antique shops, thrift stores, and estate sales!
These DIY apothecary bottles couldn't be easier to make. If you get ones with a cork, you simply screw an antique drawer knob into the cork. The website for this DIY has lovely printable "vintage" designs that you can print out on printable acetate sheets. Cut and paint them with glue to attach and you've got the most delicate and lovely glass bottles for your bathroom that you could ever want.
There are many places to buy an inexpensive dry erase wall calendar, but they are just so drab.
The secret to making this DIY is as simple as E6000 Permanent Craft Adhesive. Lots of crafts use this glue which is "uniquely formulated to meet high-performance needs—think heavy materials like wood, metal, and concrete. It's also excellent for crafts, working with an array of mediums, including fabric, glass, fiberglass, ceramics, leather, rubber, vinyl, and many plastics." Wow!
Just find a perfectly sized frame and spray paint it a beautiful color, then use E6000 craft glue to attach it. It's as easy as that!
This is a fun beginner jewelry project that uses old keys. You can buy them at flea markets or on Etsy.
You'll need to invest in some beginner jewelry supplies for this craft, like a chain, copper wire, a clasp, and some beads. You'll also need some jewelry pliers. Follow the directions to make a basic wrapped loop, and you'll have a piece of jewelry that will look like it came from an expensive jewelry shop!
What Are Your Favorite Homemade Vintage Crafts?
Vintage style doesn't have to be expensive. Try out one of these fun and innovative vintage DIYs to make something beautiful and unique for yourself today. Start with one of the easier projects, like the magnetic baking sheet memo board, before moving onto the harder ones.
Whichever DIY you choose, remember not to worry too much about being perfect! It's getting started that matter most.
No products found.
Last update on 2023-09-25 at 05:20 / Affiliate links / Images from Amazon Product Advertising API