* I was provided product to review but the opinions are all my own.
If you have littles, you know that cleaning the bathroom floor after a bath is like trying mop up a river.  It's a constant problem in our house, and I only have ONE child!  It's simply impossible to keep the water IN the tub since she loves to fill cups on the outside edge of the tub, causing water to overflow onto the floor. 
The Tubby Table solves that problem! The table sits right inside your bathtub and has a suction cup base to secure the table or to keep it from moving.   There's even a pad that suctions down for the kids to sit on while playing with the Tubby Table.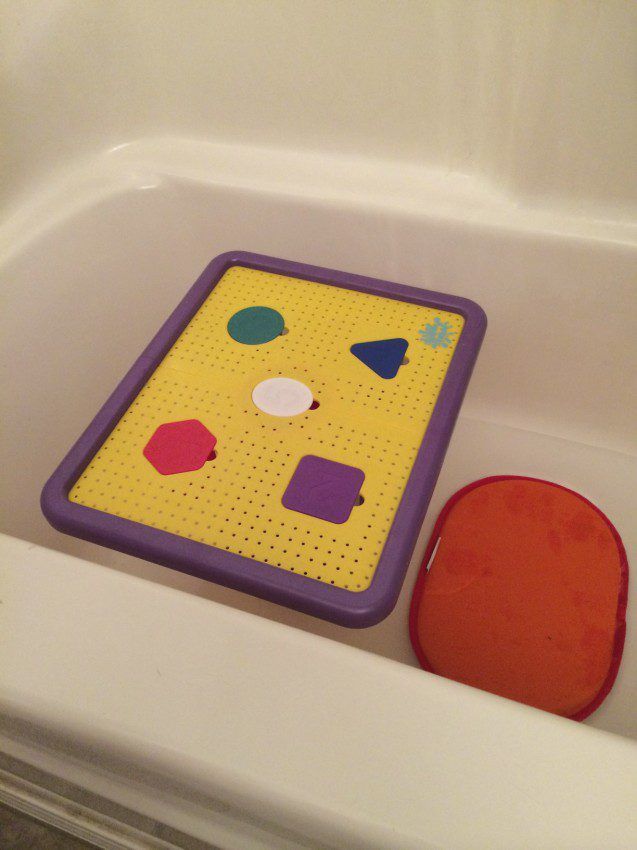 The Tubby Table is a great holiday gift, first birthday gift, or even baby shower gift. So unique and fun!
Tubby Table is designed for kids 1+ with multi-colored numbered and shaped cups designed to help children with their fine motor skills.
Add in extra toys and you have an entire play station!
The table moved too much in our tub for MY liking, but Sami still loved it, and I think if I had put it in BEFORE putting water in, it would have stayed put better.  Could also be our bathtub design…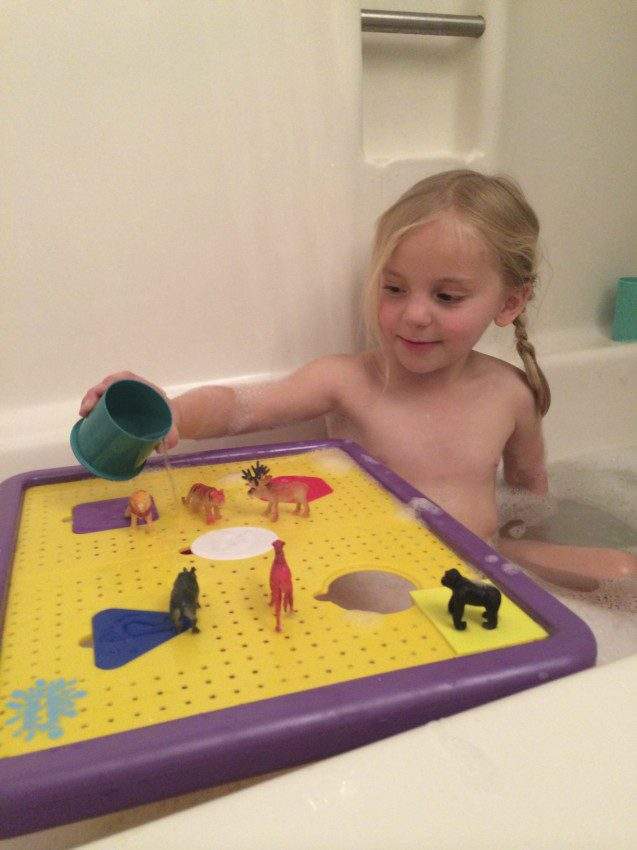 Sami sure did love pouring water in all of the cups and having her animals jump through all of the holes.

I loved not having water all over the floor!  It does take up a good amount of the tub, but it's easy to take out and store when you aren't using it.
Tubby Table's flat surface allows for endless play with included cups or with your child's own toys. Features and benefits include:
Educational: teaches colors, shapes and numbers

Helps children develop fine motor skills

5 removable cups for bath time fun, pouring and stacking

Two kids can play together in the bathtub

Suction cup holds the Tubby Table to the bottom of your bathtub

Non-slip bathtub mat keeps your child safe during play

Children can use their own favorite bath toys to play

Height adjustable pedestal allows the table to grow with your child
Log on to Tubby Table for more information. You can also find Tubby Table on Facebook.