I think you'll agree when I say that your home style is constantly evolving and changing. At least it should be because by changing the style of your home you're actually making it more valuable. It's easier than you'd think to take your home to the future with your next redesign!
Every time you add a new improvement to your kitchen, for instance, you could be increasing the asking value of the home by a couple thousand. Of course, it's not just about financial gain. You can also consider your own personal enjoyment. Let's face it, you want your home to be in style. You want guests to be dazzled by how hip and chic it looks.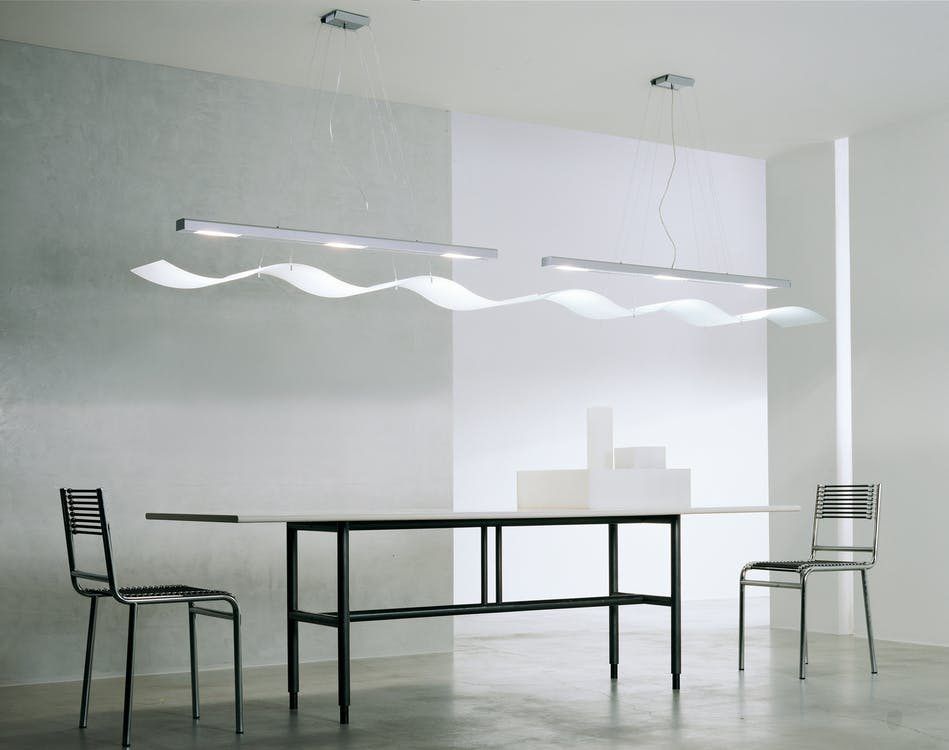 You definitely want to be able to show off some of the latest features, accessories and even some of the tech that you've recently purchased. Ideally, you want your home to be a house of the future, constantly ahead of the curve.
Well, you can achieve it with your next redesign. There are lots of ways to make your home look cool and contemporary. Some of these options won't cost you anything and are absolutely free. Others? Well, they might be a tad more expensive but as you'll soon discover there are always ways to save, even when you're looking to the future. But first, let's start with a good old fashioned clear out.
Minimalism And Keeping Things Contemporary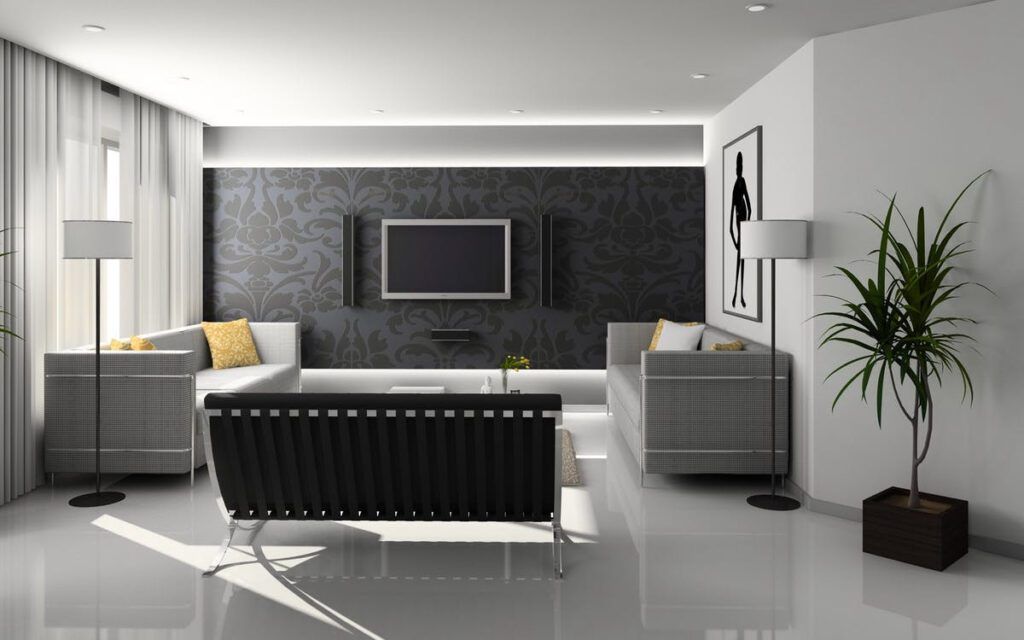 Do you want your home to look modern? Then you need to think about adopting a minimalistic design. A minimalistic design, as you've probably guessed, simply means you keep the amount of clutter in your home quite low. If you've been living in the home for some time, it can be easy to get snowed under with furniture and accessories. But this is probably damaging the overall aesthetic appeal of your home. There are a few quick ways to get a minimalistic design in your home:
White or bright walls
Low levels of furniture
Hardwood floors
Clever Storage
If you have white, cream or bright walls in your home, it's going to look clean and clear. That's perfect for getting the minimalistic design as you can see in the picture below.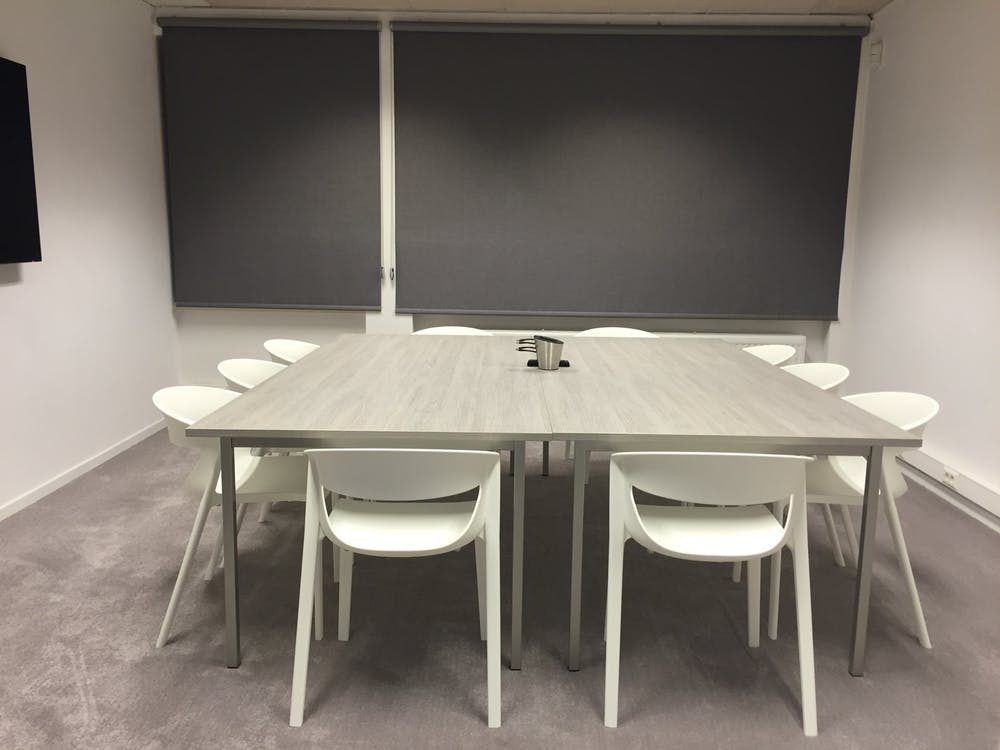 Pexels Source
It completely opens up the space and looks great. You can decorate the walls with a few accessories and pieces of art but keep things minimal.
As for furniture, you should only have what you need. So, there should only be one seat for each member of your family in the living room. If you need extra seats for guests, keep them tucked away in the attic only bringing them out when necessary. You can avoid other pieces of furniture completely too. Rather than having a TV cabinet, fit the TV to the wall on a pullout frame. That way, you'll be able to free up floor space.
Hardwood or laminate flooring is another great way to get that minimalistic design because of the aesthetic they add to a room. Obviously, if you have carpet throughout your home, this one is going to be an expensive change, but it might just be worth it.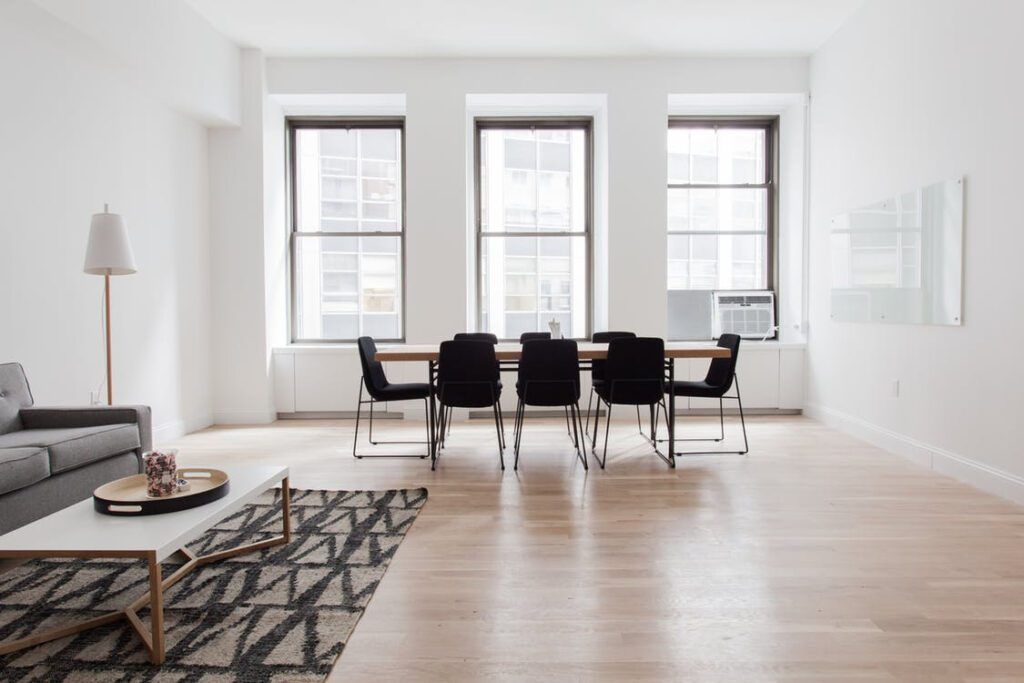 Pic Credit
As for storage, you have plenty of options here. But perhaps the best idea would be to get storage units that fit into the aesthetic of a room. The kid's bedroom would be the classic example here. You probably have a room that is filled with toys and accessories, and no matter what you do, they just seem to completely cover the floor. Well, the answer is a storage unit. The best part is you can buy them cheap material ones with cartoons characters and superheroes that fit the overall look of the room.
If you still find your home is looking a little too cluttered to seem modern, try buying some fold-away furniture. You can get some fantastic tables and chairs that slide right inside a shelving unit, leaving a room completely open!
Modern Design Trends
There are plenty of modern design trends that can help you make sure your home looks like a house of the future. Minimalism is just one of them. Industrial decor is another. If you look at show homes on the market right now, you'll see that many use styles for furniture and fittings that are big and bold. For instance, rather than having curved handles on doors and cupboards, they're square, industrial metal and minimal with distinct edges. The faucets on modern sinks are the same too with features that stand out and almost become the main focal point of the room. Adding these features to your home isn't that expensive, and you can replace handles and faucets without changing the fitting completely, saving time and money.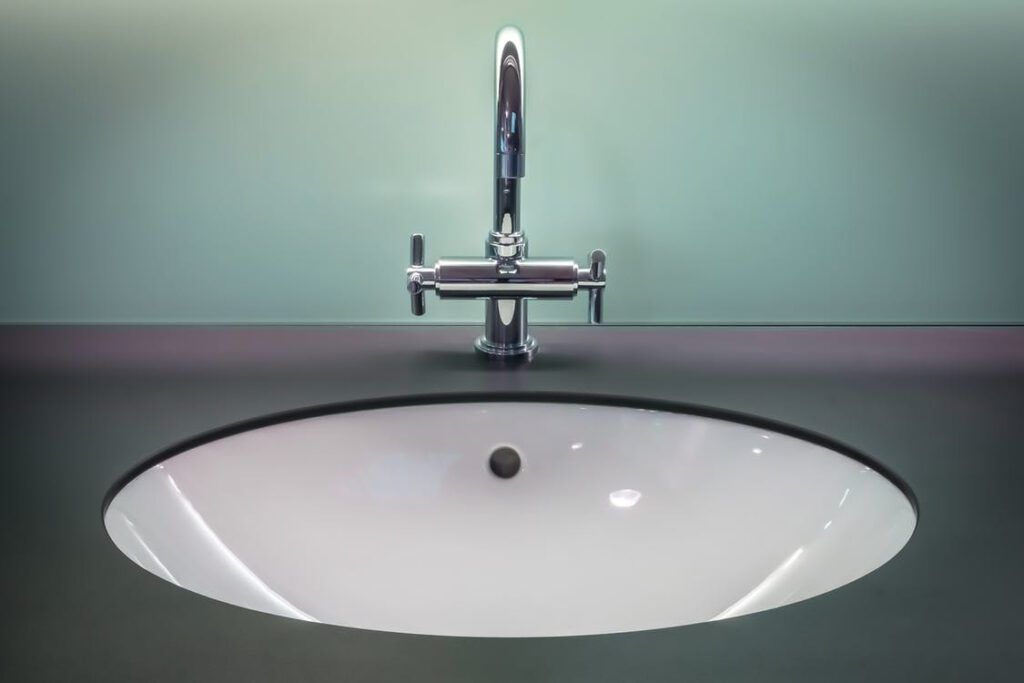 Speaking of materials, which ones are showing up more in modern homes? Marble is definitely in fashion, and it's not hard to see why. Marble floors or countertops will give your home a class, luxury feel while still seeming contemporary. You might wonder how so many homeowners can afford marbles floors in their properties. Well, the big secret is that they probably can't. Instead, they use an aesthetically similar material that looks the part but is half the price. You'd be amazed by how many homes on the market today were often made for a lot lower prices than they seem. It's all about knowing the right materials to use.
Since we're looking at the kitchen and appliances, what should they look like in the modern home? Well again, it's all about minimalism. They shouldn't be too obtrusive, and that's why rather than being shiny or glossy modern appliances often have a matte finish. It looks great without being too bold and taking attention away from the rest of the room. Perhaps now would be a good time to think about the type of tech you could add to your home in the redesign.
Stylish Home Technology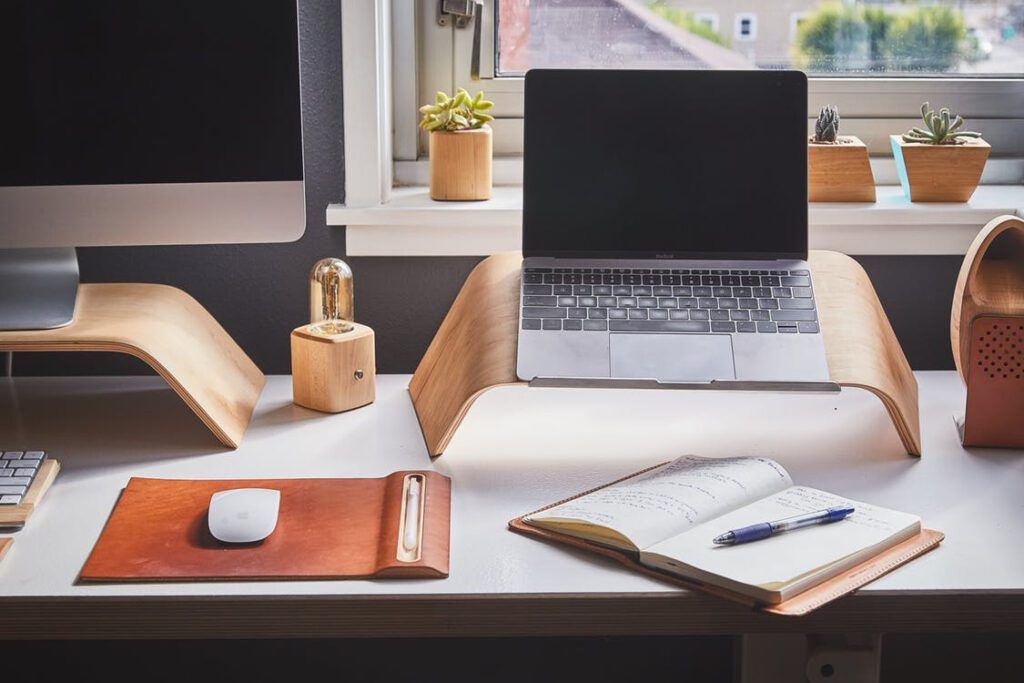 You do want to be careful when you add new technology to your home. Not all tech looks stunning nor does it fit into the modern home design. That said, there is tech that can add to the visual style of your home with features that can be quite striking.
An example of this can be seen with a heat induction hob in the kitchen. The colorful light display on the surface and the touch screen design allows it to fit in seamlessly with the rest of your kitchen. It's the perfect addition to a futuristic home and that's avoiding the typical energy savings that often come with it. Okay, but what about the the rest of the tech?
Well, how about making your home truly connected with an accessory that's cool and chic. In the past, you would often see video call systems in movies featuring the rich and famous. Well now they're back and rather than being big, bulky monstrosities, they fit onto your dresser or on the mantelpiece in the living room. An example of this would be the Amazon Echo Show that just looks like a matte picture frame. With a couple of these in your home, you'll have a worthy stylish tech addition and stay in contact with everyone without leaving a room. The best part is that these Amazon coupon codes from Coupon Sherpa can help you get money off the device and make a great save. You see, tech renovations for your home don't have to cost an absolute fortune. Not when you know these little secrets.
There's other peices tech that you can add to your home too like a smart home control. You might be wondering how on earth a control like this will change the look of your home. Well, any designer will tell you the impact different lighting can have on a room. With a smart home control, you'll be in complete control of the lighting, able to adjust it to totally change the feel and ambiance of a room.
There are lots of other ways to make a home look stunning with tech. What about digital art? Digital art fits on your wall and just looks like a regular picture frame…until it doesn't! Before your very eyes, the art will change, move or even showcase art that you have hand selected online. This is a great way to completely personalize the style of your home.
Or, what about an electric fire? The latest electric fires from Stovax are completely artificial so you won't have to worry about smoke or any other issues. They can be fitted onto a wall and really make your bedroom look cozy or add a touch of glamor to your front room. If you want to be really clever, they can be fitted directly into the wall and visually, this looks absolutely stunning.
These are just some of the ways that you can bring your home into the future and make it look more modern with your next redesign. But why stop there? Don't forget you can alter the exterior too and make sure your home look like it's from a completely different decade. That's definitely going to make your neighbors green with envy. Have fun using some of these cool, modern trends yourself.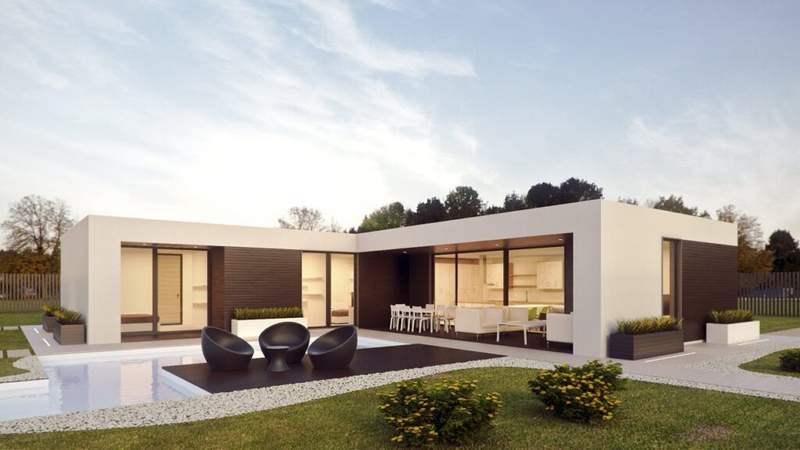 With so many ways to take your home to the future with your next redesign – it's something you need to add to your to do list when you're ready to remodel!