Soft cupcakes filled with chunks of fresh strawberries and topped with sweetened whipped cream and a whole strawberry make these Strawberries and Cream Cupcakes the perfect Summer treat!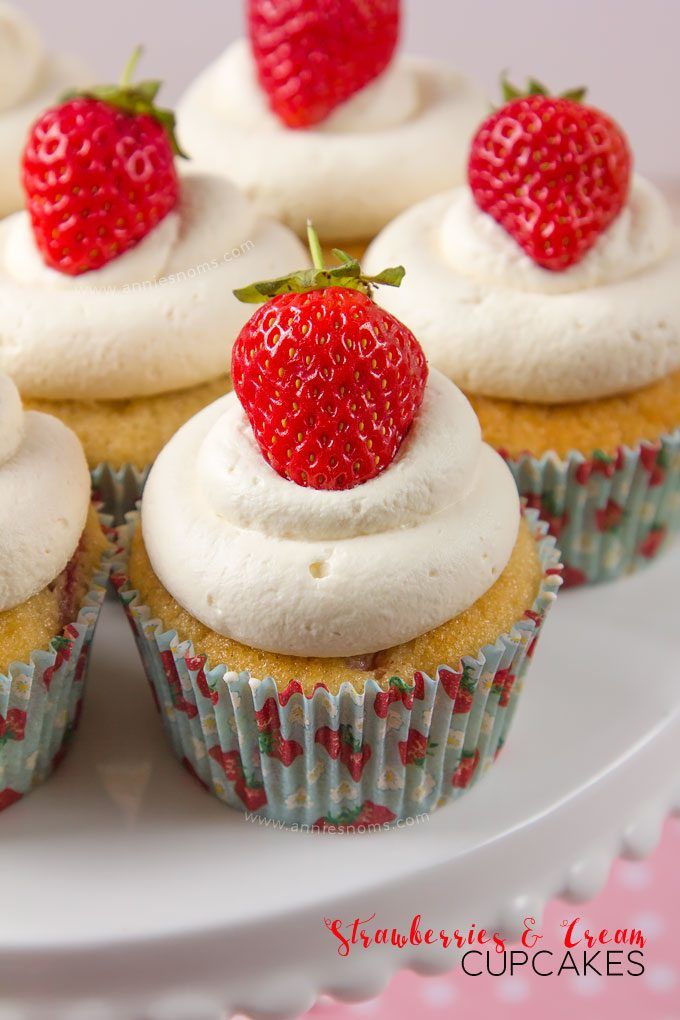 Hello friends! Annie from Annie's Noms here.
How is June treating you? It's been a busy month, I've had to buy a new car and I've lost count of the hours I've spent in the kitchen, but it's berry season which is by far my favourite season, so it's been fun creating a ton of berry filled recipes, including this one for Strawberries and Cream Cupcakes.
I don't know about the US, but in the UK we are obsessed with strawberries and cream.
During the Wimbledon tennis tournament alone, around 28,000kg of strawberries will be eaten…!!
That's even more than I can eat!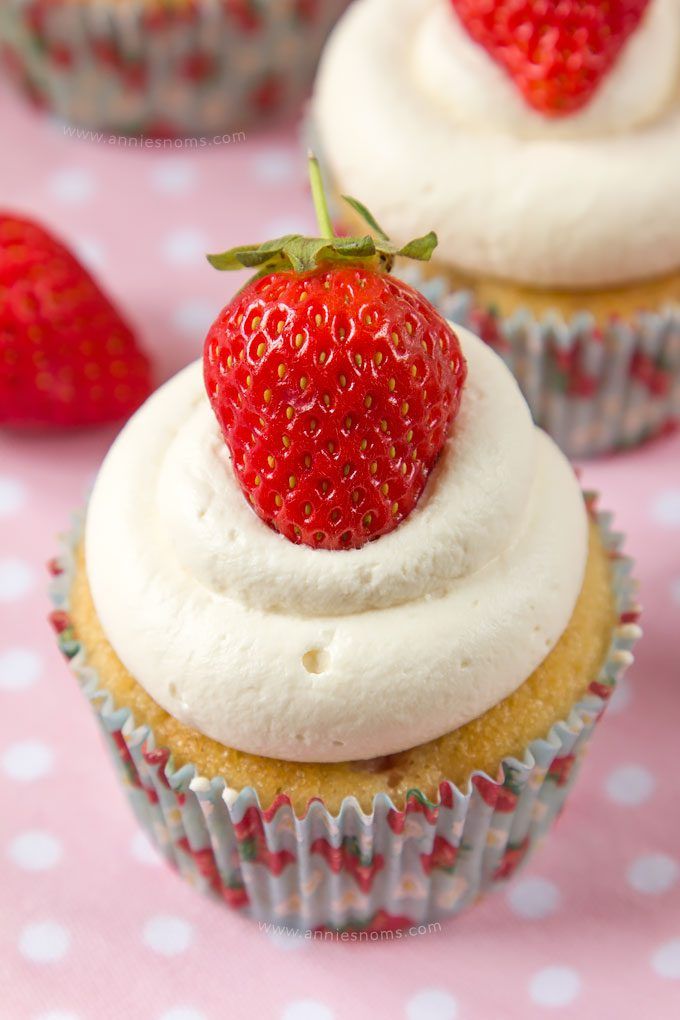 And I swear I'm around 50% strawberries in the Summer. And maybe 25% oats and 25% coffee…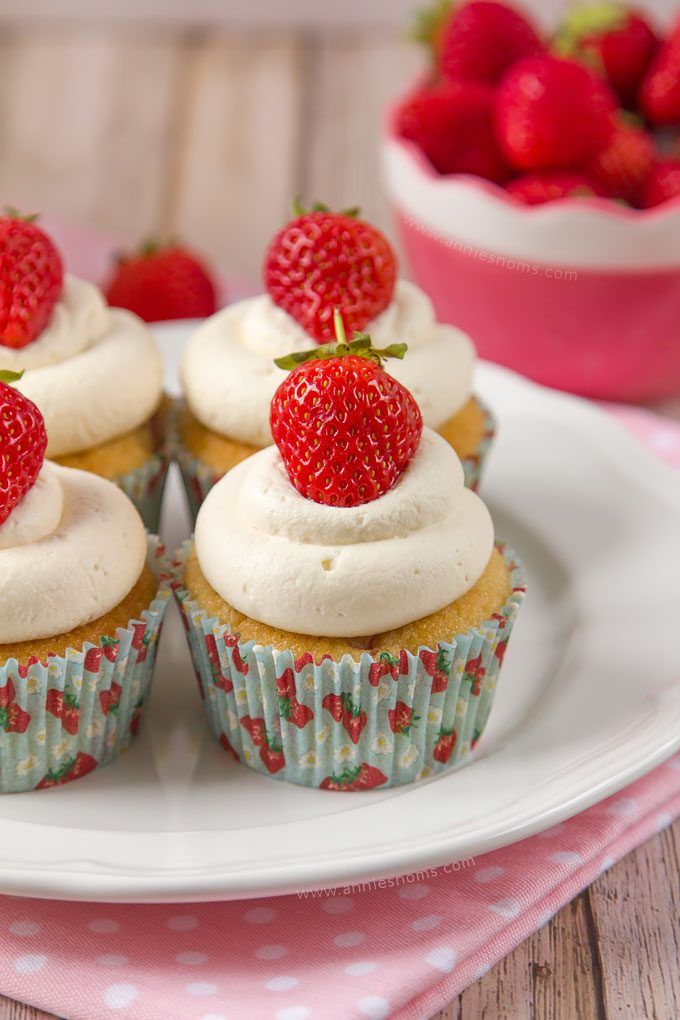 Now, these cupcakes. I decided on a double hit of strawberry, so there's small chunks inside the cupcakes as well as a whole one on top.
These are everything that is great about Summer. Perfect for picnics, sweet, fresh, filled with Summer flavours and quick to make when it's a million degrees in the kitchen.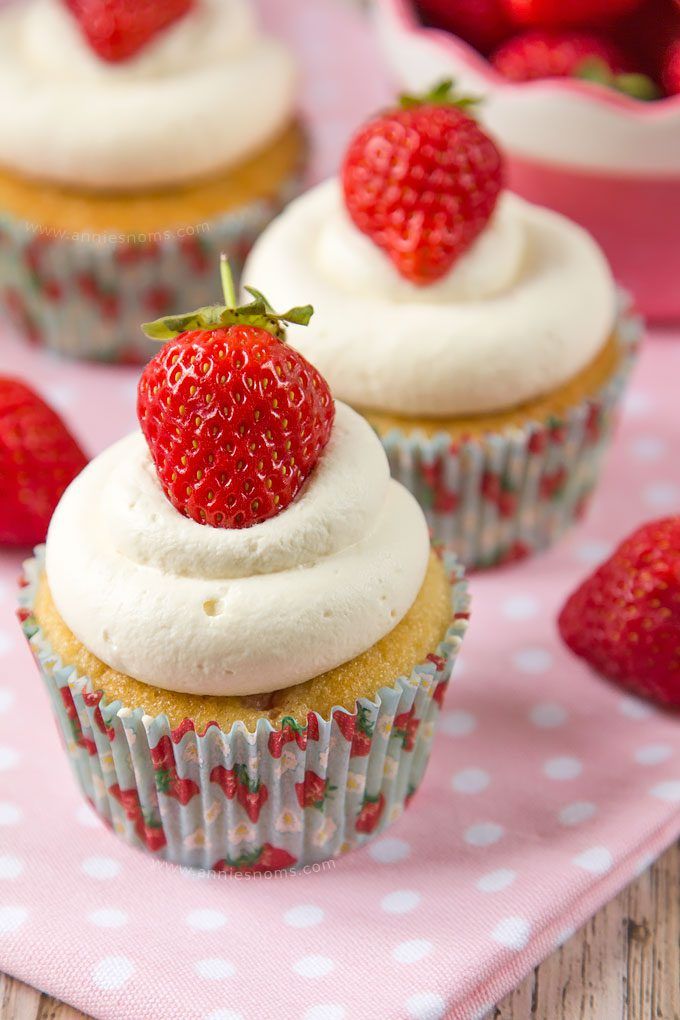 I slightly sweetened the whipped cream for the frosting and added a little vanilla. Of course, if you love the taste of plain cream, then just whip it up and frost the cupcakes.
Myself and my fiancé like a little sweetness to our cream, so I added a 1/4 cup (30g) powdered sugar. Considering I used 1 and 1/2 cups cream, that amount of sugar just gives the cream a little lift without making it overly sweet. And vanilla makes everything better! 😀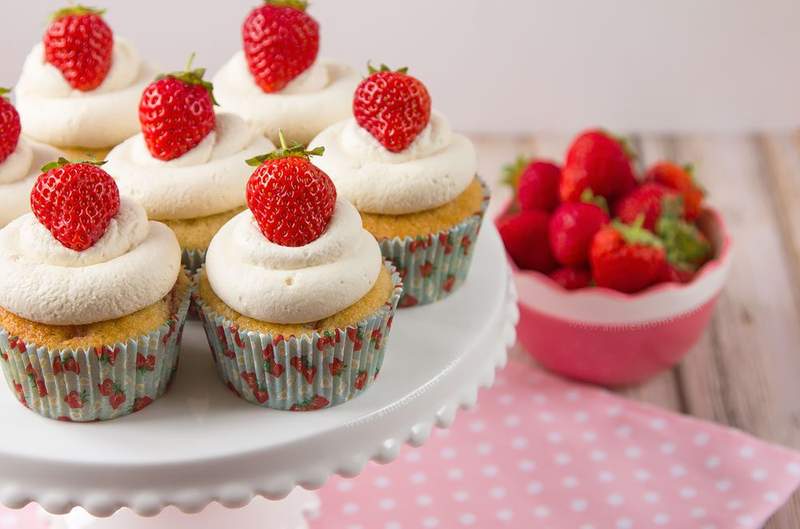 Quick tip: Whenever I'm putting chocolate or fruit or any other kind of addition into a baked good, I always toss the fruit etc. in the flour mix before adding it to the wet ingredients. Why?
Because it stops the additions from sinking to the bottom. Ever baked a cake, cut into it and then realised all the blueberries are at the bottom? I have. And it's so disappointing 🙁 🙁
I'm sure there are other ways to stop this happening, but I've found this way simple and foolproof.
So, if you're looking for a from scratch, easy Summer recipe, then you need to make these cupcakes!
You can connect with me on Facebook, Twitter, Pinterest and Instagram!
Strawberries and Cream Cupcakes
Soft cupcakes filled with chunks of fresh strawberries and topped with sweetened whipped cream and a whole strawberry make these Strawberries and Cream Cupcakes the perfect Summer treat!
Ingredients
For the cupcakes:
1 stick (113g) unsalted butter
1 cup (200g) white sugar
2 large eggs
2tsp vanilla extract
1 and ½ cups (210g) all purpose flour
2tsp baking powder
Pinch of salt
1 cup (125g) strawberries, hulled and diced
½ cup (120ml) milk
For the frosting:
1 and ½ cups (360ml) heavy cream
2tsp vanilla extract
¼ cup (30g) powdered sugar, sifted
12 whole strawberries
Instructions
Preheat the oven to 350F/180C and line a 12 hole cupcake tray with liners.
Place the butter and sugar into a large bowl or the bowl of your stand mixer and beat until light and fluffy, around 2 minutes on medium-high speed.
Add in the eggs and vanilla, scraping down sides as necessary, and mix until well incorporated and smooth, around 1 minute.
Place flour, baking powder, salt and diced strawberries into a medium sized bowl and stir until all strawberry pieces are coated in flour. Add into your wet mix and mix on low until the batter starts to come together, then add in the milk.
Mix on low-medium speed until everything is smooth and well combined. Don't mix on high at this stage otherwise you may mash up the strawberries.
Divide the batter between your cupcake liners, fill each one ¾ full.
Place in the oven for 18-22 minutes until risen, lightly golden and an inserted skewer into the centre comes out clean.
Transfer to a wire rack immediately (I find if you leave them in the tray the liners get greasy and peel away from the cakes) and leave to cool.
Once cool, make the frosting: place cream, vanilla and powdered sugar into a large bowl and whisk until soft peak. You want the mixture to hold enough to stay on the cupcakes, but not really stiff.
The best way to find this out is to pull the whisk/beater out and watch what the mixture does, if it holds a peak and the end curls away, then this is soft peak.
Transfer to a piping bag fitted with a plain or open star nozzle. (I used plain) Pipe a swirl onto each cupcake and then place a whole strawberry in the centre.
Cupcakes will keep in an airtight container, in the fridge, for 2 days.
Notes
Recipe by Annie of Annie's Noms