The front door is the focal point of the home, so it's surprising that so many homeowners forget about this key exterior décor piece. When attempting to sell, it's pertinent you create ample curb appeal to showcase your home's best features.
If you want to spruce up your front door so you can compete with other homes on the market, or you simply desire a freshened façade, incorporate these 5 Ways to Create a Unique Front Door.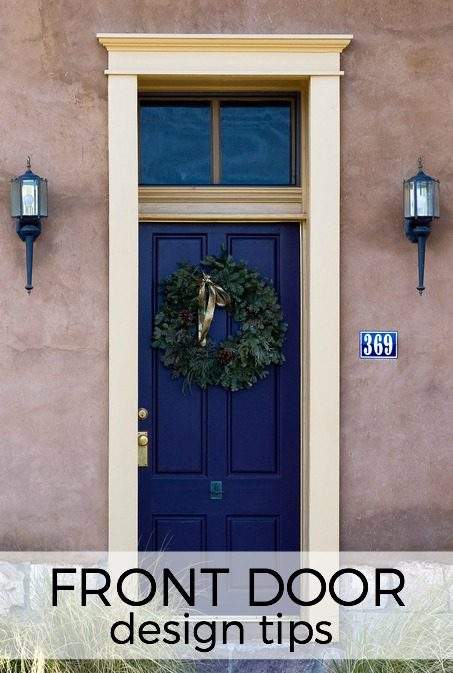 1. Add Lighting
What good is having a beautiful entryway if it's not visible to visitors or potential buyers? Sconces on each side of the front door illuminate entrances without over-dramatizing, which is often the case with spotlights. You can opt for traditional lanterns or unique, contemporary metal pieces to fit with the design of your home. For porches, consider hanging fixtures, but be careful to purchase chandeliers and lanterns intended for outdoor use.
2. Feature Flowers
Flowers don't have to be planted in the ground. In fact, container gardening is a great way to feature beautiful plants where ground space isn't available. Pots and planters also lift arrangements off the ground so they are more visible from the street. Opt for colors that work best with your door's hue. For instance, a dark blue front door pops when surrounded by tall white snapdragons, perched up in neutral pots. To create symmetry, place an equal amount of planters on either side of the doorway. Be sure to allow enough room for guests to walk in and out safely without running into any obstacles.
3. Install a Smart Doorbell
With today's technology, homeowners can install a doorbell that doubles as a security system. The SkyBell WiFi doorbell features a motion sensor, so you're alerted even when someone steps on your front porch and doesn't ring. SkyBell also has a video monitoring system that links to your phone so you can check who's visiting when you're at work or out running errands. There's even a built-in microphone so you can communicate with your visitor. How much easier would your life be if you could tell the delivery person to leave your package at the door instead of tracking it down later?
4. Paint it Bright
Eye-catching front door shades are trending. From flamingo pink to bright, sunshine yellow, selecting the best color really depends on your personality. When choosing your front door shade, think of the surrounding exterior color. White pretty much goes with everything, and a vibrant front door will really stand out next to a neutral house shade.
If you're not a fan of color pops, keep your design traditional. It's okay to try out different designs, but going through the hassle of removing, repainting, refinishing and reinstalling the door is time-consuming. There's nothing wrong with black, white or stained wood for a classic front door finish.
5. Opt for a Window
Every home benefits from added natural light. For homes in Phoenix and other primarily sunny climates, ample sunshine isn't an issue. The front door is a great way to enhance the brightness of the interior of your home without installing light fixtures indoors. If you're concerned about privacy, hang blinds or curtains above door windows for nighttime concealment or when you're not at home. If you're a fan of character, splurge on stained glass. This fancy feature allows some natural light in without being excessively open to the public.
Don't forget about the wide array of front door materials on the market. From energy-efficiency to weather-resistant materials, your entryway should be sturdy enough to handle inclement weather and resist break-ins, all while tastefully showcasing your sense of style.
By Jennifer Riner of Zillow