I love when I find tools to make my blogging life easier!  When I stumbled upon Co-Schedule last year, I gave the free trial a shot.  I was hooked within one day and knew I needed it in my blogging life!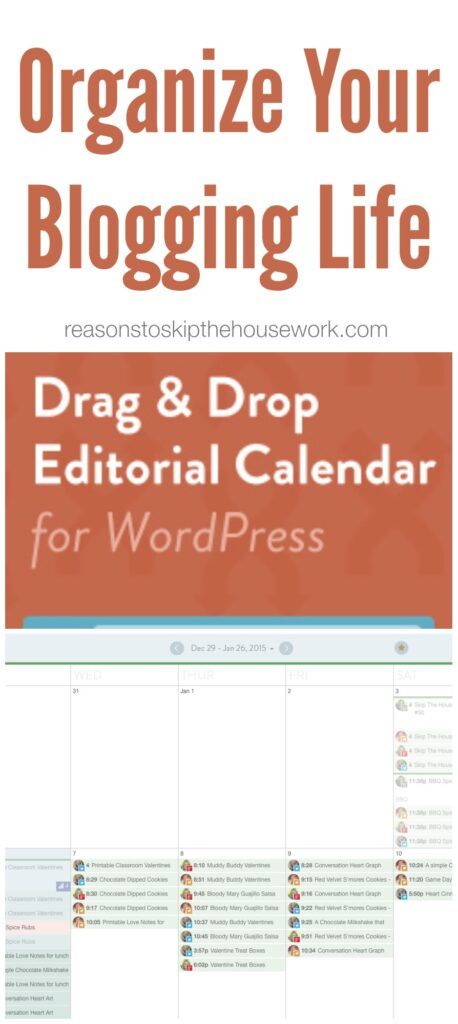 Co-Schedule has a ton of fabulous features.  The one I use most often is the editorial calendar for scheduling my social media, but there are so many other features that I love about So-Schedule!
Here are some of the awesome ways Co-Schedule will  change your life:
Connect all of your social media accounts.
CoSchedule does not limit you on how many Facebook pages, Facebook profiles, Twitter accounts, or LinkedIn personal profiles you can connect to it. You are not limited to choosing one Facebook page out of four, for example. Connect all of your accounts in one handy place, right inside WordPress.
Create content in just one place.
By giving you a fully-stocked social media publisher right inside WordPress, the place where you are already working and creating content, the plugin makes it very easy to share it to your networks. With the ability to use multiple social media accounts, custom rules, and unlimited messages with each blog post, your content has a better chance of being seen. Why?
Because it's easy. All of your content – blog posts and social messages – happen at once, in one place. You're more likely to give your content that extra life on social media that it deserves but so often doesn't get because of the hassle.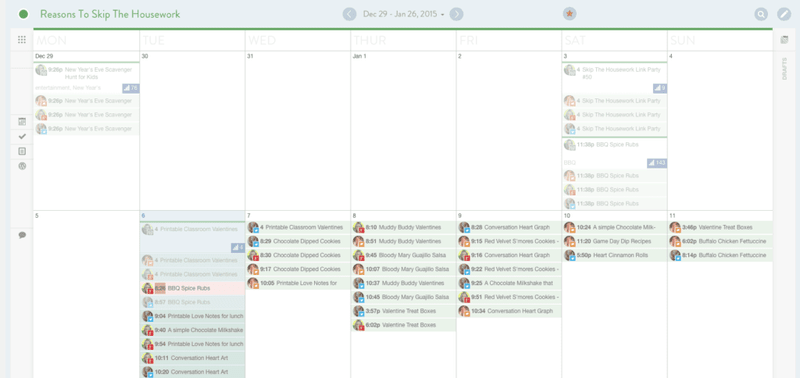 The calendar shows my wordpress posts along with all social media I have scheduled for coming days / weeks / months.  For instance, I can schedule my Conversation Heart Graph to share to FB, Twitter, and G+ three days from now between 8-11am and AT THE SAME TIME schedule it for 30 days from now between 3-8pm, and ALSO schedule it for one YEAR from now.  So, it allows me to stay ahead of schedule with my social media.  LOVE!  This is my way of keeping track and not having to log my sharing onto a checklist.  TOTALLY miss the PINNING feature they used to have as well, but Pinterest gave Co-Schedule all kinds of fits, so they yanked it out.  Big boo, but still amazing for all of my other channels!
Simple to setup and use!
It's really easy to set up CoSchedule's Social Profiles. You can connect as many profiles as you want. Yep—every Twitter profile, Facebook profile or page, LinkedIn profile, group or business, Tumblr blog or Google+ page you want can be added with a couple of clicks.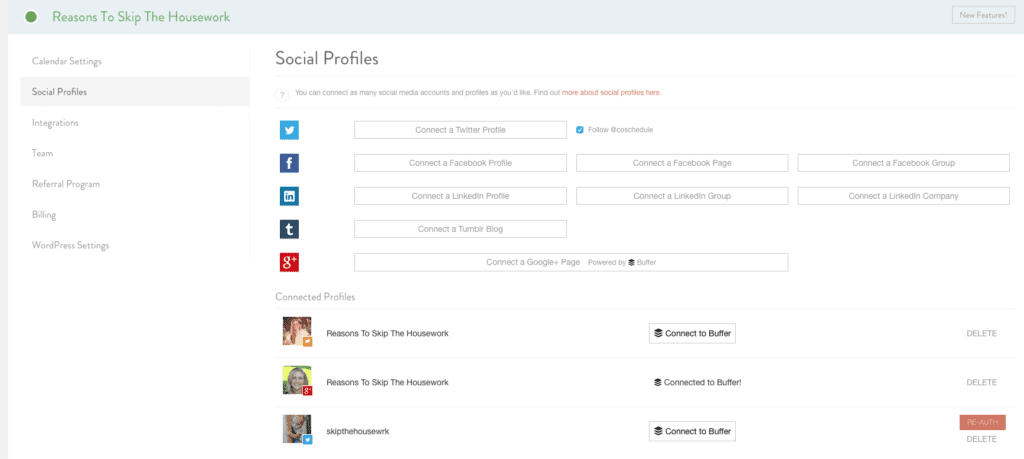 Customize what your social messages look like.
CoSchedule lets you customize what your messages look like. You can use specific hashtags and mention @User for your tweets, and flesh out your Facebook posts as you'd like.  You can choose to publish a text post, image post, or link post. LOVE THIS!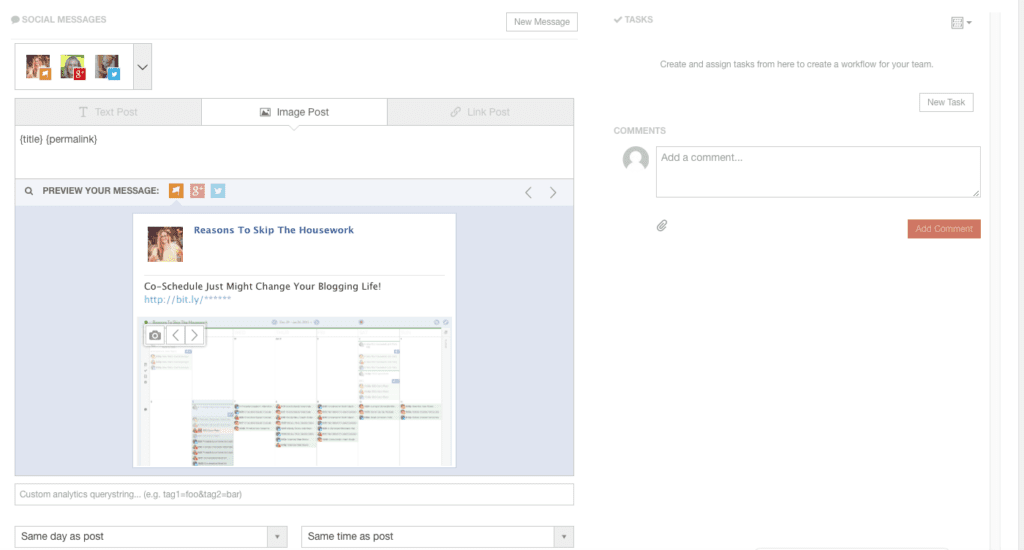 Schedule your social messages.
Many plugins only allow you to send a message to your social networks at the moment of publishing. CoSchedule lets you do that, too, if you want, but you can also set up messages to send the next hour, day, week, month, or year. You have no limits in how many messages you can associate with a post.
There's an editorial calendar right inside your wordpress dashboard, and you can reschedule posts right on it, and I love that you can see all of your scheduled social media posts in one spot!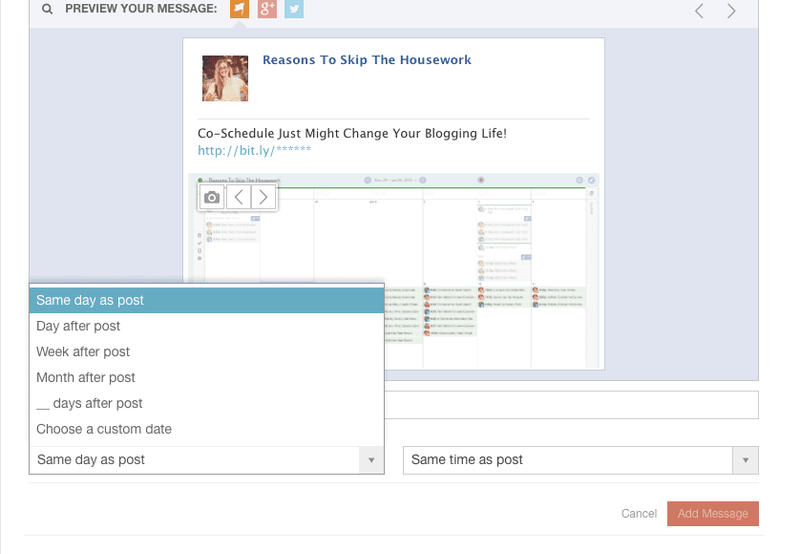 This post contains affiliate links for CoSchedule. If you decide to buy CoSchedule via one of my affiliate links, I receive a teeny discount on my Co-Schedule subscription. However, I only recommend products I use and love myself.
Referral Program simple and easy to use!
I'm not going to hide the best part of Co-Schedule!  They set up their referral program so it's simple to setup and use.  All the graphics and links you need to share your love of Co-Schedule make it a piece of cake to share and get referral traffic from.  Nothing wrong with getting a tiny bit extra where you can, right?
If you're still on the fence, here's a fabulous video created by Garrett, the GURU of CO-Schedule, that explains the top 5 features of Co-Schedule and why you NEED it in your blogging life!
The bottom line for me is that Co-Schedule saves me a TON of time and also keeps me organized.  With blogging, these are the two things that take the most time for me, so Co-Schedule is a blogging life saver for me!
Start your free 14-day Trial here with no credit card upon signup!